Long time Jays watchers know all too well that the Gold Standard for bullpen failure was established almost forty years ago.
It's Windy Baseball Lore, for a day with no baseball.
In 1982, the Blue Jays had hired Bobby Cox as their new manager. Cox installed platoon arrangements at multiple positions. Three of them took hold and stuck - catcher (Whitt/Martinez), third base (Mulliniks/Iorg), right field (Powell/Barfield). Cox also tried to establish platoons in LF (Woods/Bonnell) and DH (Revering/Nordhagen), with indifferent results. But mostly, Bobby Cox actually expected his team to compete. And compete they did. Leaning very heavily on three young RH starting pitchers (Stieb, Clancy, and Leal), the Blue Jays flirted with competence for the first time in their history. Actual days passed, as late as August of 1982, when they were within a few games of .500. They ended up tied for sixth with a 78-84 record - but this still represented a big step in the right direction. They did have a problem at DH, but that's the kind of problem that should be comparatively easy to address. And over the winter they addressed it, picking up Cliff Johnson and Jorge Orta on the cheap to form a new DH platoon. Furthermore, in exchange for reliever Dale Murray, the Jays had obtained outfielder Dave Collins, pitcher Mike Morgan, and a teenaged first baseman named Fred McGriff. (Gillick really should have done some time for that bit of larceny.) Cox again hoped to platoon at five spots - Lloyd Moseby, who had spent his first three seasons hitting .233/.285/.364, would platoon in centre with Barry Bonnell. His four everyday players would be the newly obtained Collins in LF, and the three infielders Upshaw, Garcia, and Griffin.
That was the plan but this new arrangement didn't last very long. This was the year Moseby made his Great Leap Forward, and it was evident almost immediately. Bonnell started six of the first ten games in CF. Moseby had started the other four and also appeared as a defensive replacement, pinch hitter, and pinch runner. He'd gone 5-16, which was decent enough, and in game eleven, on Tuesday 19 April, he started in centre against Cleveland RH Rick Sutcliffe. The Jays fell behind 5-1, but Moseby's second hit of the day was a two run HR off Sutcliffe to cut the lead to 5-4. The Indians stretched the lead again to 7-4. Moseby came up in the eighth, singled for his third hit, and scored on Iorg's double. The Jays went to the bottom of the ninth trailing 7-5, with Cleveland closer Dan Spillner on the mound. With one out, Damaso Garcia singled. He stole second, for no apparent reason, while Jesse Barfield was striking out. But Cliff Johnson homered to tie the game. Buck Martinez singled, and Moseby's fourth hit of the day was a walkoff homer. That was the end of any platoon arrangement in centre field. Cox ran with Moseby from that day forward, and the Shaker simply exploded on the league with a tremendous season

It was astonishing. I actually remember where I was when Johnson and Moseby hit those homers (at a convenience store known in the neighbourhood as "Dirty Louie's," probably buying cigarettes, radio in my pocket.) It was astonishing because the Blue Jays never won games like this. They just didn't. For most of the six years of their existence, the Jays had been a sorry joke of a baseball team. Those days were now over, and that early season comeback against Cleveland was the Sign. The Jays played .600 ball over the next two months and change. They weren't just above .500 - they headed into the mid-summer break in first place. The Montreal Expos of blessed memory were also in first place in the NL East, and Dave Stieb and Andre Dawson were adorning the cover of Sports Illustrated the week of the All-Star game. It was a pretty big deal at the time.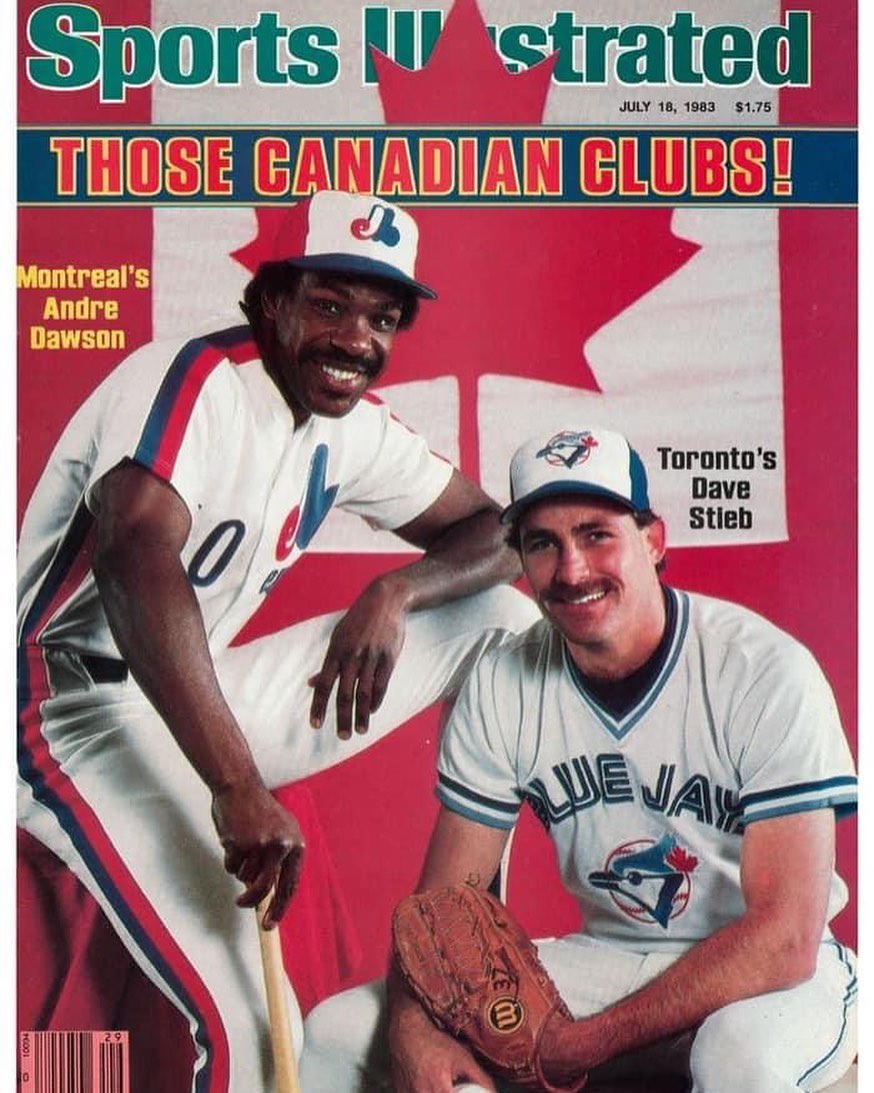 And then they started to fade. The team wasn't actually losing, they were still doing all right - it's just that the AL East was an incredibly compressed division that year and Detroit and Baltimore, who had been nipping at their heels all along, were just a little bit better and a little bit hotter. By mid-August, the Jays were had slipped to fifth place, but they were still just 1.5 games back of the first place Tigers. Look, here are the standings at the end of play on Sunday 14 August:
Tm      W     L    W-L%     GB      RS     RA  

DET    65    50    .565     --     564    491
BAL    64    49    .566     --     542    469
NYY    64    51    .557     1.0    560    517 
MIL    64    51    .557     1.0    579    525 
TOR    64    52    .552     1.5    555    507 
BOS    58    57    .504     7.0    554    579 
CLE    49    67    .422    16.5    501    551 
The Jays were about to embark on their longest road trip of the season: four games in Cleveland, four more in Boston, followed by three in Baltimore, and three in Detroit. Fourteen games in fourteen days. They'd get one day off, the Thursday between Cleveland and Boston, but they'd have to play a double-header in Cleveland on the Tuesday preceding.
The trip started out all right. Roy Lee Jackson blew the save behind Jim Gott in the first game, but the Jays won 3-2 on an Upshaw walk with the bases loaded in the ninth. They split the Tuesday double-header, losing the opener 3-2 on Mulliniks' eighth inning error, but rallying from behind to win 9-6 in the nightcap. Joey McLaughlin got the win, and Joey got the win again in extra innings on the following day. This was after he'd first blown the save in the bottom of the ninth. The bottom of the tenth was pretty hairy as well, and Jackson had to bail out Joey before it was over. But they'd won three of four, and climbed into third place, still 1.5 games back of... let's see, by now it was Milwaukee. That day. On to Boston!
Things didn't start well at Fenway - the Sox cuffed Jim Clancy around and jumped out to a 6-0 lead after two innings. But the Jays scored four times in the third, an Iorg 3-run homer being the key blow. And they scored four more times in the sixth, a two-run single by Bonnell putting them ahead. Jim Acker pitched five shutout innings of relief to get the win, and Jackson closed it out. Eckersley beat Stieb 5-2 on Saturday, thanks to a Rice grand slam. On Sunday afternoon, Jim Gott pitched a complete game and the Jays scored four runs in the final two innings for a 7-3 win. In the Monday night finale, Bob Ojeda beat Doyle Alexander 4-2. Alexander was now 0-8 on the season, and 0-6 since being signed by the Jays in June, three weeks after he'd been given his unconditional release by the Yankees, in the second year of the five year contract he'd signed as a free agent. As a Jay, Alexander had been alternating hard-luck losses with well-deserved losses. It wasn't yet clear that he had anything left. But the Yankees were on the hook for anything above the major league minimum for the
next three years
, so there wasn't much harm in finding out.
Even with the two tough losses, one will generally be reasonably happy about splitting four games in Fenway. The Jays now had third place to themselves, 2.5 behind Milwaukee. And so it was on to Baltimore, to face the second place Orioles. And on Tuesday, the upstart Jays beat Mike Flanagan 9-3, thanks in large part to four Baltimore errors. They closed to 1.5 games behind Milwaukee, and one game behind Baltimore.
Jim Clancy and Scotty McGregor hooked up on Wednesday evening. A Todd Cruz error put the Jays ahead 2-1, and in the eighth inning a Buck Martinez sac fly stretched the lead to 3-1. Clancy went to the ninth and got the first out. John Shelby bunted for a hit, but Clancy struck out Gary Roenicke. One out to go. But Clancy walked the light-hitting second baseman, Lenn Sakata. With lefty hitting catcher Joe Nolan due up, Cox summoned his one LH reliever, Dave Geisel. Joe Altobelli sent in Benny Ayala to pinch hit. Ayala singled in one run, and with LH Al Bumbry up next, Geisel faced him as well. Bumbry singled in the tying run. Cox brought in Joey McLaughlin, who got the third out. On to the tenth inning.
But there would first need to be some defensive changes for the Orioles. Joe Nolan hadn't started the game behind the plate - he'd originally pinch hit for starting catcher Rick Dempsey in the seventh inning. This meant that the Orioles were completely out of catchers. They were, in fact, out of position players entirely, and would have to make do with the ones who were already in the game. So second baseman Sakata took over behind the plate, having never played an inning there in his professional career. Left fielders John Lowenstein and Gary Roenicke moved to second base and third base respectively. Lowenstein had played 2b in the majors at the begining of his career, but not once in the previous eight years. Roenicke had played a lot of third base in the minors, but never in the majors, and he hadn't been in the minors since 1978.
Not that any of this seemed to matter all that much after Cliff Johnson led off the top of the tenth with a homer off Tim Stoddard. After Barry Bonnell singled, Altobelli brought in LH Tippy Martinez to pitch to Dave Collins.
Tippy Martinez was a fine pitcher, an important part of the Orioles bullpen for eleven years. While Tippy was very tough to run on, he did
not
actually have a great pickoff move. As dawn broke on 25 August 1983, Martinez had picked off a total of 7 base runners in his ten seasons in the majors. The last time he had picked off a runner had come
exactly
two years before (cue spooky organ music) - on 25 August 1981 he nabbed Richie Zisk of the Mariners. But there was one thing that mattered more than anything else - a second baseman was catching for the Orioles, Bonnell was eager to run. Martinez caught him leaning, and picked him off. But then Martinez walked Dave Collins.
Dave Collins was a
great
base stealer. He'd stolen 79 bases for Cincinnati in 1980, and in the season after this one he would set the Jays team record for stolen bases with 60, a record that stands to this day. And a second baseman was catching for the Orioles. Of course Collins was going to steal second. Until Martinez picked him off first as well, with Willie Upshaw looking on from the batter's box.
Upshaw then grounded a single up the middle, bringing Buck Martinez to the plate. Buck wasn't much of a hitter for most of his career - he lasted 17 seasons in the majors because he was an outstanding defensive catcher. But by happy coincidence, 1983 was the one season Martinez was actually a decent hitter. And of course, he did all his damage against LH pitchers - in 1983, Buck hit .270/.348/.500 against southpaws. But a second baseman was catching for the Orioles, and Upshaw thought stealing second should be pretty simple. Until Martinez picked
him
off as well. Three men picked off first base in the same inning, a feat unique in the long annals of the game. If it hadn't actually happened, I wouldn't believed it possible. If I hadn't been listening to Tom Cheek describing the carnage in real time, I wouldn't have believed it possible.
But however bewildering the top of the inning had been, the Jays were still taking a 4-3 lead into the bottom of the tenth inning. Having stopped the bleeding in the ninth inning, Joey McLaughlin came back out in the tenth to close it out. Cal Ripken instantly greeted him with a game-tying homer. McLaughlin walked Eddie Murray, and the Orioles bunted him to second. After an intentional walk, Randy Moffit came on to try for the final two outs.
The 1983 Blue Jays did not have a relief ace. It's almost as if the team's official position was "We're not good enough yet to indulge in such luxuries." As soon as they came up with someone who performed impressively out of the pen late in the game, Gillick generally cashed him in for something that would be more useful. They had quickly traded Victor Cruz, a 20 year old who had pitched brilliantly in their pen for the last three months of 1978, to Cleveland. That trade landed them Alfredo Griffin, who'd be the 1979 Rookie of the Year and play shortstop in Toronto for six seasons. And of course, some nine months before this August evening, Gillick had cashed in on the best season of Dale Murray's career and acquired Collins, Morgan, and McGriff.
Maybe this is a good time to note that while Bobby Cox was one of the game's greatest and most successful managers, no one's perfect. Certainly no baseball manager. The one thing Bobby Cox was consistently not particularly good at was building and running a bullpen. Randy Moffit had been a serviceable enough reliever for ten years in San Francisco. Then he turned 30, had some arm problems, pitched badly, got released. He had revived his career in Houston and the Jays signed him as a free agent. For half a season he was wonderful. He scooped up the win in three of his first five appearances, and by mid July he was 4-0 with 9 saves and a 1.96 ERA. And then, in what would be his last season in the majors, he started to fade. He drifted slowly, but persistently, into mediocrity and then to general ineptitude (he went 2-2, 6.97 the rest of the way.) This night in August was right in the middle of that long slow fade. But Moffit struck out the first man he faced, third baseman for a day Gary Roenicke. Which brought catcher for a day Sakata to the plate. He'd come into the game hitting .230/.287/.310 with 1 home run. He promptly hit his second, a shocking three run blast, for the walk-off win. Milwaukee lost as well, so the Jays remained just 2.5 games off first place, although they now dropped to fourth place as Detroit squeezed by them.
The rubber match with the Orioles saw Dave Stieb and Storm Davis toss zeroes at each other. The game was scoreless after nine. Tippy Martinez had taken over from Davis after eight, and in the top of the tenth the Jays revenged themselves upon Martinez for the humiliation he'd inflicted on them the previous evening. Sweet. With one out Barry Bonnell, the first of Martinez's pickoff victims, knocked a solo homer. So sweet. The Jays took that 1-0 lead to the bottom of the tenth. Dave Stieb had pitched nine innings of four hit shutout, and Cox went to the pen to close it out. Roy Lee Jackson, obtained from the Mets for Bob Bailor, had given the Jays two fine seasons out of the pen. But his third season was not going so well, his 8-1 record notwithstanding. He had a 4.41 ERA, which was a little high for a reliever, no? While Moffit had early on been called "Vulture" it was much more fitting for Jackson, who had picked up three of his wins by first Blowing the Save and sticking around to collect the W instead. This just wasn't his year, and this wouldn't be his day. Did he hold the 1-0 lead and save Stieb's 14th win. He did not. With one out, Jackson gave up singles to Nolan and Bumbry, and then a walkoff two-run double to Disco Dan Ford. The Jays fell another game behind the Brewers, and were now tied for fourth place with the Yankees, 3.5 games back.
And so on to Detroit, for a weekend at Michigan and Trumbull, that fabled intersection where Detroit's baseball teams had been playing since 1896. The Tigers had been playing in the same stadium since 1912 - it was originally called Navin Field after owner-operator Frank Navin. Navin died, Walter Briggs took over team ownership and renamed the park after himself. From 1938 onward it was Briggs Stadium. But when John Fetzer took over the team in 1961, he renamed it Tiger Stadium, and so it would remain until it was demolished in 2008.
The Jays had one lineup change for this weekend. Damaso Garcia had hurt something - he would miss nine of the next ten games. Iorg replaced him at second base. At least Rance Mullinks, who had also been ailing, was ready to go (his appearance against the Red Sox, featuring his own key error, was his only appearance in the field in a week.)
Jim Gott faced off against Dan Petry, father of Jeff, in the Friday night opener. The Jays struck first with a pair of third inning runs. The Tigers got one back in the bottom half. A Whitt homer in the fifth briefly restored the two run lead, but a two run homer in the bottom half tied it up again. And then the scoring stopped. Aurelio Lopez replaced Petry after eight. but Cox kept his bullpen guys.... in the bullpen. One assumes that he was still traumatized by what had transpired in Baltimore over the previous two days. And so Jim Gott was still on the mound as the bottom of the tenth came around. Gott retired Leach on a groundout. He got Whitaker on another groundout. And then Alan Trammell got Gott, with a walkoff homer to left field. The Jays slipped into fifth place, four games behind the Orioles, who had now seized the AL East lead.
On Saturday afternoon, they made the bleeding stop. For a day. Back to back homers by Mulliniks and Moseby in the eighth inning broke up a 2-2 tie, and gave the Jays a three run lead. Alexander immediately gave up a leadoff homer to Trammell and McLaughlin came in. The Tigers pushed across another run to cut the lead to 5-4, but with two men on base McLaughlin got the third out. The Jays added a couple of insurance runs in the top of the ninth, and Geisel retired the Tigers in order to collect a save. Dour Doyle had his first win as a Jay. He would go 6-0 the rest of the way, and win 17 games in each of the next two seasons (with the Yankees paying for
all
of it beyond the major league minimum, something that still brings a smile to my face.) Meanwhile, the Jays remained in fifth place, still four games off the lead.
The road trip wrapped up on a Sunday afternoon, and Luis Leal and Jack Morris hooked up in a fine pitcher's duel. With a 2-1 lead, Leal got the first out in the seventh - and came out of the game. I have no idea why - hey, it was 38 years ago. I don't remember
everything
! Jackson came in and gave up a single to Lemon. Lou Whitaker, getting a day off, came off the bench to pinch hit. Cox called on his one LH, and Geisel got Whitaker to hit into a DP to end the threat. Geisel was still on the mound, and the score was still 2-1 for the Jays when the bottom of the ninth came round. Geisel got the first out, then issued a walk to Parrish. Cox brought in Randy Moffit, who got Wilson to fly out. And then Cox called on Joey McLaughlin. Leach hit a single, and then Chet Lemon walked it off with a three run homer, for Morris' 17th win. And the Jays were now all by themselves in fifth place, five games back of Baltimore. They would never get any closer. They went 18-14 the rest of the way, and finished in fourth place, nine games behind the Orioles, who went on to win the World Series. They'd gone a more than respectable 7-7 on the toughest road trip of the entire year - and somehow their season had been shattered anyway.
The Bums of August were:
Name              W    L    W-L%    ERA    G   SV     IP     H     R     ER   HR    BB   IBB   SO   HBP  WP   BF   ERA+   FIP    WHIP  
Randy Moffitt     6    2    .750    3.77   45  10    57.1    52   27    24    5    24    6    38    1   0    247   115   3.87   1.326
Jim Acker         5    1    .833    4.33   38   1    97.2   103   52    47    7    38    1    44    8   1    426   100   4.20   1.444 
Roy Lee Jackson   8    3    .727    4.50   49   7    92.0    92   48    46    6    41    2    48    3   0    402    96   3.99   1.446
Joey McLaughlin   7    4    .636    4.45   50   9    64.2    63   33    32   11    37    7    47    0   3    285    98   5.23   1.546 
Dave Geisel       0    3    .000    4.64   47   5    52.1    47   28    27    4    31    5    50    2   2    230    94   3.73   1.490  
Moffit was a free agent when the season was over; he made one last professional appearance with Milwaukee's Triple A team. Acker remained with the Jays through July 1986, when he was traded to Atlanta for Joe Johnson. They would trade him back to Toronto in 1989. Roy Lee Jackson had something of a bounce back season in 1984, but was released by the Jays at the end of spring training in 1985. Joey McLaughlin was released in May 1984, and finished his career with Texas. Dave Geisel was drafted by Seattle in the Rule 5 draft in December 1983.

These guys didn't constitute the Jays' bullpen because ten pitchers had gone on the DL. The team had weighed their options, and chosen these five guys. Moffit had been a free agent, Acker was acquired in the Rule 5 draft, Jackson came over in the trade for Bob Bailor. McLaughlin had come along with Bonnell in the Chris Chambliss trade, and Geisel was the player to be named later when the Jays sent Paul Mirabella to the Cubs. The team had five starters and five relievers - and really, why would anyone need more pitchers than that?

Those were the days.

I rather think that the 2021 Blue Jays are at roughly the same point in the building cycle as the 1983 Jays were. It was a young team that had made a sudden lurch toward respectability in the previous season, having completely stunk up the joint in the year before that. It was the year that a number of young players who would be key parts of the good teams that followed began to establish themselves as quality players: in addition to Moseby, Jesse Barfield hit 27 HRs in a platoon role and George Bell made it back up to the majors. A 21 year old shortstop named Tony Fernandez made his major league debut. Moseby, Bell, and Barfield were all 23 years old. Dave Stieb and Alfredo Griffin were 25, Damaso Garcia, Willie Upshaw, and Luis Leal were 26. Rance Mulliniks and Jim Clancy were 27. The 1983 Jays weren't quite as young as this year's bunch, but the lineup had only Dave Collins, the catchers, and the designated hitters on the wrong side of 30.

They had come a long way, they had a long way to go, and they weren't there yet, not by a long shot. But they were on their way.
And trust me - those of us who actually lived through that week in 1983 can withstand just about any punishment this team tries to throw at us.