The Pittsburgh Pirates took Louisville catcher
Henry Davis
with the first overall pick of the 2021 Major League Baseball Draft. Vanderbilt righty
Jack Leiter
was taken second by Texas while Oklahoma high school hurler
Jackson Jobe
went third to Detroit.
Marcelo Mayer
—considered by many to be the best prospect in the draft—slipped all the way to Boston at number four and outfielder
Colton Cowser
from Sam Houston State went to Baltimore with pick number five.
The Toronto Blue Jays hold the 19th pick in this year's draft. Find out below the fold who they selected.
Check out the
draft tracker
or
watch it
live.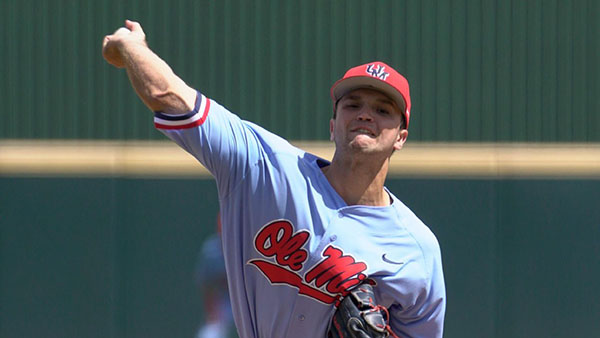 Image from ESPN.com
Round 1 - 19th overall. RHP Gunnar Hoglund, Mississippi. Bats Left, Throws Right . 6-foot-4, 220 lbs. Born December 17, 1999. Slot Value $3.36 million.
MLB.com
- The Pirates made Hoglund a supplemental first-round pick (36th overall) in 2018, but the two sides had differing views of his post-Draft physical, which killed any chances of a deal. He instead opted to attend Mississippi, where he immediately joined the weekend rotation and emerged as one of the best pitchers in the Southeastern Conference in 2020 and 2021. He had pitched himself into the top 10 picks of this year's Draft until he injured his elbow in May and required Tommy John surgery. Hoglund's stuff plateaued in his first two college seasons, as he showed the same 89-93 mph riding fastball and average breaking ball that he had in high school. His stuff ticked up last fall, however, and he now works at 92-95 for five innings at a time and displays a tighter, harder slider at 84-86. His low-80s changeup serves as a solid third pitch and he can give batters a different look by dusting off a curveball he relied on more as a prepster. With a durable 6-foot-4 frame, an easy delivery and a history of quality strikes, Hoglund already had a high floor as a back-of-the-rotation starter. His improved stuff still could land him in the first round despite his elbow reconstruction. Multiple scouts have likened him to a bigger version of Tanner Burns, another SEC right-hander whom the Indians drafted 36th overall last June.
Video
Jim Callis
, MLB.com - Nice upside play for the Blue Jays here. Hoglund would've been a top-10 pick if he hadn't blown out his elbow in May and required Tommy John surgery. He has a quality fastball and slider and some of the best command in the college ranks. His situation reminds me a little of what Walker Buehler went through. Buehler had his elbow reconstructed shortly after the Dodgers made him a first-round pick in 2015, and then saw his stuff dramatically improve after he went through the rehab process. If that happens with Hoglund, this could be one of the best picks of the Draft.
Baseball America
- A supplemental first-round pick of the Pirates in 2018 after he went 7-0, 0.27 at Fivay High in Hudson, Fla., Hoglund's command has long stood out. It made him an immediate contributor at Ole Miss, and it has helped him be one of the best pitchers in the Southeastern Conference in 2020 and 2021. Hoglund's 2021 season came to a premature end when he blew out his pitching elbow in his May 7 start against Texas A&M. His rehab from Tommy John surgery means he'll be sidelined until midway through 2022, and it likely ended any chance he had of being a top-10 pick. But Hoglund's body of work (154 innings in three years at Ole Miss) gives teams a lot of comfort with who Hoglund is—a relatively safe starting pitcher with plus command who has the ability to throw three pitches for strikes no matter what the count. Hoglund came into 2021 viewed as a starter likely to be taken in the back of the first round, but he quickly showed improved stuff. Hoglund had touched 95 mph going back to high school, but he generally sat 90-92. This year, he sat 92-94 mph. His slider got a little harder and sharper as well. Hoglund has shown he can spot his above-average fastball to the arm side or glove side, but he generally aims to keep his fastball away—he'll work glove side to righthanders and arm side to lefties. He consistently wins at 0-0 in the count, getting ahead which means he can then attack righties with his above-average, 80-84 mph slider, again generally staying away. Lefties have to worry about his low-80s, above-average changeup, but he's also shown he's comfortable working in on their hands with his slider. It's that ability to spot all three pitches and avoid the heart of the plate that is key to his success. Even after his elbow injury, he's seen as a low-risk surefire starter with a consistent, easy delivery.
Twitter Reaction
Scott Mitchell @ScottyMitchTSN With pick No. 19, #BlueJays select Ole Miss right-hander Gunnar Hoglund. The 6-foot-4, 220-pounder had TJ surgery recently, but was seen as a consensus top 10 talent when healthy. Jays rolling the dice on big time upside here.
Shi Davidi @ShiDavidi Blue Jays select Ole Miss right-hander Gunnar Hoglund at No. 19. He had Tommy John surgery after blowing out his elbow back in May. Here are @BaseballAmerica's scouting grades for him: Fastball: 55 | Slider: 55 | Changeup: 55 | Control: 70
Ben Nicholson-Smith @bnicholsonsmith By drafting Gunnar Hoglund, a right-handed pitcher who's now recovering from Tommy John surgery, the #BlueJays add some balance to an organization already stocked with young position players, both on the MLB roster and in the upper levels of the minor leagues
Ben Nicholson-Smith @bnicholsonsmith Gunnar Hoglund is a 21-year-old right-hander who ranked 22nd on MLB's list of top draft-eligible prospects. Listed at 6'4", 220 Lbs. Good scouting grades across the board. Pirates took him in the first round 3 years ago but he didn't sign. Elbow injury in May. Recovering from TJ Ben Nicholson-Smith @bnicholsonsmith Considering Hoglund's just beginning his recovery from Tommy John, this isn't a pick designed to pay immediate dividends (Though let's be honest: this is the MLB draft we're talking about... if you're looking for immediate dividends you're doing it wrong)
Kristian Croissant @Krossiant they compared kumar rocker to bob gibson & compared gunnar hoglund to MATT ALBERS!?!?!?
Jason (Hanshin) Lee @Jasons_JaysHub The #BlueJays will select Gunnar Hoglund with the 19th pick in the 2021 #MLBDraft. [numerous writers] Hoglund, a right-handed starter, was considered a consensus Top 10 pick before his stock dropped after Tommy John. A big risk that could end up producing a big reward.
@mason_mcrae Back to back years of outstanding value in the first round by Toronto. This is a great, extremely safe pick.
Scott BlueJaysAlways @BluejaysAlways With the 19th pick of the 2021 #MLBDraft our #BlueJays have selected RHP Gunnar Hoglund from Mississippi! Had TJ surgery in May, otherwise he would have gone in the top 10. He has a fastball, slider, and a changeup are all considered plus pitches. #BlueGrit #WeAreBlueJays
Jeffmlbdraft @jeffMLBdraft Hoglund would have been a top 10 pick if healthy, really nice value right there for the Blue Jays. I had him 19th on my board.
Keanan Lamb @keananlamb RHP Gunnar Hoglund was a top 10 pick before TJ surgery this spring. Good stuff, very good command, ideal body. #BlueJays getting the no. 9 #MLBDraft prospect on my board
Nathan Hutchinson @hutch1760 Thoughts on Gunnar Hoglund Pick. Excellent value, of course an arm injury scary but he moves so well and has such good feel for pitching. Great Pick IMO
Prospect Wire @ProspectWire Congrats to @GunnarHoglund on his 1st round (19th overall) of the @BlueJays A staple at PW events over the years when in HS. Best of luck as your career advances to the next level. Quote Tweet @ProspectWire · Jun 4, 2018 Gunnar Hoglund came through several events as a 2-way prospect. Although he could swing the bat - hitting several bombs at PW events - it became evident that throwing strikes is too easy for Hoglund. Powerful frame, plus command of everything, workhorse potential. #MLBDraft
Doug Young @the_field_guy Anyone who has had the pleasure of meeting this young man knows the @BlueJays got a steal! Wonderful, humble young man, fierce competitor that will not be outworked ! Congratulations @GunnarHoglund @BaseballFivay @MLB #FalconPride
Mitch Bannon @MitchBannon Early reactions to the #BlueJays first round pick, RHP Gunnar Hoglund. Things to know: - Four pitch mix (FB, SL, CU, CH) - Had TJ surgery in May (12-15 month recovery) - 3.68 ERA in 32 NCAA starts, 10.9 K/9 - Elite control (2.0 BB/9 at Ole Miss)
RapsLeafsJays @RapsLeafsJays The Toronto Blue Jays love injury-riddled pitchers so much, they drafted a kid who's out with Tommy John surgery and may not be back until late 2022/early 2023. Gunnar Hoglund apparently has wicked command & 4 good pitches. Let's hope the injured 21-year old is worth the wait!
Justin Bench @JBench_2 Let's go brother! Best freshman roommate out there!! @GunnarHoglund
Scott MacArthur @ScottyMacThinks I hope Jonas throws out the ceremonial first pitch before Gunnar Hoglund's MLB debut.
Jon Sokoloff @JonSokoloff Gunnar Hoglund is the third-highest drafted player in @OleMissBSB history. 1.) Drew Pomeranz (LHP- 5th overall, 2010) 2.) Dan Adams (3B- 8th overall, 1970) 3.) Gunnar Hoglund (RHP- 19th overall, 2021)
Pramana @PramanaLabs Gunnar Hoglund becomes the 1st RHP from @OleMissBSB drafted in the first round. The highest taken prior to Gunnar was Will Kline in 2007 to the Toronto Blue Jays with the 65th pick. #PramanaSHIFT @BaseballAmerica
Shi Davidi @ShiDavidi #BlueJays scouting director Shane Farrell on first-rounder Gunnar Hoglund: "We're really excited about how it shook out for us. His trajectory along the year – he was pitching his way into a top-10 pick. Unfortunately the injury kind of derailed that a little bit."
Replying to @ShiDavidi Shane Farrell on the tool-kit that was carrying Hoglund up the draft board before his injury: "It's the completeness of the package. He's a strong physical kid with really above average control and command of his fastball and an above average slider as well."
Replying to @ShiDavidi Farrell continued: "We saw a little pick up in fastball velocity this year. Combining that with his upper level ability to command the ball to both sides of the plate and throw the slider off the fastball is what really drove us to make the selection."
Brennan Delaney @Brennan_L_D Replying to @ShiDavidi He wouldn't impact the team until about 2023-2024 anyway. Tommy John will only help improve velo. His control is already insane (70 grade according to BA). With TJ, he may be an underslot, meaning they get more money for mid round picks. Fantastic pick.
Mitch Bannon @MitchBannon Negotiations will now begin with the #BlueJays first round pick Gunnar Hoglund. He was drafted in 2018 by the Pirates in the 1st comp round, but failed to come to terms. Jim Callis said, at the time, the Pirates and Hoglund's camp had "differing views of post-draft physicals"
Mitch Bannon @MitchBannon #BlueJays Director of Amateur Scouting Shane Farrell on first round pick RHP Gunnar Hoglund: "One of the main drivers was just how polished he was as a pitcher. We feel like this is a very opportunist pick for us as an organization, knowing the trend he was going on."
Jason (Hanshin) Lee @Jasons_JaysHub Beautiful slider from new #BlueJays pitcher Gunnar Hoglund featured by @PitchingNinja. A high-risk, high-reward selection. Welcome @GunnarHoglund to Canada!
bk @_bkuh_Gunnar Hoglund, Blue Jays pick at 19. Board Rankings: ESPN 20 FG 14 BA 19 Athletic 30 Pipeline 22
Baseball America @BaseballAmerica Two pitchers have 70-grade control among the Top 200 in this draft class. Gunnar Hoglund, @OleMissBSB. Michael McGreevy, @UCSB_Baseball
Kendall Rogers @KendallRogers With the @BlueJays taking @OleMissBSB RHP Gunnar Hoglund. Here's my piece from one of his best starts this season — on becoming a complete pitcher. Easy velocity, SL is a big-time pitch at times. https://d1baseball.com/analysis/rogers-review-olemiss-hoglund/ Player Profile: https://d1baseball.com/player/euxsXLTk/gunnar-hoglund/
Brian Sakowski @B_Sakowski_PG 19. Blue Jays: Gunnar Hoglund, RHP, Ole Miss. Top 10 pick pretty easily prior to late-season TJ, love the value here, FB into mid-90's with potentially plus SL, CB/CH both solid-average, throws strikes and mixes well, mid rotation upside IMO. #PGDraft
ProPlayAI @proplayai The @BlueJays take Gunnar Hoglund with the 19th pick! You know he's going to throw FireFireFire from working with @Kinetic_Pro. When he's back - he will put his above average arm speed (23m/s) and great stride length (94%) on display.
David Salituro @DavidSalituro The last two pitchers drafted in the first round out of Ole Miss: Drew Pomeranz (2010) and Lance Lynn (2008). Add Gunnar Hoglund to that list as he joins the #BlueJays. #MLBDraft
Gunnar Hoglund @GunnarHoglund Thank you to the Toronto Blue Jays for making my dream become reality!