Ah, the poor Jays. The bats are struggling. Could they be afraid? Is it time to summon the spirit of Mighty Jobu, with appropriate offerings of cigar and rum, to take the fear from the bats?

Or should we first see how they do against a bunch of pitchers who really don't have a whole lot of business being on a major league roster?
That's right - it's the Baltimore Orioles, coming to a Dome near you.
The Orioles will be making their first visit to Toronto since September 2019. That series featured a 15th inning walkoff homer from Anthony Alford and Jacob Waguespack's last major league start (and win.) We were all so much younger then.
The two teams have already hooked up three times in 2021, with Toronto winning six of the nine games. Baltimore drew first blood, however, as Thomas Eshelman held the Jays to a single run in the first start of the season. Robbie Ray left trailing 2-1 after seven innings and the Orioles piled on five more against Patrick Murphy and Jeremy Beasley. As for Eshelman, he posted a 10.65 ERA over his next four starts and was back in the minors by the end of July. And the Jays bounced back the next day with what was possibly their most memorable victory of the season. Alek Manoah got roughed up for back-to-back homers to fall behind 5-2; he hit the next batter and was ejected. The Jays were down 7-4 heading into the ninth, when they mounted a stunning six run rally. With two outs, Bo Bichette fouled off five two-strike pitches before blooping a game-tying single just out of Santander's reach in right field. Guerrero and Grichuk followed with RBI doubles and that was that. And then Hyun-Jin Ryu outpitched Matt Harvey in the finale, as Reese McGuire knocked out four hits, three of them doubles.
Later that same week, the two teams met up for four games in Buffalo. Orioles starter Dean Kremer walked four of the first six Jays to come to the plate, gave up a grand slam to Lourdes Gurriel, and walked yet another before being removed from the game. He was immediately sent back to AAA, where he remains, leaving naught behind but his 0-7, 7.25 record in the majors. Anthony Kay was the lucky beneficiary of this largesse, and stuck around long enough to collect his only W of 2021. (After this, Kay would pitch well in three relief outings - 1 ER in 6.1 IP - but get bombed by the Red Sox on a day the Bostons were scoring 13 runs and find himself banished to AAA as well.) The Orioles would win the next day when Tyler Chatwood and Tayler Saucedo couldn't hold a 5-1 lead - it's hard to decide which of the two was worse that day - and Baltimore got the win in extras when Trent Thornton issued three walks in his inning of work, which was sufficient to cash the Zombie Runner. The Jays got some revenge the next day, making Ryu's life easy by roaring out to a 12-0 lead thanks to homers from Guerrero, Hernandez, and Grichuk, and winning 12-4. They took the finale 5-2 behind Ross Stripling, with a pair of two run doubles from Guerrero and Biggio accounting for most of the scoring.
And barely two weeks after that, the teams met up for a couple of games at Old Camden Yards. Steven Matz continued to scuffle in his second start since returning from the COVID list - a Mullins homer knocked him out in the fifth, trailing 4-1; Trent Thornton instantly gave up three more runs and late homers from Guerrero, Grichuk, and Gurriel (the Killer Gees) just made the score close. But the Jays abused Matt Harvey in all sorts of ways the following evening - Bichette, Guerrero, Hernandez each had three hits, Biggio had a pair of doubles, and Ryu had another nice easy night at work.
So here we are. The Jays still have 10 games left against the team that just happens to be the very worst team in all of the majors at a) winning baseball games in general, and b) keeping the other team from scoring in particular. The Orioles have an ERA of 5.81, which speaks for itself. Baltimore has one really good starting pitcher - LH John Means - and the Jays have somehow managed not to see him yet this season. Naturally, Means pitched on Saturday, and will miss the Jays yet again. You may remember LH reliever Paul Fry, who was generally seen as a potential trade target for teams looking to fortify their bullpens at the deadline. The Orioles chose to keep Fry around, and you could say that their faith was not rewarded. In his last 10 outings Fry has allowed 11 hits and 19 runs in just 5.2 innings, while striking out 3 and walking 15 - that's right, 15 walks in 5.2 innings, and somewhere Tyler Chatwood (just DFA'd by the Giants) is saying "Dude, you gotta throw some strikes once in a while." Fry has just been optioned to AAA Norfolk in hopes of re-establishing some kind of acquaintance with the strike zone. Matt Harvey has actually been fairly decent since the Break (2-4, 4.10) - but Harvey is still tied with teammate Jorge Lopez (who's been moved to the bullpen) for most Losses by any pitcher in the majors this season.

So I think it's clear that if ever circumstances were arranging themselves to help a group of struggling hitters sort out their problems - the appearance on the schedule of this bunch of ne'er-do-wells is exactly the remedy you're looking for.

Naturally all of this has me extremely worried. Be careful what you wish for, and that sort of thing.

But at least I've concluded that it is indeed the actor Harold Perrineau whom Cedric Mullins so closely resembles.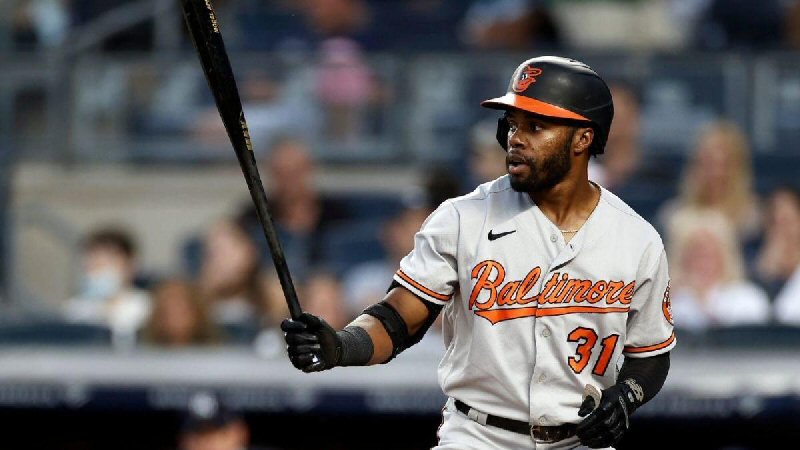 Separated at birth, I'm sure of it.

There be Matchups
Mon Aug 30 - Ellis (0-0, 9.00) vs Ray (9-5, 2.72)
Tue Aug 31 - Akin (1-8, 7.26) vs Ryu (12-7, 3.88)
Wed Sep 1 - Harvey (6-14, 6.18) vs Matz (10-7, 3.81)