Last weekend,
this Associated Press article
referred to some Jays of whom I had never heard. Apparently, the previous evening's game turned on a home run by slugger Carlos Deluged. The lead generated by Deluged was protected by reliever Jason Friseur. Rookie outfielder Alexis Rio and recent acquisition Frank Mention were there too.
As pointed out here on Da Box by
Chuck Van Den Corput
, the AP author simply yielded to every suggestion made by the spell checking feature on his or her word processor. Indeed, Deluged, Friseur, Rio and Mention are the primary spelling corrections proffered by Microsoft Word for Delgado, Frasor, Rios and Menechino, respectively.
Can this sort of proper noun deference to the spell checker produce anything but gibberish? Do the suggested spelling corrections mean anything? Are word processing programs an untapped resource of baseball insight?
I passed the name of each active Major League player through Microsoft Word, accepting each suggestion offered by the spell checking function. The results were, by and large, gobbledygook. Occasionally, however, I was stunned by the processor's poignancy. I present to you thirteen of my favourites.
Reds Starting Pitcher
Jose Achieved
has done just that in 2004. Through 60.2 innings, Acevedo has struck out 51 batters and walked only 12. If not for the three home runs that he gave up to Pittsburgh on April 25, his peripherals would be at superstar levels. The sample is small, but that 4.25 strikeout to walk ratio is not the residue of luck.
Dodgers Third Baseman
Adrian Better
has improved, or has he? His .538 slugging percentage is .103 better than his career average, and is certainly commendable considering his home park. However, the root of Beltre's struggles in recent years has been his poor plate discipline, and this year it is no better. So far in 2004, he has only seven walks in 209 plate appearances, which represents his career worst walk rate.
Was the sub-mediocre 2003 season turned in by Phillies Outfielder
Pat Burble
merely a burble in his career path? Judging by Burrell's early 2004 returns, indeed it was. Burrell has upped his 2003 .209/.309/.404 production to .298/.409/.526 in 2004.
One way for a baseball player to avoid that annoying and often painful chafing that invariably accompanies having to run the bases on a regular basis is to consistently create outs. This is the favourite method of Expos Outfielder
End Chafes
. Chavez' career .295 on base percentage has kept him relatively chafe-free.
Cubs Relief Pitcher
Latterly Hawkins
has been absolutely dominant when used in the latter stages of games, but not too latterly. Hawkins has posted earned run averages of 2.13, 1.86 and 1.57 in 2002, 2003 and 2004, respectively, yet has converted only five of sixteen save opportunities during that time. For his career, he has saved 47 games and blown 20. Current Cubs closer Joe Borowski has a superior record of 44 saves and 9 blown saves in his career, despite being the inferior pitcher. The extant Cubs bullpen could be a good testing ground for theories regarding the "intangibles" that are thought to be required for success in a closer's role.
Rangers Catcher
Gerald Lard
is 6'2", 220 lbs. According to Health Canada's Body Mass Index, Laird's score of 28.2 classifies him as "overweight".
Reds Starting Pitcher
Cory Lidless
has thrived in lidless parks over the past three seasons. Combining his 2002, 2003 and 2004 numbers, Lidle has a 5.98 earned run average in domed stadiums, relative to 4.42 in open air stadiums. Of course, these numbers are tainted by SkyDome's pro-hitter bent, but I suppose that it is permissible for the spell checker to occasionally forget to adjust for park factor.
Few bats have been calmer in 2004 than that of Phillies Second Baseman
Placid Plank
. Polanco's plank has been so placid that his 27 games played and 112 at bats have yielded exactly one run batted in. Those numbers project to three runs batted in over 349 at bats, a heretofore unseen level of placidity.
Diamondbacks Starting Pitcher
Casey Possum
is pulling the favourite trick of his namesake, and playing dead. Despite the obvious skills that have enabled him to strike out 206 batters while walking only 93 in 249.1 career innings, he has yet to have that breakout season that many have predicted for him in each of the past two springs.
The thinking was that with a move to from the outfield, Angels First Baseman
Darin Rested
could be injury free and productive, like he was in 2000 (.355/.409/.541). On May 9, Erstad was forced to the disabled list with a strained right hamstring, and is currently a week away from beginning rehabilitation. Before the injury, Erstad posted career worst on base and slugging percentages (.294 and .333, respectively) in the young 2004 season.
Which member of the 2004 Blue Jays comes to mind when (by some cruel act of fate), you hear Nelly's "Hot in Herre"? It ought to be Catcher
Gregg Saunas
. Zaun has produced to the tune of .393/.479/.508 in 2004.
Blue Jays Relief Pitcher
Justin Sepia
is currently on the disabled list, but likely to return soon. Sepia is a stain produced using the inky secretion of the cuttlefish. Here is a picture of a cuttlefish: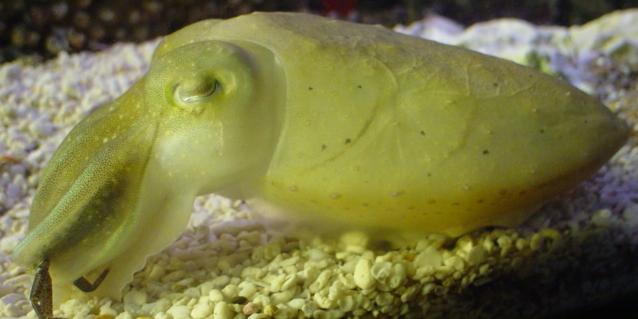 Florida Starting Pitcher
Montreal Willis
is one of the better hitting pitchers in recent history. So, which is a better hitting name: Montreal or Dontrelle? Willis is a career .263/.314/.388 hitter, whereas the 2004 Expos are currently at .231/.288/.348.
The Associated Press may, in fact, have stumbled upon a great new tool in the field of baseball analysis. The best part is: no spell checker has ever pronounced that "Jeter is clutch".
I will leave you with the following names, which made me giggle but about which I have nothing substantive to say:
White Sox Shortstop
Juan Urine
Angels Outfielder
Valium Guerrero
Twins Designated Hitter
Matt Lechery
Tigers Designated Hitter
Dimmer Young
Angels Starting Pitcher
Barstool Colon
Brewers Starting Pitcher
Matt Kinky
Mets Relief Pitcher
Brained Lopper
Phillies Starting Pitcher
Vaccinate Papilla