The Rookie level Pulaski Blue Jays kicked off their 2005 campaign with a loss to the Danville Braves on June 20. Itís been a tough season for a club that is accustomed to finding itself at or near the top of the standings. An 18-21 record through July 31 had Pulaski sitting in 3rd place, with the Princeton Devil Rays between themselves and the division leading Braves.
The P-Jays are scoring 4.5 runs per game, with a collective offensive line of .241 / .322 / .371, and have stolen 23 bases at a 62% success rate. Theyíre giving up runs at the rate of 5.9 per game, with the pitching staff sporting a 4.73 ERA, a 1.44 WHIP, 8.50 K/9 and 2.76 K/BB. The defence (pitchers excluded) has booted 67 balls in 39 games, leading to 52 unearned runs. All stats above and following are through July 31st. Letís look some individual performances:
The Butler Gets It Done
Outfielder Jacob Butler is the highest drafted player in Pulaski (8th round, 2005) and heís also the best hitter thus far. His .258 / .358 / .532 line makes him the only Blue Jay with an OPS north of .800, and he also leads the club in homers (8) and ribbies (29). 20 walks is nice; 37 whiffs is an area for improvement.
Litschís Pitches Give Hitters Fits...es
Signed this May after being a 24th-round draft-and-follow pick by the Jays in 2004, 20-year-old Jesse Litsch has started his pro career in style. Heís the undisputed P-Jay ace, leading the way with 54 strikeouts in 49 innings over 8 starts. His nifty 2.39 ERA is even more impressive when one considers that heís only allowed 2 unearned runs - remember that the team has allowed 52 of these, or 23% of the total runs against. Opponents are hitting a measly .200 off Litsch, and in typical Blue Jay pitching prospect fashion his K-BB ratio is outstanding, at 7.71.
The Stone At The Keystone
Shortstop Wesley Stone lays claim to the titles of Youngest Blue Jay In North America, Blue Jays Highest Drafted High Schooler In The Last Three Years, and Hardest Surname In A Literal Sense In The Toronto Farm System. But not content with labels which are far more unwieldy than they are meaningful, Wes is hitting a very solid .324 / .388 / .402. He has committed 8 errors in 27 games, but given the context of the league this canít be taken as a point of concern without first hand observation of his glovework. A 35/11 K/BB rate in 116 PA is less than ideal, but itís also too early to consider it a red flag.
An Old Hahn
One of a handful of second-year Pulaski players, righthander Cory Hahn is anchoring the Pulaski bullpen. In his first 12 outings he struck out 21 in 17 innings, holding the opposition to a 2.08 ERA and a 1.21 WHIP.
No Halter On Kalter
Blue Jays farm director Jon Lalonde named 20th-rounder Zach Kalter as his favourite sleeper pick of the 2005 amateur draft. The outfielder has been running amok on the bases, accounting for nearly two thirds of the teamís stolen base total (14 of 23) and doing so at a solid 74% success rate. His impressive total of 27 walks in 142 plate appearances has his OBP at a very healthy .387. The leadoff skills firmly in hand, Kalter will look to improve his .239 batting average and .345 slugging percentage over the remainder of the season.
Courtesy of Bauxite Ashley Graham, hereís a photo of Kalter in action.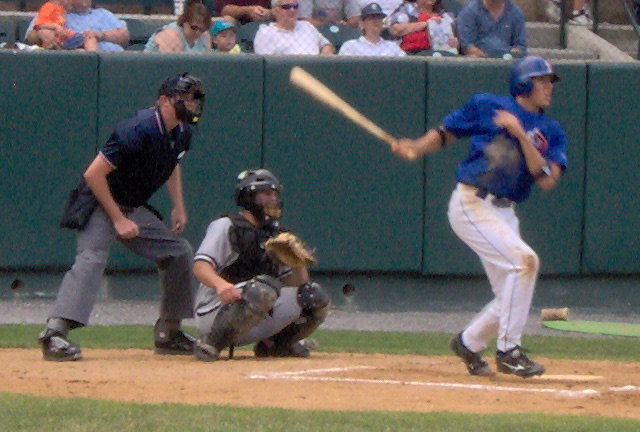 Say It Ainít Soto
Third baseman Leance Soto is the highest profile amateur free agent signing the Blue Jays have made in the J.P. Ricciardi era, and itís hard to imagine a career getting off to a worse start. Lee played in 25 games in June and July and hit an embarrassing .139 / .188 / .304, striking out in very nearly half his plate appearances. It seems too obvious to bother postulating that Soto has been pressing, to the detriment of his performance; itís tempting to speculate that a nagging injury could also be playing a role. As usual, time will tell.
Are You Jimmy Ray?
In previewing the Pulaski Jays, I labeled Ray Gonzalez ďThe Mystery ManĒ as I could find no record of him in the 2005 Blue Jays Media Guide nor anywhere on the internet. Turns out ďRayĒ is short for ďReidierĒ, and heís done a very nice job of making himself memorable with a dominant debut in the Appalachian League. Through July 31st the 19-year-old had the best ERA on the staff at 1.63 over 28 innings (6 starts and 1 relief appearance), with a 24-6 K-BB ratio and a 1.16 WHIP.
Update: Since the time of writing, Ray Gonzalez has been lost for the season with an ankle injury. Replacing him on the roster is right-hander Jon Grijalva, purchased from the Ohio Valley Redcoats.