Fresh off his recent Jamie Campbell-approved
Trading Deadline Roundtable
...once again, here's everyone's favourite Sicilian Cheer Clubber, Jobu.
---
Like NFH so graciously stated a few weeks ago, I donít really analyze.. Thatís not my thing. If I tried to everyone would just point and laugh and say ďThatís not how you calculate runs created!Ē I mean, what can I do? Make a data table? Iím here to theorize about everything and everything, Iím a psych major after all. And without further ado, hereís Jobuís Baseball HodgePodge (not affiliated with Dave Hodge or Richard Podge Valenzano). We begin with an episode of...
---
Tonight, in a very special episode of Too Many Molinas!, the boys visit the Toronto Blue Jays Clubhouse.
Bengie: Wow, Iím so excited to start our new baseball magazine. Going around and inteviewing our fellow players.
Jose: And Iím so excited Dad didnít see us sneak out to go reporting. Heh.
Yadier: And IíM so excited that they got a buffet in here!
Bengie/Jose: Yadier....!
Zaun: Hello boys, Iíve been expecting you. My name is Gregory Zaun. Catcher for these Toronto Blue Jays. Would you like to do an article about me? I originally grew up in Wales where I was quite the cricket player, but my old gammy leg.... I pulled a string you see....
Yadier: Sheesh.. This guyís about as exciting as Dadís cooking!
Bengie: What my brother MEANT to say was, perhaps we could start our article by speaking to your coach?
Zaun: Well... you can TRY boys....
Gibby: Dang ol welcome to the clubhouse man! Siflk dirs sidrarh fling olf dur an petei sfhi frige interview man.
Jose: I canít understand a word he said! Weíll never get any work done if we canít write what he says... maybe we should talk to Orlando Hudson
(Turns to Orlando who opens his mouth just about to speak)
Bengie: Actually... maybe we should find someone new. I hear Miguel is a very articulate person
Miggy: (putting down his copy of Spanish Law vs Supernatual Serial Killers) Hello fellow children of God. What can I do for you? Come... sit under my portrait.
Bengie: Uhhh... Mr. Batista, could you tell us a little bit of what pressures you feel as the teamís closer?
Miggy: Of course... if I had to draw an analogy... I would say itís like potatoes and rice...
Jose: What?
Miggy: Well, itís like a alley knife fight. I aim to kill the other person. When I go up to pitch, I want to kill each and every person I see.... both spiritually and physically.
Yadier: But... what does that have to do with potatoes and rice??
Miggy: Ah... I see youíve never had potatoes and rice before...
Jose: Okay... new plan of attack, lets try talking to some of the younger guys. Oh, thereís Eric Hinske.
Eric: Nobody calls me Hinske. You got the wrong guy. I'm the Dude, man.
Yadier: I really dig your game man. Youíve been getting a bad rap.
Eric: *$&%(* - A man! Thanks! Iím gonna fix myself a white russian, you want in?
Bengie: Actually Eric, we were wondering how you felt about your huge slump this year
Eric: Well *$&% guys... I can explain that... someone took my $*%&(* rug man... howím I suppose to bat without my rug? That rug really held the clubhouse together.
Jose: Rug?? I thought you would have talked about the batting coach, or the fanís booing or something..
Eric: Those #*(&$# nhilists man!
Jose: AGGGHHH!! Thereís Jason Frasor, maybe heíll say something usefull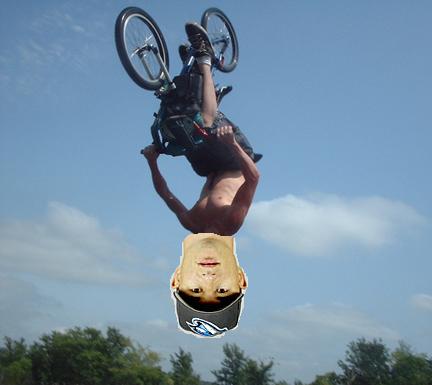 Bengie: Uh.... Mr. Frasor....
Jason: EXTREMEEEEEEEEEEEEEEEEEEEEEEEEEE!!!!!!!
Bengie: Oh forget it!! Letís try a rookie, thereís Chacin
Yadier: Mr. Chacin, any thoughts about your last start?
Gus:Tonight let us make them remember: This is ZION, and we ARE NOT AFRAID.
Bengie: Uhhh.... are you saying you werenít happy with your last start?
Gus:No, what happened, happened and couldn't have happened any other way.
Bengie: What do they serve these guys? What the heck? Palmeiro?? What are you doing in here, this isnít the Baltimore clubhouse.
Raffy: I have never been a member of the Baltimore Orioles. Period.
Jose: This is getting insane!! Look! Thereís Jamie Campbell! Maybe heíll be the voice of reason.
Jamie: Iím sorry boys I canít help you. Iím driven to pose in another sexy dramatic photo shoot.
Bengie: Look out! Itís Billy Joel!!
Billy: Iím drunk driving my CADILLAC-ACK-ACK-ACK-ACK-ACK-ACK-ACK-ACK-ACK
Yadier: Jeez bros... what are we gonna do?? None of our interviews are any good, Billy Joel crushed half the team, and "Dad" Shulmanís gonna be super upset when we get home without a reason!
Russ: Well heck boys... I ainít no therapist, but maybe itís time you boys came clean with your pops.
B/J/Y: Thrillhouse?!
Russ: The one and the same... heh. Now you boys should know that youíre part of a family, and being part of a family is a lot like being part of a ballclub.
Yadier: You mean we get to spit on the floor?!
B/J: Yadier!
Russ: Heh, no. But you do need a lot of teamwork to be successful. Now when you lie to your dad and sneak out of the house like this, thatís not being part of the team. Just think how worried sick Dad must be right now if you boys went on the DL or something... wandering all around the clubhouse like this. Why donít you head on home and tell him youíre sorry?
Jose: Gee... thanks Mr. House. We will. I think we finally learn what team responsibility is all about.
Dad (narrating): And the boys DID come home. All thanks to a wise old stranger. And everyone was happy... well, except Neil Young who wasnít impressed.
---
There, wasnít that fun? Oh... I still have space to kill...hmm...maybe I can put in a spiffy graph comparing the careers of Corey Feldman and Corey Haim: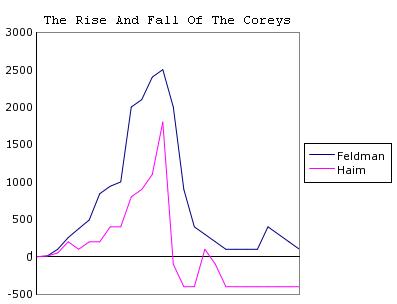 There, Pistol would be proud. They both began to rise sharply in the mid 80s with team hits like License to Drive. They reached their peaks in the early 90s though Feldman was always bigger. He was the voice of Donatello! Well... not in part II, they didnít bring him back for that, but he was back for part III! Haimís star was never as bright as Feldmanís. Then they both kinda... well.... plummeted I guess is the word. Haim had a brief ressurgence with the ďso bad its goodĒ Snowboard Acadamy in 1996 (seen it yet, NFH?). Then he went away, whereas Feldman was in that Moby video and the Surreal Life where he always cried for some reason, so he gets a nice little blip. Oh right... back to baseball, hereís some random thoughts:
- In the long history of baseball and its dumber fans, how come no one ever put an S in front of the H in Designated Hitter? It seems like the ultimate bad joke waiting to happen with surly fans. ďDesignated Hitter?! The way our guy hits, they might as well call him the Designated *hitter!Ē Just a thought.
- Remember when Kelly Gruber got his turn at the mic on that stage when the Jays won the '92 series and he was wearing that ďteacherís jacketĒ with the leather patches on his elbows? Man, thatís my most vivid memory of that series. What confidence to wear a jacket like that to a parade. I wish I had a photo.
- If itís the last play of a key game, and the home hitter looks like he hit a lazy fly out to the OF, if the ball boy runs in and makes a diving catch in front of the confused OF, does that count as a double for the batter on interference?
- In the 8th inning of the tied Tigers/Jays game a few days ago, me and my loser friend Rick decided to make a super RBI pool while sitting in our fancy 100 level seats. It was super because instead of putting in loonies we bet a rib dinner. Thatís right, we each took one Jay, and if that Jay got the next RBI (and therefore probably wins the game) the person who believed in him is treated to a rib dinner that night. He chose Rios, I chose O-Dog. In conclusion: Lone Star Grill has ďOKĒ ribs, but they taste fabulous when theyíre free.
- I assume a lot of you are addicted to fantasy baseball like me. I hope that most of you arenít as far over the edge as me that you actually waste money on fantasy baseball magazines like I do. Is there a more ďwhat happened last year will happen foreverĒ bunch of people then fantasy magazine writers? In all my magazines their ďpredictionsĒ had the Jays finishing LAST this year behind Tampa. It doesnít take a stats wiz to figure the Jays werenít gonna be last this year and Tampa was gonna be as useless as Rocky VI. These guys get paid for this? Can I get paid to ďpredictĒ that Nick Nolte will go crazy?
- In the amazing history of baseball pranks, why hasnít the ďtamper with the rookieís entrance musicĒ idea been tapped? Itís just begging to happen. Imagine the look on Hillís face when heís forced to walk up to the plate to the theme from Cats or ďMaterial GirlĒ.
- Thrillhouse, Thillhouse, Hillhouse, Hillenhouse...Just think about it, thatís all I ask.
- Does Kevin Costner have any baseball movies coming? Iíve had my fill of recent baseball comedies that arenít as good as Major League. I wanna see baseball hit some nice dramatic chops again.
- What are the logistics of having Miggy enter the game through a trapdoor in the mound?
Well, I should probably leave you be now. Half of you are probably still trying to work your way through the saga of my last game report. Mucho thanks to Rob, the Batter's Box Rookie of the Year, for his aid during this report. GO JAYS GO! Support your local Cheer Club.