Here is yet another look at your Toronto Blue Jays, plus maybe a random thought or two. Enjoy and/or scroll past!
Russ Adams
At this point, I think it's safe to say that he's sleeping with the fishes. The Jays have decided that Adams can't play short, and that Hill's best position is second base. This leaves no room for Russ anywhere. It's a shame - he's obviously a good athlete. But he's a tweener: he doesn't hit well enough to serve as a bat off the bench, and he doesn't field well enough to serve as a reserve glove. If he wants to have a career, he may need to follow Chris Woodward's path, and learn to play a lot of positions.
Frank Catalanotto
Has stopped drawing walks: since the break, he has had 105 at-bats and only five walks. This is not unusual for him - he normally fouls off borderline two-strike pitches instead of taking them and risking being rung up. He would have made a great cricketer. My guess is that, once the Jays' lineup stopped behaving like Murderer's Row, pitchers have become less intimidated, and are more willing to challenge the Cat. But that's just a guess.
Will the Jays want to re-sign him? Reasons why they might want to: he's a good hitter, and he has stated, in the past, that he really enjoys playing here. Reasons why they might not want to: he's getting older, the Jays have other outfielders, and Adam Lind looks like a genuine hitting prospect. (I've forgotten what a genuine hitting prospect looks like.)
Troy Glaus
He's been struggling with a bad knee, and his injury has limited him to a slugging percentage of only 1.131 since the break.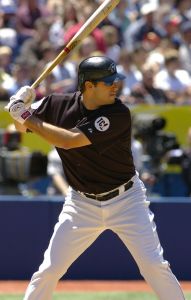 Many top-flight power hitters are streaky, and the mighty Troy looks like he's one of them: he was red-hot early in the year, struggled in early summer, and is now treating American League pitchers as if they were an extra round of batting practice. Is it a coincidence that he started hitting when he no longer had to play short?
Aaron Hill
The news keeps getting better: since the break, Hill's walk rate has improved. It's hard to believe that this is his first full season in the majors: he plays like a seasoned veteran. He will need to develop some power to become a star. He's young enough to do it.
Regardless of what happens from here on out, the Glaus-for-Hudson trade has to be considered a success: Hill's best position has turned out to be second base, and the Jays own Hill's rights for many years at bargain rates.
Shea Hillenbrand
Let me put it this way: I am not rooting for the San Francisco Giants.
Eric Hinske
Has found his niche as a useful 25th man. His weaknesses are well-documented, but look at what he can do: he can play first base, right field, third base, and (probably) left field in an emergency. He runs well enough to pinch-run, and he mashes right-handers well enough to pinch-hit. Some teams need about three guys to do all of these things.
Reed Johnson
Has become a different hitter since the break: instead of hitting for average, he's driving the ball, picking up 15 doubles and five home runs.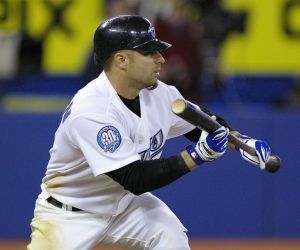 His low walk total suggests that he's in "see ball, hit ball" mode. This would be a worry if pitchers ever start trying to pitch around Sparky - but they're not likely to do that, given that Wells and Glaus come up behind him.
John McDonald
Did you know that McDonald has had more extra-base hits since the all-star break than Alex Rios and Gregg Zaun - put together? Mac is what he is: someone with lots of glove and not very much bat. He's likely to have a longer career than Russ Adams because he has one thing that he does really well. A player who is excellent at one thing can often find a role on a major league team, as Mac has.
Bengie Molina
Erm... if you're going to complain about playing time, you might want to get your on-base percentage over .266 (which is where it's been since the break). He's had one (1) walk since the break, and he's still slower than continental drift, consistently turning doubles into singles.
I get the feeling he won't be back. I wonder: would the Jays have been better off with a combo of Zaun and Phillips?
Chad Mottola
Ten more major-league at-bats to add to his career total, which is now 119. In his first stint with Toronto, in 2000, he had 9 at-bats. Hey, that's more than a lot of players ever get.
Lyle Overbay
Has become the doubles machine he once was in Milwaukee - he's churned out 15 of them so far since the break.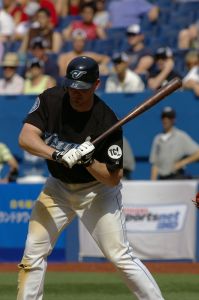 His walk total is way down, which makes sense, I guess: if you're getting good pitches to hit, and you're driving them, why bother trying to work the pitcher for a walk?
Jason Phillips
It's more fun to drive on I-90 if you're going to Toronto than if you're going to Syracuse. Phillips may be doing a bit of both in the next little while.
Alex Rios
He's showing some signs of life - every now and then, he turns on a pitch. But he's basically starting from square one again. Baseball can be cruel.
Ryan Roberts
I believe that he is the most-tattooed player in Blue Jays history. Justin Miller is the only other Jay who came close to having that much ink on his body. If he can't play shortstop, he's probably doomed: he doesn't hit enough to play regularly, and he won't be considered for a supersub job.
Vernon Wells
A decision that J.P. has to make: do you try to keep V-Dub after 2007? He's an extremely valuable player, but he's in his peak years right now, and he'll cost a pretty penny. Please, please, Vernon: if you go, don't go to the Yankees.
Gregg Zaun
Like last year, Zaun has wilted in the summer heat: he's slugged .203 since the break. He's still drawing walks, and his defense is steady, so he's helping the club - but I think this is why he lost the #1 catcher's job.
Jeremy Accardo
We are witnessing the changing of the guard. One group of relief pitchers (Speier, Schoeneweis, and maybe Frasor) is being phased out, and a new group (Accardo, League, Tallet) is being phased in. Accardo throws harder than most of the pitchers who have been consigned to the Jays' bullpen. The only concern is whether he will survive the transition to an extremely homer-friendly ballpark in the tougher American League.
A.J. Burnett
Has seemingly adopted a "here it is - hit it if you can" approach to pitching: since the break, he's given up more hits than innings pitched, but he strikes out a man an inning and hardly ever walks anybody. He's becoming a perfectly serviceable starting pitcher. Sure, he's overpaid, but the Jays went into this with their eyes open: they knew that they would have to pay a risk premium to land a top-rank free agent. That's just the way things work.
Vinnie Chulk
When he came up, he looked like another in an endless stream of sub-replacement level pitchers from Syracuse: they came up, they got beaten up, and they got dumped by the side of the road.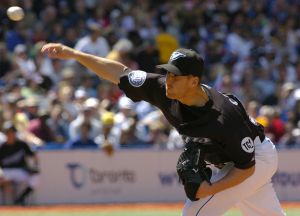 Chulk has managed to help the club for much longer than his cohorts did (where have you gone, Micheal Nakamura?), and he managed to fetch a serviceable pitcher in a trade. I hope he does well out by the bay.
Scott Downs
Probably best suited to Pete Walker's old role. He's not consistent enough to serve as a late-inning spot lefty, and he can pitch several innings at a stretch. Has an ERA of 1.47 after the all-star break.
Jason Frasor
I almost forgot about him. Today was his first day of work since being called up, which suggests that Gibbons doesn't have confidence in him just yet. His Syracuse numbers show that he is still struggling with his command, so I wouldn't expect miracles.
Roy Halladay
I'm officially worried now. Here's some of his stats since the break: 40 2/3 innings pitched, 51 hits, 27 strikeouts, 4.20 ERA. While the sample size is small, this suggests that Doc is battling fatigue or arm trouble. I hope I'm wrong.
I suppose we should remember that Doc is human, and capable of periods of ordinary performance. As long as he keeps his team in the game and stays healthy, he's still very valuable.
Casey Janssen
Here's a general rule: to be successful in the major leagues, a pitcher has to be striking out at least one man every two innings. (I call this the Michalak Line.) A pitcher who is not striking out batters has to hit his spots consistently, or major league hitters will beat him like a gong. But very few pitchers can maintain pinpoint control through start after start - eventually, something will go wrong with their mechanics. It's like trying to cross a tightrope blindfolded on a unicycle while holding an umbrella and playing "I Wish I Could Shimmy Like My Sister Kate" on the kazoo: he could make it, but I know which way I'd bet. Josh Towers is the most spectacular example of a pitcher with low strikeout totals succeeding for a while and then failing.
It looks like Janssen is going to be another of these pitchers. In 94 innings of work, he has struck out only 44 batters. That's not good enough. With pitchers, you can never predict the future - Janssen could develop a new pitch - but I'd say that he's not going to make it.
Brandon League
Can we dare to hope that League has successfully harnessed his stuff? He has the ability to blow the league away with his hard slider and his 98 MPH fastball. Will likely take over Speier's role as the #1 setup guy. The temptation to use him for two innings every other day will likely be overwhelming - he's still very young, and it would be a horrible shame if he were to be abused to the point of injury.
Ted Lilly
I think we all have to take a deep breath, step back, and look at the big picture. Sure, on any given day, Lilly is capable of a horrible meltdown. But, on other days, he's capable of overwhelming tough American League hitters. Sometimes, he's capable of both on the same day. He's a quality pitcher, and he'll likely command a huge salary in the free agent market. If it gets too stressful to watch him, just head out to the beach for the afternoon, and check the box score when you get back.
Shaun Marcum
To continue with a theme: Marcum has a better chance of succeeding than Janssen because he strikes out more batters. In 38 2/3 innings, he has fanned 29. This is well above the Michalak Line. Of course, strikeout totals don't guarantee success: Marcum will need to be able to consistently command his stuff. But I like him better than any of the other youngsters who have been tried out in the fifth slot in the rotation. The way he holds his glove to his face before starting his windup reminds me a lot of Pat Hentgen.
Dustin McGowan
Okay, enough is enough. Whatever gave the Jays the idea that a pitcher with a 4.73 ERA in Syracuse is going to be able to help the big club?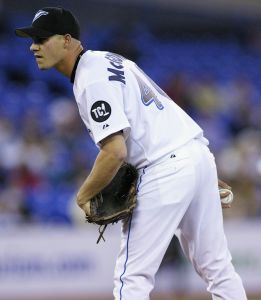 McGowan's got great stuff, but he can't find the plate with both hands and a flashlight. Send him back to AAA, and give him a chance to locate the target there. When he starts dominating minor league hitters - which he is capable of doing - then bring him up and put him in the rotation. Or, if they don't think he's going to ever command his stuff, bundle him in a trade.
This is where J.P. earns his spurs: he'll have to put on his scout's hat and determine, accurately, whether McGowan is going to succeed.
Francisco Rosario
See the comment on McGowan. It would improve the Jays' future immensely if one of these guys was to get good sometime soon. As always, J.P. Ricciardi's greatest weakness as a GM is that he isn't lucky enough: in a different universe, both McGowan and Rosario are mowing down helpless batters.
B.J. Ryan
He had one or two bad outings, mostly due to overwork, but he's doing just fine. I see no reason to suspect that Ryan won't continue to pitch well. He'll probably give up a run or two every now and then - he was a bit over his head in the spring - but he's a top-rank closer, and has been indispensable.
Scott Schoeneweis
There is nothing in his post-break numbers to suggest that he is capable of contributing anything useful the rest of the way. It looks like he's gassed. Ernie Whitt, you have a mission to perform: if Gibbons tries to step out of the dugout to make a mid-inning pitching change when the pitcher on the mound is doing just fine, your job is to grab Gibby by the ear and force him to sit back down. Gratuitous pitching changes: just say No!
Justin Speier
Believe it or not, his post-break numbers were great: 15 strikeouts and 4 walks in 10 2/3 innings, and no home runs allowed. The moral: no pitcher can be asked to pitch the eighth inning of virtually every freaking game.
Brian Tallet
I don't know how he is managing to keep his ERA so low, given that his strikeout total is so low and his walk total is so high. Tallet's supporters would claim that he is good at getting out of jams. I say he's been lucky - I see no evidence to suggest that he is going to be a long-term solution. But I'm so consistently wrong that this probably serves as a blessing for him.
Overall
Damon Runyon once wrote that all of life is five to four against. I think, in our heart of hearts, we all knew going in that the odds were against the Blue Jays hurtling past both of the 600-pound gorillas stomping all over the AL East. Especially given George Steinbrenner's capacious wallet and appetite. But the Jays have made considerable incremental progress this year, and are capable of making more progress next year. And, hey: they're not absolutely completely out of it yet.
And suppose that the worst case scenario comes true. Suppose that Ted Rogers decides that he overextended himself too much, and no longer wants to throw tens of millions of dollars at this team. Suppose further that he orders Paul Godfrey and J.P. to conduct a fire sale. Even if this comes to pass, I'll still have no regrets: this year's Jays tried their very hardest to win. And for a few moments there, it looked like they actually had a real chance. It's been years since there's even been faint hope around these parts, and this has made the summer much more interesting. I, for one, am grateful.