Yesterday Gerry asked "3. Finally, as much as I love Halladay and the value he has delivered to the team, what are the prospects for a 32 year old pitcher with 2000 innings and a lot of heavy workload in his arm? While Doc has delivered tremendous value to the Jays, will he continue to deliver it trhough age 37? I don't know the answer to this question but I am sure the Jays have analysed it and have an opinion. Someone here could look at comparables and see how they held up through age 37."
I had a quick and dirty look using the Play Index at Baseball Reference.
I was interested in pitchers in recent history who had a similiar workload to Doc and had produced similiar results - i.e. top of the rotation workhorse type starters. Doc is in his age 32 season, he will likely end this year at a touch over 2000 IP and has a career ERA+ of 132. So I looked for guys who had pitched since 1980, had racked up at least 1750 Innings and an ERA+ of 120 or better by the age of 32.
This produced 16 pitchers (aside from Doc himself):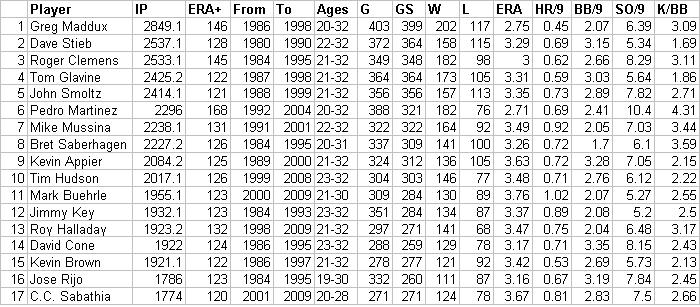 This threw up most of the names that would be expected. The most notable pitcher missing is Randy Johnson who was a bit shy of the Innings Pitched mark.
I then had a quick look to see how these guys did between ages 33 and 37.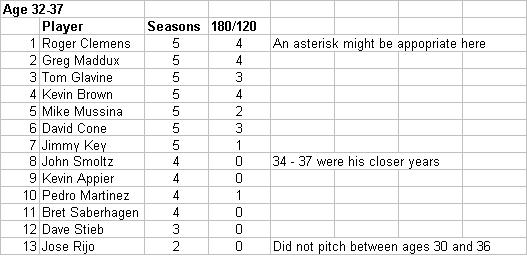 Seasons stands for the number of years they pitched (ie not out injured or retired) and '180/120' is the number of years they had at least 180 Innings Pitched and an ERA+ north of 120, which is what I arbitrarily decided to use as a proxy for a good season. The results show that Clemens, Maddux, Glavine, Brown, Mussina, Cone and Smoltz held up pretty well post 32 - i.e. they were durable and had successful seasons. Whilst Key, Appier, Martinez, Saberhagen, Steib and Rijo either weren't around or weren't having as much success as they'd previously enjoyed.