I talked with the Lugnuts new first-year manager Mike Redmond at the start of this month when I was in Lansing.
Redmond
played parts of thirteen years in the big leagues and retired with a lifetime .287 batting average. Redmond was never a starter, his maximum at-bats in any one season was 272. But he was on the Marlins team that won the world series in 2003.
BB: How has it been the first month as a new manager?
MR: It's been great, I am enjoying it. It's a different role, just coming off being a player, now I'm managing and I have a group of guys to be in charge of and make sure they get their work in and learn the fundamentals. I think the biggest challenge has been the weather. We have had terrible weather so we haven't been able to do a whole lot outside, but the weather seems to be turning and these guys have worked hard and we are playing well now so it's fun to watch.
BB: Do you get first year manager lessons or do you use your experience?
MR: There is no training program. I played nearly twenty years so I believe I have a good feel for the game. When you are playing the game it is more instincts than anything, making sure we get the right pitchers in there and pitchers who have to throw in certain situations. It's a fine line, we are trying to win ballgames but we are also trying to teach these guys how to play and get them moving on to the next level. That's my job to stay on top of that and sometimes you are a psychiatrist too, trying to get these guys to stay positive. For a lot of these guys this is the first full season they have played and for Carlos (Perez), and Gari (Pena) and Gus (Pierre) it's the first time they have played in cold weather.
BB: Did you play in this league?
MR: Yes, I played two years in this league, 94 and 95. Lansing wasn't in the league then and there weren't as many teams as there are now.
BB: You retired as a player last year. Did you know that you wanted to be a manager or were you thinking of broadcasting?
MR: I wanted to manage, I just didn't anticipate it being as fast as it happened. I was looking to take a couple of years off and then get back into it. Doug Davis called me and he and I were together in Florida and we started talking and becoming a manager became a bigger interest than I anticipated. Eventually after about six weeks I decided I would take the job once my wife and my kids said I should try it. I did it, I took it and I am having a blast. I am glad I did it. Everybody always asks me if I miss playing, I don't miss playing at all. I am enjoying being out here with the guys, even on the buses. It has been a long time since I rode on the buses but these guys make it fun to come to work every day and there is a lot of work to be done but they are a good group and they play hard and they have helped me to enjoy it.
BB: Did Sal (Fasano) give you some advice during spring training?
MR: No, not really. We are both catchers and we both know what's going on. The only thing that people have told me is that you are going to see a lot of things that you haven't seen before because of the level, and that's true. I played in the big leagues for almost thirteen years and now I am with A ball. There are a lot of mistakes, a lot of errors, a lot of things that come up in the game and that's what I am learning too, having to be patient, which is hard for me. I want things to be perfect too, just like they do. There's a lot of things I am learning too and adjusting as we go. That's what it's all about, no-one in this game can say they know everything. When you get to that point it's time for you to move on because there is so much in this game that you can't prepare for, it's more experience.
BB: Moving on to some player questions, as a former catcher, rate Carlos Perez's defence for me.
MR: He's good, he is really good. For a guy who hasn't been catching for a lot of years he has a good feel (for catching). He is a leader, he works hard with our pitching staff, he blocks balls well, he throws well. I think for him it's just a matter of him gaining experience, calling a game, working with pitchers, some receiving stuff.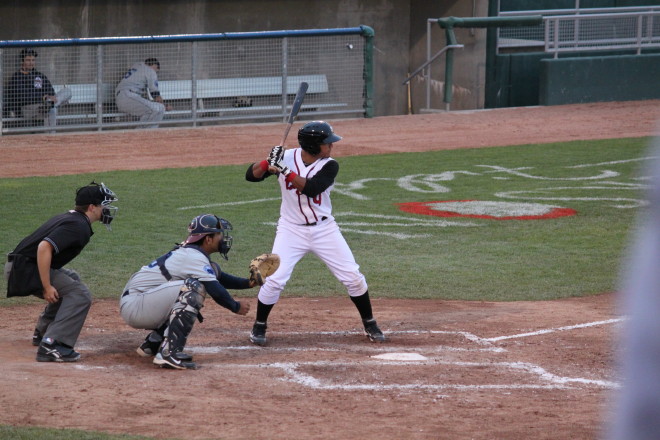 BB: He has had several passed balls, right?
MR: Yeah but that happens, that's not all him. That could be the pitching too at times. Those are all things he will learn as he gets more comfortable with our pitching staff. But I like him, I like him a lot. He has a good mentality. He has a good chance to play in the big leagues for sure.
BB: Gustavo Pierre has been error prone so far this season, not unusual for a a young shortstop, what does he need to do to cut down on the errors?
MR: I think it's probably confidence. Gus is still young, 19 years old. You think about where I was when I was 19 years old, I was a junior in college. This is a big jump, not only culturally, you've got cold weather, it's his first full season, the stats really count. There are a lot of things going on. I think Gus will be fine, we have to get him out there, keep him confident, don't let him get frustrated, don't let him get down, keep him working, work on his technique, work on his skills. He has a tremendous arm, I have seen him make four or five big league plays already so it's in there, it's just consistency and it might take a while, I don't know how long, offensively as well, but it's a growing experience. One hundred and forty games is a lot of games and a lot can happen in a hundred and forty games but you gotta go through it, everbody went through it.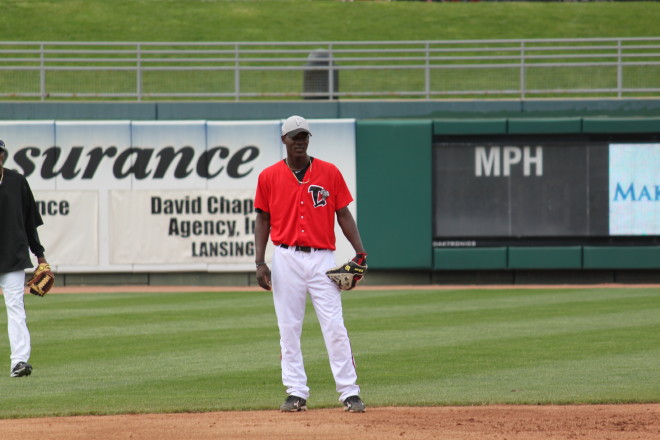 BB: Jake Marisnick looked pretty polished last night, is there anything in particular he has to do to get up Dunedin?
MR: Here's another guy playing a full season for the first time and he does have tremendous upside. He has to go out there and get at-bats. With a lot of these guys it's just a case of going out there and getting five or six hundred at-bats and playing every day and getting the experience. The more things they see, the more situations they get into, the more runners on second and third, less than two outs, RBI situations they see, the better off they will be. And that's just it, they need at-bats, they need to play. And that experience will tell when they are ready to move on.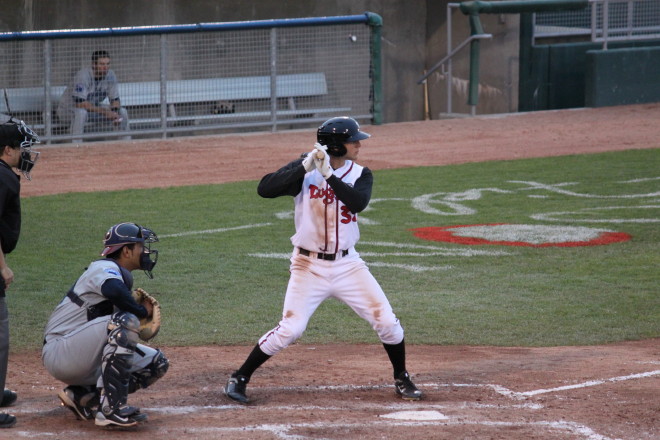 BB: Final question is about Drew Hutchison. As a hitter, what is it about Drew that makes him so hard to hit?
MR: I think he moves the ball around well, he has good movement, he has confidence. He has a good, solid makeup for a pitcher. I think sometimes he gives hitters too much credit, I wish he would challenge guys a little bit more. He is smart, he knows what he wants to do, he tries to set hitters up. I think at this level you don't have to set guys up, they will get themselves out but I think he will only get better as he goes up each level.
----------------------------------------------------------------
Batters Box thanks Mike Redmond for his time. Don't forget that when I was in Lansing I also spoke with Vince Horsman, the Lugnuts pitching coach.