Welcome to the creme de la creme, the number one through ten prospects. In case you missed it number 11 through 20 are here, and number 21 to 30 are here.
We hope you enjoyed this top 30 and the hope it brings to the future of the Blue Jays organization. Check back tomorrow for a few who missed the top 30.

10. Deck McGuire | RHP
Year
Age
Level
G
GS
IP
H/9
HR/9
BB/9
K/9
ERA
2011

22

A+

19

18

104.2

7.7

0.8

3.3

8.8

2.75

2011

22

AA

4

3

20.2

8.7

1.7

3.0

9.6

4.35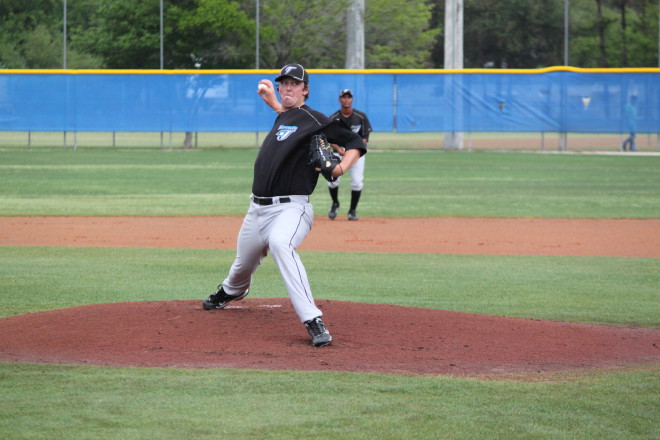 The Jays first round pick of 2010 came into the season as the team's #3 prospect according to Baseball America. The 6-foot-6 Georgia Tech hurler received a $2-million bonus but did not make his pro debut until this season in Dunedin. McGuire's first appearance came out of the bullpen April 7 when he threw four shutout innings, scattering three hits and a walk and striking out five. His first win came April 18 with 5 2/3 shutout frames against Lakeland. He also pitched six shutout innings against Brevard County May 5 and had seven scoreless frames against Jupiter May 17. His last Dunedin appearance saw him throw six shutout innings against Port Charlotte July 22. It was performances like those that earned McGuire a Florida State League All-Star selection. He won seven o f 11 decisions with the D-Jays before earning a call-up to AA New Hampshire.
McGuire pitched a seven inning complete game in his Fisher Cats debut July 27 against New Britain in which he allowed three runs. He followed that up with another victory against his hometown Richmond by meeting the quality start guidelines of six innings and three earned runs. However, McGuire suffered a loss in Bowie in his next start and then landed on the disabled list with an oblique strain. He did return to the Fisher Cats September 5 to pitch two shutout innings of relief against Portland. McGuire was hit around in the Eastern League Final in Game 1 against Richmond by giving up two runs while failing to record an out in a relief appearance. He did get the start in the clinching Game 4 against the Flying Squirrels and gave up two runs over three innings. McGuire saw him home run rate double upon his promotion and his hit rate went up one hit per nine innings. On the positive side, his walk rate dipped slightly and he struck out more than a batter an inning by whiffing nearly one more batter per frame.
McGuire has been lauded for having a decent arsenal that includes a fastball, slider, curveball and changeup that he can throw for strikes at any time. He has improved his fastball command by pitching down in the zone. His heater has been clocked around 90-94 mph and his 82-85 mph slider is said to be his strikeout pitch. His curveball is around the mid-70s and is said to have good feel on his changeup. However, scouts believe McGuire's ceiling is limited because his pitches are not overpowering and profiles as a mid-rotation starter at best. He does get good reviews for his poise and delivery. McGuire, who will turn 23 June 23, will probably head back to New Hampshire in 2012.

9. Adeiny Hechavarria | SS

Year
Age
Level
AB
2B
3B
HR
BB
K
SB
CS
AVG
OBP
SLG
2010

21

A+

161

7

3

1

5

25

7

0

.193

.217

.292

2010

21

AA

253

11

1

3

12

40

6

3

.273

.305

.360

2011

22

AA

464

22

6

6

25

78

19

13

.235

.275

.347

2011

22

AAA

108

6

2

2

8

21

1

2

.389

.431

.537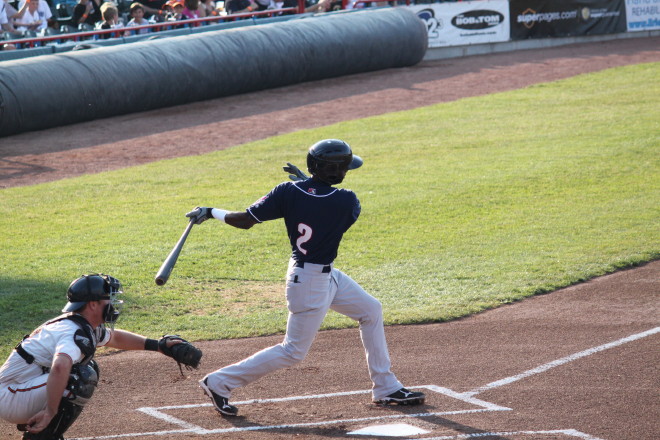 Adeiny Hechavarria is a defensive wizard who, at the low end, could turn into the Cuban John McDonald, or at the high end, into another Omar Vizquel. Hechavarria is probably a better defender than most shortstops who are currently in the major leagues but his fate rests with his bat. And that is the point at which opinions of Hechavarria diverge. Will he hit like he did in the Eastern League, sub .250 with a few walks and some extra base hits? Or will he be the Las Vegas Hech, hitting .300 with some pop? Blue Jays minor league staff suggested that concentration, or taking at-bats off, was an issue for Hechavarria. Baseball America made the same observation. If that is true it has a good and a bad side. The good is that his AAA performance may be closer to his true talent level, the bad is that he could pout and not play well if he is unhappy, not unlike another Cuban shortstop we know.
Like many Latino players Hechavarria is not a patient hitter, though he strikes out in under 20% of his at-bats his walk to strikeout ratio is around 3:1. This is not terrible but a 2:1 ratio would be better. Since starting to play in North America last season, Adeiny has been trying to learn to be more patient in his at-bats and see a better pitch to hit. Is that what happened in Las Vegas? We don't know. In 2011 Hech hit lefthanded pitchers a lot better than right handers. Sal Fasano, in an interview here on batters Box, said that Hechavarria struggled against breaking balls from right handed pitchers. In the PCL he will see a lot of those pitches and hopefully improve his pitch recognition.
At this point only a major injury will stop Hechavarria from playing in the major leagues. The Blue Jays want him to spend most of 2012 in Las Vegas. They say that Adeiny is still learning hitting, and the major leagues is not the best environment to do that The Jays hope that the best part of a year in AAA will cement the hitting approach and skills that will make Hechavarria a better major league hitter.

8. Daniel Norris | LHP

Year
Age
Level
G
GS
IP
H/9
HR/9
BB/9
K/9
ERA
2010

17

HS

-

-

64.0

-

-

-

19.7

1.96

2011

18

HS

11

11

62.0

4.5

-

4.2

16.4

1.80

Many Bauxites would have been happy if Daniel Norris was Toronto's first-round pick. Instead, teams avoided him because of his bonus demands and Anthopoulos drafted Norris in the fourth round, 74th overall, much to the delight of Jays fans everywhere. Reportedly demanding $3.5-4 million to not honour his commitment to Clemson, Norris in fact signed with the Jays for $2 million, the fourth highest bonus in franchise history. It seems likely that at least several other teams would have taken Norris earlier if they knew he would sign for that amount.
A native of Johnson City, Tennessee, Norris was 181 days old when Joe Carter hit his famous home run off Mitch Williams. One hundred and eighty-one days. As a 15-year-old, Norris was hitting 87-88 on his fastball. He didn't limit his athletic talents to baseball, as Norris also played basketball and was co-quarterback of his high school football team. He had one memorable game with over 100 years rushing, another 100 receiving and 150 years passing. However, he gave up football after Grade 11 to concentrate on baseball, where he stood out as a prospect.

Norris had a 33-3 record at Science Hill High School, including a no-hitter with 15 strikeouts. He regularly hit 94 at a Perfect Game Showcase for top high school prospects in Florida during 2010. The southpaw was named the best high school prospect by Perfect Game that year. He was also named Baseball America's High School Pitcher of the Year in 2010 and won the Jackie Robinson Award the same year as the best high school player nationally, following in the steps of Bryce Harper in 2009. Prior to the draft, Baseball America named him the 16th-best prospect and Keith Law ranked him 33rd.
Norris stands 6'2" and weighs 210 pounds. His repertoire includes four pitches that he throws from a three-quarters arm angle. Norris' main weapon is a fastball that can reach 96, but usually sits closer to 92. He also throws an inconsistent curveball that sits in the mid-70's with tight spin but low velocity; a change-up that that can be deceptive and sits around 83 and a still-developing slider in the mid-80's that is used mainly against right-handed batters. Norris picked up his change-up with late movement recently after a session with Kris Benson and it has improved quickly. He is more consistent with his change than his curve and scouts seemed to be split about which they felt was Norris' second-best weapon, although both pitches have the potential to improve. The slider remains a work in progress.

The biggest red flag prior to the draft was that Norris' delivery caused concern to some scouts and also caused him to have command problems. That isn't particularly uncommon in high school pitchers and there is a lot of time for Toronto's coaching staff to try to correct problems they may see in Norris' delivery. Unfortunately, some high schoolers fail to ever make those adjustments.
Norris sounds very humble in interviews and speaks of his determination to work hard and succeed. His makeup, including his passion for the sport, consistently garnered praise in pre-draft scouting reports. Scouting reports uniformly stated that Norris has the true ceiling of a number one starter, if everything goes right. His ranking reflects the fact that he's the gem of the 2011 Jays draft class at this point and, were it not for a very good year by the minor league system as a whole, he could easily have ranked much higher.
7. Justin Nicolino | LHP
Year
Age
Level
G
GS
IP
H/9
HR/9
BB/9
K/9
ERA
2011

19

A-

12

9

52.1

4.82

0.0

1.89

11.01

1.03

2011

19

A

3

3

8.2

11.42

0.0

2.08

9.35

3.12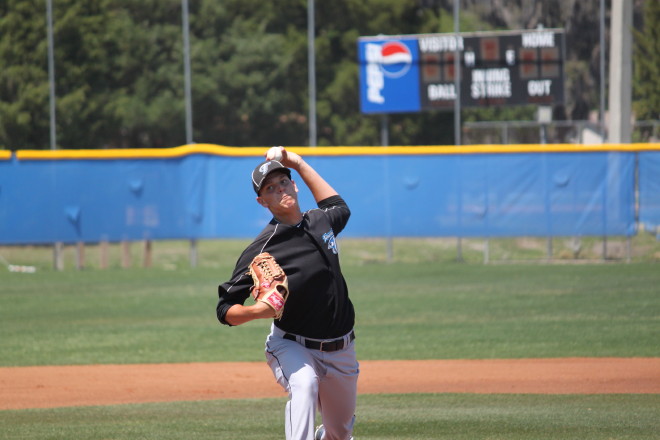 The Toronto Blue Jays system has enjoyed a banner year with a number of minor league players taking big jumps in development. No other prospect – with the possible exception of Drew Hutchison – has seen their value increase more than Nicolino. A 2010 second round pick out of a Florida high school, the left-hander is exactly the type of amateur prospect that the previous regime avoided like the plague. Nicolino, 19, was the only prep pitcher from the impressive 2010 draft crop (Noah Syndergaard, Aaron Sanchez, Griffin Murphy, Mitchell Taylor, Myles Jaye, Zak Adams) that was initially challenged with an assignment to the college-heavy Northwest League. The Vancouver Canadians season began in June after extended spring training and Nicolino was not only the club's best pitcher - but Baseball America ranked him as the best prospect in the entire league. It's easy to see why the publication, as well as the scouts surveyed, was excited. Nicolino posted a walk rate of 1.89 BB/9 while striking out batters at a 11.01 K/9 clip. In 61.0 regular season innings between the short-season Northwest League and low-A Midwest League, the southpaw did not allow a home run and posted a solid ground-ball rate. A solid talent coming out of high school, Nicolino's stuff has already improved. His repertoire includes an 89-94 mph fastball, potentially-plus changeup, and a solid curveball. In his 12 appearances in the Northwest League, his FIP was 1.44 (1.03 ERA). Only an injury will stop Nicolino from opening 2012 in low-A ball with Lansing and he could very well reach high-A Dunedin at some point.

6. Nestor Molina | RHP

Year
Age
Level
G
GS
IP
H/9
HR/9
BB/9
K/9
ERA
2010

21

A

37

2

76.2

7.51

0.47

2.35

7.16

3.17

2010

21

A+

2

0

4.1

14.54

0.00

0.00

6.23

2.08

2011

22

A+

21

18

108.1

8.47

0.66

1.16

9.55

2.58

2011

22

AA

5

5

22.0

4.91

0.00

0.82

13.50

0.41

The Jays organization has a seen a few success stories in recent years regarding prospects that have converted from hitter to pitcher, or vice versa. Molina began his career in the Dominican Summer League as a hitter but struggled with the bat. The team made the wise decision to make use of his arm strength on the mound rather than cut bait entirely. Despite his relative inexperience as a pitcher, Molina displays almost extra-ordinary command of the ball. His control helps his average (87-93 mph) fastball play up. His best pitch - his out-pitch - could certainly be his change-of-pace, which is a big-league-caliber splitter. Molina, 22, also features a decent slider/cutter. In 2011, the right-hander began the year in advanced A and posted a 2.45 FIP (2.58 ERA). He displayed his outstanding control with an other-worldly walk rate of 1.16 BB/9 and missed a lot of bats as witnessed by his strikeout rate of 9.55 K/9. He then made five dominating regular season starts in AA, as well as a few post-season appearances. With his fielding glove now with a heavy layer of dust on it, Molina broke the 100-inning barrier for the first time in his career with 130.1 innings pitched between high-A and double-A. The Jays organization is starting to stockpile and impressive group of minor league arms and some of those prospects are starting to reach the Majors (Henderson Alvarez, Joel Carreno, Luis Perez, Chad Beck, Danny Farquhar, etc). Molina could very well join them at the MLB level at some point in 2012 and it will be interesting to see if the club challenges him with an assignment to the launching pad known as triple-A Las Vegas. More than likely, though, he'll begin next year back in double-A New Hampshire.
5. Noah Syndergaard | RHP
Year
Age
Level
G
GS
IP
H/9
HR/9
BB/9
K/9
ERA
2010

17

Rk

5

5

13.1

7.6

0.0

2.7

4.1

2.70

2011

18

A-

7

5

32.0

6.5

0.3

3.1

10.4

1.41

2011

18

A-

4

4

18.0

7.5

0.0

2.5

11.0

2.00

2011

18

A

2
2
9.0

8.0

0.0

2.0

9.0

3.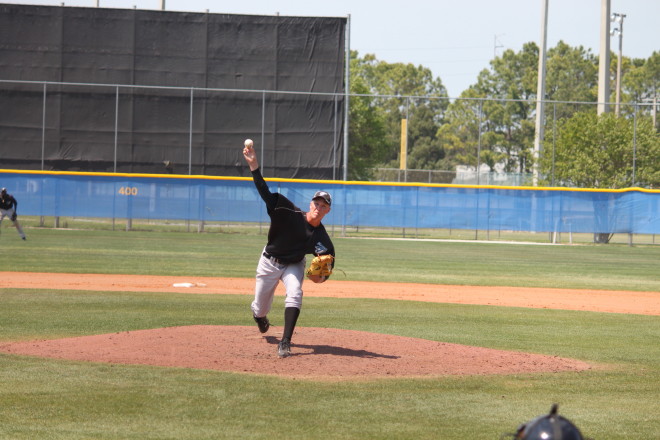 When Syndergaard was drafted with the compensation pick for not agreeing to terms with James Paxton, many observers saw it as a safe and signable selection. However, it was also noted that few pitchers had done more to increase their value prior to the draft than Syndergaard. Clocked as high as 97 MPH in the months leading up to the draft, the Jays saw a 6'5" power pitcher who was just 17. Their foresight has, to this point, been rewarded.
Now standing 6'7" Syndergaard started 2011 in extended spring training before throwing 59 innings across three levels, culminating in two stretch drive starts for Lansing. No matter where he pitched, Syndergaard's results were similar: not many hits, no homers, low walks, and a lot of strikeouts. That's a recipe for success. In fact, Syndergaard has yielded just one home run in over 72 professional innings.
Scouting reports on Syndergaard have only improved since his draft day. Routinely clocking in the upper 90s and with even a couple of reports of 100MPH, Syndergaard complements his heat with an already above-average curve and a developing change up which BA's Jim Callis rated as perhaps the best among the Jays' 2010 draftees. His delivery is described as easy and effortless, which can be rare in someone with his size and youth.
At this point, having just turned 19, Syndergaard appears to be on the fast track to elite prospect level status. His 2012 assignment hasn't yet been determined but the Jays will keep an eye on his innings so it's possible he could return to Short Season ball. However, if he continues his rapid development, Lansing may be where he spends the majority of his age 19 season.


4. Anthony Gose | CF

| | | | | | | | | | | | | | |
| --- | --- | --- | --- | --- | --- | --- | --- | --- | --- | --- | --- | --- | --- |
| Year | Age | Level | AB | 2B | 3B | HR | BB | K | SB | CS | AVG | OBP | SLG |
| 2008 | 17 | R | 39 | 2 | 1 | 0 | 1 | 12 | 3 | 1 | .256 | .293 | .359 |
| 2009 | 18 | A | 510 | 24 | 9 | 2 | 35 | 110 | 76 | 20 | .259 | .323 | .353 |
| 2010 | 19 | A+* | 512 | 20 | 13 | 7 | 45 | 132 | 45 | 32 | .262 | .328 | .393 |
| 2011 | 20 | AA | 509 | 20 | 7 | 16 | 62 | 154 | 70 | 15 | .253 | .349 | .415 |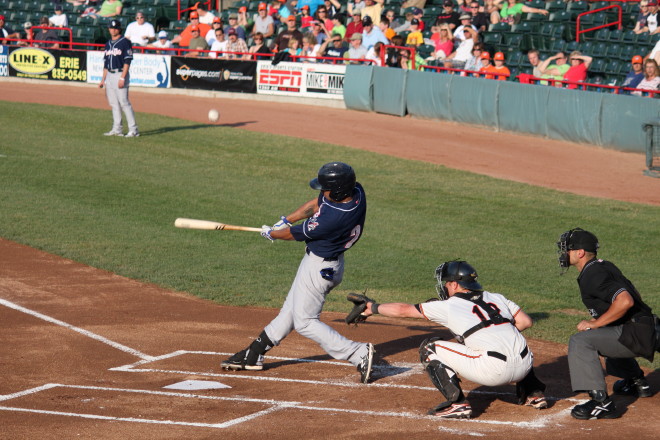 In his first full year in the Jays organization (he came from the Phillies in the Halladay deal), Gose has turned out to be one of the most exciting players in the Jays system. With his lightning speed and "go all out" attitude, he has made the transition to double-A ball as a sterling asset for the organization. Defensively Gose covers a ton of range with blazing speed, and possesses a plus arm - he was formerly a pitcher who hit well into the 90s on the gun. Offensively, he blasted by the New Hampshire team stolen base record at mid season, ending up with a blinding 70 stolen bases (while being caught stealing only 15 times, a vast improvement on 2010), to take the Eastern League base stealing title. He batted a ho-hum .253 on the year for the Fisher Cats, but his power (16 HR), eye (10.6 BB%) and speed on the basepaths make him a varied offensive threat, scoring, getting on, and getting in scoring position. On the negative side, his overall plate discipline could use improvement. He is known for frequently jumping on first pitches, and he needs to cut down on his 154 Ks (26.2%.) The Jays changed Gose's hitting style after he came over from the Phillies and it appears that this new style is developing but not perfected. Ultimately whether he develops into a star or just a useful piece will depend on his ability to hit for average.

Gose is headed the Arizona Fall league and his performance there may dictate whether he starts 2012 back in New Hampshire or in Las Vegas. Overall, look to see Gose making the bigs either towards the end of 2012 or in 2013, and for him to make a contribution as a solid outfielder for the Jays.

3. Drew Hutchison | RHP

Year
Age
Level
G
GS
IP
H/9
HR/9
BB/9
K/9
ERA
2010

19

A-

10

10

45.0

6.8

0.2

2.4

8.8

3.00

2010

19

A

5

5

23.2

6.5

0.4

2.7

7.2

1.52

2011

20

A

14

14

72.0

8.5

0.1

2.4

10.5

2.63

2011

20

A+

11

10

62.1

6.1

0.4

2.0

9.5

2.74

2011

20

AA

3

3

15.0

6.0

0.0

1.2

12.6

1.2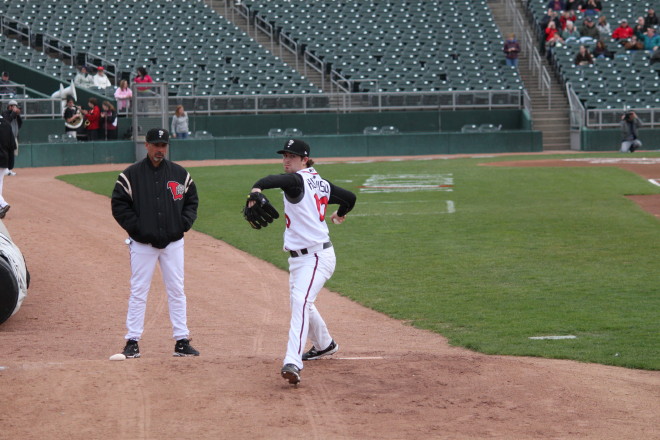 Drew Hutchison had a great 2011. Hutchison's great year started in spring training where he made a late start for the major league team against the Phillies. In that game he allowed two unearned runs over 4.2 innings. After that he started the season in Lansing and made 14 starts there before being promoted to Dunedin. He appeared in 11 games in Dunedin before being promoted again to New Hampshire where he made three regular season starts and then pitched in the playoffs. His highest ERA was 2.74 in Dunedin, his highest batting average against was .245 in Lansing, he held FSL and Eastern League hitters to batting averages under .200. And let us not forget that Drew pitched most of the season as a 20 year-old, he turned 21 at the end of August.
Hutchison has excellent command: he walks around 2 hitters per nine innings and K's over 10. Hutchison doesn't have blow you away stuff, but he can hit his spots and knows how to attack the hitters. Drew throws across his body - as you can see from the photo above that he lands with his foot pointing towards third base. This helps keeps the ball hidden from the hitter for a longer time and makes his pitches appear faster than they are. The offset to this approach is that is puts more strain on the body. Hutchison's fastball comes in at 89-93 but he can command it, sink it and cut it to both sides of the plate. He has a plus change-up and a developing slider.
Look for Hutchison back in AA to start 2012 and if you believe Alex Anthopoulos you should see him in Toronto late in the year.

2. Jake Marisnick | CF
| | | | | | | | | | | | | | |
| --- | --- | --- | --- | --- | --- | --- | --- | --- | --- | --- | --- | --- | --- |
| Year | Age | Level | AB | 2B | 3B | HR | BB | K | SB | CS | AVG | OBP | SLG |
| 2010 | 19 | R | 122 | 12 | 0 | 3 | 13 | 18 | 14 | 1 | .287 | .373 | .459 |
| 2010 | 19 | A | 127 | 8 | 2 | 1 | 9 | 37 | 9 | 2 | .220 | .298 | .339 |
| 2011 | 20 | A | 462 | 26 | 7 | 14 | 43 | 91 | 37 | 8 | .320 | .392 | .500 |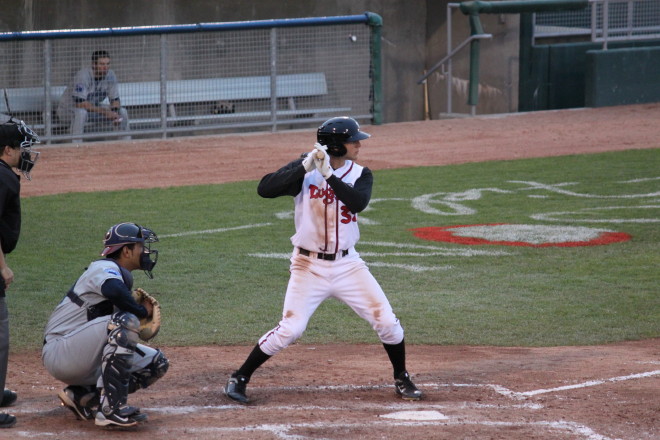 Jake Marisnick signed with the Jays as a third rounder in 2009 for an above slot cool $1 million. A polished contact hitter coming out of high school in California, the general consensus was that Marisnick would likely develop power but that his overall upside was somewhat limited. He helped himself by having a pretty good debut season in 2010, posting strong numbers in the GCL before struggling a bit in Lansing. He had no such problems in 2011 however, as he posted a strong .320/.392/.500 line in what was a pitchers league - the average hitter hit .250/.323/.370, a rate Marisnick beat comfortably with a wOBA of 160. Though he was the beneficiary of a high average on balls in play, he also posted a solid walk rate (8.2%) and good isolated power (.180) while keeping his strikeouts in the 17% range. As part of their strategy to keep their Knecht/Crouse/Marisnick outfield core together, Marisnick, like the other two, spent the entire 2011 season in the A level Midwest League when he probably could have been promoted more aggressively. Look for Marisnick, if not that whole trio, to begin 2012 in Florida in hi-A ball. After that things get a little murkier, as the Jays have strong depth in centre field with Rasmus in Toronto and Anthony Gose in New Hampshire, where it's not clear where he'll go (things are weird in AAA Las Vegas and the team hasn't really sent a lot of legitimate prospects there.)

Although he doesn't have any tools that grade out higher than Anthony Gose's arm and speed, Marisnick is an extremely well rounded, legitimate five tool player who looks like he can be at least an average defender in CF in the majors. Even if he's moved off of centre because he outgrows it or because he's blocked, Marisnick profiles as a potentially above average player.

1. Travis d'Arnaud | C


Year
Age
Level
AB
2B
3B
HR
BB
K
SB
CS
AVG
OBP
SLG
2007

18

Rk

141

3

0

4

4

23

4

2

.241

.278

.348

2008

19

A-

175

13

1

4

18

29

1

2

.309

.371

.463

2008

19

A

64

5

0

2

5

10

0

0

.297

.357

.469

2009

20

A

482

38

1

13

41

75

8

4

.255

.319

.419

2010

21

A+

263

20

1

6

20

63

3

1

.259

.315

.411

2011

22

AA

424

33

1

21

33

100

4

2

.311

.371

.542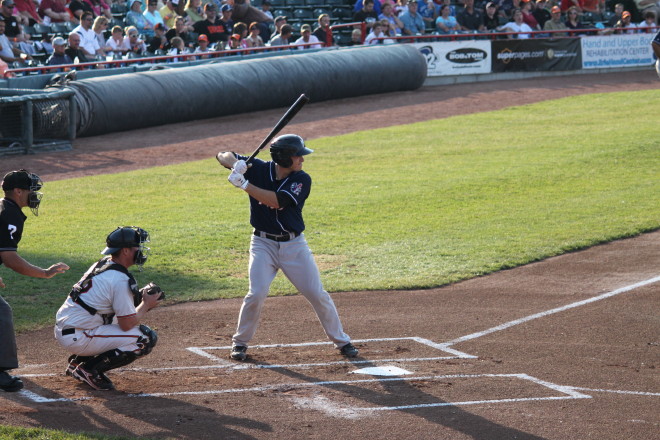 When the Blue Jays traded Roy Halladay following the 2009 season, they acquired what most considered a very good haul from the Philadelphia Phillies. Kyle Drabek and Brett Wallace (for whom Michael Taylor was flipped) were both excellent prospects, and to get two top 30 prospects, as they were rated by Baseball America at the time, was considered a success in light of the recent Cliff Lee and Johan Santana trades.
Travis d'Arnaud wasn't exactly a throw-in to the deal (he was BA's #81 prospect that year, after all), but he was certainly the third man. Now, two seasons later, d'Arnaud is arguably a better prospect than Drabek and Wallace ever were.
2010 was something of a lost season for d'Arnaud, as he only played half the year while battling back problems. However, he was healthy in 2011 and boy did it ever show. D'Arnaud is now in the conversation for best catching prospect in the game after a torrid 2011 that saw him rack up a .953 OPS as a 22-year-old at AA. Travis hit for average and power this year, and he's always been well-regarded defensively. He's almost the complete package.
The only thing missing from d'Arnaud's skill set at the moment is some plate discipline. His walk rate actually isn't that bad (about 7%) but when combined with a fairly high strikeout rate (about 22%) things start to look a little Arencibi-ish. Just a little - JPA walked less and was a half-season behind d'Arnaud at the same age. Plus, the defense thing.
The Jays can afford to take things slowly with their top prospect given that Arencibia has acquitted himself nicely in the majors. One would expect d'Arnaud to spend most of 2012 in Vegas, but if he hits like most do in the desert to he could be up sometime in the second half, being worked into the lineup for his future as... starting catcher? Half-time catcher with some games at DH? Shipped out for another young piece? Who knows, but it's a nice problem to have. And he's a nice prospect to have.