The Toronto Blue Jays have
avoided arbitration
with
Carlos Villaneuva
by signing the right-hander to a one-year deal worth just over $2.2 million.

UPDATE
- The Jays have also
come to terms with second baseman
Kelly Johnson
on a one-year contract worth $6.3 million and outfielder
Ben Francisco
will get just over $1.5 million for 2012. The above link from
BlueJays.com
has been updated.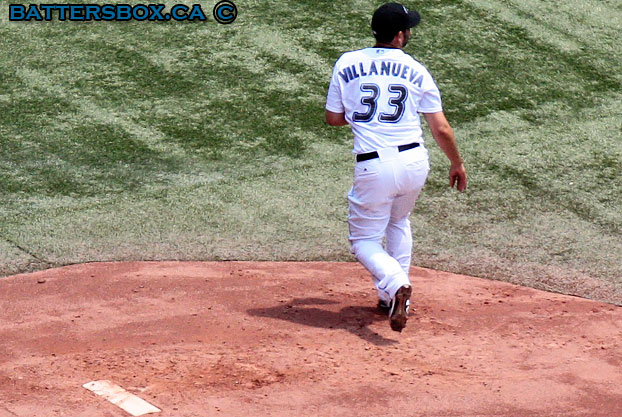 Carlos Villaneuva
, pitching against Philadelphia July 2, won six of ten decisions with the Blue Jays in 2011 with a 4.04 earned run average. Over 33 appearancances, 11 of which were starts, he struck out 68 batters over 107 innings.
---
The 28 year-old Villaneuva earned his first win as a Blue Jay at the Dome on May 10 when he pitched a scoreless tenth inning during the Jays 7-6 victory over Boston. He was 5-1 with a 2.99 ERA in July but he landed on the disabled list with a right forearm strain that forced him to miss nearly all of August. Villaneuva is expected to resume the long relief role with the Jays in 2012.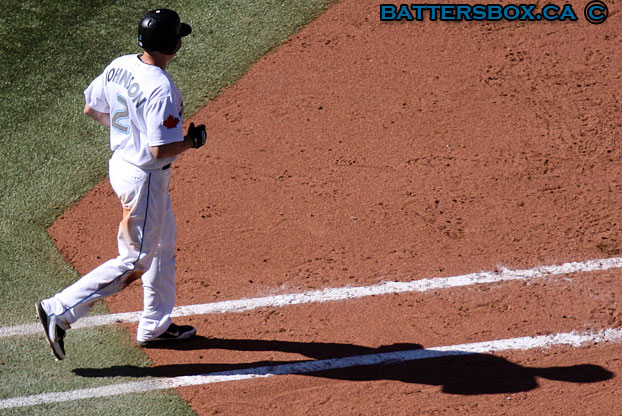 Kelly Johnson
, jogging to first after drawing a walk against Baltimore September 10, hit .270 with three home runs and nine runs batted in after coming over from Arizona in the
Aaron Hill
-
John McDonald
trade in August.
---
The 29 year-old Johnson made his Jays debut at the Dome August 25 after needing a couple of days to get his passport and went 1-for-2 with a walk. His first Toronto home run came August 31 in Baltimore during the Jays 13-0 win. All three of his home runs with Toronto came on the road in 2011. His on-base percentage with the Jays was .364.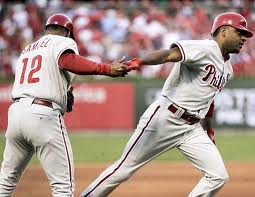 Ben Francisco
, being congratulated for a home run against St. Louis in the 2011 National League Division Series, hit .244 with the Phillies but had an on-base percentage of .340 along with six homers and 34 RBI.
---
The 30 year-old Francisco has been to the last three post-seasons with the Phillies. His biggest hit was a pinch-hit three-run homer against St. Louis in Game 3 of the 2011 NLDS that gave the Phils a 2-1 series lead.
Starter
Brandon Morrow
and reliever
Casey Janssen
remain on the arbitration docket. Teams and arbitration eligible players had a Tuesday 1 p.m. ET deadline to reach an agreement but both sides can still negotiate prior to their hearing sometime between February 1-21.
In other news and notes...
Sportsnet's Shi Davidi
has
a feature
on pitching prospect
Drew Hutchison
. New Hampshire Fisher Cats
Sal Fasano
:
"To me, he's one of the best competitors that we have. He's got good stuff, there's no doubt about his stuff, but he really likes to compete. And when he gets a chance to win, he really knows how to finish it."