"Oh dear... kids, tell me when your father stops scratching himself.

...kids?"

"We'll tell you mom." **Sorry for the long delay on this one. My internet has liked to mess with me lately so it's been tough to get at this stuff.
June was a pretty special month of the Toronto Blue Jays. After the end of May the club was 23-29, having just lost a pair of one run games at Bulls Eye Ballpark against the Twins. They lost their first game of the month, the day portion of a doubleheader against a strong Jordan Zimmermann and the Nationals. It would be two weeks until the team lost a game again, winning eleven straight contests over that span. They swept the first place Astros, the not first place Marlins, and a comically bad Red Sox team at Fenway. Once the good times wound down, the Bluebirds had won 14 of 16 and were back over .500, sniffing a possible playoff spot.
They've gone 10-15 since, which while not a complete disaster, does feel quite disappointing. It has put the club at a sticky, gooey, nugutey pickle of a spot: they're still sniffing about the playoff race and so a big trade addition would be a big boost, but the actual W-L record suggests such an addition might be wasted on this ordinary team. More on that stuff later. In the meantime, here's your Game of The Month for June!
Like May, there were a lot of good candidates this past month. There was a thrilling 9th inning comeback against the Astros, started by a Munenori Kawasaki double and capped by a game winning two run single by Chris Colabello. Later that week was another 9th inning comeback, this one with Edwin Encarnacion mugging an A.J Ramos offering and sending it over the wall, good for a 4-3 win over the Marlins. Even later that same week were a pair of games at Fenway, one won by a Russell Martin home run in extras, the other won by the Blue Jays bats mercilessly bludgeoning Red Sox pitching, recovering from a 8-1 disadvantage to win 13-10 (including a nine run 7th inning).
The next week featured a great "what if?" matchup with former Jays prospect Noah "We All Know His Name, Damnit" Syndergaard facing Mark Buehrle. Syndergaard was indeed impressive, blowing a high 90s fastball right by Blue Jays hitters. Going into the bottom of the 9th it was 2-1 Mets and their All-Star closer Jeurys Familia was in. What was very familiar was Jose Bautista, who'd homered earlier in the game, launching another one over the fence off Familia to tie the game. Toronto scored a run in the top of the 11th and it looked like another comeback for the Bluebirds. Unfortunately, this was Brett Cecil's Terrible, Horrible, No Good, Very Bad Week. The Mets got a few runners on and a pair of well placed hits gave the Mets a comeback of their own for a 3-2 victory. It was the end of Toronto's big winning streak, halted at eleven.
A fine runner-up. But the Game of The Month for June can truly only be...
June 24 -- Blue Jays at Tropicana Field
It was the decider of a three game set at The House of Horrors (coming to a domed theme park near you!) with Marco Estrada up against the Rays' Nate Karns. Nate Karns! Coming to a popcorn stand near you! Okay I'll stop. Anyhow, considering the Blue Jays much noted catastrophes in this ballpark, the strongest scent was either one of gratitude the club was able to win one in the series, or that they had a rarely genuine chance to take this series but something comically disastrous would spoil it like countless times before. It's fun following a baseball team.
Nate Karns stepped to the hill in the top of the first and began things by sending Jose Reyes back to the dugout on three pitches, the finishing touch a changeup high and away that Reyes waved his bat at. Josh Donaldson grounded out to shortstop and Jose Bautista gave the third baseman some similar ground ball action, giving Karns a quick 1-2-3 inning. Likewise Marco Estrada, who got Kiermaier with one pitch and Joey Butler with three. Up came Evan Longoria with two down, who worked a full count before Estrada threw a changeup that Longoria was so far ahead of he could've swung twice at it. After the first inning it was
tied 0-0.
The top of the second started with Edwin Encarnacion. Edwin got to a full count before Karns just missed with a fastball low and in, earning a free pass to first base. Next was the number five hitter Dioner Navarro (because Gibbons was strangely doing that for a while) who watched a Karns fastball (Karnsball!) go right past him for a called third strike. Russell Martin was the DH for this one and the second pitch he saw from Karns skipped away from the Rays catcher Curt Casali, allowing Edwin to take second on what was ruled a wild pitch. Martin then hit a fly ball into centerfield and Edwin began jogging towards third base and around, such as runners do when there are two out. Except there was only one out. Kiermaier caught the fly ball and fired a throw to second base to double off Edwin, who didn't quite seem to realize his blunder until the Rays defense was jogging off the field. Whoops.
The bottom of the second was Marco Estrada taking his fastball (Marcoball!) out for a hot date. First was a quick ground out martini at Club DeJesus, followed by a fancy meal at the hot new restaurant Forsythe (the special was a heater up and in. Decadent). For dessert, Estrada ordered the Tiramisu a la Asdrubal, which is also best served as a heater up but away. After two innings, tied 0-0.
Karns had little difficulty in the top of the third, getting weak contact out of Chris Colabello, whiffing Kevin Pillar on some changeup nastiness and some more weak contact off of Ryan Goins. In the bottom of the inning, Estrada was on his second date with his fastball. Brandon Guyer bounced out to third and then Jake Elmore (whose name belongs in a 19th century American frontier novel. No you're too specific ) chased one well outside for another strikeout. Casali was the last batter and like a last dance, he was finished much too quickly. Estrada fooled him with a high inside fastball and strolled off the mound with another strikeout. After three there was still
no score
.
The fourth inning was more weak contact and fly balls and pop outs and even the occasional ground out! It was a rather drab inning so instead of recapping it I'm going to use this as a pointless intermission. Here is a picture of somebody misspelling 'Houston' --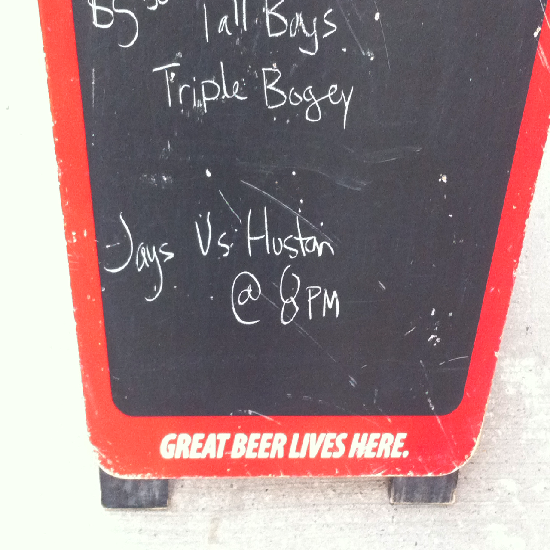 Amazing.
Back to the game, which we'll join in the top of the fifth. Nate Karns continued snacking on Blue Jays hitters, setting down Edwin, Navarro and Russell Martin without any difficulty. Martin's was the most notable at-bat of the frame, in that he struck out looking on a cutter. Estrada was also feeling that kind of inning, as he set down DeJesus, Forsythe and Asdrubal Cabrera without trouble. Asdrubal Cabrera's was the most notable at-bat of the frame, in that he struck out looking on a cutter. Are we sure that Estrada and Karns aren't clones or something? Don't let their identical DNAs fool you, they differ on some key issues. I say this joke goes too far! Well I say this joke goes not too far enough! Still scoreless after five.
Well twenty minutes into this thing and it was already the sixth inning. This is also known as any umpire's ultimate dream. Colabello went down quickly on a foul pop out, but then came Kevin Pillar who laced a ball just inbetween Longoria and Cabrera at third and short respectively. Pillar was aboard with a single, which was the very first hit of the game. Yes sir. Goins was next but he was completely bamboozled by a Karns curveball and struck out looking. With two down now and Reyes up, Pillar took off for second base. Casali's throw was 50/50 in that it beat Pillar, but it wasn't anywhere near the second base bag and so nobody in the infield was able to catch it. The Blue Jays had a runner in scoring position for the second time. Reyes battled to a full count and then didn't bite on a high breaking ball for a walk. Meanwhile Pillar had started running for third and slid in there without a throw for another stolen base. Now there were birds on the corners for Josh Donaldson, though with two out. On 2-2 Donaldson took a pitch low for ball three and Reyes slid into second base with another steal, Toronto's third of the inning. Donaldson walked and it was Joey Bats' turn. Bases juicy and loaded, a ballgame ready to be broken open and...
...Bats popped out to the catcher on the second Karns pitch to end the inning. Curses. This near miss of an explosion of offense-goodness didn't bother Estrada none though, as he worked around a 12 pitch battle with Jake Elmore (which Marco won) by getting Guyer to pop out and Casali to swing and miss some more changeup nastiness. After six innings there was still
no score
.
Top of the seventh and Edwin led off. On Karns' second pitch Edwin hit a ball into the outfield that off the bat he kind of gave up on. You've seen that look from Edwin before I'm sure, when he hits a ball weakly into the air and he just sort of drops his head and the bat before the camera cuts away to the play. Well this time the Dome, um, winds? Carried the ball into no man's land between the centerfielder and the second baseman, resulting in a bloop single for Encarnacion. A few pitches later, a curveball squirted away from the catcher Casali, allowing Edwin to advance a base. Navarro was the batter and he waited Karns out for a full count pitch, a breaking ball over the plate which he waited on and lined into right field for a single. Birds were on the corners once again, this time with nobody out. This was the end for Karns, who turned the ball over to the Tampa Bay bullpen. Meet Kev Jepsen! His hard fastball! (Struck out Martin looking for out #1, Colabello for #2). All of a sudden there were two outs and the runners hadn't moved off the corners. Pillar came up as the last hope to score in a battle of the Kevins. Pillar got a pitch up and he hit it high, but not deep as the shortstop Cabrera called off the other infielders and made the catch. Jepsen had impressively escaped the inning without any damage.
To the bottom of the seventh where Marco Estrada's changeup was starting to do some funky things. Kiermaier battled to a full count before lunging foolishly at a change, while Joey Butler's attempt to hit it was more of a flail than a lunge. He struck out also. Longoria was last up and he hit a ball well into right field. Bautista sprinted over, slid into foul territory and made a nice sliding basket catch to retire Longoria and end the inning. After seven,
still scoreless.
Lefty gunslinger Jake McGee came to the hill for the top eighth, with Goins, Reyes and Donaldson due up for Toronto. McGee's bullets to this point had been on target all season: in 13 innings he had walked only one while striking out twenty one. And indeed that continued, as McGee dispatched Goins on a weak groundout, Reyes on a blazing fastball that the Blue Jays shortstop spun around on while missing, and Bautista with another fireball that Bats just couldn't catch up to. Donaldson managed a single between those strikeouts, but barely budged off first base until the end of the frame.
Estrada returned for the bottom of the eighth inning, still locked in a scoreless tie with the Tampa Bay bullpen. Club DeJesus led it off and fought off some tough Estrada offerings to make it a full count. On the seventh pitch of the at-bat, DeJesus popped a ball near the third base bag that looked destined for the seats. Josh Donaldson gave it a chase but came near the barrier separating the stands from the playing field. He looked up, found where the ball was and leapt face first into the stands with his glove outstretched. The ball landed in his glove on the backhand, just as he landed on top of a few Blue Jays fans who The Fates decreed were destined to be in that exact spot for that exact moment.
My second thought upon seeing this play (my first thought was: HOLY @#$@#!$@#@#!!!!!! WHAT A CATCH!) was of Derek Jeter's famous catch a decade earlier, when he also caught a ball and ended up diving into the stands head first. There are a few differences. First, Jeter was playing shortstop, so he had a much further run than Donaldson, even considering Tampa's bountiful foul territory. Second, Jeter made his catch while still on the playing surface. It was only afterwards that he went flying into the stands, unable to stop his momentum. If you were to ask me which play was better, I wouldn't be able to decide for those two reasons. Jeter's was more impressive in how far he had to run, while Donaldson's was better from an actual catch perspective (I mean, not everybody has that combination of fearlessness and skill. Nope). Another major difference between them is that Jeter left the game immediately after (he hit his face badly on something) while Donaldson stayed in, seemingly no worse for wear. That doesn't really mean anything unless you want it to.
So after one of the greatest plays ever made by a Blue Jays third baseman, Logan Forsythe was up with one out. On 2-2 he tapped an Estrada curveball softly down the third base line. Donaldson barehanded it and fired to first in one glorious motion, but alas Logan's run just beat the ball into Edwin's glove. (Clearly the Baseball Gods could not handle two outstanding plays in a row by the same guy). It was an infield single for Forsythe, and the Rays at last had their very first baserunner of the game, with one out in the eighth inning. Marco Estrada had retired the first 22 he'd faced before that little bouncer, and with it he lost the perfecto and the no-no. Now there was a concern: Estrada hadn't pitched from the stretch once all game until this point. How would that affect him, especially late in a tight ballgame? Asdrubal Cabrera was next and popped one deep
to center, though Pillar tracked it down for a second out. Then came Brandon Guyer and he launched another ball deep into the outfield. Pillar staggered over and seemed unsure of where the ball was thanks to the white ceiling of Tampa Bay's dome (great idea, guys). Still though, The P Wing was able to find it and squeeze the ball, ending the eighth inning. Still scoreless.
To the top of the ninth and the Rays weren't messing around, sending eventual all-star closer Brad Boxberger to the hill to face the middle of the Bluebirds order. Edwin led off and took Boxberger's second pitch off his back, which fortunately for Edwin was a curveball. It was a hit-by-pitch to start the inning, and in came Ezequiel Carrera to pinch run. Dioner "Dinner" Navarro stepped up. He got ahead of Boxberger 2-1 and as the Rays reliever delivered, Carrera took off. Navarro also swung at the pitch and hit it right at Tampa second baseman Logan Forsythe. It was a tailor made suit, er double play ball, but since Carrera was running the only play was to get Navarro at first. Carrera was now at second, one out for Russell Martin. This time Boxberger went ahead 1-2, but his wildness struck again as his next pitch broke away and into the dirt, and another ball got by the catcher Casali and to the backstop. Carrera scooted into third base and things looked promising for Toronto. Martin dug in and readied himself for the 2-2 pitch, which was a ball. As was the next pitch, and Martin had himself a free pass to first base. Up came Chris Colabello, a golden opportunity waiting on the bases for the Blue Jays to finally strike. At this point Boxberger had grown weary of his breaking ball, which had hit a batter and given him a wild pitch. So he switched to the fastball on a 2-2 count to Colabello, and blew it right by poor Kramer. Toronto still had a chance, though now with two out, as Kevin Pillar stepped up. On the second pitch he saw, Martin took off for second base and made it without a throw, as Casali couldn't quite get a handle on the ball. This was a subtle but important play, as it removed the force play from second base, not to mention a base hit could likely now score two. Pillar battled Boxberger, fouling off a few tough pitches before lining one! ...right at Evan Longoria on a bounce, who casually threw out Pillar to end the top of the ninth. It was still scoreless in Tampa Bay, potentially heading to Walk Off Land for the Rays.
Marco Estrada however was not scared of such terrifying Florida amusement parks. He set down Jake Elmore (on eight pitches) and struck out pinch hitter (for Casali) Stephen Souza Jr. on six tosses with another well placed high fastball. Back came the top of the order with two out in the bottom of the ninth, Kevin Kiermaier up for only the fourth time. Kiermaier worked another long at-bat off Estrada and waited for his 3-2 fastball. When he got it, he laced it shallowly into the outfield towards Pillar. Kevin rushed in, seeing his Kevin counterpart was charging for second base, and made a good throw to Reyes covering the bag, but Kiermaier's hustle won the day. The winning run was suddenly a base hit away.
At this point, Estrada had thrown 129 pitches. Which is, like, a lot. And John Gibbons wasted no time in coming to get his tired starter, taking him out for the young sensation Roberto Osuna. Up came Rays DH Joey Butler, an unfamiliar name sure to sting the Blue Jays just as Robinson Chirinos or Brent Abernathy or a young Ben Zobrist had done in so many occasions before. Osuna went ahead 1-2, but he left a fastball middle in to Butler. He ripped it up the middle, just to the left side of the bag. Reyes ranged over, stabbed at the ball and it got by him. In came Kiermaier and the Rays won the... wait, hang on a second. He got it? Okay that's good. Reyes then spun around with his momentum and dropped the ball, allowing... wait, that didn't happen either. Reyes spun and on one leg fired a throw to Chris Colabello that... beat Butler and ended the inning. Huh. Reyes gets a lot of guff for his defense (and rightfully so. He's pretty terrible sometimes manytimes) but this was a legit nice play that saved the ballgame for Toronto. Kiermaier scores easily if that squeaks by. He scores easily if the throw is off and Kramer at first can't quite come up with it quickly enough. Nope, it was a nice major league pick, spin and throw right on the money. Didn't even get a replay. Good job, Jose. After nine in Tampa Bay, it was scoreless.
So to extras we went, where the Rays brought on their fourth reliever of the game: Steve Jeltz. Jeltz certainly "gelled" into the situation quickly, taking care of Goins, Reyes and Donaldson with relative ease, the latter retired by strikeout. So for the bottom of the tenth, Toronto summoned Bo Schultz, who has a backstory you should really look up if you don't know it. Up first against Schultz was Longoria. "Longo" (also known as the laziest nickname in the AL East) chopped a Schultz offering that just skipped under the glove of Donaldson at third and bounced into Reyes' glove, though by then there was no chance to get Longoria. The Rays had the winning run aboard once again. Schultz didn't panic and attacked the next batter, Club DeJesus (hey, I'm running with this). DeJesus was caught looking at a well placed Schultz heater at 95 for the first out of the inning, and suddenly a double play would get the Bluebirds out of it. Unfortunately, Schultz lost the zone against Forsythe and walked him on four straight, moving the winning run now to second base, a huge deal. This brought up Asdrubal Cabrera, a guy who rightly or wrongly seems to have that reputation of getting big hits that have sunk the Jays in the past. With the end of the ballgame just 120 feet away, what happened next was truly extraordinary.
The count was even 1-1 when Asdrubal ripped a ball right up the middle. For the split second of the sound of contact I thought "crap that's getting through the infield" except Cabrera hit the ball right at Schultz's shins. Big Bo snagged the ball on the line, and seeing that Forsythe was off the first base bag, jogged over and lobbed a throw to first base to double him off. Except his lob was bad/Colabello wasn't quite in position/Kramer was busy thinking about Macinaw peaches. The ball sailed over Colabello's head and down towards the Rays bullpen (their pen is on the field of play, like in San Fran or Oakland). This immediately felt like disaster: bitter, heart wrenching, absurd disaster. Schultz had to chase the ball for a good several seconds before retrieving it near the fence, and Longoria would surely score from second base on such a miscue. Except... Longoria had been on the move when Asdrubal hit the liner. He was almost at third base when Schultz caught the line drive, and thinking he was a dead duck to be doubled off, didn't really hustle back to the bag. So when Schultz threw it away, Longoria had to run all the way back to second base to tag before he could advance. It was really kind of funny to watch, once the madness of the moment had cooled. Longo managed to just sneak into third and Forsythe slipped into second, but most importantly the game was allowed to continue. The best thing about this play was Donaldson's somewhat-hearted attempt to tag Longoria at third, with a look on his face of "WTF just happened...". Brandon Guyer was the man for the Rays and he hit a liner down the right field line hard off Schultz. Bautista (miraciously!) was shading him over that way, and made a catch on the run to save the Blue Jays and force an eleventh inning. Hoo boy. Still scoreless after ten.
Jeltz returned for the top of the eleventh and started it off by challenging Jose Bautista with a low 90s fastball. A deathwish! Normally that's true, but Bats was way ahead and struck out on three pitches. Up next was Carrera (he'd pinch run for Edwin in the ninth) and he wasn't fooled by Jeltz, lining a ball into right field for a one out single. Then came Navarro, who was indeed fooled by some more Jeltz gruel up in the zone. Ha, you wish. This is Jeltz Brand imitation Gruel. Navarro went down swinging and so up came fellow catcher Russell Martin. On the second pitch, Carrera went for second base. Rene Rivera (who'd replaced butterfingers Casali) fired a great throw which nabbed Carrera by plenty. Ezequiel had gotten a great jump off of Jeltz, who has a herky jerk motion to the plate, but just couldn't get to the bag quick enough. It ended the inning for Toronto, and things were still tied up. Tampa could win it again in the bottom of the frame.
******
In came Brett Cecil to try and force this thing to a twelfth inning. Cecil's seasonal numbers on this particular day were rather weird: right-handed batters were only hitting .215 against him, while lefties were slugging .364 off him, which seems like the complete opposite of who he is. So Bizarro Cecil came on and did a pretty good impression of his good guy clone, walking the leadoff batter Elmore on four pitches. The Rays once again had the winning run on base. This brought up weak hitting catcher Rene Rivera in an obvious bunt situation. Yet even the most obvious situations can be the most difficult to execute. Rivera poked at two Cecil offerings and couldn't put the ball in play, resulting in a tricky 0-2 count. Rivera tried to bunt once more and the ball dribbled foul, giving the Blue Jays a gift out on the rare foul ball strikeout. Kevin Kiermaier was next and he isn't one for any of that strikeout business. Cecil fell behind 2-0 and left his third pitch over the plate, which Kiermaier blooped in the air between Reyes and Pillar for a single, allowing the winning run (Elmore) to advance to second.
Rays manager Kevin Cash decided to go for an extra advantage by pinch running Nick Franklin for Elmore at this moment. I'm not certain if this is a recent trend (pinch running people when they're at second base instead of first) but I suspect it is a result of the shortened bench thanks to our modern Relief Pitcher Era of baseball. If a major league bench had six or seven available position players, a skipper wouldn't think twice of using a pinch runner for a slow guy in a late close game. Now however, if you only have so many tools in the shed, you have to carefully plan when and how you use them more than ever before. This is why Cash, like many other big league managers, elected to pinch run Elmore when he was at second instead of first: having the winning run at second base is more significant than having him at first base. Obviously. But with a shorter bench, that difference of significance is enough to keep a slow running slugger in a close late game if he is a runner at first base because you're probably short on ballplayers who can actually play non-pitcher positions at that point. If a slow guy gets to second base, then sure you bring in a speedier runner because you don't want a guy like Edwin Encarnacion as the potential winning/go ahead run clogging the paths on a bloop single. Sorry Edwin, but it's true. You're... really slow. We still love you though.
Well, Jake "This Town Ain't Big Enough For The Two of Us" Elmore's apparent slowness ended up not factoring into this thing at all. I guess my last paragraph just completely wasted your time. Ha ha! Green Man! Cecil's second pitch to Joey Butler skipped away from catcher Dioner Navarro and allowed both Tampa Bay runners to advance a base, putting the winning run at third and the rub-salt-in-the-wound run at second, with only one out. Well Sideshow Cecil was in sideshow trouble now, but even with a base open he went after Butler, getting him to a full count before slipping a classic Cecil curveball (Cecil Ball!) past him for an enormous second out. It bounced in the dirt but the catcher Navarro wisely checked the runner at third before a soft toss to first to record the second out, Evan Longoria was next but with Club DeJesus on deck there was no messing around here. Longo (ugh) was intentionally walked to load the bases, bringing up The Jesus with nowhere to put him. Cecil got ahead to 1-2 before unleashing another classic Cecil Ball, but Club DeJesus clubbed it... right at Jose Reyes who flipped it to first to end the inning. After eleven, it was scoreless still.
Into the top of the twelfth inning we went and... gah. So much recapping. Time for an intermission! Here's a picture of the Smythe Park baseball diamond in Toronto, where my hardball team usually plays...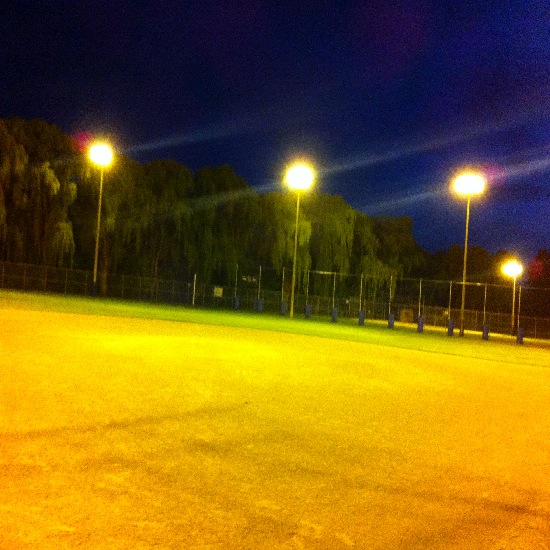 Okay we're back at it, no score heading into the top of the 12th. The new Rays pitcher was Brandon Gomes, who put on a very intense face as he took the mound and threw his warmups. After making quick one pitch work of Russell Martin, up next was Chris Colabello. On 1-1, Gomes left a fastball out and away to Cola, and he smashed it. Deep to centerfield it went, carrying and carrying towards the stands. Back went the Rays outfielders, but there was no hope of bringing this one back. Kramer had gone yard. Levels, Jerry! Levels! It was
1-0 Blue Jays
in the 12th, and at last a run had been scored. Gomes had no further issues with Jays bats but damage had finally been done. The bottom of the 12th beckoned and in came Steve Delabar to try finishing it off.
Big Delabar started off big, sending Forsythe back to the dugout on a nasty splitter low and in. As someone who throws two different splitters, I say this was really something. Look up "nastiness" in the dictionary and there should be a picture of that pitch. With one down, Delabar jumped ahead of Asdrubal Cabrera before trying to beat him with a fastball away. It worked: Cabrera was late and whiffed at it, becoming the second out of the inning. Brandon Guyer was the Rays last chance. He got to 2-2 and punch a Delabar pitch high into center. Pillar shifted over, tracked it and squeezed the ball once it hit his glove. He looked up to the skies immediately as if to quietly thank the Baseball Gods for this gift of a victory. It was over: Toronto had taken it in twelve by a
1-0
score.
Redlegs Review
Sigh.
Okay. You guys win. Well I'm going to tell you a little bit about the guys who might be traded in the coming weeks.
Cueto: I think a lot of people don't fully realize how incredibly good his guy is. Or how long his track record of success is. Consider this inspiring trend:
2008 -- 1.414 - 9.2 H/9 - 3.5 BB/9 (174 IP)
2009 -- 1.360 - 9 H/9 - 3.2 BB/9 (118.2 IP)
2010 -- 1.276 - 8.8 H/9 - 2.7 BB/9 - (185.2 IP)
2011 -- 1.090 - 7.1 H/9 - 2.7 BB/9 - (156 IP)
2012 -- 1.171 - 8.5 H/9 - 2.0 BB/9 - (217 IP)
2013 -- 1.055 - 6.8 H/9 - 2.7 BB/9 - (60.2 IP)
2014 -- 0.960 - 6.2 H/9 - 2.4 BB/9 - (243.2 IP)
2015 -- 0.920 - 6.4 H/9 - 1.7 BB/9 - (118.2 IP)* incomplete
He'll definitely give up a few more hits if he ends up moving to the American League and not having to face opposing pitchers anymore, but he's got some margin for error here folks. Cueto isn't just a marginal upgrade on the Doubronts or the Scott Copelands of the world: he's a legit Ace. It shouldn't be surprising that Cincinnati would be asking the Moon and half of Mars for him. Of course, the million dollar question from the Reds perspective is whether they have a good chance of bringing him back on a long term deal. I think personally, if that chance is anywhere below 50/50, they have to deal him. The 2015 Reds are (groan) pretty toast at this point, and if you can acquire future assets for a guy on the way out then I don't see any problem here, Speculation of course, because frankly I have no idea if he wants to come back or not. He's going to get a lot money somewhere this winter, and good on him. And of course, they did end up dealing him. It stinks, but they had to.
His pitching style is really something funky and unique. He puts up impressive strikeout numbers but this isn't somebody just blowing power stuff by people. It's a lot of deception, like
a lot.
He can get his fastball normally up to 93-95 but he prefers to mix in a variety of cutters and changeups with pinpoint accuracy. A lot of his effectiveness is a result of his strange delivery also. The only comparison I can think of is a slower version of Luis Tiant: both pitchers have a similar twist before throwing that shows the opposing batter the jersey number on his back. The difference being that Tiant's twist was much quicker and slingshot like, while Cueto holds himself in that position for a sustained moment.
This brings us to Mike Leake, who I feel really deserves some more respect. Think of him as a right-handed Buehrle: gives up a fair share of hits but fields his position excellently; changes speeds on everything and fearlessly attacks batters despite a sub 90s fastball; isn't at all flashy but is steady and effective, and can go deep into games. Sounds like a somebody a certain team could use, hmmmm? Plus I'd like him as a pinch runner a heck of a lot more than Ryan Goins.
-- Todd Frazier
Isn't going anywhere, not that Toronto really needs him. Keep dreaming, other 29 teams.
-- Aroldis Chapman
Again, don't think he's going anywhere. Trading him is virtually shouting out to the league: "We give up! Time to completely suck for three-five years." Unless they get a Godfather offer (can't refuse!) I expect him to be in Reds red on Opening Day 2016. By the way, all you need to know about Chapman's pitching style is what you saw in the All-Star game. Sometimes he can get a slider over (at 91!) which makes him extra impossible to hit. But usually it's just that fireball mowing them down like Goombas.
-- Bruce and Brandon
This one is pretty interesting. Jay Bruce is under contract for 2016 at 12.5 million, then has a 13 million team option in 2017 with a million dollar question. I mean, buyout. He's having a decent bounceback year and his salary is entirely reasonable for an above average power hitting corner outfielder (who is also quite good defensively, dWAR be damned). Trading him is similar to trading Chapman, however: there isn't an obvious replacement waiting in the wings so you're throwing in the towel for 2016 as well as this season. So I think it would take a lot to get him in a deal. Phillips on the other hand... well... he's owed 14 million in 2017 and his slugging numbers continue to steadily fall. With the Reds now with options in the middle infield (Eugenio Suarez, Ivan De Jesus and the injured Zack Cozart) I'm thinking Phillips is very available. Very, very available. Not that he'd make any sense here. His glove is still pretty good, for whatever that's worth.
Like I've been saying all along, this isn't going to be a Black Friday like blowout sale. Cincinnati isn't in a Ruben Amaro Ruin Tomorrow situation like the Phillies a few years ago because there actually is young talent on hand and on the way. The 2015 Reds have the record they do not because they're bad. Okay fine, yeah they're bad. But I think all the injuries (Cozart, Bailey, Mesoraco) will be enough for them to give this thing one more year, even potentially without Cueto and Leake. Is that the smart thing to do? Beats me. I'm pretty sure if there was a general manager who actually possessed genuine clairvoyance, that team would be contending for a title every year. So John Mozeliak, essentially.
That's it! All I ask Bluebirds, is that you avoid the Death Spiral. Oh and apparently we have a new shortstop...
As always, MLB.com has the condensed version of the game here: http://m.mlb.com/video/v194451683/62415-condensed-game-tortb