Day two of prospecting takes us to the numbers 11 through 20 prospects.
20. Patrick Murphy | RHP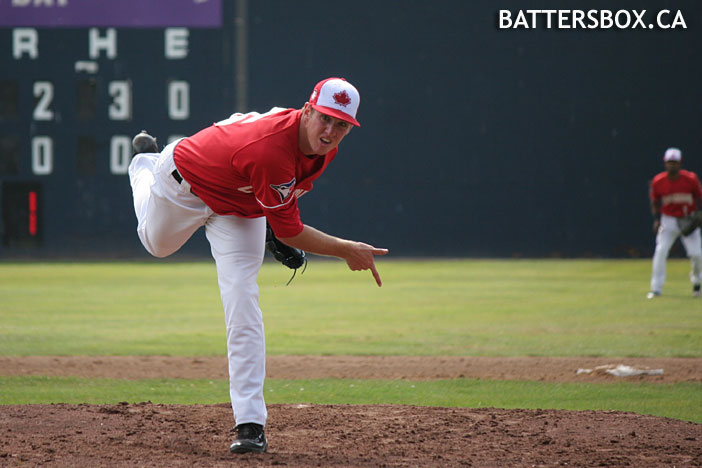 | | | | | | | | | | | |
| --- | --- | --- | --- | --- | --- | --- | --- | --- | --- | --- |
| Year | Age | Level | G | GS | IP | H/9 | HR/9 | BB/9 | K/9 | ERA |
| 2016 | 21 | A | 8 | 2 | 21.0 | 10.3 | 1.3 | 6.0 | 8.6 | 4.29 |
| 2016 | 21 | A- | 13 | 13 | 69.2 | 9.2 | 0.0 | 3.0 | 6.2 | 2.84 |
Maybe that half-million dollar investment by the Jays into
Patrick Murphy
will yield big dividends yet. Even though the Chandler, Arizona native missed his senior season in high school due to Tommy John surgery, the Jays still selected him in the third round of the 2013 amateur draft with the 83rd pick. The signing bonus was $150,000 below slot value but it was still enough for Murphy to turn down his commitment to the University of Oregon.
Murphy had just four pro innings under his belt heading into 2016, all of them coming two years ago in the Gulf Coast League. The 6-foot-4, 220-pound righty told
Sportsnet.ca
the trouble started in 2012 when he felt a twinge in his right elbow after throwing a four-seam fastball during a high-school contest. After an initial diagnosis of elbow tendonitis or a mild strain by a team trainer, Murphy took nearly two weeks off before pitching again. Despite having his elbow lock up during a warm-up session, he still managed to throw a complete-game shutout to help his team clinch a play-off spot. As it turned out, he tore his elbow ligament and underwent Tommy John surgery.
That was not the end of Murphy's troubles. He also felt numbness in his right arm and hand and had to have a rib removed because it was pinching a nerve. If that wasn't enough, he also had to have a nerve removed from his elbow in 2015 but he was finally able to return to action during fall instructional league.
Murphy was finally able to escape Dunedin and reported to Lansing in mid-May to begin last season to build up his innings-count. Most of his outings consisted of the two- or three-inning variety before reaching four innings in his final appearance with the Lugnuts.
Murphy began to hit his stride when he was sent to Vancouver and got the honour of starting the home opener in which he pitched six innings of three-run ball (one earned) but wound up taking the loss against Everett June 20. He earned his first professional win with six frames of two-run ball in his next home start against the two-time Northwest League champion Hillsboro Hops. Murphy teamed up with
Justin Maese
to provide a nice one-two punch in the Vancouver rotation before Maese's promotion to Lansing.
However, Murphy carried on and earned a berth in the Northwest League/Pioneer League All-Star Game in which he got the victory despite giving up four runs, including a homer, in his one inning of work. He shook off that rough outing with his best work of the season in his next start, scattering just three hits and a hit batsman over seven innings of one-run ball with four strikeouts. Still, he took the 1-0 loss at home against Everett.
Despite all of the adversity, Murphy would go on to win the ERA title in the Northwest League with a 2.84 mark and receive post-season NWL All-Star honours. He was also rated the league's #12 prospect according to
Baseball America
.
Murphy uses a four-pitch mix of a fastball, curveball, slider and changeup. He was clocked at 91-93, reaching 95 miles per hour with his fastball and a curveball from 79-81.
Murphy should get another crack at Lansing to start 2017 with a chance to advance to Dunedin if all goes well. He will be 22 years old on June 10.
19. Danny Jansen | C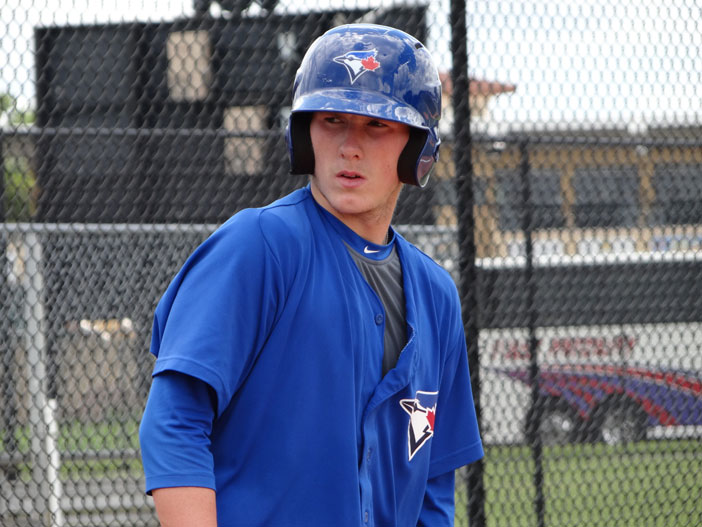 (Image from Eddie Michels)

Year
Age
Level
AB
2B
3B
HR
BB
K
SB
CS
AVG
OBP
SLG
2016

21

RK

9

0
0
0

1

2

0

0

.222

.364

.222

2016

21

A+

188

7

0

1

22

40

7

1

.218

.313

.271

Danny Jansen was a rather unheralded 16th round pick out of West High School in Appleton, Wisconsin. Of course, hailing from Wisconsin, he didn't have the same amount of professional baseball experience as he would have if he grew up in a warmer state. Since then, Jansen hasn't been able to eliminate his lack of baseball experience. He has been injured for substantial periods in both 2015 and 2016 and still does not have over 200 at bats in any year. With that lack of experience, it is hard to project too much onto Jansen.
We do know that Jansen is a good catcher. While the Jays have always said so much, Jansen did get to play in the fall league this year and was praised for his defense there. Jansen has a profile typical of many catchers, good defense, body takes a pounding, not enough time to work on his hitting. With his shortage of at-bats it is hard to know what to make of Jansen's hitting. He started 2016 on the Dunedin roster but was injured at the start of May and did not return until July. The AFL did prove to be a good destination for Jansen, his .282 batting average was third best on the Mesa team. And don't forget the AFL is generally considered to be a AA level environment. Jansen also carried a good eye through the AFL with almost as many walks as strikeouts.
The question for Jansen, other than his injury history, is this: is he a good field, no hit, typical catcher; or, is he a good field, decent hitter, catcher? His track record is not long enough to determine this yet.
Jansen could return to Dunedin for 2017 or he could be assigned to New Hampshire. Before the fall league, Dunedin looked to be the more likely choice but now it could go either way. The Jays always have a lot of experienced catchers in the upper levels and that could keep him in Dunedin for at least a few months. Jansen will be 21 on opening day, 22 a few weeks later, so he has time to develop. The main hope for 2017 will be for Jansen to easily pass 200 at-bats.
18. Francisco Rios | RHP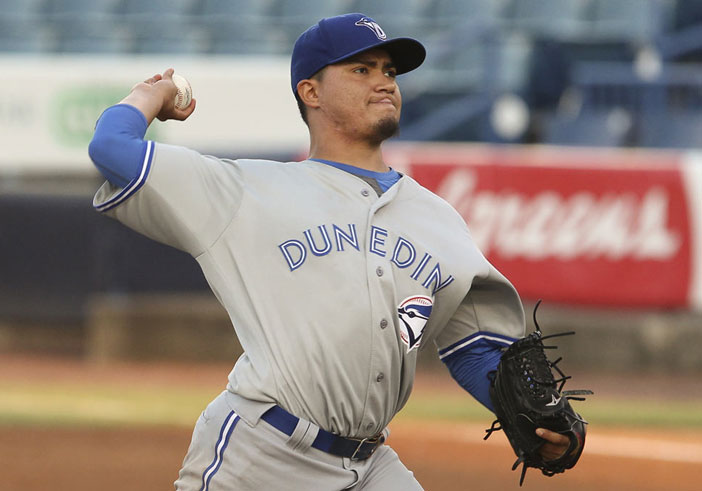 (Image from
MiLB.com
)
| | | | | | | | | | | |
| --- | --- | --- | --- | --- | --- | --- | --- | --- | --- | --- |
| Year | Age | Level | G | GS | IP | H/9 | HR/9 | BB/9 | K/9 | ERA |
| 2016 | 21 | A | 6 | 6 | 30.0 | 6.3 | 0.0 | 2.4 | 12.9 | 1.20 |
| 2016 | 21 | A+ | 19 | 15 | 90.2 | 8.7 | 0.5 | 2.1 | 6.5 | 3.47 |
Francisco Rios makes his debut on a Batter's Box Top 30 at 18. The 22 year-old Monclova, Coahuila, Mexico native had a breakout season. Across our two full season A-ball affiliates, Rios pitched 120.2 innings of 2.91-ERA, 109-hit, 29-walk, 108-strikeout baseball. Substantive improvements from his previous three seasons where Rios failed to break the 4.00 ERA barrier at stops in the DSL, the Appalachian League and the Northwest League. Rios capped his excellent 2016 season with an appearance at the Futures Game.
Signed in 2012, Rios is a sturdy-looking right-handed pitcher with a solid arsenal of pitches. Rios works in that high 80's, low 90's zone with the fastball and features a slurvy slider, curveball, and changeup, in descending order of quality. Reports are that Rios' success stems in part from his penchant for attacking hitters and working his fastball to both sides of the plate. His secondary offerings need work and Rios stands to better work his fastball down in the zone.
Rios is one to watch in 2017, provided he is still on the team. The Jays recently exposed him to the Rule 5 Draft and his fastball-slider combination could be attractive in a bullpen, despite the relative lack of experience and need for refinement. For this reason and the relative dearth of pitching prospects in the upper minors, it's possible Rios starts in New Hampshire.
17. Joshua Palacios | OF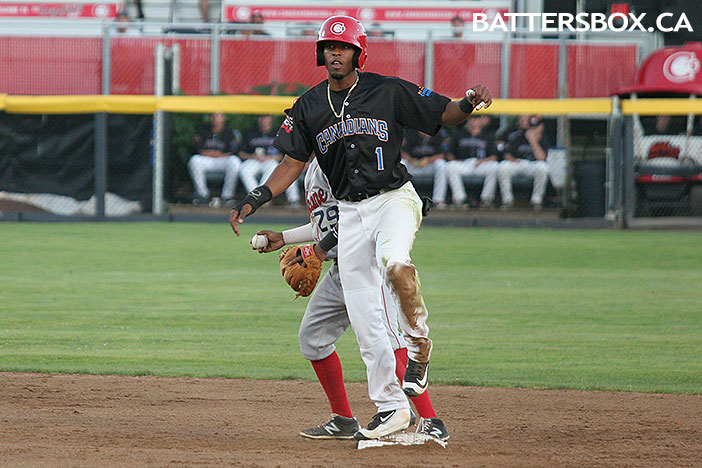 Year
Age
Level
AB
2B
3B
HR
BB
K
SB
CS
AVG
OBP
SLG
2016

20

RK

49

3

0

0

3

6

4

1

.265

.321

.327

2016

20

A-

110

7

3

0

14

17

4

2

.335

.437

.473

2016

20

A

38

3

0

0

1

3

0

2

.342

.375

.421

One could make a strong case that
Joshua Palacios
enjoyed the best professional debut among the Blue Jays' 2016 draft class. A fourth-round pick who agreed to the $438,100 signing bonus allocated to the 132nd pick, the nephew of former major leaguer
Rey Palacios
was leading the Southeastern Conference in hitting with a .408 batting average when he got hurt April 7. A 2-for-13 finish that included five strikeouts dropped his overall line to .385/.463/.608.
SEC Network
/
ESPN
analyst
Gabe Gross
lauded Palacios for his ability to replace his swing better than most amateur hitters. The former Auburn Tiger and Blue Jay believed if Palacios had stayed healthy and continued his strong start, he would have been selected much higher in the draft near his Tigers teammate and fellow outfielder
Anfernee Grier
, who was taken 49th overall by Arizona.
Palacios came to Auburn after two years of junior college at San Jacinto where he batted a combined .368 and earned All-Region honours in 2015 after collecting 12 doubles, nine triples and 29 stolen bases. It was during college that he decided to drop switch-hitting and focus on hitting from the left side. The Brooklyn, New York native was taken by Cincinnati in the 31st round of the 2014 draft after a high school career that saw him win the New York Daily News Player of the Year in 2013 and lead Telecommunication Art and Technology to a Class A city championship.
Palacios joined the Gulf Coast League Blue Jays to start his pro career and managed two runs batted in despite going 0-for-4 in his pro debut July 2. The 6-foot-1, 193-pound outfielder started to find his groove by ending his 13-game tenure in Dunedin on a six-game hitting streak. His Vancouver debut came when he arrived at Nat Bailey Stadium in the late stages of a game July 21 and was pressed into duty as a pinch-runner in the ninth. When Palacios got to pick up a bat the next night, he would never be denied getting on base at least once a game as he reached base in all 27 games in a C's uniform and recorded 12 multi-hit efforts. He would extend his on-base streak to 38 games when he was called up to Lansing in August to help with the Lugnuts' late playoff push.
Palacios received some help from the BABIP gods with a .419 average in Vancouver and a .371 mark in Lansing after a normal .302 total in the Gulf Coast League. He showed a good batting eye by recording a walk in over 11 percent of his plate appearances in Vancouver, nearly double his walk rate in the GCL and over four times his free pass percentage with the Lugnuts.
MLB Pipeline
grades Palacios as a 50 hitter, runner and thrower on the 20-80 scouting scale while giving him a 60 grade as a runner and a 40 as a power hitter. He played left field in Auburn and that where Pipeline believes that is where he will wind up as they feel he lacks the instincts for center field. So far, the Jays disagree as he only played in center and right field during his three stops on the minor league ladder. Hitting-wise, MLB Pipeline praises Palacios' quick swing along with his ability to make hard contact and manage the strike zone, adding he has occasional pull power.
Palacios may be returning to Lansing to begin 2017 with an opportunity to advance to Dunedin should he pick up from where he left off in 2016. He will turn 22 on July 30.
16. J.B. Woodman | OF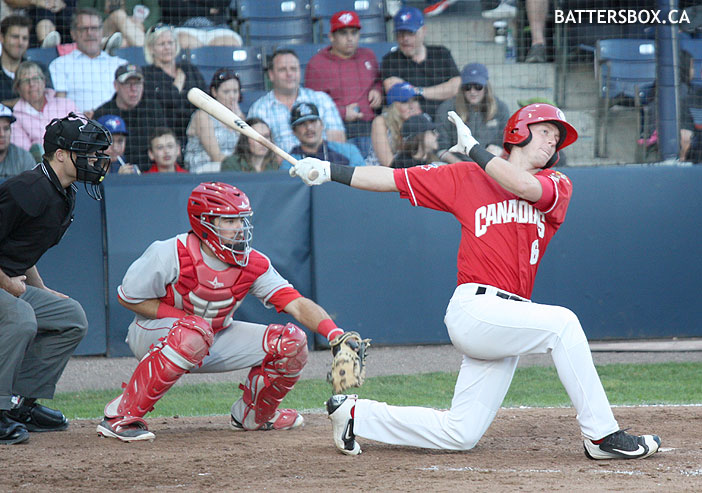 Year
Age
Level
AB
2B
3B
HR
BB
K
SB
CS
AVG
OBP
SLG
2016

21

A-

195

18

1

3

30

72

10

2

.272

.375

.421

2016

21

A

34

2

0

1

4

13

0

1

.441

.487

.588

How much wood would a Woodman man if a Woodman could man wood? The Blue Jays are betting J.B. Woodman will be a man who will produce with the wood and the glove after taking the center fielder with the 57th pick in the 2016 draft. He signed for a $975,000 bonus, $149,000 below slot value.

John Bryant Woodman spent three years at Ole Miss after turning down a chance to turn pro with the New York Mets, who selected him in the 40th round in 2013. Baseball America ranked the Orlando, Florida native 135th heading into that draft but the Edgewater, FL high school product was projected to be a tough sign unless he was taken in the first three rounds.
The Jays are hoping for a much better result than the last time they spent a high draft pick on an outfielder from the Ole Miss Rebels. It was back in 2005 when the Jays selected Brian Pettway from the University of Mississippi in the third round. Pettway flamed out as a hitter with a .243 career average over three years, never advancing past Lansing. He tried his hand at pitching in 2008 with stops in Lansing, Dunedin and New Hampshire but only posted a 1-1 record with a 4.17 ERA and a 5.5 K/9 rate as a reliever in his lone season on the mound as a 24-year-old.
Woodman was nicknamed "Superman" for his five-tool talent in which he received at least a 50 grade across the board from MLB.com. Jim Callis had this to say about the First-Team All-Southeastern Conference selection.
"Coming into the year I think you wondered if he was a tweener - not really the power for the corner. He's a solid runner but not a plus runner…I don't know how many pluses you give him, but you could still give him average hit, average power. He's probably a little bit better than an average runner. I'm not sure he's a center fielder at the Big League level, but he'll get a chance to play center."
Woodman led the SEC with 14 home runs this past season and was top 10 in the conference in batting average (.323), runs batted in (55) and slugging percentage (.578). The 6-foot-2, 195-pound left-handed hitter was named to Baseball America's Second-Team All-America squad and captured berths as First Team All-SEC and conference All-Defense clubs. He earned nine outfield assists from center, including seven kills at home plate, and stole 12 bases.
Woodman's junior campaign was a big improvement over the first two seasons with the Rebels, in which he hit just nine homers and struck out 37 percent of the time. A scouting report from MLB.com praised him for better recognition of off-speed pitches, making contact and driving the ball. However, a major league scout says Woodman needs to continue to hit for power to offset the swing and miss in his game.
Woodman began his pro career in Vancouver and recorded a double in his first at-bat during the Canadians home opener June 20. He had a hit in each of his first three contests and four of his first five but that was followed by a 0-for-15 slump that included nine whiffs, dropping his batting average to .125 at the end of June.
After Canada Day, Woodman got the bat going by hitting .330 in the month of July. He enjoyed nine multi-hit games, including four in a row. He finally put the ball over the fence at home against Everett August 11 and would dial long distance two more times before getting called up to Lansing later in the month. He went 3-for-3 with a home run and three RBI in his first game with the Lugnuts against Lake County August 27. He would go on to record at least one hit in all nine games with Lansing, including five multi-hit contests, and ended the campaign with a 10-game hitting streak overall.
Woodman struck out in over 30 percent of his plate appearances between Vancouver and Lansing but he also drew walks over 10 percent of the time. When he made contact, the ball tended to find the green as he benefited from a BABIP of .407 with the Canadians and an even-more ridiculous .667 mark with the Lugnuts.
Rated the #6 prospect in the Northwest League by Baseball America, Woodman may get a bit more seasoning with Lansing to start 2017 in an effort to improve his contact rate. He will be 22 years old on December 13.
15. Reese McGuire | C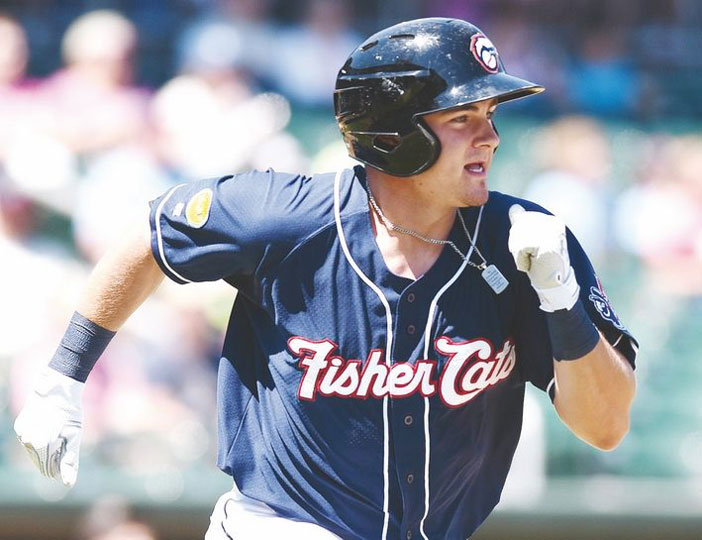 (Image from New Hampshire Union Leader)

Year
Age
Level
AB
2B
3B
HR
BB
K
SB
CS
AVG
OBP
SLG
2016

21

AA*

266

16

2

1

29

26

4

4

.259

.337

.346

2016

21

AA**

53

2

0

0

7

8

2

2

.226

.328

.264

* - Pittsburgh ** - Toronto

Reese McGuire came to the Jays in the Francisco Liriano trade and immediately became Toronto's best catching prospect. A former first-round pick, McGuire is known primarily for his defense, but the Blue Jays are hoping he develops a little more pop with his bat. If he does, he could develop into the club's catcher of the future.
Born in 1995, McGuire is a left-handed hitter who stands at 5'11". In 2012, McGuire was awarded the Richard W. "Dick" Case Player of the Year Award, whose past winners include current Blue Jay Justin Smoak and ex-Blue Jay J.P. Arencibia.
McGuire was a first-round draft pick in 2013 out of a high school in Covington, Washington. After selecting him 14th overall, Pittsburgh paid McGuire $2.36 to sign him away from his commitment to the University of San Diego. Scouts were attracted to McGuire because of his athleticism, baseball intelligence and skills behind the plate.
Since being drafted, McGuire had progressed through the minor leagues at a level a year. He spent 2013 in the Gulf Coast League, where he posted a .780 OPS. He went to A ball in 2014, advanced A-ball in 2015 and spent the past season in Double-A, although he's never posted an OPS above .700 since 2013. This year, McGuire reached Double-A, where he was hitting .259/.337/.346 with 29 walks against 26 strikeouts prior to the trade. He played 16 games for the Fisher Cats and finished the year with a .254/.335/.332 line. McGuire's stalled offensive development is what led Pittsburgh to part with him in the Liriano deal.
Reportedly, McGuire has difficulty making hard contact at the plate. Although he can hit the ball to all fields, he doesn't generate much power, as his one homer over the past two years demonstrates. Scouts have said he has trouble hitting the ball with authority and apparently hits a large number of grounders to the left side of the infield and medium fly balls. However, McGuire does have a good plate discipline and doesn't strike out much. He walked more than he struck out last year and has 102 career minor league walks against only 136 strikeouts.
Scouts have been uniform in their praise of McGuire's defensive abilities, which include advanced framing skills and the ability to work with his pitching staff. McGuire reportedly has soft hands, an above-average arm and good mobility behind the plate. He's more athletic than the average catcher and may age well as a result.
Right now, it's hard to project him as a regular due to the gaps in his offensive profile, but a little bit more development with the bat could lead to him becoming Russell Martin's heir apparent. With Martin locked in as the primary catcher for the next couple of years, the Jays should be able to take their time with McGuire and Martin will hopefully prove to be an effective tutor for the young backstop.
Nevertheless, despite McGuire's offensive profile, the value of a good defensive catcher has recently been illustrated by Jason Castro, who hasn't had an OPS over .700 in the past three seasons but just signed a 3 year, $24.5 million contract with the Twins, primarily due to his defensive game.

14. Angel Perdomo | LHP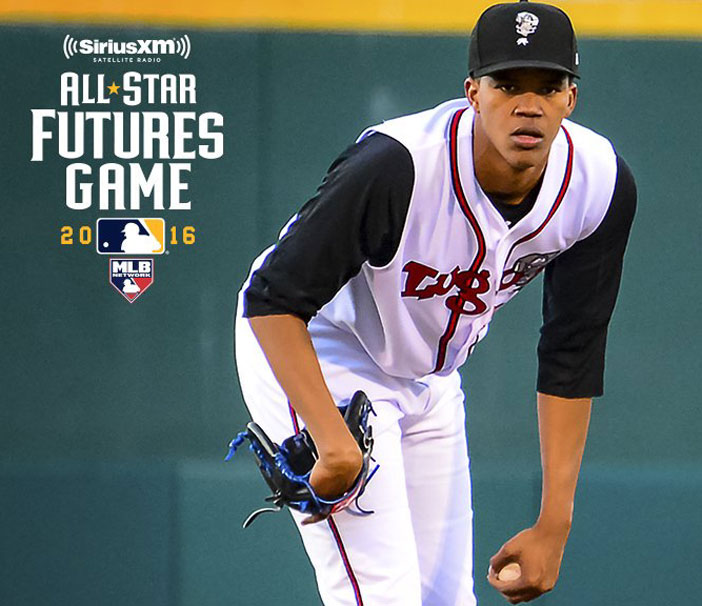 (Image from MLBPipeline.com)

| | | | | | | | | | | |
| --- | --- | --- | --- | --- | --- | --- | --- | --- | --- | --- |
| Year | Age | Level | G | GS | IP | H/9 | HR/9 | BB/9 | K/9 | ERA |
| 2016 | 22 | A | 27 | 25 | 127.0 | 7.2 | 0.3 | 3.8 | 11.1 | 3.19 |
22-year old Angel Perdomo features on this list at #14. That's probably low based on his talent and raw tools—plus fastball, frame and solid secondary offerings from the left-side, but this isn't a list on raw tools. Somewhere out there D.J. Davis and Matt Smoral are probably not too happy. Perdomo though features for the aforementioned excellent tools and fantastic season of baseball. In his first season of full-season baseball in Lansing, Perdomo pitched 127 innings of 3.19 ERA baseball. Most impressive were the 156 strikeouts. While Perdomo struggled with the walks (54 in total), his success was noted with several accolades, including all-star selections to the mid-season and post-season Midwest League All Star Game and the Futures Game.
Signed as a 17 year-old out of the Dominican Republic, Perdomo has steadily, albeit slowly progressed through the system. Two years in the DSL were followed by another two years across all three short-season A-ball affiliates. Perdomo has always struggled with the walk and this is likely to be a feature throughout his career. Perdomo is a 6'6, 200 lbs lefty with the high-waisted frame scouts adore. His delivery is less grace and more balancing act as he struggles at time to get all those lanky parts in the right position to pitch. This, however, has not held back others nor has it prevented Perdomo from developing a plus fastball and ever-developing secondary arsenal. His fastball has featured in the high-90's and is surely to sit in the mid-90's going forward as he further fills out.
Perdomo will look to build on his success in Lansing with a likely start at Dunedin next season. Innings and time will likely be the recipe for success with Perdomo as he stands to benefit more than others with the increased reps and opportunity to allow his frame to fully fill out. Key performance indicators will include lowered walk totals, early contact and improved secondary offerings. Perdomo currently lacks the secondary plus offering that would make him a candidate for a bullpen—something the Jays likely had in mind as they've recently exposed him to the Rule 5 Draft.
13. Max Pentecost | DH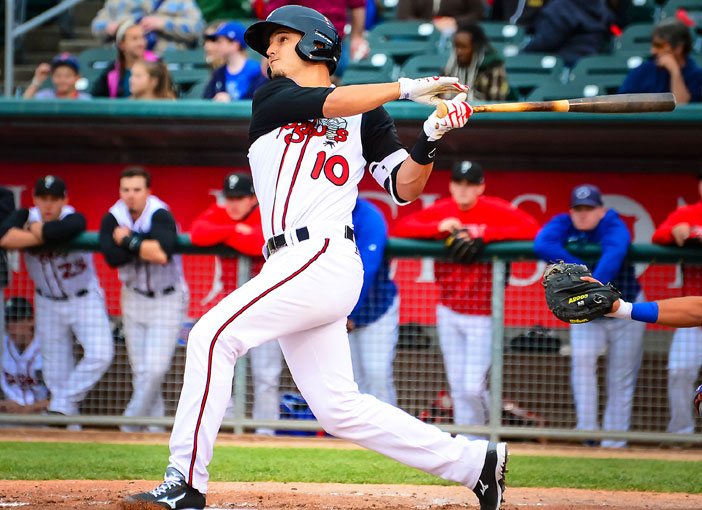 (Image from Sportsnet.ca)

Year
Age
Level
AB
2B
3B
HR
BB
K
SB
CS
AVG
OBP
SLG
2016

23

A

239

15

3

7

21

51

4

2

.314

.375

.490

2016

23

A+

49

2

0

3

3

17

1

1

.245

.288

.469

After being unable to sign Phil Bickford in 2013, the Jays selected Max Pentecost with their makeup pick as the 11th overall pick in the 2014 draft. The Kennesaw State product hit .422 and posted a 1.109 OPS in his sophomore season. Pentecost shot up draft boards after being named the Most Valuable Player of the Cape Cod League in 2013 with a batting line of .346/.425/.538, along with six home runs and 29 runs batted in with the Bourne Braves.
In his junior season, Pentecost was named as a finalist for the Dick Howser Award as college baseball's top player. Pentecost was also named the Atlantic Sun Conference Player of the Year and was awarded the Johnny Bench Award as the top catcher in the NCAA.
And therein lies the rub. Pentecost was drafted as a catcher and his future behind the plate is very much in doubt. After 25 minor league games in 2014, he missed the end of the season with a wrist injury and underwent surgery for a partially-torn labrum in his shoulder at the end of the year.
Unfortunately, this operation didn't go as well as hoped and he had to undergo a second shoulder surgery in February 2015. Pentecost would wind up missing the entire season while recovering and rehabbing from the second surgery.
However, this surgery didn't fix the problem entirely and Pentecost was still experiencing significant amounts of shoulder pain. After attending a talk by Dr. Craig Morgan, who operated on Curt Schilling's shoulder, Dr. Steven Mirabello, a member of the medical staff for the Jays, thought that Pentecost was experiencing similar symptoms. After an MRI, Pentecost underwent a third surgery for a subacromial decompression in October 2015.
He made it back on to the diamond on May 12, 2016 for his first game since August 7, 2014. In his return game, Pentecost displayed a reminder of his offensive talent, with a 3-for-4 line that included a home run. It was much like his professional debut, where he went 5-for-5 in his second Gulf Coast League game and was quickly promoted to Vancouver, where he began his Canadians career with a nine-game hitting streak and also had a six-game hitting streak shortly thereafter.
Pentecost spent 2016 primarily with Lansing, although he spent a couple of weeks with Dunedin. Over 62 games, he hit .314/.375/.490 for Lansing. He had the highest OPS in 2016 for the Lugnuts, aside from J.B. Woodman's 34 at-bats. However, Pentecost played every game at DH and only caught one game all year, which came with Dunedin.
Former roving catching instructor Sal Fasano described Pentecost as an athletic catcher and he had previously been favourably compared to Jason Kendall. Defensively, he had projected to be at least average and his arm projected as a plus tool prior to the shoulder surgeries. However, this is all up in the air as a result of Pentecost's struggles staying healthy.
Farm director Gil Kim has said that he thinks Pentecost can still be a major league catcher and the Jays had Pentecost doing non-throwing defensive drills in practices, such as working on blocking and footwork. However, there is no timetable for his return behind the plate in live games and he is still working on a program to get him throwing up to 120 feet without pain. It seems very possible that his career as a catcher is now over and Pentecost is going to be looking for a new defensive position or stuck as a DH. If that wasn't the case, he'd obviously rank several spots higher, as he doesn't possess the power one would typically want to see from a prospect who is limited defensively.

12. Harold Ramirez | OF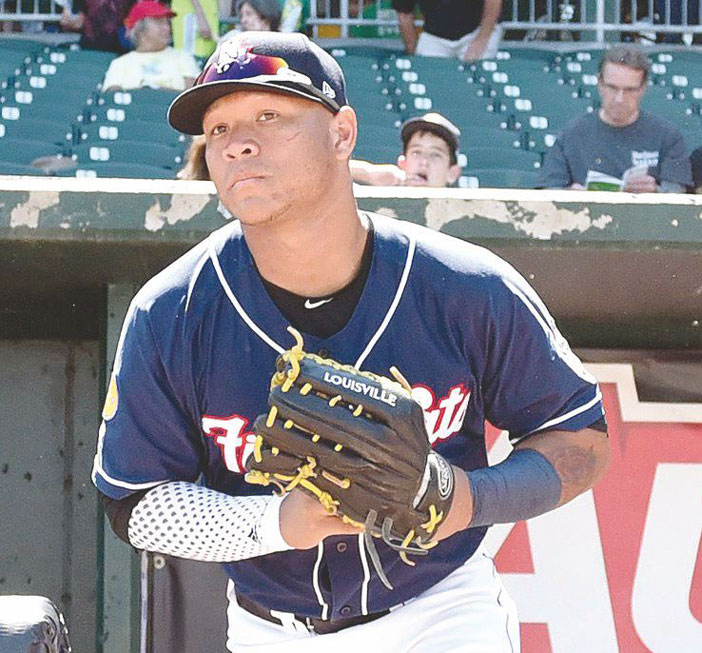 (Image from New Hampshire Union Leader)

Year
Age
Level
AB
2B
3B
HR
BB
K
SB
CS
AVG
OBP
SLG
2016

21

AA*

379

16

7

2

21

66

7

10

.306

.354

.401

2016

21

AA**

4

1

0

0

1

0

7

10

.750

.800

1.000

* - Pittsburgh ** - Toronto
Harold Ramirez is a virtual unknown to Blue Jay fans. He suffered an injury as soon as he arrived in the Toronto system. But if there is one thing to know about Ramirez it is this, he can hit. He doesn't have a lot of power, his speed is a little above average, his batting eye is decent but he can hit his way on base. Ramirez annually hits over .300. Does that profile remind you of anyone? It reminded me of Kevin Pillar. I looked up Pillar's AA stats. Pillar had the same batting average and the same on base percentage as Ramirez but he had a higher slugging percentage, .440 for Pillar versus .407 for Ramirez. There is one big difference, Pillar played in AA at age 24, Ramirez was 21. Ramirez therefore has time to develop further.
Will Ramirez be able to play centre field in the major league? If he can, he could be a new or improved Pillar. If not, his lack of power could move him to the fringe major league category. In their top 10 series, Baseball America compared Ramirez to Jose Tabata. The body type and size, if the first commonality. Both are shorter but with very solid, or bulky or muscular body types. Both don't hit for much power but can hit for average. For those reasons, Tabata's career has stalled out. To avoid the same fate, the Jays should take it slower with Ramirez and let him work on his hitting to give him time to develop more power and to improve his eye so that he can add on-base skills to his hitting. Both of those are suggested improvements for Pillar too.

11. Justin Maese | RHP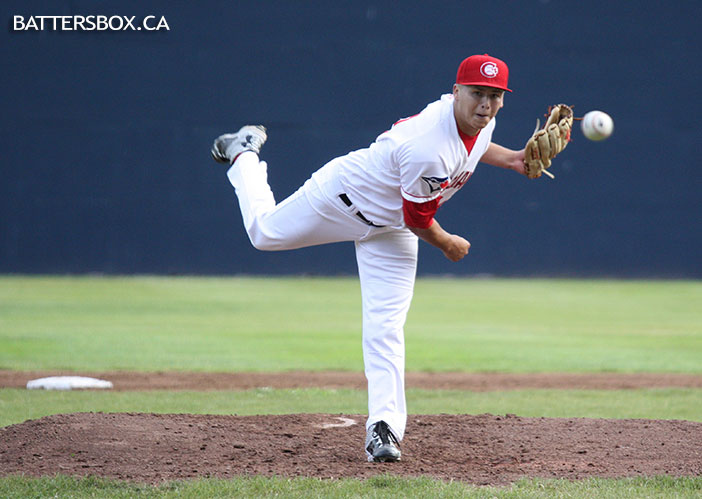 | | | | | | | | | | | |
| --- | --- | --- | --- | --- | --- | --- | --- | --- | --- | --- |
| Year | Age | Level | G | GS | IP | H/9 | HR/9 | BB/9 | K/9 | ERA |
| 2016 | 19 | A- | 5 | 5 | 26.1 | 6.8 | 0.3 | 0.3 | 6.8 | 2.05 |
| 2016 | 19 | A | 10 | 10 | 56.1 | 9.4 | 0.3 | 2.2 | 7.0 | 3.36 |
Toronto's 3rd round pick in the 2015 draft, right-handed pitcher Justin Maese turned down a scholarship to Texas Tech to sign with the Blue Jays. The two-sport standout was Yselta High School's starting quarterback, throwing 22 touchdowns and leading the team to a 7-4 record only two years after they had a 1-9 season. He attracted interest from colleges as a quarterback, but it appears Maese's first love was always baseball.
The 6-foot-3 190-pound El Paso native struck out 156 batters and was named to the Louisville Slugger High School All-American First Team as a junior. He burst onto scouts' radar as a senior by displaying a fastball that touched 96 and sat 88-92 miles per hour, as well as a slider that was clocked at 86 mph. Maese led the Indians to the playoffs with 81 strikeouts and an 0.72 ERA in his senior season.
His performance as a senior, as well as his projectable frame, led to him being one of the leading "pop-up" pitchers for the 2015 draft. Due to his late rise, the pre-draft rankings on Maese varied considerably. He was ranked 131st by MLB.com, 134th overall by Baseball America, but 33rd overall by Keith Law. However, Law's scouting report cautioned that scouts reportedly "had a hard time envisioning his changeup developing."
In 2015, Maese made four starts and four relief appearances for the Gulf Cost League Jays. Over 35.2 innings, Maese posted a 5-0 record and a 1.01 ERA. He capped off his season against the GCL Tigers with six strong innings in which he struck out ten. Chris King of Perfect Game scouting watched that final game and reported that Maese was "locating all of his pitches" and, in a positive sign given Law's scouting report, that Maese's changeup was "coming along nicely." Maese was the R. Howard Webster Award winner for the GCL Blue Jays.
Maese wanted to start 2016 with Lansing, but the Jays chose to assign him to Vancouver, where he made five starts. Maese posted a 2.05 ERA over 26.1 innings for the Canadians. He had 20 strikeouts against only one walk, although Maese allowed four unearned runs. After five starts he was promoted to Lansing. Over 56.1 innings, he made 10 starts for the Lugnuts, posting a 3.36 ERA with 44 strikeouts and 14 walks.
Encouragingly, Maese's sinker/slider combination appears to have been quite effective as a professional. With the GCL Jays, Maese posted a 2.58 groundball-to-flyball ratio. He improved upon this while with Vancouver, increasing his ratio to 3.29. Although it fell to 2.29 with Lansing, Maese still showed his skill at keeping the ball on the ground and limiting the damage.
Maese appears to have sacrificed some velocity as he's come to rely primarily on his sinker, which has movement and has generated the ground ball totals. Speaking about his reliance on his sinker, Maese has said, "The velocity was lower, but the hitters, all they were hitting was ground balls so it was easy outs and I stuck to that. The velocity, I don't really care about that. As long as I was getting those outs I kept throwing that sinker." Maese recognizes the benefits to letting batters put the ball in play on the ground, as he told The Vancouver Sun, "I like to let them hit the ball and get easy outs."
The Jays appear to have potentially found great value with Maese, who signed a below-slot deal after the draft. After successful stints with Vancouver and Lansing, it looks like Maese will begin 2017 with Dunedin, as he continues his progression through the minors and works on increasing his stamina and going deeper into games.
Join us tomorrow to find out the order of the top 10.