That wasn't much fun.
The 2017 Blue Jays had exactly one good
month
, the merry month of May when the team went 18-10 and crawled back to the brink of .500... and we know how that turned out. Again and again. The Jays' performance this past May may have been the strangest thing about the whole season. May was when Josh Donaldson, the team's best player, missed 24 of 28 games. Darwin Barney filled in and hit .207/.220/.310 in his place. Troy Tulowitzki also missed 24 of the 28 games, and Ryan Goins hit .231/.299/.372 in his place. Russell Martin started just 10 games behind the plate. Luke Maile was the team's most used catcher, and Maile hit a not too robust .077/.125/.192 this May. Meanwhile, three fifths of the rotation (Happ, Sanchez, Liriano) combined to make just 5 starts between them, going 0-0, 6.53 in 20.2 innings.
But the team went 18-10 anyway.
Go figure. Baseball, eh.
As usual - but more so this year than most - there was a host of players who put on the uniform and wandered out onto the field, but in Sample Sizes so small that even I - dedicated believer in the Small Sample that I am - still had to say to myself that I just gotta throw this one back in the water. The cutoff this year was 50 plate appearances for the hitters and either 10 appearances or 20 IP for the pitchers. (I made an exception for Casey Lawrence, just so I could post the line opposing batters put up against him.) And this still leaves what seems like half a dozen relief pitchers who got into something like 15 games.
The grades, as always, are extracted from somewhere in the vicinity of my nether regions. There is nothing remotely scientific about it. The grades mean something like this, more or less:
A - Outstanding (in the MVP/Cy Young discussion)
B - Good (maybe an All-Star, who knows)
C - Average (generic regular)
D - Below Average (replacement level, bench part, something like that)
E - Fail (belongs in the minors)
F - Epic Fail (needs to find gainful employment in some other line of work.)
NON-PLAYERS
John Gibbons D+
I don't think he did anything
wrong
, it's just that the needs of the 2017 team were not a good match for his strengths. As I've said before, Gibbons is a perfectly good pilot when the machine is in working order. He's just not the mechanic that you need to have on hand to fix things when repairs are required.

Ross Atkins D+
The GM was trying to walk a rather fine line. On the one hand, his team was old and expensive and ready for a fall. On the other hand, they were still one of the last four teams standing at the end of the previous season. You can't blow
that
up. So he pretty well had to see if he could squeeze out one more successful season - and he couldn't - without sacrificing the team's long-term future in the process - and he didn't.
PLAYERS
Marcus Stroman A-
Stroman was clearly the team's best player in 2017, and what's interesting when you peer under the hood is how closely his 2017 season resembles his rather disappointing 2016 campaign. A year ago, opposing batters hit .264/.313/.407 against Stroman; this year they hit .264/.323/.392. His K-W data was essentially the same - he walked a handful
more
hitters in 2017. The small difference in Slugging is because about 11 hits that were doubles in 2016 became singles in 2017. But that hardly explains allowing 22 fewer runs, and cutting his ERA from 4.37 to 3.09 (and you'll notice, you FIP aficianados, that Stroman's FIP was slightly
higher
this past season than it was in 2016.) So why the difference in his results? Simple. His work with runners on base. This was a problem in 2016, when Stroman was considerably more effective with the bases empty (.695 OPS with the bases empty, .756 with runners aboard.) He solved that problem in 2017, which meant that effectively he was scattering the hits he gave up rather than bunching them. His defense also turned an extra dozen DPs behind him, which also helped. Quite a bit, I should think. I doubt that this is a new ability - I think it's just something that happened. I'm certainly glad it happened, and I'll be pleased to see it happen again. But his true established level of performance probably rests somewhere in between these past two seasons. Stroman had 5 Tough Losses - that's a lot - and 2 Cheap Wins.
Josh Donaldson B+
Came out of the gate swinging the bat well, even if the rest of his game was a little off. It didn't do the team much good, of course (they lost 8 of 9 games). Then he got hurt, missed six weeks and was just kind of... well, he was certainly not bad, but he was merely an above average player in June and July. He certainly wasn't the Josh Donaldson we'd grown accustomed to. And then he went utterly berserk in August and September (.302/.410/.698 with 22 HR and 47 RBI in 50 games.) It didn't make much difference at that point, but it gave us all Hope for the Future. Which we certainly needed..
Justin Smoak B+
This is what Smoak was always expected to become, it just wasn't supposed to take this long. Because it took so long, and because he was pretty ordinary over the final two months, there's doubtless some skepticism as to whether he's established a new level of performance or simply got hot for a while. It's also very possible that he simply wore down, having never played anything close to this much in his career. He had a good April, an excellent May, a monstrous June, and an equally monstrous July. Then he was ordinary in August and bad in September.
J.A. Happ B
Missed six weeks early, but otherwise more or less repeated his very fine 2016 season. Had 4 Tough Losses, 1 Cheap Win.
Dominic Leone B
Not bad for a waiver claim. Leone's year essentially duplicated his excellent rookie campaign with the 2014 Mariners. The Jays optioned him to Buffalo in April, May, and July - it didn't faze him, he was the team's best and steadiest reliever and he seemed to grow stronger as the year went on.
Joe Smith B
Did a fine job for the Blue Jays and the organization did right by him at the deadline, moving him closer to his ailing mother and landing him on a championship contender at the same time. Nothing wrong with banking some good karma.

Teoscar Hernandez C+
I don't expect him to be a star - he's already 25 years old and he still hasn't quite established himself as a major league player. He's also struck out in more than one-third of his major league at bats, which is a little worrisome. At that rate, it's going to be a real struggle for him to hit .240. It may also simply mean he's just a typical modern ballplayer, I suppose. He's an easy player to like, and he's certainly got a chance to be a regular corner outfielder on a contending team.

Ezequiel Carrera C+
Got more than a little lucky on his balls in play this past year (.358), but he's done that before, of course. His career BABiP is a pretty impressive .328. You can do worse from your fourth outfielder. On the other hand, he just turned 30 and his luck isn't likely to get
better
.
Russell Martin C
Started just 78 games behind the plate, the lowest figure of his career and just the second time he's failed to start at least 106 games at catcher. He's going to be 35 in February, and he's already caught 1448 games in the major leagues, but the team needs him in the lineup more often.

Marco Estrada C
Estrada dropped a cryptic hint that an off-the-field issue had something to do with his mid-season struggles, and that his effectiveness returned once it had been resolved. And I'll buy that. The line between success and failure in this game is so remarkably fine that any kind of life distraction can have a significant impact of performance. It's nice to think that it was
something
as his mid-season struggles were pretty rough indeed. It lasted from June 1 through July 21, during which time Estrada went 0-5, 9.52 in 9 starts. He finished up strong and I do think he should be fine going forward. He's already lost whatever giddy-up his fastball ever had. It doesn't much matter. As long as he can mess with a batter's timing, he can get the guy out. Had 1 Tough Loss and 1 Cheap Win.
Kevin Pillar C
We heard all spring about how Pillar was going to change his approach at the plate. And I believe he really tried, and ohmigosh it actually worked. For a while. For a month or so, at which point he returned to being the same guy he's always been. Players will generally persist in being who they've always been. Sometimes they surprise you. But usually they don't. As for the rest of his game... I dunno. I guess his defense wasn't quite as otherworldly as it had been the previous two years. It was still awfully good.
Roberto Osuna C-
That was weird, wasn't it? Osuna's an excellent young pitcher, but he was a lousy closer this past season. Ten blown saves is too damn many. Kevin Gregg, who is nowhere near as good a pitcher as Osuna, did a better job at the actual job. I think it was just one of those things, but I'll tell ya - sometimes the pitch selection from these young guys just bewilders me.
Devon Travis C-
And here's one of the keys to the Jays' merry, merry month of May. Devon Travis was one of the best hitters in the whole American League this past May, a month when the only AL hitters with a higher OPS were Carlos Correa, Aaron Judge, Brett Gardner and (sob!) Jose Bautista. But in Travis' three seasons, he's missed 271 of 484 games. He also missed a fair bit of time in his last minor league season. In other words, he's had one healthy season since turning pro and that was back in 2013. It doesn't matter how well you can play if you're not able to play.
Ryan Tepera C-
He wasn't all that good - he was really just okay - but he managed to win his manager's trust. Seeing as how that had been the biggest issue holding him back, it was a pretty successful year for him.

Danny Barnes C-
He was also just okay, but he also managed to win his manager's trust. Didn't quite win mine, mainly because he gave up 11 HRs in just 66 IP. That could be a problem. But as I've said many times, it's my belief that competent relief pitchers grow on trees. You should just be able to shake one, and see a few useful pitchers fall to the ground.

Aaron Loup C-
A bit of a bounce back year - just a little bit - mainly because he was able to keep the ball in the park the way he did in back in 2013-14. Loup didn't really have a platoon split last year, which is a little odd considering a) his arm angle, and b) his entire career history. That was probably just a fluke, a matter of half a dozen grounders from LH batters finding gaps between the infielders. Loup's had an exciting career. He was really effective in 2012-13 giving up almost a hit per inning, but not walking anybody and keeping the ball in the park. He maintained his general effectiveness in 2014, despite walking more than twice as many hitters as ever before, by suddenly reducing the number of hits he gave up. Then in 2015-16, for some reason he started striking out more hitters than ever before - except now he was giving up almost three times as many HRs as ever before. This past year he got the HRs back under control - but now he was suddenly walking more hitters than ever before in his life. I have
no
idea what to expect from him next.
Matt Dermody C-
Towards the end of
Man and Superman
Shaw's heroine shrewdly observes that "getting over an unfavourable impression is ever so much easier than living up to an ideal." Exhibit A of this Shavian widsom would be Matt Dermody. In his first appearance of the season, Dermody faced six batters. It didn't go well. He walked one and allowed four hits - three of them home runs - to the others. This gave him an ERA of 135.00 for the next three months, which was how long it took before he was allowed to make another pitch in the majors. It certainly made an unfavourable impression on me - I figured that he needed to be kept far, far away from the team I was cheering for, and for much longer than three months. But Dermody came back after the break to post a 2.45 ERA in 22 appearances, which made him the best LH reliever on the team. I'm still not exactly sold on the guy. He's got a huge platoon split, and he doesn't strike out that many hitters. And of course 22 IP doesn't mean much of anything.
Tom Koehler C-
Looked pretty decent out of the pen, not that 12 innings means much of anything. Had 2 Tough Losses, one as a Marlin and the other in his only start as a Jay
Carlos Ramirez C-
Also looked pretty decent out of the pen, not that 16 innings means much of anything. Gave up just 22 hits in 54.1 innings over three levels, which seems like either a misprint or a fluke. I'm afraid it's not a misprint, so it's hard to know what to expect from him.
Luis Santos C-
Also looked pretty decent out of the pen, not that 16.2 innings means much of anything.

Leonel Campos C-
Looked decent at times, not that 13.2 innings means much of anything.
Steve Pearce D+
Gives a good effort in the field, but he can't really play out there. Gets hurt all the time, which is not likely to change as he moves into his mid 30s (and despite all the time he missed this past season, he still got into more games in 2017 than he has in any previous season except 2014.) And he didn't hit nearly well as he did in 2016 (or 2014.) But the two walk-off grand slams were pretty great.
Kendrys Morales D
I expected quite a bit more from Morales, simply because he was moving to a good hitter's park after spending almost all of his career in two of the AL's toughest places to hit. I quite forgot my longstanding conviction that the RC mainly helps
right-handed
hitters with pop. Morales, of course, is batting left-handed almost three times in four and while he didn't have much of a platoon split for most of his career, in recent years he's become pretty much useless hitting from the left side. He did have the best year of his career batting right-handed (.355/.396/.573), but that's pretty small comfort.
Troy Tulowitzki D
His bat was just starting to warm up (he'd gone .276/.315/.448 in his last 28 games) when he landed on first base the wrong way, bringing his season to an untimely end with two months still to play. In his last six seasons, he's played 47, 126, 91, 128, 131, and 66 games - that's an average of 98 games played. He's 33 years old now, and it doesn't seem likely that his health record going to improve as he goes forward. I think he can still play, but obviously the team needs to be a little better prepared for the times when he's not able to take the field.
Ryan Goins D-
Goins hit .330/.368/.540 in 117 plate appearances with runners in scoring position. That's obviously not an ablity, it's just another of those things that just happened, for reasons beyond our limited understanding. But it did happen, and it did help the ball club. Unfortunately, Goins hit .199/.255/.286 in 259 plate appearances with no one on base. That hurt the ball club, along with a rather disappointing performance in the field, particularly at shortstop, which is where he was playing most of the time.
Jose Bautista D-
Led the team in Runs Scored, an achievement more or less comparable to Joe Carter leading the team in RBIs in his last year as a Jay. It's possible that at this very moment Bautista is poring over video, attempting to solve the mystery of how he went from being one of the very best hitters in the AL to one of the very worst. It's the fact that it happened quite literally
overnight,
in the mysterious witching hours as May 31 turned into June 1, that makes one wonder if there's some explanation besides the awful truth that we all keep getting older. But even if there is an answer, and even if Bautista finds it, there's still the tricky business of finding someone out there willing to offer him a contract. I can't imagine anyone wants him in the outfield at this point. But hey, the Twins could use a DH and he's had some good times at Target Field. In the meantime... folks, it's been one hell of a ride. A hell of a ride. If it's over, the man gave us some moments we'll remember as long as we remember
baseball.
We'll always have Game Five.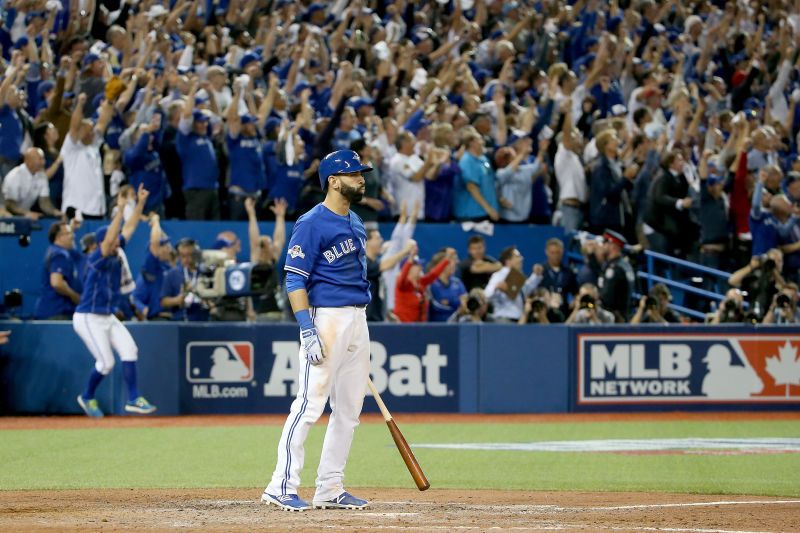 Aaron Sanchez D-
As always, it doesn't matter how well you can play if you can't play.

Brett Anderson D-
Oh, why bother. Really. What are the chances this guy is going to fill a spot in your rotation? He's managed to make 20 starts exactly once in the last eight years, so I'm thinking the chances are not that good. Especially if he's not working in the Oakland Coliseum or Dodger Stadium. Had 1 Tough Loss, 1 Cheap Win.
Luke Maile D-
On the one hand, as a hitter Maile makes Jeff Mathis look like Babe Ruth. He could hardly do worse with the bat if he went up to the plate swinging away with his eyes closed. On the other hand, the team's pitchers posted a 3.50 ERA in 339.1 IP with Maile behind the plate. The staff ERA was 4.48 in 683.2 IP with Russell Martin, and 5.05 in 442 IP with Lopez, Montero, Saltalamacchia, and Ohlman. The staff had a 3-1 K/BB ratio with Maile catching, and opposing batters hit just .235. Curiously, Tampa Bay's pitchers were dramatically better with Maile behind the plate in both 2015 and 2016. This might be one of those flukes that follow certain catchers around for their entire careers (Jeff Mathis! Jose Molina!) but it's a fluke you most definitely want to be a part of. One run per game is a huge freaking deal.
Richard Urena D-
It didn't take very long for AL pitchers to figure him out, did it? He struck out in 25 of his last 52 at bats.
Pitchers
don't strike out that often. I don't think it means very much - he won't even be 22 until February. Urena's got lots of time. The team, however, needs a credible backup for Tulowitzki right now.
Rafael Lopez D-
As we saw, and as his minor league history also demonstrates, he's got a bit of pop in his bat. And he seems to do a pretty good job working with the pitching staff. His knack for making utterly boneheaded plays is a little bewildering. And disturbing.
Joe Biagini D-
That was most peculiar, mama. It's almost as if something went wrong in Biagini's head at some point, and he totally lost the plot. It's pretty easy to see exactly
when
that happened, by the way. As you recall, after spending the first month doing solid work out of the pen, Biagini moved into the rotation in May. The team carefully spent four starts stretching him out, never having him throw more than 77 pitches or working him past the fifth inning. He did well enough (1-1, 4.15) while this was going on, so they took off the training wheels and let him go. He promptly gave the team three straight strong starts, Quality Starts all - and he got tagged with the Loss for his trouble each time. And that was it - he went right off the rails for the rest of the season (2-8, 7.07 in 23 appearances, 11 of them starts.) Overall, he went 2-12, 5.63 as a starter. On behalf of the group and ourselves, he did not pass the audition. Had 3 Tough Losses, 1 Cheap Win.
Tim Mayza D-
Well, you sure have to like the 27 Ks in just 17 IP, especially when he also issued just 4 BB. I like it a lot. And one suspects that opposing hitters aren't likely to hit .467 on their Balls in Play next time around. That's how he allowed 15 runs in those 17 innings. He's only 25, he's left-handed. He'll definitely get another chance.
Mike Bolsinger D-
Please. It is one of my fundamental baseball beliefs that if you can't establish yourself as a major league pitcher in Dodger Stadium, chances are that you're just not a major league pitcher. ("If you can't make it there, you can't make it anywhere...") Mike Bolsinger has not made me reassess my views.
Darwin Barney E
Did a good job in the field at both second and third, but his bat - which was never exactly the strength of his game to start with - just sort of shrivelled up and died. This was the kind of performance - an OPS+ of 57 - that cost him his job as a regular with the Cubs, despite winning a Gold Glove the previous season. In May and June of this season it was particularly gruesome, as Barney was a walking, talking Rally Killer. He hit into 9 double plays in just 91 at bats, which simply takes the breath away. The same way someone holding your head underwater takes your breath away.
Francisco Liriano E
Didn't some fool predict that Liriano would lead the 2017 Jays' staff in Wins? Oops. The fact that the Astros were willing to part with Teoscar Hernandez for Liriano is almost frightening - could they possibly know something about Hernandez we just don't know yet? Or were they merely excessively, egregiously desperate for a LH arm? Quality of said arm not an issue? It's not a level of desperation I can quite fathom, but youneverknow. Had 1 Tough Loss, 1 Cheap Win with the Jays.
Chris Coghlan E
Teamed up with Yadier Molina to give us all a good highlight reel. It was kind of his Kenny-Williams-running-the-bases moment. And just like Williams, during his brief tenure as a Blue Jay, he did nothing else remotely memorable. Or competent. I like to think that someday we'll be telling our grandchildren about Coghlan's Leap. Doesn't it sound like a gripping tale you read in your childhood? That, or some cheesy tourist attraction. But still...
Jeff Beliveau E
Well, if Loup and Dermody and Mayza all manage to fall on their faces, I suppose he's the next in line.
Cesar Valdez E
Anybody can have a good game. Doesn't mean he's a major leaguer.
Jason Grilli F
Aw, crap. He was a lot of fun, and he really did do a good job for the 2016 team. But when a two pitch guy completely loses one of those pitches... well, he might just allow 9 home runs in 20.2 innings. As always - if things didn't end badly, they wouldn't end at all.
J.P. Howell F
He'd had a five year run as a quality reliever coming into last season. He's still left-handed, and he doesn't turn 35 until next April. As long as he can lift his arm above his shoulder someone will probably give him another chance.

Rob Refsnyder F
He's one of the 1,000 best baseball players in the world. There aren't that many major league jobs, of course, and his presence on your ball club is nothing less than a desperate Cry for Help. It's still a hell of a thing.
Miguel Montero F
As Macbeth said to Banquo's ghost, and loudly, "Avaunt, and quit my sight!" The next line is "Let the earth hide thee" but that seems a little harsh, even for Montero. But just a little.
Casey Lawrence F
Opposing batters hit .356/.451/.542 against him, which speaks for itself. What it says, of course, can not be repeated in polite company.