The middle 10 of our top 30 prospects is a real melting pot. You have players from last year's top 10 who are dropping on account of underwhelming performance. You have the players with average years who remained in the middle. You have a rising star who had a great season to put himself on the map, as well as a new draftee and a player who arrived through a trade.
20. Hagen Danner | C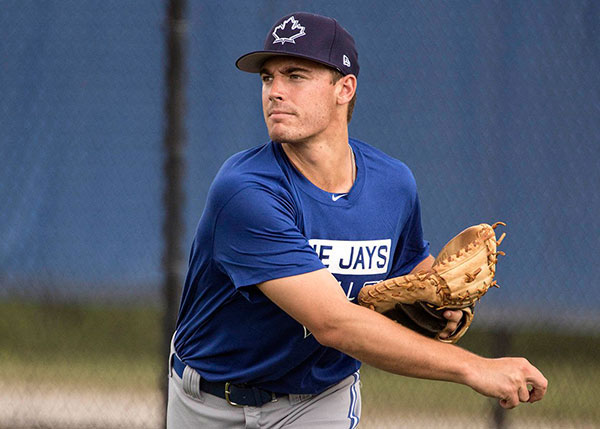 Image from John Lott.
Year
Age
Team
AB
2B
3B
HR
BB
K
SB
CS
AVG
OBP
SLG
2017

18

GCL

125

5

0

2

5

36

3

1

.160

.207

.248

In the second round of the 2017 draft, the Jays nabbed Hagen Danner, who they had been linked to in pre-draft rumours. Danner was a well-regarded prospect who attracted interest as both a pitcher and a catcher, with the industry seemingly split on whether they preferred him behind the plate or on the mound.
Minor league prospect writer Christopher Crawford liked him on the mound, while John Manuel, then of Baseball America, loved him behind the plate. So did prospect writer Eric Longenhagen, who admitted he needed more reps behind the plate, but thought that he had real potential to stay at catcher long-term. However, many pre-reports seemed more intrigued by his mound presence than Danner's potential behind the plate.
Born in Huntington Beach, Danner is a 6'1" 195-pound right-hander who was committed to UCLA, but seen as signable if he was drafted in the first couple of rounds. Having been linked to the Blue Jays, Danner admitted that he had his eyes on the 28th overall pick, which was Toronto's second first-round pick. Ranked 30th overall by Keith Law, 41st overall by MLB Pipeline and 46th by Baseball America, Danner was anxious as the pick passed and then the second round progressed without hearing his name. He realized that Toronto had the 61st pick and began to keep his eye on that pick. After he was selected in that spot, Danner and the Jays were soon able to work out a deal.
When he was selected, the Jays announced Danner as a catcher despite the fact he has a fastball that sits in the low 90s, an above-average curveball and a developing change-up. With three pitches that projected as at least major-league average, advanced control for a high school pitching prospect and consistent mechanics, Danner has legitimate potential as a pitcher. However, the main drawback to Danner's future on the mound was that he appeared to lack projectability. This worried some scouts, who thought his current form may be close to the finished product.
Other scouts preferred taking advantage of Danner's strong arm behind the plate, where he could also make good use of his athletic frame. MLB Pipeline reported, "[Danner] has the chance to a special catcher. He has good hands and a plus arm defensively and, while he's a below-average runner, his athleticism and mobility helps him move well behind the dish." However, it was nearly universal opinion Danner needed time to get the repetitions to refine his defensive skills. At the plate, Danner has plus raw power at a plate and is a good athlete. There are reports that he can get pull-conscious and lacks plus bat speed. He'll also need at-bats to unlock his power, which he flashes occasionally.
A veteran of the 2011 Little League World Series, where the Huntington Beach team won the Championship with a 2-1 victory, Danner is best friends with Nick Pratto, who was selected 14th overall by Kansas City and who played alongside Pratto in Huntington Beach at the Little League World Series and in high school. Danner threw 8 1/3 scoreless innings in two Little League World Series starts and collected 11 hits in six games in Williamsport, with the last hit tying the final 1-1 with Japan. In his senior year, Danner was chosen as the Los Angeles Times's Player of the Year, hitting .350 with 12 home runs and 40 RBI while also going 11-1 with a 1.22 ERA as a pitcher.
Danner prefers to play catcher, but said he is open to returning to the mound if he was ever asked to. In the meantime, Toronto has one of the best catching prospects from last year's draft in their system and a lot of time to nurture his talents. They also have the benefit of having a fallback plan if Danner becomes one of the long list of high school catchers who stagnate in the minors and don't develop as their parent clubs hoped.
19. Thomas Pannone  | LHP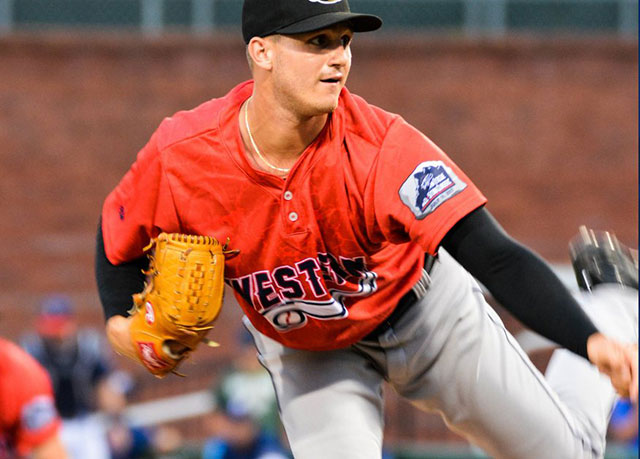 Image from New Hampshire Fisher Cats.
| | | | | | | | | | | |
| --- | --- | --- | --- | --- | --- | --- | --- | --- | --- | --- |
| Year | Age | Teaml | G | GS | IP | H/9 | HR/9 | BB/9 | K/9 | ERA |
| 2017 | 23 | LYN* | 5 | 5 | 27.2 | 3.3 | 0.0 | 2.3 | 12.7 | 0.00 |
| 2017 | 23 | AKR* | 14 | 14 | 81.2 | 7.3 | 0.5 | 2.3 | 8.9 | 2.62 |
| 2017 | 23 | NH | 6 | 6 | 34.2 | 8.0 | 2.3 | 2.1 | 7.5 | 3.63 |
* - with Cleveland.
Thomas Pannone
(pronounced 'pah-NOAN', like 'known') hopes to be a known commodity heading into his first full season in the Toronto system. He is among a large group of players to get drafted twice but not as many can say they have been drafted as a position player one year and a pitcher the next. The Cranston, Rhode Island native was drafted out of Bishop Hendricken High School as an outfielder by the Chicago Cubs in the 33rd round of the 2012 draft. He decided to go the junior college route with Southern Nevada in 2013 and was given a shot on the mound against a mostly left-handed hitting lineup early that season and he responded with over six innings of shutout ball. He went on to win six of eight decisions with a 1.84 earned run average with a 78-21 strikeout-walk total in 53-2/3 innings that included four complete games and two shutouts. That performance convinced Cleveland to take him in the 9th round of the 2013 draft.
Pannone's breakout season was in 2016 when he earned a Midwest League All-Star berth and was promoted to the Carolina League where he went a combined 8-5 with a 2.57 ERA. His last two starts of the year resulted in 13 innings of shutout ball and that was part of a streak of 52-2/3 innings that carried in 2017 in which he did not allow an earned run. That streak ended not too long after a promotion to Double-A Akron but he still continued to pitch well as he earned an Eastern League All-Star berth. The 6-foot-1 lefty was then acquired by the Blue Jays right at the July 31 trade deadline in the
Joe Smith
deal.
After a tough debut with the Fisher Cats, Pannone allowed just one run in three of his final four starts to end the season. However, he was not as successful keeping the ball down in Double-A as his groundball rate fell over 10 percent to the mid-30 percent range. Also, his home-run fly ball rate shot up over 10 percent after arriving in Manchester.
According to various scouting reports, Pannone is said to have a three-pitch mix consisting of a low-90s fastball, a low 70s curveball and a mid-80s changeup. Neither of the offerings are considered plus but his 11-5 curve is rated as slightly above average to go along with a deceptive delivery. An off-season weightlifting program and an overhauled delivery that eliminated throwing across his body helped Pannone add a couple of ticks to his heater at 92-93 MPH. He told
MinorLeagueBall.com
the keys to his success have been getting ahead with his fastball by spotting it on both sides of the plate and increasing the usage of his secondary offerings.
Projected as a back-end starter, Pannone may begin 2018 back in New Hampshire but trips to Buffalo and Toronto later in the year are not out of the realm of possibility. He turns 24 on April 28.
18. Justin Maese | RHP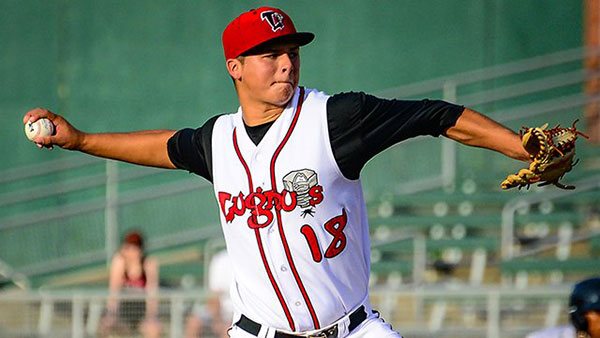 Image from Kyle Castle.
| | | | | | | | | | | |
| --- | --- | --- | --- | --- | --- | --- | --- | --- | --- | --- |
| Year | Age | Team | G | GS | IP | H/9 | HR/9 | BB/9 | K/9 | ERA |
| 2017 | 20 | GCL | 3 | 3 | 9.0 | 13.0 | 1.0 | 1.0 | 9.0 | 5.00 |
| 2017 | 20 | LAN | 12 | 12 | 70.2 | 9.9 | 0.4 | 3.3 | 7.6 | 4.84 |
Toronto's 3rd round pick in the 2015 draft, right-handed pitcher Justin Maese turned down a scholarship to Texas Tech to sign with the Blue Jays. The two-sport standout was Yselta High School's starting quarterback, throwing 22 touchdowns and leading the team to a 7-4 record. He attracted interest from colleges as a quarterback, but Maese's first love was always baseball.
As a junior, the 6-foot-3 190-pound El Paso native struck out 156 batters and was named to the Louisville Slugger High School All-American First Team. He burst onto scouts' radar as a senior with a fastball that sat 88-92 miles per hour, as well as a slider that was clocked at 86 mph. In his senior season, Maese led Yselta High to the state playoffs with 81 strikeouts and an 0.72 ERA.
Maese's performance as a senior, as well as his projectable frame, led to him being one of the leading "pop-up" pitching prospects for the 2015 draft. Due to his late rise, the pre-draft rankings on Maese varied considerably. He was ranked 131st by MLB.com, 134th overall by Baseball America, but 33rd overall by Keith Law.
In 2015, Maese made four starts and four relief appearances for the Gulf Cost League Jays. Over 35.2 innings, Maese posted a 5-0 record and a 1.01 ERA. He finished his season against the GCL Tigers with six strong innings over which he struck out 10. Maese was named the R. Howard Webster Award winner for the GCL Blue Jays.
Maese started 2016 with Vancouver, where he made five starts. Maese posted a 2.05 ERA over 26.1 innings for the Canadians. He had 20 strikeouts against only one walk. After five starts he was promoted to Lansing where he made ten starts. Over 56.1 innings, Maese posted a 3.36 ERA with 44 strikeouts and 14 walks.
Unfortunately, 2017 was an injury-plagued year for Maese. He went back to Lansing, where he made 10 starts before hitting the DL for a month and a half with shoulder injuries. Maese made three rehab starts at Rookie Ball and two starts with the Lugnuts before he hit the DL for the third time during the season with shoulder issues. After struggling a little bit to begin the season, Maese proceeded to have quality starts in four of his five starts before going on the DL. His injury appears to have come at a quite inopportune time and potentially changed the course of his season. Maese struggled in his first start back at Lansing after his longer DL stint, so his overall numbers look poor, but it may well have been a different season if he hadn't been injured when he was pitching well in May.
While Maese's sinker/slider combination appears to have quite effective his first couple years in the minors, his groundball-to-flyball ratio has decreased in each season. With the GCL Jays, Maese posted a 2.58 groundball-to-flyball ratio. He improved upon this while with Vancouver, increasing his ratio to 3.29. It dropped to to 2.29 with Lansing in 2016, and fell again to 1.79 over the past season, suggesting that an inability to keep the ball down may have contributed to his struggles.
Maese appears to have sacrificed some velocity as he's come to rely primarily on his sinker, which has movement and has generated the ground ball totals. In 2016, speaking about his reliance on his sinker, Maese has said, "The velocity was lower, but the hitters, all they were hitting was ground balls so it was easy outs and I stuck to that. The velocity, I don't really care about that. As long as I was getting those outs I kept throwing that sinker."
It wouldn't be surprising to see Maese back at Lansing again to begin 2018, with the idea of having him progress to Dunedin during the season. Maese will only be 21 in 2018, so there is no rush to move Maese through the minors quickly. The primary thing the Jays may want out of 2018 for Maese is a clean bill of health, so he can continue to work on increasing his stamina and going deeper into games.
17. Reese McGuire | C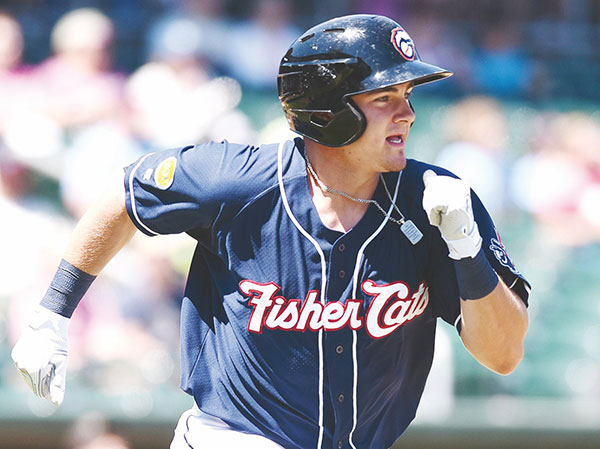 Image from New Hampshire Union Leader.
Year
Age
Team
AB
2B
3B
HR
BB
K
SB
CS
AVG
OBP
SLG
2017

22

GCL

22

0

0

3

3

1

0

1

.409

.462

.500

2017

22

DUN

12

1

0

0

1

2

0

0

.250

.308

.333

2017

22

NH

115

5

1

6

16

19

2

1

.278

.366

.496

A former first-round pick known primarily for his defence, Reese McGuire came to the Jays in the Francisco Liriano trade and immediately became Toronto's best catching prospect. However, at this stage Danny Jansen and Max Pentecost, if he remains able to catch, have overtaken him, and 2017 draftees Riley Adams and Hagen Danner are nipping at his heels, if they haven't already surpassed his prospect standing. At this point, the Jays are likely hoping that McGuire becomes a glove-first backup, although his 2017 season offers a little more hope that he may add value at the plate, as well.
Born in 1995, McGuire is a 5'11" left-handed hitter. McGuire was Pittsburgh's first-round draft pick in 2013 from a high school in Covington, Washington. After selecting him 14th overall, the Pirates paid McGuire $2.36 million to sign him away from his commitment to the University of San Diego. McGuire was universally seen as a first-round talent because of his athleticism, baseball intelligence and skills behind the plate.
Since being drafted, McGuire had steadily progressed through the minor leagues. He spent 2013 in the Gulf Coast League, where he posted a .780 OPS. He went to A ball in 2014, graduated to advanced A ball in 2015 and spent 2016 in Double-A, although he had never posted an OPS above .700 over the latter three seasons. McGuire came to the Jays during the 2016 season, whereupon he posted a .592 OPS with the Fisher Cats. His combined OPS over the season was .667, which was actually his best season at the plate over the prior three seasons.
In light of these offensive struggles, it wasn't surprising that Toronto sent McGuire back to New Hampshire in 2017. McGuire missed time from May through mid-July with an injury, but while he was in Double-A McGuire slashed .278/.366/.496, which was his highest slugging percentage in a minor league season by more than 100 points. Prior to going on the DL, McGuire was hitting .216/.311/.373, so much of his offensive burst came after he was activated from the DL through the end of the year.
Reportedly, McGuire has difficulty making hard contact. He has had difficulty hitting the ball with power, as he hit one homer over 2015 and 2016, although he hit six homers this season, including four between August 6 and September 2. In the past, McGuire has reportedly also had trouble hitting the ball with authority. However, McGuire has strong plate discipline, as he walked more times than he struck out in 2016 and, in a promising sign, his offensive prowess this season didn't come at the expense of his batting eye, as he had 16 walks to 19 strikeouts at New Hampshire.
Scouts have been uniform in their praise of McGuire's defensive abilities, which include advanced framing skills and his ability to work with his pitching staff. McGuire reportedly has soft hands, an above-average arm and good mobility behind the plate. He's more athletic than the average catcher and may age well as a result.
After 2016, McGuire looked like he was destined to be a pure backup catcher, but his performance at the plate in 2017 has raised questions as to whether he may have more to contribute at the major leagues. At the least, if offers renewed hope that he may be a backup with better hitting ability than the Jays have seen over the past few seasons from Luke Maile and Josh Thole. Although Russell Martin is locked in as the primary catcher for the next couple of years, he will need more regular rest and this will provide an opportunity for the Jays younger catchers. There is no immediate rush to promote Jansen or McGuire to the majors, but it would be surprising if McGuire doesn't seen major league action in 2017 and, hopefully, Martin will prove to be an effective tutor for the young backstop.
16. Rowdy Tellez | 1B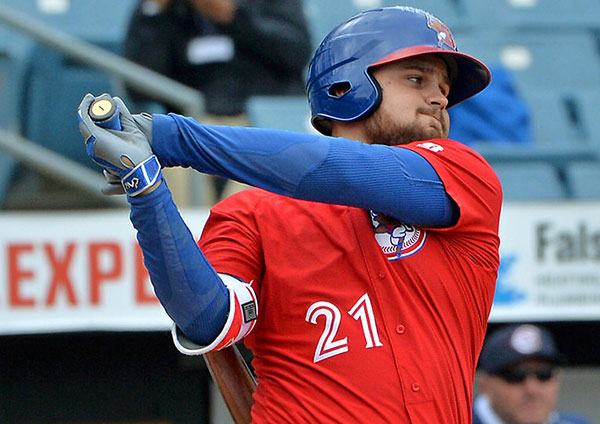 Image from MiLB.com.
Year
Age
Team
AB
2B
3B
HR
BB
K
SB
CS
AVG
OBP
SLG
2017

22

BUF

445

29

1

6

47

94

6

1

.222

.295

.333

Rowdy Tellez had a disappointing season. In spring training he was touted as a mid-season potential call-up for the Jays. When the trade deadline came and passed, no-one was calling for Rowdy to come up. The season got off to a great start for Rowdy, he hit two home runs on opening day. He hit four more in the rest of the season. Tellez didn't hit for average and he didn't hit for power. His strikeout rate was not bad, 19%. His BABIP was low at .264, the lowest of his career. Tellez did not hit a home run after June 27.
If Tellez didn't hit and didn't hit for power, how is he still ranked as a prospect? One reason is his age, he played this season at 22 years old. That is very young for a AAA player. Tellez could get incrementally better next year at age 23, remain in AAA all season, and still be ready to contribute in the major leagues in 2019 as a 24 year old. The other reason for some some optimism is Tellez's August. Rowdy hit over .300 in August. He also walked 12 times in the month, his highest monthly total on the year. Now one month does not a season make, but it does leave a window of optimism, that when combined with his young age, gives hope for 2018. Tellez should return to Buffalo for 2018 and perhaps next year will result in that call-up.
15. Max Pentecost | C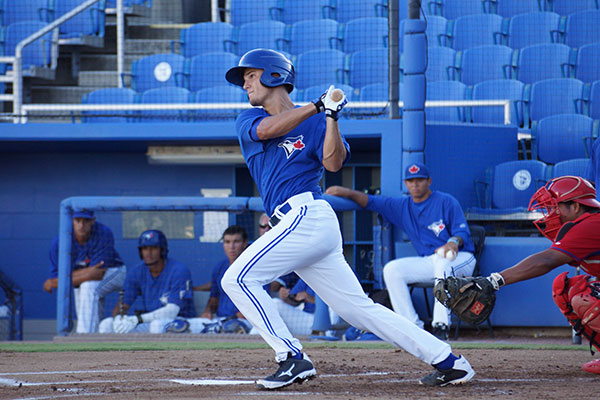 Image from Eddie Michels.
Year
Age
Team
AB
2B
3B
HR
BB
K
SB
CS
AVG
OBP
SLG
2017

24

GCL

2

0

0

0

0

0

0

0

.000

.000

.000

2017

24

DUN

286

14

2

9

23

62

9

4

.276

.332

.434

After not signing Phil Bickford in 2013, the Jays selected Max Pentecost 11th overall in 2014, with their makeup pick. In his junior season, Pentecost was named a finalist for the Dick Howser Award as college baseball's top player. Pentecost was also named the Atlantic Sun Conference Player of the Year and was awarded the Johnny Bench Award as the top catcher in the NCAA. The Kennesaw State product hit .422 and posted a 1.109 OPS in his sophomore season. He shot up draft boards after being named the Most Valuable Player of the Cape Cod League in 2013 with a batting line of .346/.425/.538, along with six home runs and 29 RBIs.
However, his professional career has been clouded by injuries. After 25 minor league games in 2014, which included a 5-for-5 performance in his second Gulf Coast League game, Pentecost missed part of the season with a wrist injury and underwent surgery for a partially-torn labrum in his shoulder at the end of the year. Unfortunately, this operation didn't go as well as hoped and he had to undergo a second shoulder surgery in February 2015. Pentecost would miss the entire 2015 season while recovering and rehabbing from the second surgery.
However, this surgery didn't fix the problem entirely and Pentecost was still experiencing significant amounts of shoulder pain. After an MRI, Pentecost underwent a third surgery in October 2015. He made it back on to the diamond on May 12, 2016 for his first game since August 7, 2014. In his first game back, Pentecost reminded Jays fans of his offensive talent, with a 3-for-4 performance that included a home run. Pentecost spent most of 2016 with Lansing, where he hit .314/.375/.490 in 62 games. He had the highest OPS in 2016 for the Lugnuts of anyone with at least 50 at-bats. However, Pentecost played every game at DH.
Pentecost didn't repeat his 2016 performance at the plate in 2017, but he posted a strong season with a .276/.332/.434 line for the Dunedin Blue Jays, which was good for a 124 OPS+. Pentecost did end up on the DL on August 10, which ended his season. However, more importantly, Pentecost returned to the field for the first time since 2014. He split his 71 games for Dunedin between DH (30), first base (22) and catcher (19). Pentecost made two errors in 194.1 innings at first, but didn't make an error behind the plate. Although he allowed three passed balls, he threw out 7 of 15 base runners, which was a promising sign.
After the 2016 season, Pentecost's future behind the plate looked to be in doubt. Blue Jays director of player development Gil Kim was optimistic that Pentecost could still be a major league catcher and the Jays had Pentecost doing non-throwing defensive drills in practices, such as working on blocking and footwork. It seemed somewhat optimistic last offseason, but this year may prove to have been an important stepping stone in getting him back onto the field and there's renewed optimism that Pentecost won't be limited to DH or 1B.
14. Conner Greene | RHP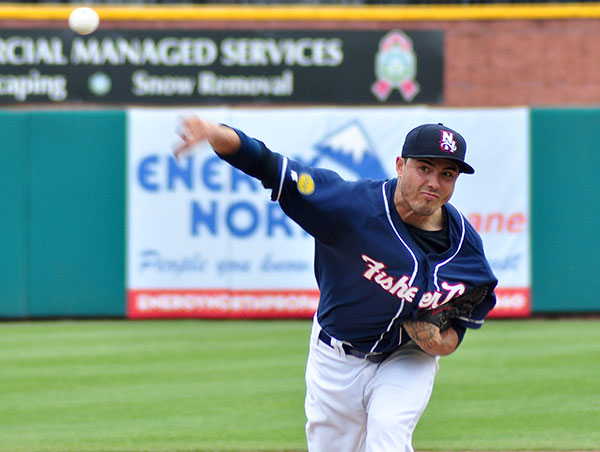 Image from 27 Outs Baseball.
| | | | | | | | | | | |
| --- | --- | --- | --- | --- | --- | --- | --- | --- | --- | --- |
| Year | Age | Team | G | GS | IP | H/9 | HR/9 | BB/9 | K/9 | ERA |
| 2017 | 22 | NH | 26 | 25 | 132.2 | 9.6 | 0.5 | 5.6 | 6.2 | 5.29 |
Conner Greene is reminiscent of previous Blue Jay minor league pitchers Ricky Romero and Aaron Sanchez. All three have overwhelming "stuff" and all three have delivered, or, in the case of Greene, are delivering, underwhelming results. The result is a pitcher with extremely high variability of future performance. Greene could find his command and turn out to be an ace pitcher. He could take some time, like Sanchez, and flit between the bullpen and the rotation. He could become an excellent bullpen pitcher. Or you could never find the command and be out of baseball in a few years.
So what does Greene have? He has a mid-90's fastball with movement. It's a fastball that he can get up to the high-90's on occasion. He has a plus curveball and a plus changeup. A pitcher with three plus pitches will always interest a scout or coach. However it is the execution that is lacking. Greene too often pitches up in the zone, he can't control where his pitches are going and as a result he walked far too many hitters this year. Greene will likely need to change up his delivery or work hard to find a consistent approach to it to get the ball where he wants.
Another disappointing aspect to Greene's season is that his numbers were worse later in the season, he did not show signs of improvement. The big question is can he? There have been mutterings of mental approach and work ethic concerns from the front office but it is unknown whether this is real or a reflection of Greene's Santa Monica background. Greene has spoken with Aaron Sanchez about how Sanchez got through this phase of his development.
There were other stories about Greene in the spring time, how he had shown up to spring training trying to throw as hard as he could, seeing if he could force his way into the mix for the Blue Jays bullpen. If this is true it obviously did not work but it might have set Greene back mentally. When a talented player does not reach his potential there are always theories and stories. Who knows how much of it is true? Sportsnet's Stephen Brunt has suggested the Jays could trade Greene this off-season. If they doubt his potential to work his way through his challenges that could be the case. If the Jays hang on to him, it could be a sign they believe he will make it.
13. Lourdes Gurriel Jr.  | SS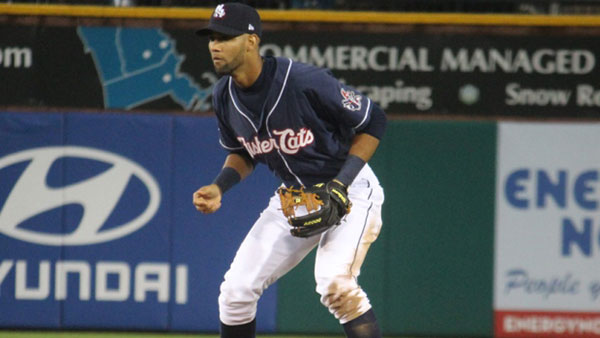 Image from TSN.
Year
Age
Team
AB
2B
3B
HR
BB
K
SB
CS
AVG
OBP
SLG
2017

23

DUN

66

1

0

1

2

13

1

0

.197

.217

.258

2017

23

NH

170

10

0

4

10

30

2

0

.241

.286

.371

When Yuliesky Gurriel defected and signed with the Astros, his contract was for $47M over five years, an annual average of over $9M for the 32 year old. When Yasiel Puig signed with the Dodgers his contract was valued at $42M over seven years, a $6M per year value. And Lourdes Gurriel Jr. signed for $22M over seven years, an annual value of $3M. Lourdes Gurriel's contract shows what teams expect of the player. Remember the Jays were the high bidder and scouts expect Gurriel to be an average utility type player. Think Darwin Barney. A good fielder, will hit for some average but not much power. There is some variability around this somewhat downbeat assessment. Gurriel could play better than the scouts expect and become a major league regular or he could be worse and never make it.
In his first season Gurriel has been less than expected. His batting average is .229, he doesn't walk much and he hasn't shown much power. Gurriel does have a couple of excuses he could bring out. It was his first season playing in North America, his first season getting used to the travel, the style of play and living in the US. Many Cuban players find the transition difficult. Moving from a society that doesn't have a lot of trust, to one where a player suddenly has a lot of money and often several hangers-on, can be a challenge. Secondly Gurriel was injured and missed playing time. Gurriel did not play until April 19 but then immediately hurt himself again and was on the DL until June 19. That stop and start playing would not be supportive of development.
Gurriel uses his upper body in his swing with minimal use of his lower body. This limits his power potential. Other than that Gurriel is athletic and has good bat to ball skills. In the field he is versatile. In New Hampshire he split his time between short and second base. He could also play third or the outfield.
This October Gurriel saw his brother win the World Series. Will this have an impact on Lourdes? Will he learn from that experience how he needs to approach is development? Lourdes is currently playing in the Arizona Fall League and is hitting better than he did in AA. The fall league is not a good predictor of future performance but it is giving Gurriel reps, and that is what he needs right now. Gurriel should return to New Hampshire to start 2018.
12. TJ Zeuch | RHP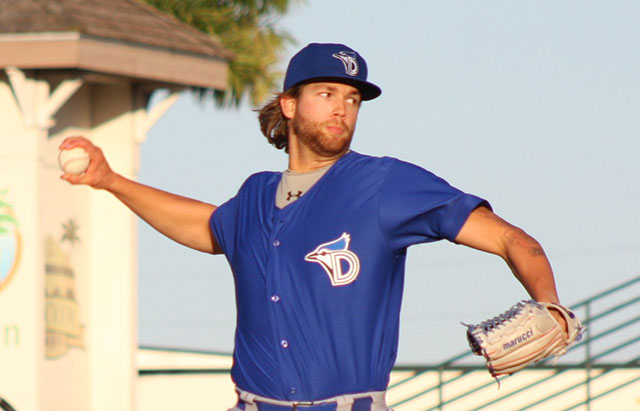 Image from Eddie Michels.
(Image from MiLB.com)

| | | | | | | | | | | |
| --- | --- | --- | --- | --- | --- | --- | --- | --- | --- | --- |
| Year | Age | Team | G | GS | IP | H/9 | HR/9 | BB/9 | K/9 | ERA |
| 2017 | 21 | DUN | 12 | 11 | 58.2 | 9.7 | 0.5 | 2.6 | 7.1 | 3.38 |
| 2017 | 21 | GCL | 3 | 3 | 7.0 | 11.6 | 1.3 | 2.6 | 6.4 | 5.14 |
Injuries and an improved farm system have conspired to keep 2016 first-round pick
T.J. Zeuch
out of the Batter's Box Top 10 prospects this year but his recent performance in the Arizona Fall League indicates that should not happen again next year.
Zeuch had a promising April with Dunedin that saw him record an earned run average of 1.62 over three starts and one relief appearance in which he recorded his first professional win. It was a different story in May when Florida State League hitters got the better of him by batting .305 against him while his ERA for the month nearly reached 4.00.
Back and hamstring injuries led to Zeuch missing all of June and July and prolonged struggles in August with the Dunedin and Gulf Coast League Blue Jays before ending the regular season with four shutout innings with Dunedin. He then pitched four more shutout frames in Dunedin's clinching of the co-Florida State League championship in Tampa. Now he's making up for lost time with a solid season in the Arizona Fall League in which his WHIP is 0.98 heading into the final week of the season.
The 6-foot-7 Zeuch saw his strikeout rate dip from 2016 in Vancouver by over 1-1/2 per nine innings with Dunedin but his groundball rate remains over 60, guaranteeing his infielders will never be bored.
According to
Baseball America
, Zeuch has been throwing a fastball in the 92-95 MPH range with late run and sink along with a low-80s slider, a mid-80s changeup and a curveball. In an interview with
Jim Callis
of
MLB.com
, the former Pittsburgh Panther considers his sinker to be his "bread and butter pitch" and calls his curve his best strikeout offering.
Zeuch could start 2018 back in Dunedin to get some more work under his belt before making the jump to New Hampshire. The Mason, Ohio native will celebrate his 23rd birthday on August 1.
11. Edward Olivares  | OF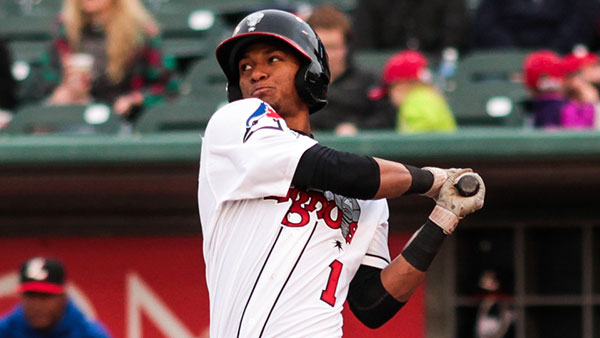 Image from MiLB.com.
Year
Age
Team
AB
2B
3B
HR
BB
K
SB
CS
AVG
OBP
SLG
2017

21

LAN

426

26

9

17

22

82

18

7

.277

.330

.500

2017

21

DUN

68

1

1

0

8

17

2

2

.221

.312

.265

Edward Olivares was overshadowed on the Lugnuts this season by Vladimiar Guerrero Jr. and Bo Bichette. Flying under the radar, Olivares finished fifth in OPS in the Midwest League. This performance was a surprise for a player who had not stood out in previous seasons. Olivares signed out of Venezuela and first played in the Dominican Summer League in 2014 at age 18. He hit well in the DSL and that earned him a place on the GCL Jays for 2015. There he hit under .200 in 116 at-bats. In 2016 he was sent to Bluefield but was injured after just 55 at-bats. In his brief time there he hit .273 with just one home run. Having not made a name for himself it was somewhat surprising when he was sent to Lansing to start 2017. He had just turned 21 years old. April was a slow start for Olivares, he hit just .241 although he did hit four home runs and hit for the cycle on April 24.
After the cycle Olivares steadily improved. He hit .275 in May, .323 in June and .290 in July. His OPS poppoed too, 1014 in June and 903 in July. All of that hitting earned him a promotion to Dunedin on August 13. He just hit .221 in 19 games but that set him up to start there in 2018.
Olivares' 17 home runs were second in the Blue Jays minor league system to Conor Panas. And his 10 triples were the most in the system, beating Chavez Young by two. Olivares is fast and plays a strong centre field. His range and arm are both above average. Even though he is fast his base stealing needs some work. He stole 18 bases but was caught 7 times. Olivares also does not walk a lot, just 22 in 464 at-bats. That lack of selectivity might have impaired his hitting in Dunedin. This is all part of the development process.
Olivares has now established himself as one to watch. He will return to Dunedin to start 2018 and should take up his position in centre field. He will need to refine his approach against better pitchers and the bigger parks in the FSL might impact his power. Some scouts wonder how his power will develop against better pitching but if he can play a plus center field, and hit for average, he will have enough to make it to the major leagues based on those tools alone.
Join us tomorrow for the cream of the crop, the top ten Blue Jays prospects.