The middle 10 of our top 30 prospects has plenty of pitching, several of whom are very close to the major leagues. We also have a couple of catchers and two very different hitters.
20. Riley Adams | C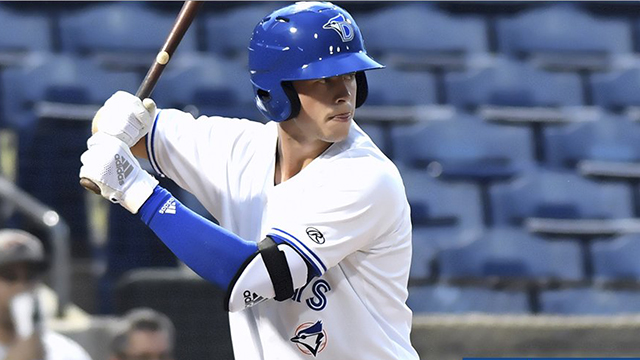 Image from MLBPipeline.com.
Year
Age
Team
AB
2B
3B
HR
BB
K
SB
CS
AVG
OBP
SLG
2019

23

DUN

65

03
0

3

14

18

1

0

.277

.434

.462

2019

23

NH

287

15
2

11

32

105

3

1

.258

.349

.439

The Blue Jays system is bulging with catchers at the moment. Danny Jansen and Reese McGuire appear to have the major league jobs sown up, trades notwithstanding. Alejandro Kirk and Gabriel Moreno are battling for the next catcher label. Some experts believe in Kirk, other Moreno. Lost in all of these catchers is Riley Adams.
Adams' OPS in AA last season was .788. If he had qualified for the OPS title he would have been fifth in the league. His wRC+ according to Fangraphs was 133, admittedly down from the 173 he put up in Dunedin in 2018. Baseball Reference has a lower threshold for its league statistics and they have Adams as the 17th best hitter, by OPS, in the Eastern League last season. And Adams is younger than most on the list at 23 years old. His numbers are good, but really good for a catcher. When Jansen was in AA, his wRC+ was 121, not as good as Adams. So why has Adams been ignored?
The first issue is contact. Like many hitters Adams adjusted his swing for 2019, his fly balls went up by 12%, his ground balls went down by the same amount and his strikeout rate jumped from 22% to 32%. As Adams moves up to AAA and the major leagues, will he make enough contact to be able to help the team? If you look at Adams' splits for 2019, you will see that his OPS was .724 before the all-star game and .881 after it. He did improve as the season progressed, always a good sign for a prospect. The strikeouts did not reduce significantly but he made better contact and his walk totals went up. Was that just the result of a small sample size? Or was it that Adams adjusted, either to how the pitchers were working him or to his new swing? Either way, if Adams could carry the .881 level of performance to AAA, he should be fine.
The other issue is that Adams is a big guy, listed at 6'4" and 225 pounds. Big catchers are sometimes not as quick, or as agile, behind the plate. Adams did throw out 31% of base stealers last season but he might need to improve his blocking and his framing. Bigger catchers generally take longer to get down to block and framing can be harder with their longer arms.
In summary, Adams has progressed well since the Jays drafted him in the third round in 2017. He is ready for AAA in 2020 and could prove himself to be major league ready by the middle of the season. His hitting and defense need some incremental improvements and, if he can make those, his stock will rise and he can hold the spot until Kirk or Moreno are ready.
19. Griffin Conine | OF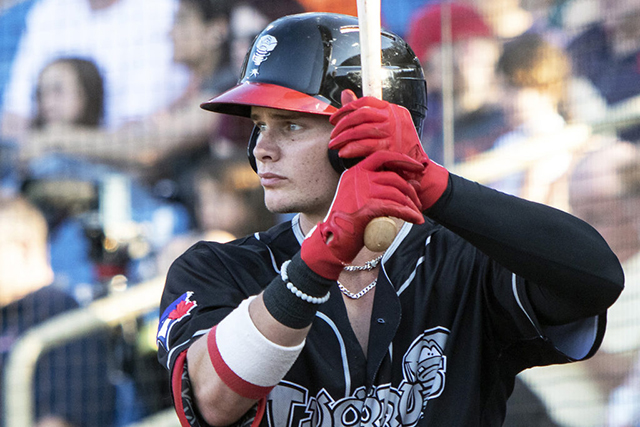 Image from TheAthletic.com.
Year
Age
Team
AB
2B
3B
HR
BB
K
SB
CS
AVG
OBP
SLG
2019

21

LAN

304
19
2

22

38

125

2

0

.283

.371

.576

"I will not let this mistake define who I am. I will become a better person and player because of this."
That statement was made by Griffin Conine after he received a 50-game suspension from MLB for testing positive for ritalinic acid, a stimulant used to treat attention-deficit hyperactivity disorder (ADHD).
Conine made a huge statement in 2019 with his bat, when he made contact. He joined the Lansing Lugnuts and started mashing with two home runs and two doubles in his second game of the season in Dayton May 30. Conine went 8-for-13 with six runs batted in his first three games of the year and strung together four two-hit games in a row in early June. There were also hit streaks of 11, eight and six games in a season that saw Conine win the Midwest League home run crown with 22 long balls. He earned a berth on the Midwest League mid-season and post-season All-Star squads and was also named a Low Class A post-season All-Star by Baseball America.
Unfortunately, concerns about Conine's ability to make consistent contact only heightened in 2019 when he struck out nearly 36 percent of the time. That was up eight-and-a-half percent from his 2018 season in Vancouver. The high K total was offset partially by a nearly 11-percent walk rate, a two-and-a-half percent from 2018. He did get help from the BABIP gods as his batting average on balls in play was .405, a 101-point hike from his time with the Canadians.
The son of former major leaguer Jeff Conine had just one home run in his high school career after his sophomore season Pine Crest School in Ft. Lauderdale. Griffin added 30 pounds to his frame and powered his way through a junior year that saw him slash .468/.587/.873 with eight home runs to win Broward County's Hitter of the Year Award.
The 6-foot-1 Conine was drafted in 2015 in the 31st round by the Miami Marlins but chose to go to Duke University instead. After not homering in his freshman season, he would earn Second Team All-Atlantic Coast Conference second team honours in his sophomore and junior campaigns. The scouting buzz on Conine intensified when he slugged .537 in the Cape Cod League in 2017 and was named that summer college league's top major league prospect. Expected to go in the first round of the 2018 MLB draft, a slow start to his final year at Duke knocked him out of first round consideration but a strong finish convinced Toronto to take him in the second round.
The left-handed hitting Conine has the ability to hit the ball to all fields with above-average bat speed but is still in the process of refining his swing. In an interview on Around the Nest with Lansing broadcaster Jesse Goldberg-Strassler, Conine thought about revamping his swing to make more contact during the season but Jays minor league hitting coordinator Hunter Mense advised him to put a band-aid on it for now and wait until the off-season to perform surgery on his swing.
With the glove, Conine had his issues by committing eight errors with the Lugnuts, compared to just one with Vancouver in 2018. He did rack up nine assists thanks to a strong throwing arm and has 19 assists over his two-year pro career to date.
Conine is expected to begin 2020 in Dunedin. He will turn 23 years old July 11.
18. Otto Lopez | Util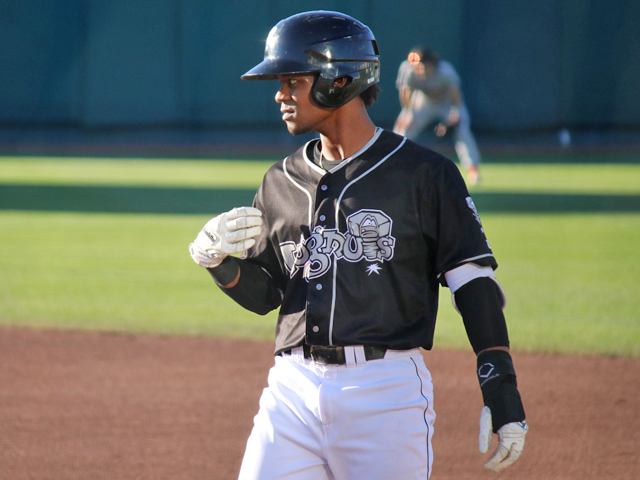 Image from C's Plus Baseball.
Year
Age
Team
AB
2B
3B
HR
BB
K
SB
CS
AVG
OBP
SLG
2019

20
LAN
447

20
5
5
34
63
20

15

.324

.371

.425

Longtime Blue Jays fans will remember Otto "The Swatto" Velez, who belted 72 home runs with Toronto from 1977-192. Jays fans may soon get to cheer for another Otto wearing the Blue Jay blue in the near future.
Otto Lopez is plenty familiar with Canada after spending about eight years in Montreal where he played with a travel team. He told C's Plus Baseball he moved back to his birthplace of Santo Domingo in the Dominican Republic to increase his chances of turning pro.
"I was with my uncle (Urbano) back in the DR and he took me to this program, to this guy. They call him the nickname 'El Niche' so everything started there. My uncle took me there and I feel like (I showed) good stuff there and I started playing with them. And then all the scouts went to see me and then I finally signed with the Blue Jays."
Signing as a free agent with Toronto on July 4, 2016, Lopez began his pro career with the Gulf Coast League in 2017 and singled in his first professional at-bat. He went on to hit .275 with a .360 on-base percentage and collected 10 extra-base hits, including his first pro home run. Lopez also managed to swipe seven bases in 10 tries. The Blue Jays rewarded him with a surprise promotion to the Lansing Lugnuts for their annual Crosstown Showdown exhibition game against the Michigan State Spartans in September in which he went 1-for-3 and scored a run.
A return to short-season ball awaited Lopez in 2018 when he began the year with the Bluefield Blue Jays. His stay lasted just seven games as he reached base in all but one of them and had four multi-hit efforts. A five-hit effort in his final Appy League contest boosted his batting average to .364. Bluefield hitting coach Carlos Villalobos praised the right-handed hitting Lopez for "staying balanced with his swing" and for trying to "stay to the middle for the most part".
The Toronto brass decided to send Lopez west to Vancouver on Canada Day. He hit .297 with 14 extra-base hits that included three home runs. His batting eye was sharp as he drew more walks than strikeouts (26-21) and he swiped 13 bases in 19 attempts. His speed is considered a plus tool by FutureBlueJays.com and he shows good baserunning instincts by taking the extra base.
On the field, Lopez saw action at second base, shortstop and third base and patrolled all three outfield spots and did not embarrass himself with the leather, committing just five errors with three of them at short and the other two at third. He was named the Canadians MVP and top Offensive Player and landed a spot on the Northwest League Mid-Season and Post-Season All-Star squads. Strangely, that effort was not enough for Baseball America to place Lopez among the Top 20 Northwest League prospects despite the fact he was two years younger than the league average age.
Baseball America would recognize Lopez as the 18th-best prospect in the Midwest League for 2019 after he captured the Midwest League batting crown with a .324 average. However, he was left off the Midwest League Mid-Season and Post-Season All-Star teams.
The year began with Lopez reaching base in his first 13 games that included a pair of six-game hitting streaks. In spite of a pair of stints on the injured list in June, he strung together a 30-game on-base streak which included six straight two-hit contests. That was followed up with a 16 game on-base streak, a 19-game hit streak and a 12- game hit streak to wrap up the year. He batted over .300 in four of the season's six months with his lowest mark being .294.
Lopez's strike zone management was not nearly as good as it was in 2018 when his walk rate fell more than five percent to just 6.9. His strikeout rate also went up to 12.8, a hike of just over two-and-a-half percent. His line drive rate according to FanGraphs did go up nearly three percent to 18.6. He also pulled the ball more in 2019 by over seven percent (43.0 %), leading to a nearly 10 percent drop in going to the opposite field (32.8 %).
A scout told Baseball America that there's a lot to like about the 5-foot-10 Lopez.
"I liked the way he moved, the way he played, and I like the bat. His at-bat quality has to improve a bit, but for me, he was one of the best athletes on the field. He's small, but he's got some power and I think he's going to grow into that power."
Lopez will be 22 years old on October 1. Dunedin should be his next stop up the Jays minor league ladder.
17. Yennsy Diaz | RHP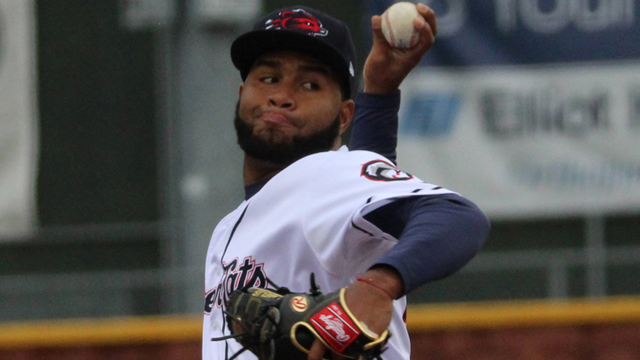 Image from MiLB.com.
| | | | | | | | | | | |
| --- | --- | --- | --- | --- | --- | --- | --- | --- | --- | --- |
| Year | Age | Team | G | GS | IP | H/9 | HR/9 | BB/9 | K/9 | ERA |
| 2019 | 22 | NH | 26 | 24 | 144.1 | 7.8 | 0.7 | 3.3 | 7.2 | 3.74 |
| 2019 | 22 | TOR | 1 | 0 | 0.2 | 13.5 | 0.0 | 54.0 | 0.0 | 27.0 |
One of the surprises of last off-season was when the Jays elected to protect Yennsy Diaz from the Rule 5 draft by adding him to the 40-man roster. Diaz repaid their faith by turning in a strong season in AA and earning a very brief major league cameo.
Diaz pitched nearly all of 2019 in New Hampshire as a 22 year-old. Diaz split 2018 between Lansing and Dunedin. So we can look at how his numbers have changed between the three stops. Diaz's ERA was 2.08 in Lansing, 3.79 in Dunedin and 3.74 in New Hampshire. His WHIP across the three stops was 0.986, 1.194 and 1.233. Finally his K/9 was 7.9, 7.5 and 7.2. We can see that Diaz's numbers have worsened somewhat at each higher level. When Diaz did get to the majors leagues as an emergency call-up, he walked four of the seven hitters he faced.
Diaz is 6'1" and has a sturdy pitcher's body. Diaz stands on the left of the rubber as you look at him from behind the plate, and throws across his body to get it to the plate. Diaz throws in the mid-90's with a good curveball and a change-up that needs work. Because Diaz throws across his body, his pitches run in on left handed hitters which often gives major league caliber lefties an advantage. As Diaz continues to progress, that will bear watching.
Because of Diaz's delivery, because of his mainly two-pitch approach, and because Diaz has average walk and strikeout numbers, most scouts believe Diaz will end up in the bullpen when he reaches the major leagues. While not a right handed hitter specialist, Diaz's delivery runs away from right-handed hitters and gives him an advantage compared to a disadvantage against left-handed hitters.
The Jays have stockpiled a lot of arms recently so Diaz could return to New Hampshire for more seasoning there, or he could move up to Buffalo. Expect to see him continue in a starting role to get regular innings until he reaches the major leagues for a second time. That could be in 2020 but with the smaller September rosters, he might have to wait until 2021.
16. TJ Zeuch | RHP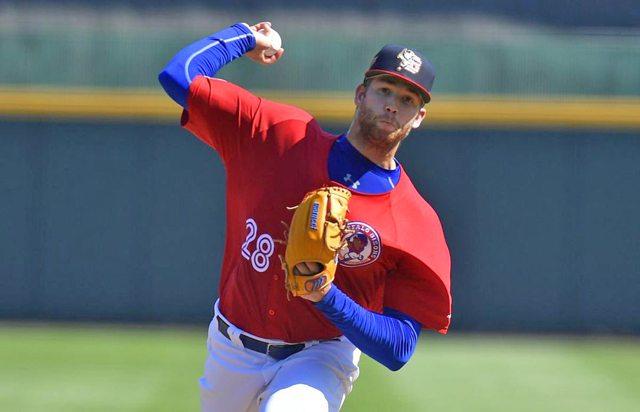 Image from MiLB.com.
| | | | | | | | | | | |
| --- | --- | --- | --- | --- | --- | --- | --- | --- | --- | --- |
| Year | Age | Team | G | GS | IP | H/9 | HR/9 | BB/9 | K/9 | ERA |
| 2019 | 23 | DUN | 2 | 2 | 8.2 | 7.3 | 0.0 | 2.1 | 12.5 | 4.15 |
| 2019 | 23 | BUF | 13 | 13 | 78.0 | 8.1 | 0.7 | 3.7 | 4.5 | 3.69 |
| 2019 | 23 | TOR | 5 | 3 | 22.2 | 8.7 | 0.8 | 4.4 | 7.9 | 4.76 |
T.J. Zeuch made it to the top of the big league mountain in 2019. The Blue Jays first-round pick of 2016 from the University of Pittsburgh got the call to the bigs when rosters expanded in September and made his major league debut in Atlanta September 3. His first major league win came September 15 against the New York Yankees with 5-1/3 innings of three-run ball and five strikeouts.
With the state of the Blue Jays pitching staff in 2019, Zeuch might have gotten the call to the bigs much sooner if not for a strained lat muscle in spring training. The 6-foot-7 right-hander enjoyed a solid 2018 season that saw him go 9-3 with a 3.08 ERA at Double-A New Hampshire and he added one more win in the post-season to help the Fisher Cats win the Eastern League championship.
Zeuch got back on the mound for a pair of tune-up starts in mid-June with Dunedin before being shuttled up to Buffalo. He threw 5-2/3 shutout innings for his first Triple-A win against Norfolk June 22 but encountered a rough patch in July. A soaring walk rate and declining whiff rate produced a 16-15 K/BB total in 29-1/3 innings with an ERA approaching 5.00. The Mason, Ohio native lowered his ERA to 2.58 in August thanks in large part to a no-hitter he threw in Rochester August 18, the first Bisons hurler to do that since Bartolo Colon. He walked 10 batters in 38-1/3 innings that month but still had a less than stellar K total with just 18 whiffs.
Instead of racking up huge strikeout numbers, pitching to contact and keeping the ball on the ground is the modus operandi for the 6-foot-7 right-hander. His groundball percentage during his minor league career has ranged from just over 55 percent to nearly 70 percent, the latter which he achieved with Vancouver in 2016.
For Zeuch, he has to zag with his sinker while other pitchers zig with their four-seam fastball. According to this story from Sportsnet's Shi Davidi, Zeuch had been focusing on throwing more four-seamers to change the hitter's eye level. His bread and butter remains his sinker that works down and in to right-handed hitters. He also throws a slider, curveball and changeup but none of them are considered plus.
Zeuch told Sportsnet's Baseball Central that he knows he needs to improve his changeup.
"I think a changeup, especially, is one of those pitches where you just have to have confidence in it and throwing it like a fastball, because I get into trouble with it when I start babying it, I start trying to make it too good a pitch and that's when usually I end up throwing over the middle of the plate or hanging it and then it gets banged out of the park for a home run.
Considered to have a ceiling of a back-of-the-rotation starter who needs to command his secondary pitches to succeed, Zeuch will compete for a starting spot in the Blue Jays 2020 rotation. He may find himself back in Buffalo to begin the year but should be back in Toronto for an extended stay, perhaps in a multi-inning relief role, like his major league debut in Atlanta.
15. Joey Murray | RHP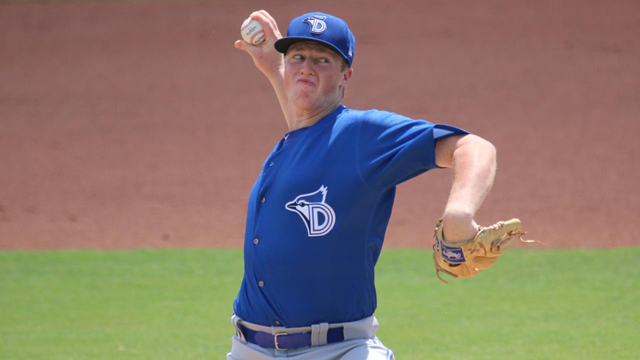 Image from MiLB.com.
| | | | | | | | | | | |
| --- | --- | --- | --- | --- | --- | --- | --- | --- | --- | --- |
| Year | Age | Team | G | GS | IP | H/9 | HR/9 | BB/9 | K/9 | ERA |
| 2019 | 22 | LAN | 6 | 6 | 30.2 | 8.2 | 0.9 | 3.5 | 11.7 | 3.82 |
| 2019 | 22 | DUN | 12 | 11 | 63.0 | 5.7 | 0.4 | 2.7 | 11.0 | 1.71 |
| 2019 | 22 | NH | 9 | 8 | 43.2 | 7.6 | 0.8 | 3.7 | 10.7 | 3.50 |
If Joey Murray can make the same quantum leap he executed in 2019, he'll be in the major leagues in 2020.
After a 17-1/3 shutout inning streak and a 13.7 strikeouts-per-nine innings rate to begin his pro career with Vancouver in 2018, the former Kent State Golden Flash climbed three rungs up the minor league ladder last season. He made a half-dozen starts with Lansing and kept striking people out, racking up eight and 10 K's over a combined 13-2/3 innings in consecutive starts in mid-April.
Those efforts convinced the Jays brass to send Murray to Dunedin in early May where he pitched five shutout innings with six strikeouts in his Florida State League debut. Other highlights included a 12-strikeout performance over six innings in which he allowed one run on two hits in late June and he picked up his first professional save in his only relief appearance in his next outing on Canada Day.
Murray was on the move again as he was promoted to New Hampshire in mid-July. After surrendering two runs without getting an out in his Double-A debut, the 6-foot-2 hurler found his footing by completing at least five innings in his last seven appearances. He led the Blue Jays minor league system with 169 strikeouts over 137-1/3 combined innings, 50 more than Nate Pearson who, granted, compiled his total over 101-2/3 innings over Single-A, Double-A and Triple-A.
A 2018 eighth-round draft pick who signed for a $169,600 bonus, Murray rung up an impressive 141 batters in 95-1/3 innings in his final season at Kent State. The 2017 and 2018 Mid-Atlantic Conference Pitcher of the Year has been able to continue piling up the K's in his two-year pro career. He has rung up 11.5 batters every nine innings despite not having an overpowering fastball. His so-called "invisi-ball" clocks in from 87-92 miles per hour but its high-spin rate has generated lots of swings and misses. Dunedin pitching coach Jim Czajkowski-who also coached Murray in Vancouver-told MiLB.com that the invisi-ball has made hitters look foolish.
The way that he strikes people out, sometimes with the 89-mph fastball right at their belt, it's kind of embarrassing to swing through. But it happens, it's funny. Yeah, I thought he did very well. ... He competes extremely well for us.
A deceptive delivery is cited as another key to Murray's success. According to 2080Baseball.com, the deception is created by "a three-quarters arm slot due to a long arm-path and explosive lower body sequence" also helps Murray's fastball play up. The fastball is part of the standard four-pitch mix that includes an average slider and curveball and a below-average changeup that did show signs of progress according to Lansing broadcaster Jesse Goldberg-Strassler.
Crediting former major league pitcher and Kent State associate coach Mike Birkbeck for improving his mental approach on the mound in an interview with C's Plus Baseball, Murray will probably begin 2020 back in New Hampshire for more seasoning with a promotion to Buffalo not being outside the realm of possibility. The Dublin, Ohio native will turn 24 on September 23.
14. Kendall Williams | RHP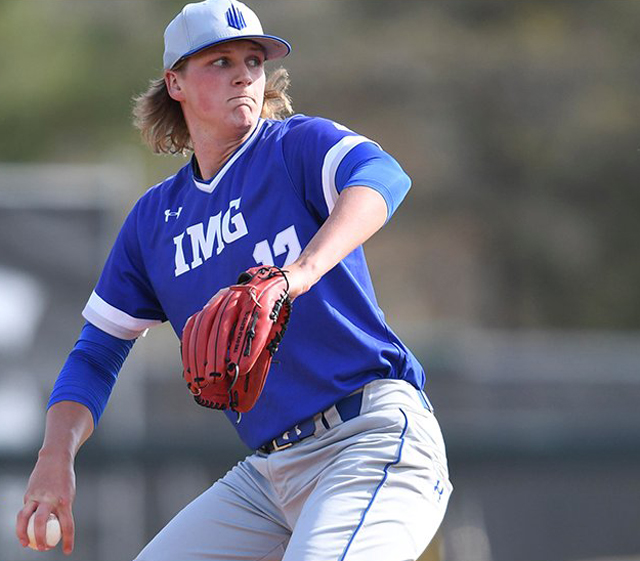 Image from MLBPipeline.com.
| | | | | | | | | | | |
| --- | --- | --- | --- | --- | --- | --- | --- | --- | --- | --- |
| Year | Age | Team | G | GS | IP | H/9 | HR/9 | BB/9 | K/9 | ERA |
| 2019 | 18 | GCL | 6 | 5 | 16.0 | 3.4 | 0.0 | 3.9 | 10.7 | 2.25 |
The Blue Jays selected Kendall Williams with their second-round pick in the 2019 draft. Williams was drafted out of the IMG Academy in Florida. In case you are not familiar, IMG is a sports agency that has a campus in Bradenton, Florida for student athletes. Sports covered at the academy include tennis, golf, soccer, track, baseketball and, of course, baseball. Williams was living in Mississippi and decided to move to Florida to improve his play and his draft position.
Williams is tall, 6' 6", and in the pre-draft videos on the web he has long hair flowing out under his hat as you can see in the picture above. He does have a Noah Syndergaard look about him with the body size and hair.
Williams however is not a Syndergaard clone on the mound. Williams' draft status came because he can throw four pitches well, rather than have the Syndergaard fastball velocity. Williams throws in the low- to mid-90s, more average for a major league pitcher. But he backs that up with a slider and a curveball with a developing changeup. Both MLB and Baseball America note that Williams could have four grade 50 plus pitches in his repertoire. Williams' fastball also plays up because of his height and three quarters delivery leading to a lot of downward plane.
Williams pitched well in his 16 innings in the GCL. He struck out more than 10 per nine innings, had a .81 WHIP and an ERA of 2.25. In 16 innings he allowed just six hits. It is a very small sample but it was a very encouraging start.
Williams will likely stay in extended spring training to start 2020 and move to Bluefield or Vancouver in June.
13. Reese McGuire | C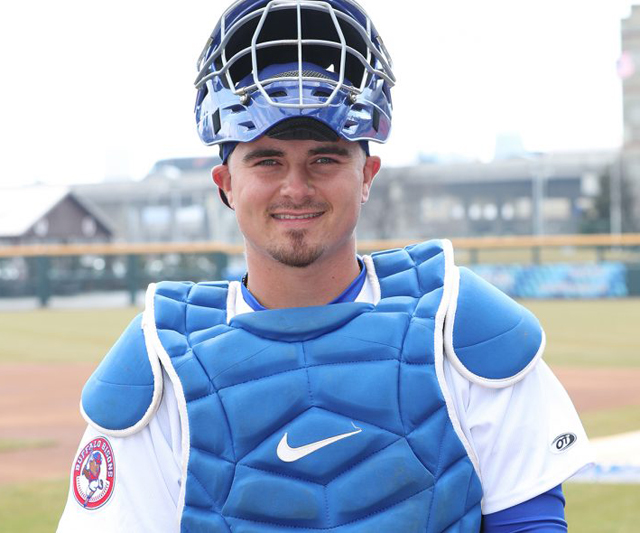 Image from BuffaloNews.com.
| | | | | | | | | | | | | | |
| --- | --- | --- | --- | --- | --- | --- | --- | --- | --- | --- | --- | --- | --- |
| Year | Age | Team | AB | 2B | 3B | HR | BB | K | SB | CS | AVG | OBP | SLG |
| 2019 | 24 | AAA | 243 | 12 | 1 | 5 | 25 | 44 | 4 | 0 | .247 | .316 | .366 |
| 2019 | 24 | MLB | 104 | 7 | 0 | 5 | 7 | 18 | 0 | 0 | .299 | .346 | .526 |
While many of the other minor leaguers from last year's list who spent time in the majors in 2019 exhausted their minor league eligibility, Reese McGuire still narrowly kept his. And, perhaps none of those other players outperformed their expectations more than McGuire.
A former first-round pick known primarily for his defence, McGuire came to the Jays in the Francisco Liriano trade. Born in 1995, the Seattle native was Pittsburgh's first-round draft pick in 2013 from a high school in Covington, Washington. After selecting him 14th overall, the Pirates paid McGuire $2.36 million to sign him away from his commitment to the University of San Diego. McGuire was widely seen as a first-round talent because of his athleticism, baseball intelligence and skills behind the plate.
McGuire spent 2013 in the Gulf Coast League, where he posted a .780 OPS. He went to A-ball in 2014, and then graduated to Advanced A-ball in 2015. McGuire spent 2016 in Double-A, split between the Pirates and Jays. McGuire never posted an OPS above .700 during this time. At that point in his development, McGuire clearly seemed to be a catcher who would be able to handle a major league staff defensively, but there were questions about whether his bat would even allow him to stay in the majors regularly.
During those particularly lean offensive years McGuire reportedly had difficulty making hard contact. He had difficulty hitting the ball with power, only hitting one homer over 2015 and 2016. However, McGuire had displayed strong plate discipline, as he walked more times than he struck out in 2016.
Given these offensive struggles, it wasn't surprising that Toronto sent McGuire back to New Hampshire in 2017. McGuire missed time from May through mid-July with an injury, but while he was in Double-A McGuire slashed .278/.366/.496, which was his highest slugging percentage in a minor league season by more than 100 points. Prior to going on the DL, McGuire was hitting .216/.311/.373, so much of his offensive burst came after he was activated from the DL.
Fresh off his strong second stint with New Hampshire, McGuire was assigned to Buffalo in 2018. For the Bisons, McGuire hit .233/.312/.339 in 369 plate appearances in 69 games. The plate discipline he had shown the previous two years took a dive, as he walked 33 times, but struck out 77. He hit a pair of triples and seven home runs. Defensively McGuire had an off-year, as he made 10 errors after not making an error in 2017 and his caught stealing percentage dropped to 29%.
Despite the struggles both at and behind the plate, McGuire received a September call-up in 2018 and made it into 14 games for the Jays, 11 of which were behind the plate. His major league debut came against Cleveland on September 6, 2018, when he went 1-for-4 with a double. McGuire hit .290/.333/.581 with three doubles and two homers in 33 plate appearances. He only caught 2 of 15 base stealers for a 13% caught stealing rate.
In 2019, McGuire was sent back to Buffalo as the Jays opened the season with Danny Jansen and Luke Maile behind the plate. With the Bisons, McGuire hit .247/.316/.366 with 12 doubles and five home runs. Defensively, McGuire made three errors and caught 26% of attempted base stealers.
McGuire was promoted to Toronto in late July and spent the rest of the year with the parent club. With the Blue Jays, McGuire hit .299/.346/.526 for an .872 OPS. He hit seven double and five homers, while also drawing seven walks in 104 plate appearances. McGuire made two errors and threw out 26% of attempted base runners.
As a prospect, scouts were uniform in their praise of McGuire's defensive abilities, which include advanced framing skills and his ability to work with his pitching staff. McGuire reportedly has soft hands, an above-average arm and good mobility behind the plate. He's also more athletic than the average catcher. In his time with the Blue Jays, he's looked very comfortable behind the plate and has a smooth receiving motion.
McGuire has a career OPS in the minors of .672, while also posting an OPS of .882 with the Blue Jays. The primary difference is that McGuire displays much more power in the majors. His major league batting average is 36 points higher and his on-base percentage is 18 points higher, whereas McGuire's slugging percentage is 192 points higher. The biggest question in McGuire's development is whether his power outbursts in the major league are sustainable, or the product of 137 good plate appearances in the majors.
By the end of 2019, Jansen and McGuire were effectively splitting the duties behind home plate evenly. However, it seems likely that Jansen will get the majority of the catching duties out of the gate in 2020 as the club still envisions him as an everyday catcher. However, McGuire will almost certainly be on an opening day roster for the first time in his career and looks to be part of Toronto's future behind the plate, unless the rumours of Toronto trying to capitalize on its catching depth come to fruition.
12. Patrick Murphy | RHP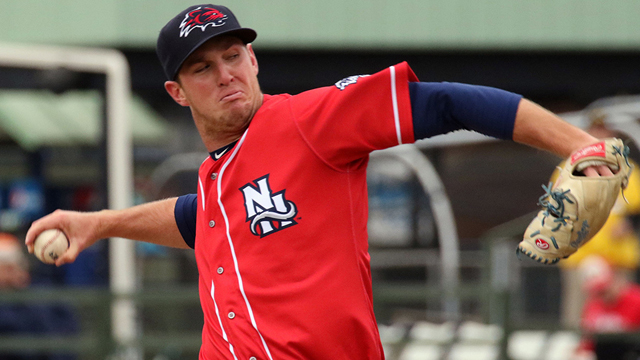 Image from MiLB.com.
| | | | | | | | | | | |
| --- | --- | --- | --- | --- | --- | --- | --- | --- | --- | --- |
| Year | Age | Team | G | GS | IP | H/9 | HR/9 | BB/9 | K/9 | ERA |
| 2019 | 24 | NH | 18 | 18 | 84.0 | 8.0 | 0.8 | 2.9 | 9.2 | 4.71 |
It's always something! That's not only the catchphrase of Saturday Night Live character Roseanne Roseannadanna portrayed by the late comedian Gilda Radner or the title of a Rick Springfield song, it could also be the theme of Patrick Murphy's baseball career.
Having Tommy John surgery before being taken in the third round of the 2013 draft by the Blue Jays was the start of Murphy's troubles. He also had thoracic outlet surgery, a nerve removed in his elbow and a stress fracture in his arm before dealing with a new type of adversity in 2019.
The right-hander from Hamilton High School in Chandler, Arizona-who turned Oregon for a $500,000 signing bonus-was on the verge of a potential call-up to the big leagues. He was finding his stride in Double-A after reeling off three quality starts in late April and early May after a tough start to the season. However, there was another obstacle for Murphy to overcome. According to Ben Nicholson-Smith of Sportsnet, the Major League Baseball Umpires Association put the 6-foot-4 hurler on notice in May that a toe-tap in his pitching delivery was under review. After his June 2 start that completed a stretch of six quality starts out of seven, Murphy was told by the umps that the toe tap was illegal.
Having been told to stop using the delivery effective immediately, Murphy was lit up for 13 runs over his next two starts with New Hampshire before being shut down in order to work on a new delivery in which his left leg hovers over the mound. He had mixed results in five abbreviated starts from late June to mid-July and only made one other appearance in August after sitting out with shoulder inflammation.
Murphy told Alexis Brudnicki of BlueJays.com that he stopped working from the windup and pitched from the stretch exclusively in an effort to focus on repeating his delivery and commanding his pitches.
"Doing something different with my body, moving differently, I've got to figure out [how to command] the ball with some different movements… That, [along with] repeatability, and also timing to the plate with runners on base [have been issues], because I've got to make sure I'm still quick so guys can't steal. Repeatability is the No. 1 thing -- and once I get that down, that will take care of the command issues."
Blue Jays director of player development Gil Kim told Sportsnet's Shi Davidi that Murphy showed progress with his new delivery.
"Kudos to Patrick for having to make a significant delivery adjustment midway through the season and attacking it with a positive mindset. When he came back we saw a little more life on the fastball and talking with Patrick, his gathering and his timing was probably a little bit improved there, and it helped the fastball play a little bit better. He's always had that out-pitch curveball and he's getting more comfortable with the changeup. So we were really excited and encouraged by Patrick's development this year."
According to MLB.com, Murphy throws a fastball from 92-97 miles per hour and has "downhill plane and sinking action that makes him difficult to barrel". He also throws a 75-79 MPH curveball that features "tight spin and late bite." Murphy's changeup lags behind the heater and the bender but Baseball America noted the pitch showed improvement after finding a new grip in 2018, a year in which Murphy went 10-5 with a 2.64 earned run average with Dunedin to capture Florida State League Pitcher of the Year honours. The 2018 season also saw him put together a quality start in his Double-A debut. For his efforts, Murphy earned a spot on the FSL Post-Season All-Star squad to go along with his Northwest League Mid-Season and Post-Season All-Star berths in 2016 after a league-leading 2.84 ERA with Vancouver.
Baseball America's #20 prospect in the Eastern League is more than likely to head back to New Hampshire to start 2020 and could head off to Buffalo if his new delivery can take hold. He will turn 25 on June 10.
11. Eric Pardinho | RHP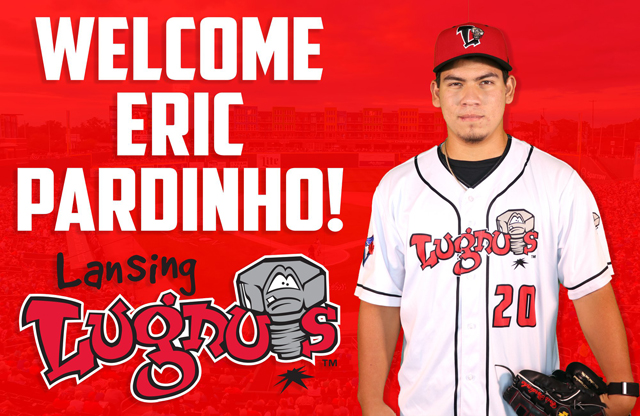 Image from LansingLugnuts.com.
| | | | | | | | | | | |
| --- | --- | --- | --- | --- | --- | --- | --- | --- | --- | --- |
| Year | Age | Team | G | GS | IP | H/9 | HR/9 | BB/9 | K/9 | ERA |
| 2019 | 18 | GCL | 1 | 0 | 4.0 | 2.3 | 0.0 | 6.8 | 11.3 | 0.00 |
| 2019 | 18 | LAN | 7 | 7 | 33.2 | 7.8 | 0.3 | 3.5 | 8.0 | 2.41 |
Despite the graduation of Vladimir Guerrero Jr. and Bo Bichette from the top prospect lists, Eric Pardinho fell from eighth after last year to 11th on the Batter's Box Top 30 prospects. Pardinho's drop down the list stems largely from the arm troubles he experienced in 2019, as he was limited to 37.2 innings in 2019 due to injury and the fact that several other international prospects had strong seasons. Pardinho's 2019 is a reminder of the risks inherent in every pitching prospect. There is a reasonable possibility that a healthy season from Pardinho in 2020 could vault him to near the top of this list in twelve months' time, but questions remain as to how realistic it is for the Jays to expect a full healthy season from Pardinho, as he was shut down towards the end of the 2019 season, presumably for the same issues that led to him starting the season on the injured list.
Pardinho was signed by the Blue Jays on July 2, 2017 for $1.4 million after ranking as the best pitcher, and fifth overall, on MLB's list of top 30 international amateur prospects. The diminutive Brazilian right-hander signed with Toronto after the club had scouted him heavily for more than two years. Toronto beat the Mariners and Diamondbacks, both of which have strong presences in Brazil, to his signature. The Jays have a history with Brazilian players, as they were the first franchise to sign a Brazilian player when they signed Jose Pett in 1992 for $700,000. Although Pett didn't work out, Toronto had more success when they drafted Yan Gomes in 2009. Gomes became the first Brazilian native to play in the majors in 2012 when he had a cup of coffee with the Blue Jays prior to becoming an established part-time catcher with Cleveland and eventual World Series champion with the Washington Nationals.
Pardinho started playing baseball after an uncle saw him throwing a paddleball on the beach and thought he showed promise. The nearby city of Bastos, with a significant Japanese population, had provided some exposure to the sport. Pardinho's mother's parents are Japanese.
Pardinho started gaining attention in 2016 when he struck out 12 batters in six innings during a win over the strong Dominican Republic team at the Under-16 Pan Am Games. Prior to signing, Pardinho had spent the past two seasons at the Yakult Academy in Ibiuna, which is essentially Brazilian baseball's equivalent to the IMG Academy. At the time Pardinho was the Academy's youngest resident. At Pardinho's introductory press conference, Assistant General Manager Andrew Tinnish said the Jays were very impressed by Pardinho's development at the Yakult Academy.
After signing, Pardinho spent the rest of the year at the team's Dominican Republic complex. In 2018, Pardinho played for Bluefield in the Rookie Appalachian League. In 11 starts, Pardinho posted a 2.88 ERA, striking out 64 and walking 16 over 50 innings. Pardinho placed 24th in the Appalachian League in ERA. While that may not surround impressive, he would have placed 15th if you eliminated pitchers with less than 25 innings pitched. Furthermore, Pardinho was pitching in his age 17 season and only two teenagers finished ahead of him in ERA, and one of them threw under 25 innings.
His performance and potential attracted attention around baseball, as before the 2019 season Pardinho was ranked at the 84th best prospect in baseball by Baseball America and 98th overall by MLB. However, it's unlikely he'll appear on any top 100 lists this offseason.
Pardinho experienced elbow tightness in spring training. Luckily, it wasn't a worst-case scenario as it emanated from a strained ligament. Pardinho didn't pitch in any games until June 26, when he made one start for the Gulf Coast League Jays. He was promoted to Lansing for July, where made seven starts during the season, in which he posted a 2.67 ERA. Pardinho's first start for the Lugnuts was on July 2 and his last was on August 7. Lansing's season continued through the end of August, but Pardinho never pitched again. It's not clear why Pardinho was shut down, as there don't appear to be any media stories addressing it.
Director of Player Development, Gil Kim, has high praise for Pardinho, remarking in an article published by Sportsnet, "What stands out about Pardinho is his passion and his competitiveness, and how off the field, he's an unassuming, genuine, very nice young man and very respectful. On the mound, he's a bulldog. He wants to beat you. He can get emotional. He's intense, and that's one of the best qualities he has as well." In a separate article, Kim stressed that the priorities are building innings and continuing with Pardinho's physical development. Kim said, "The main goal is exposure to that higher level of competition in full-season ball and he's facing hitters there that he hasn't faced as consistently in the past. So it's really about acquiring game repetitions at this point and finding ways to build up some innings, too."
Pardinho speaks Portuguese and Spanish, but he has been working on his English since signing with the Jays. For the time-being, his interviews with the media are done with the assistance of a translator. The Brazilian gets glowing reviews for his poise and mental strength, which he has demonstrated in adjusting to life in a new country against more experienced competition and now in dealing with a frustrating arm injury.
Some reports say his fastball can reach the mid-90's, but sits in the low 90's, but other reports say he regular reaches mid-90's. It's not clear which is more accurate or if he just hits the mid-90's more regularly as he is maturing. Pardinho throws a curveball, which projects to be a plus pitch once it's finished. He also throws a slider and a change-up and there are hopes that they will all be at least average major league offerings.
In an article this year, Shi Davidi reported that the main priorities in his pitching development are to become more consistent with his curveball and gain comfort with using his change-up more frequently. Pardinho referenced using TrackMan data to review his pitches. He finds the data on his arm extension the most beneficial information he receives. "TrackMan will let me know where my most accurate pitches are and what the extension is for those pitches," says Pardinho. "I've used that information in games to help me get to where I need to be to be accurate."
Pardinho may well return to Lansing to begin next year, where he is still more than three years younger than the average player, with an eye to a promotion to Dunedin mid-season.
Join us tomorrow for the top 10.