The middle 10 of our top 30 prospects is a real melting pot. You have players from last year's top 10 who are dropping on account of underwhelming performance. You have the players with average years who remained in the middle. You have a rising star who had a great season to put himself on the map, as well as a new draftee and a player who arrived through a trade.
20. Patrick Murphy | RHP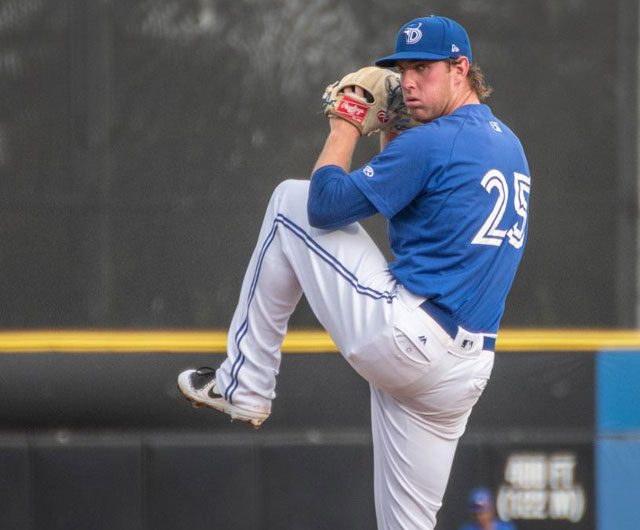 Image from MiLB.com.
| | | | | | | | | | | |
| --- | --- | --- | --- | --- | --- | --- | --- | --- | --- | --- |
| Year | Age | Teaml | G | GS | IP | H/9 | HR/9 | BB/9 | K/9 | ERA |
| 2018 | 23 | DUN | 26 | 26 | 146.2 | 7.7 | 0.3 | 3.1 | 8.3 | 2.64 |
| 2018 | 23 | NH | 1 | 1 | 6.0 | 6.0 | 0.0 | 4.5 | 9.0 | 3.00 |
Patrick Murphy has two plus pitches, a mid 90's fastball and a good curveball. As we know, two pitches means you are headed for the bullpen in the major leagues, three pitches means you could start. Murphy is working on a change-up but it has yet to develop into a reliable pitch. Most of Murphy's numbers look good for 2018, where he made all but one start in Dunedin. His hits per nine innings is excellent at 7.7. His walks per nine is average at 3.1. And his strikeouts per nine is pretty good at 8.3. If Murphy can get his change-up to work, that K/9 should increase and Murphy could be on his way to a starters job.
Murphy's ERA was 2.64 in the FSL and that earned him the award as FSL pitcher of the year . Murphy made one start for New Hampshire and that went well but it was an injury related call-up and Murphy returned to Florida after that start. Murphy will go to New Hampshire to start 2019.
The Blue Jays have to decide whether to put Murphy on the 40 man roster. Murphy would have a chance to stick in a major league bullpen although the change-up is usually more valuable than a curveball for a reliever. But a team might be willing to risk the $50,000 to have a look at Murphy. The other issue that could make teams nervous is Murphy's injury history. He had TJ surgery before he was drafted. He had a nerve issue in his elbow after he was drafted and then had to have a rib removed. But he has been healthy for two years now.
Murphy ranks here at number twenty, but he would be higher if he had that third pitch working. That is the thing to look for in 2019.
19. Jordan Romano | RHP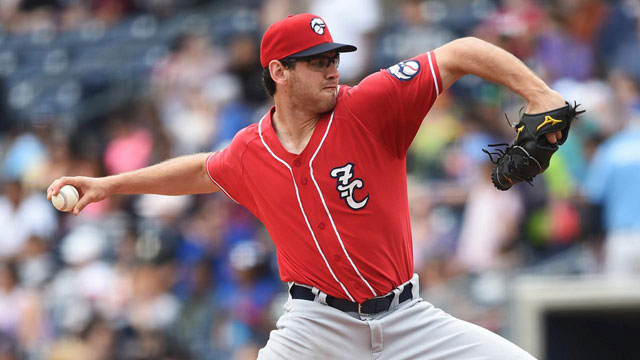 Image from MiLB.com.
| | | | | | | | | | | |
| --- | --- | --- | --- | --- | --- | --- | --- | --- | --- | --- |
| Year | Age | Teaml | G | GS | IP | H/9 | HR/9 | BB/9 | K/9 | ERA |
| 2018 | 25 | NH | 25 | 25 | 137.1 | 8.0 | 1.0 | 2.7 | 8.2 | 5.24 |
| 2018 | 25 | BUF | 1 | 1 | 5.0 | 7.2 | 0.0 | 7.2 | 5.4 | 3.60 |
Like Patrick Murphy, Jordan Romano has two pitches and could be headed for a bullpen role in the major leagues. Romano has had success in AA, so he is a level ahead of Murphy, and he is 25, two years older.
Romano had a 5.24 ERA in New Hampshire this year so that doesn't look so good. But for an as yet unexplained reason, Romano had a Jekyll and Hyde season. In April, May and July Romano's ERA was 2.43, 1.54 and 1.04 respectively. His WHIP was well under one and he had a K9 of 8.5. With those numbers you would think he was headed for great things in the major leagues. However, in June and August, Romano's ERA was 7.52 and 7.27 with WHIP over 1.50. His strikeout rate dropped a bit, from 8.3 to 7.7 but his walk rate didn't change much. But hitters teed off on him. In his three good months, hitters hit under .200. In the two bad months they hit over .300 combined, including an amazing .368 in August. Basically he was serving up meatballs.
One possible explanation can be found in Romano's splits. Right handers hit .216 off Romano, lefties .256. Neither of those numbers is bad but there is something else. Romano threw almost the same number of innings versus right handers as he did against left handers. He walked 10 righties and 31 lefties. If we add hits and walks, its 63 right handers reaching base and 100 left handers. The lack of a change up is usually the reason for poor performance against left handed hitters but that walk number is so big, so different, that it almost seems as though there is a major difference in approach, or a mental block, impacting those numbers. Going back to Romano's bad months, he could have been facing lineups packed with left handed hitters.
Romano has an excellent sinker that he throws in the mid-nineties and a very good slider. But he has trouble with the change. To develop a change you have to throw it and the best assumption to make is that Romano was throwing hittable change-ups in his two bad months. There is one other change in his numbers. In the first half of the season Romano's strikeout to walk ratio was 2.4, about average. In the second half it was six, mainly due to a lower walk rate. Romano was around the plate more and maybe hitters had more pitches in the strike zone to swing at.
So where does that leave Romano? Some scouts believe that his delivery is not conducive to being able to throw an effective change-up. If that is true then Romano is likely headed to the bullpen. In the AA all-star game Romano did come out for a one inning stint and was throwing in the high nineties. A high nineties sinker with a slider would make for a very effective bullpen pitcher. The question is when do the Jays give up on Romano developing a change-up? Given that Romano has had success in AA, he would be an attractive target in the Rule 5 draft. If the Jays do not protect him I think he is more likely to be selected than Murphy. Given his issues versus lefties, Romano looks like a ROOGY.
18. Chavez Young | OF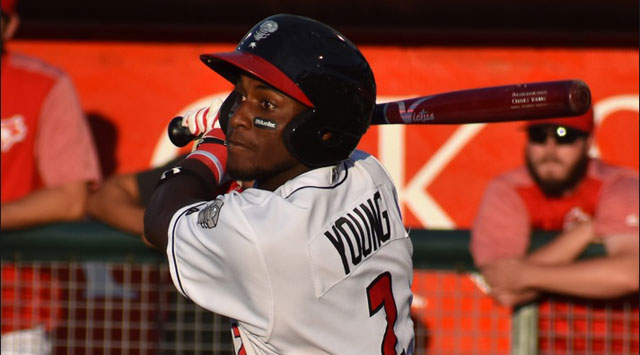 Image from Lansing Lugnuts.
Year
Age
Team
AB
2B
3B
HR
BB
K
SB
CS
AVG
OBP
SLG
2018

20

LAN

470

33
9

8

58

100

44

13

.285

.363

.445

The Freeport, Bahamas native could be one of the best late-round steals in Blue Jays history. Taken in the 39th round of the 2016 draft out of Faith Baptist High School in Ludowici, Georgia, after receiving a signing bonus for $200,000, Young's stock continues to go up after three seasons as a professional. Despite being a late-round pick, Baseball America rated Young among the best athletes and the fast runners of the 2016 Blue Jays draft class. The publication identified his plus-arm strength and plus-speed as his best tools while lauding his athleticism.
The 6-foot outfielder began his pro career at the Gulf Coast League and overcame a 1-for-21 start by putting up an OPS of .784 in 21 games at the Gulf Coast League in 2016. According to C's Plus Baseball, he got out of his early slump when teammate Norberto Obeso told him to keep his bat in the hitting zone longer.
Before beginning his second year in the Jays system, Young got to represent Great Britain at the 2017 World Baseball Classic qualifier as his parents were born there. He was with Vancouver for the first five games of its season and despite batting .308, Young was reassigned to Bluefield. He had 25 extra-base hits, including four home runs and an Appalachian League-leading nine triples. He also had a homer during the Appalachian League playoffs.
Young was summoned back to Vancouver for the C's playoff drive where he contributed a home run and a sensational catch in which he tumbled over the short right field wall in foul territory at Nat Bailey Stadium. That catch was the penultimate out of the clinching Game 4 of Vancouver's Northwest League title.
He told C's Plus Baseball what he wanted to work on heading into 2018.
"I like to improve on my consistency. Offensively, I need to work on getting on base, getting my on-base percentage higher and improve my batting average. Any league I go in, I want to be top-five in stolen bases and get to a Futures All-Star game."
The switch-hitting Young enjoyed his best season yet in his first exposure to full-season ball. He finished second in the Midwest League in total bases, doubles and triples in the Midwest league and third in stolen bases. Young had 38 multi-hit games, including a four-hit game and eight three-hit efforts. He ran off a hitting streak of nine games and had two others that lasted eight games.
Young was the only player in the minors to collect at least 50 extra base hits and 40 stolen bases in 2018. He showed a more discerning eye at the plate by drawing a walk nearly 11 percent of the time and cutting down his strikeout rate to less than 19 percent. He had a high BABIP of .344 that was one point shy of his Bluefield total but he had a line-drive rate of just over 21 percent.
There is the suggestion Young may project as a fourth outfielder down the line but if he continues to make the gains that he did in 2018, he could be an above-average starter in any of the three outfield spots. Dunedin should be Young's home address in 2019. He will be 22 years old on July 8.
17. TJ Zeuch | RHP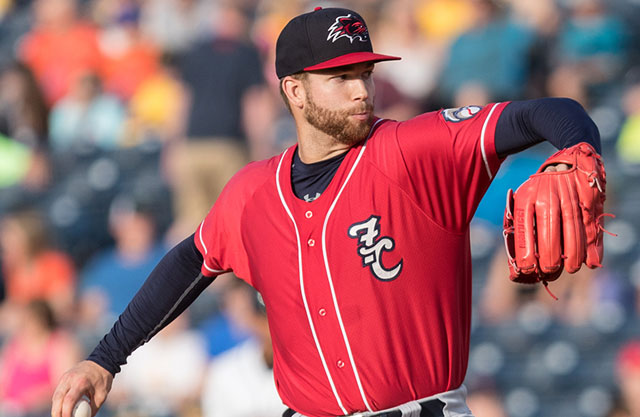 Image from MiLB.com.
| | | | | | | | | | | |
| --- | --- | --- | --- | --- | --- | --- | --- | --- | --- | --- |
| Year | Age | Team | G | GS | IP | H/9 | HR/9 | BB/9 | K/9 | ERA |
| 2017 | 21 | DUN | 12 | 11 | 58.2 | 9.7 | 0.5 | 2.6 | 7.1 | 3.38 |
| 2017 | 21 | BLU | 3 | 3 | 7.0 | 11.6 | 1.3 | 2.6 | 6.4 | 5.14 |
| 2017 | 21 | PEO | 5 | 4 | 18.1 | 6.9 | 0.0 | 2.0 | 7.4 | 3.44 |
| 2018 | 22 | DUN | 6 | 6 | 36.1 | 8.4 | 1.0 | 2.2 | 5.9 | 3.47 |
| 2018 | 22 | NH | 21 | 21 | 120.0 | 9.0 | 0.5 | 2.3 | 6.1 | 3.60 |
Drafted in the first round in 2016, T.J. Zeuch had his break out year I suppose across two levels of the Blue Jays' farm system. In High A Dunedin for the start of the season and Double-A New Hampshire from May onwards, Zeuch made 27 starts and pitched 156.1 innings of baseball. This was quite a jump from the 65.2 innings of baseball he pitched in 2017 and the 34 innings of professional baseball he pitched in his draft year. A 3.17 ERA in 2018 was also an improvement on the 3.56 ERA posted in 2017 and 4.50 ERA in 2016.
Zeuch is a solid, yet unspectacular prospect. He's unlikely to miss a lot of bats at the Big League level and unlikely to feature in one Scott Boras' new soliloquy's on light contact. Zeuch is a big body, fastball first type of guy. A lot of guys have made a living that way and won games.
Zeuch will look to push on in 2019 as he'll likely feature in the Buffalo rotation off the hop and be an early call-up once the maladies of a rebuild kick in.
16. Billy McKinney | OF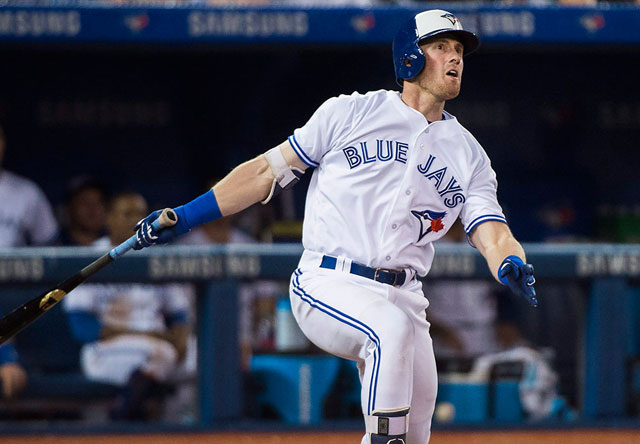 Image from Sportsnet.
Year
Age
Team
AB
2B
3B
HR
BB
K
SB
CS
AVG
OBP
SLG
2018

23

TOR

115

7
0

6

11

32

1

0

.252

.320

.470

2018

23

NYY

4

0
0

0

0

1

0

0

.250

.250

.250

2018

23

BUF

64

3
2

3

9

16

0

0

.203

.292

.453

2018

23

SWB*

212

8
5

13

21

56

0

0

.226

.299

.495

2018

23

TRN*

18

1
0

0

3

4

1

1

.222

.333

.278

2018

23

TAM*

8

1
0

0

4

2

0

0

.250

.500

.375

*=as part of the Yankee organization.
Billy McKinney is used to being traded so it was no big deal when he came to the Blue Jays from the Yankees this summer. He had previously been traded to the Cubs and then to the Yankees. McKinney has been traded for some good players, JA Happ, obviously, Aroldis Chapman, Jeff Samardzija and Jason Hammel. But now he is 24 and it's time for him to make his own future.
McKinney was drafted by the A's in 2013 and thus has completed six years in professional baseball. His breakout year was in 2017 when he added more loft to his swing and ramped up his power output. His slugging percentage increased from .338 in 2016 to .483 in 2017. He maintained that in the minor leagues in 2018 with a .462 slugging percentage.
With six years of history a solid picture is emerging of McKinney. He is a low average, high strikeout, average walk rate, plus power hitter. His time with the Blue Jays is fairly typical although is batting average was higher than expected. McKinney hit .252 with the Jays which is higher than the .222 he hit in the minor leagues in 2018. McKinney struck-out almost 30% of the time in the big leagues, again meeting expectations based on his minor league numbers. He will take a walk at somewhere between one third and one half of his strikeouts. And he will hit home runs. McKinney hit six for the Blue Jays in 119 at-bats, making him roughly a 30 home run per year hitter.
When we put all of those numbers together you get a slightly above average hitter but when you consider his defense you have a slightly positive player based on WAR. FanGraphs pegs him at a 0.8 WAR player in 2019. If you are the Blue Jays in 2019 you will take it but there are some ways that could be better. First McKinney just turned 24 in August. He is coming into his peak years so he could develop some more. Secondly, like many left-handers, McKinney has a pronounced platoon split. If the Jays can keep McKinney away from left handed pitchers then his production will be better. Third, McKinney is an average defender. While his arm is decent, his speed is average to below average. McKinney is not a base stealer. That profiles better in left field than right but the Jays have Teoscar Hernandez out there. They could platoon, and move around to fill in occasionally, but putting McKinney in left would help his value. If the Jays leave McKinney in right, then expect to see a home run hitting, low average, high strikeout hitter as he was in 2018.
This might seem like a downbeat report on McKinney but finding major league average to slightly above major league average hitters on minimum wage is not as easy as it sounds. McKinney can find a spot on the Jays major league roster for 2019 unless he gets bumped by trades. But as he gets expensive after his three years of being forced to take what the team offers, he could find himself unaffordable and annually looking for work.
15. Orelvis Martinez | 3B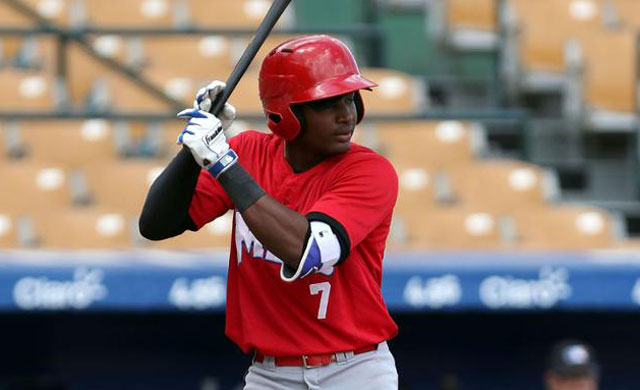 Image from Sportsnet.
Year
Age
Team
AB
2B
3B
HR
BB
K
SB
CS
AVG
OBP
SLG
2018

16

None

0

0

0

0

0

0

0

0

.000

.000

.000

The Blue Jays devoted 70 percent of its 2018 international signing budget to land Martinez, who signed on July 2 for $3.5 million. The Jays like the bat, the arm and the glove that the 5-foot-11 shortstop brings into the system.
Baseball America described the right-handed hitting Martinez as a player with "fast hands and a calm, easy swing that generates power and loft from right-center over to his pull side."
According to BA, Martinez has drawn concerns from scouts as he begins his swing with the bat wrapped behind his head, causing his bat to travel further through the strike zone. However, Martinez is said to have quick hands and is able to keep them inside the ball well. He projects to develop plus power. Though he is a 180-pound shortstop, Martinez may wind up at third base as he is projected to grow to 220-230 pounds. He has drawn a comparison to Adrian Beltre at the same age. Martinez is described to be a slightly below-average runner but has soft hands and a strong arm.
Blue Jays assistant general manager Andrew Tinnish told Sportsnet that Martinez's consistency, ability to hit any pitch and being able to lay off pitches with movement were among the reasons they bet big on Martinez as his signing bonus was just $400,000 shy of what they gave Vladimir Guerrero Jr. Tinnish believes Martinez could have four-plus tools in his arsenal.
Baseball America's Ben Badler chose Martinez as someone who could crack the Blue Jays Top 10 prospects list for next season during a recent prospect chat.
The question for 2019 is whether Orelvis will try on his Blue Jays shoes in the Dominican Summer League or the Gulf Coast League. He will play next season as a 17 year-old after celebrating his birthday November 19.
14. Thomas Pannone | LHP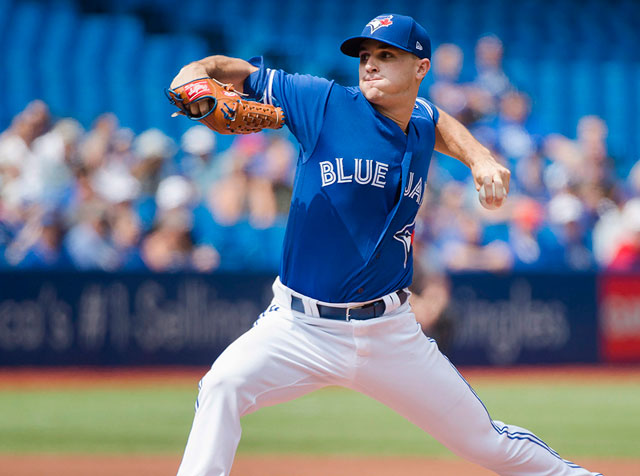 Image from Sportsnet.
| | | | | | | | | | | |
| --- | --- | --- | --- | --- | --- | --- | --- | --- | --- | --- |
| Year | Age | Teaml | G | GS | IP | H/9 | HR/9 | BB/9 | K/9 | ERA |
| 2018 | 24 | TOR | 12 | 6 | 43.0 | 7.7 | 1.5 | 3.1 | 6.1 | 4.19 |
| 2018 | 24 | BUF | 6 | 6 | 36.2 | 9.8 | 2.0 | 1.7 | 9.8 | 4.91 |
| 2018 | 24 | NH | 2 | 2 | 9.0 | 9.0 | 1.0 | 5.0 | 12.0 | 3.00 |
| 2018 | 24 | DUN | 1 | 1 | 4.2 | 17.4 | 1.9 | 1.9 | 1.9 | 13.50 |
Thomas Pannone rode the rollercoaster this season, from big league camp with the Blue Jays to an 80 game suspension to a return and a rapid rise to the major leagues. It ended on a good note setting Pannone up for a better 2019.
The 80 game suspension meant Pannone would miss more than half of the minor league season. Since coming over to the Jays in exchange for Joe Smith, Pannone had hoped to force his way into the major league picture. But the suspension meant he couldn't pitch until June 22nd. On that date he pitched for Dunedin, followed by two starts with New Hampshire and six with Buffalo. In early August he was promoted to the Blue Jays. Trying to return mid-season is not easy and Pannone did not set the world on fire. He was hit around in Dunedin, pitched better in New Hampshire but had a 4.91 ERA in Buffalo before he got the call. In his last start in Buffalo he was pulled in the fifth having surrendered four runs.
Pannone was originally drafted as an outfielder by the Cubs in 2012. Pannone did not sign and went to college where he dropped the hitting and focused on pitching. The Indians drafted him as a pitcher in 2013, in the ninth round, and Pannone signed.
If you look at Pannone's history in the minor leagues, before 2018, his performances are very consistent even as he moved up the system. He would hold hitters to six or seven hits per nine innings, walk two per nine and strikeout between eight and nine hitters per nine innings. That got Pannone onto prospect radars. But on the other hand Pannone was not very big, by pitching standards, six feet tall and skinny. And he didn't throw hard with a fastball described as being in the 89-91mph range. Scouts would downplay his reports while the numbers looked after themselves. It was somewhat reminiscent of Shaun Marcum several years ago, who didn't disturb the radar gun but who could get hitters out.
As mentioned this was a mixed year for Pannone, with the late start in the minor leagues, but pitched generally well in the major leagues. Initially Pannone came out of the bullpen, his first four appearances were in relief. The Jays then gave Pannone two starts, one excellent, seven innings of one hit ball against Baltimore. But when Pannone had to face the same Oriole team six days later he was hit around for seven runs in 3.1 innings. That sent Pannone back to the bullpen for two appearances before he made four more starts to finish the year. The first three of those well very good, each one had two runs allowed. The final start saw Pannone give up five runs in 5.1 innings.
So, at the major league level it was a mixed result for Thomas. His fastball averaged 88mph and he threw it 60% of the time. His change-up and curveball are both very good and he mixed them in over the other 40%. In addition to Marcum, the last Blue Jay who pitched like this was Mark Buehrle who threw an 85mph fastball and mixed in a change and a curve. Buehrle also threw a cutter to mix up his fastballs. The secret to all of these pitchers games is command. If they can mix their pitches, and hit their spots, they can succeed. If they don't they are prone to being hit and giving up home runs. These days hitters are geared up to the hit the 95 mph fastball. An 88mph fastball, from a left handed pitcher, with deception, can be so different that it throws the hitters off.
The Jays need starting pitching in 2019. Pannone might not light up the radar gun but he has a solid track record of success. There is an old saying among scouts when looking at pitchers, "the hitters will let you know". So far the hitters are letting us know that Thomas Pannone can be a successful major league pitcher.
13. Rowdy Tellez | 1B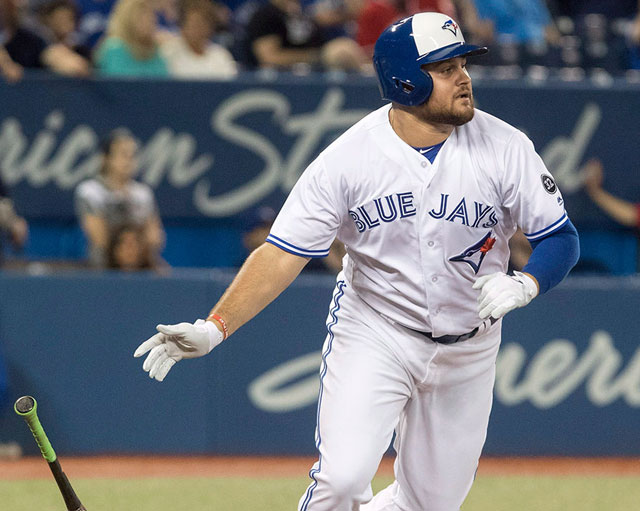 Image from Sportsnet.
Year
Age
Team
AB
2B
3B
HR
BB
K
SB
CS
AVG
OBP
SLG
2017

22

BUF

445

29
1

6

47

94

6

1

.222

.295

.333

2018

23

BUF

444

22
0

13

40

74

7

4

.270

.340

.425

2018

23

TOR

73

9
0

4

2

21

0

0

.314

.329

.614

Rowdy Tellez cameo this past September with the big club was a bright spot in an otherwise glum year for the franchise. Tellez slashed to the tune of .314/.329/.614 in his first foray with the Jays. This, after an improved second season with AAA Buffalo, and family tragedy. Tellez lost his mom in August. We at the Da Box want to wish Rowdy and his family all the best through what we can only imagine is an incredibly difficult time.
Drafted in 30th round of the 2013 June Amateur Draft and signed in part because the Jays failed to sign their first rounder, Tellez has slowly made his ascent through the Jays' minor league system. After a strong 2016 season with New Hampshire, Tellez looked primed to push on and enter into the conversation at first base/DH with the big club. 2017 was a rough year for Tellez and his prospect status came into question. 2018 was a bounce back year of sorts culminating in the aforementioned strong September showing in Toronto.
First base prospects are inherently difficult to develop—especially high school ones at that. Hitting is a craft, which must be learned over time and power generally only comes with age. Tellez, to my eye, has both an above-average hit and power tool and is a serviceable with the glove. He's not a natural out there with the trapper, but makes it work. In the games I watched he showed a good understanding of what pitchers were trying to do with him and was able to handle pretty good fastballs. I don't think he's ever going to be a first division guy. I think he's a guy that gives you five to eight years of .275/.315/.485.
Where Tellez starts next season will be interesting as to how the Jays view their season. I'm not entirely sure you start him with the big club unless he's in the lineup everyday. I don't know if I see that with Justin Smoak and Kendrys Morales on the ball club.
12. Anthony Alford | OF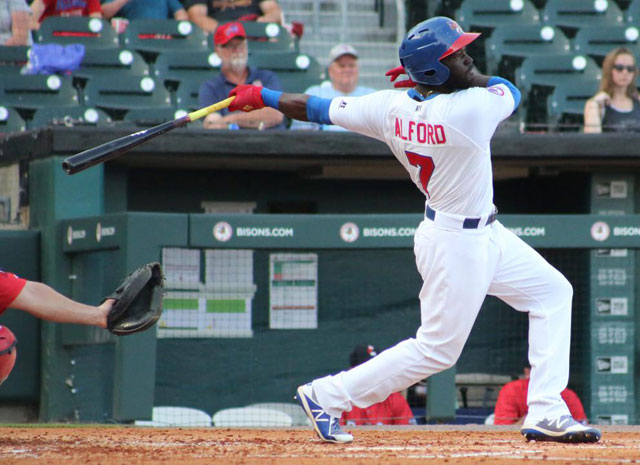 Image from MiLB.com.
Year
Age
Team
AB
2B
3B
HR
BB
K
SB
CS
AVG
OBP
SLG
2018

23

DUN

20

1
0

0

3

8

0

1

.105

.190

.105

2018

23

BUF

375

22
1

5

30

112

17

7

.240

.312

.344

2018

23

TOR

19

0
0

0

2

9

1

0

.105

.190

.105

It's not easy to categorize Anthony Alford at this point. Alford had an excellent year in AA in 2017 but failed to get hot in 2018 and endured a miserable year. At 24 years old, its time for him to perform in 2019 or he will be written off.
At this stage we all know the Alford back story, football player, paid to drop football by Alex Anthopoulos, injury prone. But 2017 looked to be a table setter at AA. He hit .310 with a .835 OPS. Then 2018 happened.
The big change in Alford's numbers from 2017 to 2018 was in plate discipline. His walk rate dropped from 12% to 7%, while his strikeout percentage jumped from 15% to 27%. That almost doubling of his K rate helped drop his batting average from .310 to .240. The drop in the walk rate also helped his OBP to drop even more, by 100 points.
So why did Alford struggle at the plate? That we don't know. The Jays are not saying and it seems to come down to Alford's approach at the plate. Was he selling out to try and get more power? Was he trying something new? Did his hamstring injury at the start of the year get him off track and he could never recover? It can be hard to make adjustments mid-season. The games come every day and once you start putting pressure on yourself, it's hard to let it go.
At age 24, Alford now needs to show his ability. He has an off-season to get ready, to talk to his brother-in-law, Jonathan Davis, and see what he can pick up from him. He will almost definitely go back to Buffalo to get established in AAA.
If Alford does get untracked what would the Jays be getting? Alford can hit for average and take a walk. He has shown little power to this point, despite his upper body strength. At this stage, given his struggles with hitting, you would not expect Alford to tinker with his swing to get more power, he needs to find a good swing before he changes it. In the field Alford has excellent speed but his routes and positional sense in centre field still need some work. Similarly, Alford is not yet a good base stealer. He has the speed but not the technique.
In summary, a very talented player had a bad year and will try to get back to a good year in 2019.
11. Hector Perez | LHP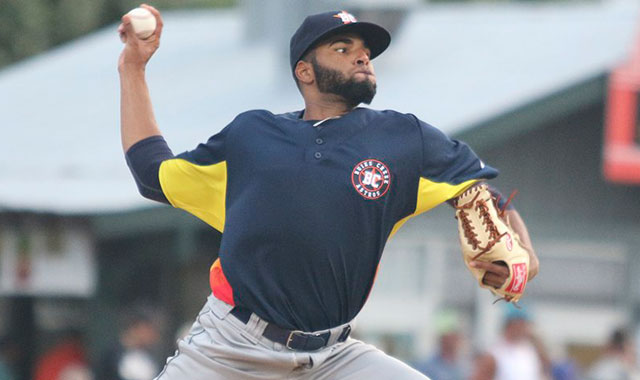 Image from MLB Pipeline.
| | | | | | | | | | | |
| --- | --- | --- | --- | --- | --- | --- | --- | --- | --- | --- |
| Year | Age | Teaml | G | GS | IP | H/9 | HR/9 | BB/9 | K/9 | ERA |
| 2018 | 22 | BUT* | 17 | 11 | 72.2 | 6.2 | 0.6 | 5.0 | 10.3 | 3.84 |
| 2018 | 22 | COR* | 4 | 2 | 16.2 | 6.5 | 0.0 | 4.3 | 9.7 | 3.24 |
| 2018 | 22 | NH | 6 | 5 | 25.2 | 6.0 | 0.4 | 5.6 | 11.2 | 3.86 |
Hector Perez is one of the new kids on the block, he came over in the Osuna trade and pitched in six games for the Fisher Cats. Perez is still young for AA, he turned 22 in June. Earlier we noted that Patrick Murphy and Jordan Romano could be bullpen-bound if they didn't master a third pitch. Perez could be bullpen-bound if he can't master his delivery. The short scouting report is that Perez has great "stuff" but bad control.
Perez was signed by the Astros in 2014 and started in the DSL in 2015.Over the years in the Astro system Perez would start and relieve. The reason is unclear but the Astros were using a tandem starter system so that could explain it. With the Astros Perez made 50 start and relieved 27 times.
Perez spent most of 2017 in the Carolina League, roughly equivalent to the Florida State League. He struck out 26.5% of the hitters and held them to a .216 batting average. But he walked 17.1% of the hitters, too many. He returned to the Carolinas for a short while in 2018 and struck out more, 27.5%, and walked less, 13.3%. That is just over a 2:1 ratio, the minimum level expected for a major leaguer. He also held hitters to a .193 average. That earned him a promotion to AA where he kept his K rate at 26.1% while lowering his walk rate a bit more, to 11.6%. That is better than 2:1 so it showed some more improvement. Hitters were again held to a batting average below .200. After the trade to the Jays Perez's K rate and walk rate both increased and went back to exactly to a 2:1 ratio. To put it a different way, with New Hampshire Perez struck out 11.2 per nine innings and walked 5.6.
Perez throws a mid-nineties fastball, a slider and a curve. His control problems don't seem to be related to any one pitch, it seems to be related to his delivery. Perez is listed at 6'3", not overly tall for a pitcher.
You can see why the Jays acquired Perez. He has great potential, but he needs to fix his delivery. Vince Horsman, the pitching coach in New Hampshire, has done an excellent job in developing pitchers. Assuming he is back in New Hampshire he will be tasked with getting Perez into a delivery that works for him and lowers his walk rate. If he can do that, the Jays will have a very good prospect on their hands.
Join us tomorrow for the cream of the crop, the top ten Blue Jays prospects.