It's nice to go travelling, but it's oh so nice to come home.
The road trip began in Florida, as you may recall. Like this: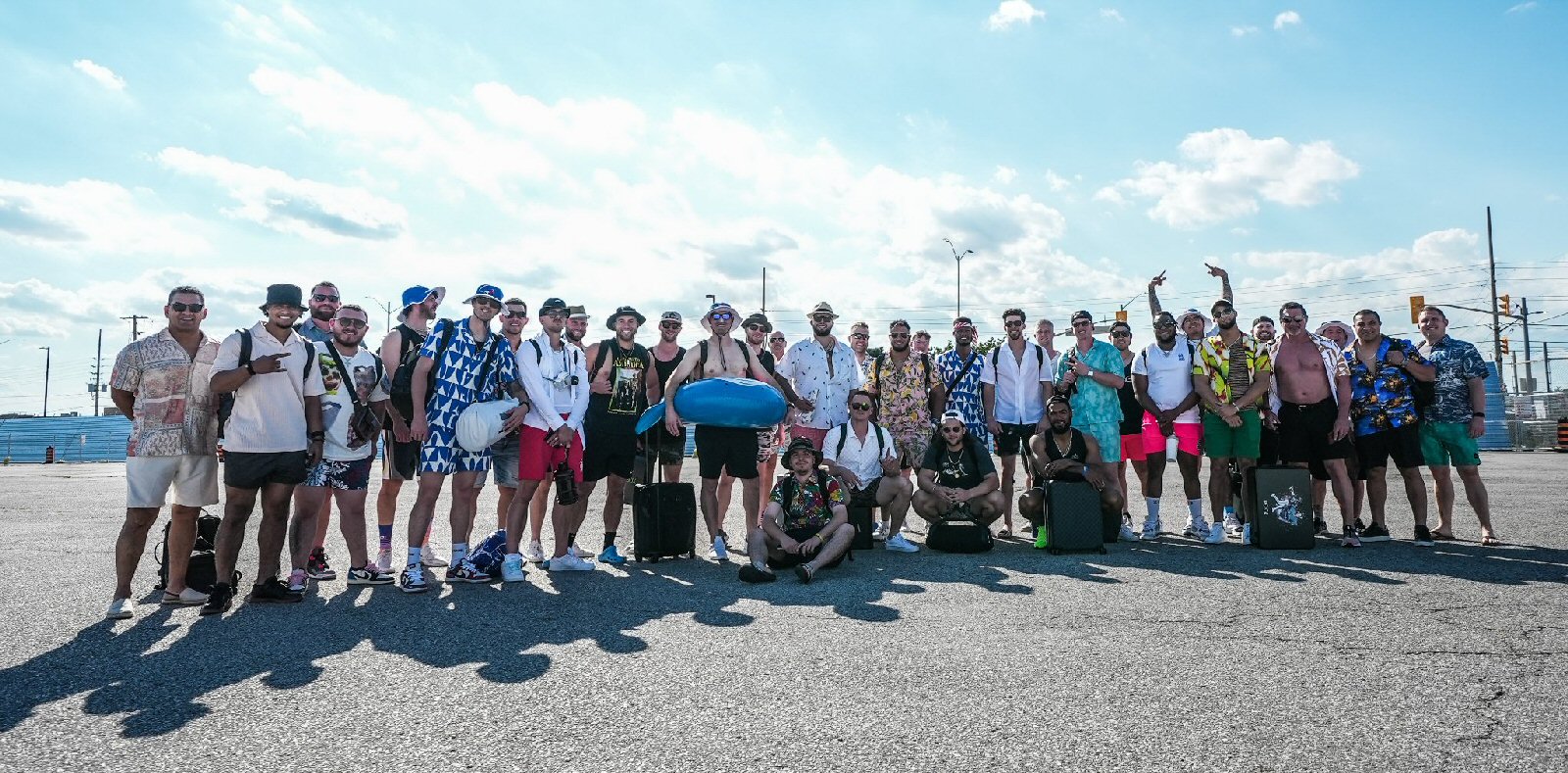 There is
so
much to unpack here.
*
† (I have had to reduce its size to make it fit, thus compromising its quality - the original lives
here
) There are the crocs (with socks!) being worn by the $150 million dollar outfielder, there are the mighty pillars that are Alejandro Kirk's legs, there is† the strange fact that Gausman and Tapia clearly go shopping for clothes together. And I don't know if there's any possible explanation for Ross Stripling in this picture. But I'm especially fond of Tim Mayza's hat. (He's tucked away in back of Cavan - "I'm too cool for everyone" - Biggio and Springer.) I like Manoah's hat as well because it looks like mine. You have to wear a hat in the summertime once you've lost your natural protection from the sun, and heaven knows my own natural protection, once as lustrous and glorious as young Bichette's, is now but a faded memory, lost and gone forever. I miss it so much.
ANYWAY. It's especially nice to come home when you play .618 ball in your own barn. The Blue Jays have played exactly 55 games both home and away, and it's slightly interesting that they've scored more runs while allowing fewer runs in their road games. Where they have a losing record. It seems a little odd. Three other AL teams have pulled off this same strange double-double, scoring more and giving up fewer on the road - but those three teams (Chicago, Oakland, Texas) all have better won-lost records on the road than they do at home.

Well, the Jays record in one run games is 14-4 at home, 8-13 on the road. That's probably got something to do with it. And they did win one road game by 23 runs.
Hey, it's the first ever visit to Toronto by the Guardians of Cleveland. The Jays hooked up with the Guardians in Cleveland for four games in early May and I fear it did not go well.
And I blame myself
. Rather than seriously consider the qualities of the Jays' competition, I instead indulged myself in a whimsical meditation on team nicknames. This was little more than a flimsy excuse for the usual wisecracks, of course. And while I was having my cheap fun, things were going amiss.
Things started out well enough on the Thursday. In the very first inning, a Bichette single and a Guerrero homer gave Jose Berrios, coming off three strong starts in succession (he'd allowed four runs total), an early lead. But in the third inning, he was unexpectedly tagged for a game-tying homer by Steven Kwan. It was the very first long ball of young Kwan's career (he's hit another since), and possibly shook Berrios to his very core. He gave uo another run in the next inning on two singles and a groundout, and three more in the fifth. The fighting Jays fought back, and closed to within a single run when Captain Kirk led off the seventh with a solo homer. Brdley Zimmer then singled (he did, honest!), stole second, and took third on a Tapia groundout. But Bichette popped out, they pitched around Vlad, and Gurriel grounded out. End of threat.
On Friday, it rained.

So they played two on Saturday. The Jays abused Shane Bieber in the opener - Kirk had three hits, Springer and Tapia each drove in three runs - and handed Kevin Gausman a 7-1 lead, which he took into the seventh. Trent Thornton was the first reliever, and while he finished off the seventh well enough, he immediately walked the bases full in the eighth. Julian Merryweather had to finish it off.
Alas, things did not go so well in the nightcap. Springer singled and scored on a Bichette double to start the contest. That was good, but Ross Stripling quickly got roughed up for four hits and three runs in the bottom half of the inning. He would give up just one more hit over the rest of his outing, but naturally it was a Reyes HR that put Cleveland up 4-2. Then the Jays bullpen got into the act, with sad results. The Guardians piled on additional runs against each of Phelps, Borucki, and Lawrence to salvage a split on the day with an 8-2 win.
So on Sunday, the Jays hoped to salvage a split in the series. Yet again, the Jays struck first. The first four batters all reached, and two of them scored on a Hernandez single. They left the bases loaded, and the Guardians tied it up against Manoah in the third, on a Kwan double, a Ramirez triple, and Miller's sac fly. Manoah threw a ton of pitches and was done after five; Cleveland starter Morgan lasted through seven, which was when the Jays went ahead on a Springer sac fly. But in the bottom of the eighth, Miller tied the game with a homer off Mayza. With two outs and the bases empty, Cimber relieved Mayza. He gave up a Reyes single, walked Gimenez, and gave up an RBI single to Mercado. Clase retired the Jays in order in the ninth. Ballgame.
The Guardians have been locked in a struggle with Minnesota for AL Central supremacy all season long. The Guardians have usually trailed, but at this very instant they've inched ahead. It sure helps to be playing Detroit while your rivals are forced to deal with the mighty Dodgers. Still, the Guardians seem a rather average team - they do score and allow an average amount of runs, and June was the only month that they really distinguished themselves (18-10). I worry that I'm underestimating them. For certain, that Jose Ramirez is a mighty, mighty man and Emmanuel Clase might be the best closer in the whole damn league. I've definitely been impressed by starter Triston McKenzie. He's about as skinny as a human can be, which does get one's attention. He's possibly been their best starting pitcher, which didn't figure. I guess Shane Bieber has been perfectly fine as well. But Cal Quantrill has been kind of ordinary, and Zach Plesac has been kind of bad.
Matchups!
Fri 12 Aug - Quantrill (8-5, 3.88) vs White (1-3, 3.86)
Sat 13 Aug - McKenzie (8-8, 3.16) vs White (1-3, 3.86)
Sun 14 Aug - Bieber (7-6, 3.21) vs Gausman (8-8, 2.91)
* (From left to right): Luis Rivera, Santiago Espinal, John Schneider (back), Alejandro Kirk, Jordan Romano (back), Kevin Gausman, Jose Berrios (back), Cavan Biggio, Tim Mayza (back), George Springer, Adam Cimber (back), Ross Stripling, Danny Jansen (back), Pete Walker (way back), Matt Buschmann (front), Alek Manoah, Matt Chapman (front), David Phelps (back), Yimi Garcia, Trent Thornton (back), Bo Bichette (front), Raimel Tapia, Bradley Zimmer, Trevor Richards (back), Teoscar Hernandez (front), Zack Collins, Yusei Kikuchi (back), Vlad Guerrero, Anthony Banda (back), Lourdes Gurriel, Hunter Mense (back), Dave Hudgens, Casey Candaele (back), Guillermo Martinez, David Howell