This article was inspired by Jordan Furlong's
original Dunedin Diary
from Spring Training 2004, and I suggest you read that one -- if you haven't already -- before continuing here. Go ahead. I'll wait.
I tried to post this on a really cold day here in the Greater Toronto Area, just to rub it in. Enjoy!
Now, I've been to Spring Training before. If you can believe it, 2005 is my fifth year of exhibition baseball.
In 1996, I was nine years old and saw three games in Arizona. I broke down in tears in Tuscon trying to keep score of a Colorado-Oakland game with more substitutions than a Law & Order cast. I still have the scoresheet today. If you're interested, Walt Weiss batted 19 times and is playing five different positions for both teams.
In 2001, I saw Barry Bonds lose his bat in the stands and demand it be returned on the spot. He got it back and promptly hit a homerun out onto the street. He would hit 73 more that year.
In 2002, I sat in the stands and watched a new guy named Hinske leg out a triple on my birthday. I liked him immediately.
Last year, I sat in a car admist pouring rain for an hour, waiting to see Roy Halladay pitch against the Twinkies in Fort Myers. I also saw Alex Rios for the first time, and remarked that I outweighed him.
But nothing will compare to this year. Four games is the plan, I will write up a report on the games, and most likely bore some readers with my rants. Also, I promised to get Jobu a Reed Johnson picture. That didn't happen, but here's what did: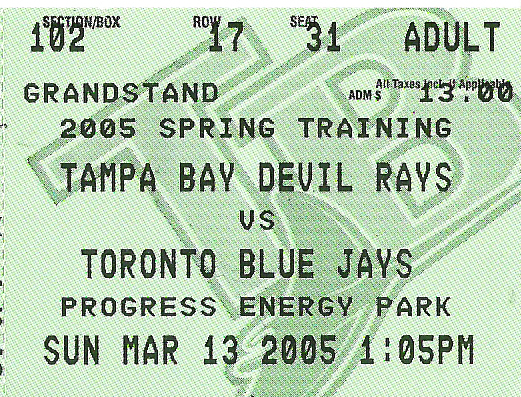 Game 1: Sunday
Before the first pitch, I walked down to the stands near the Blue Jays bullpen and watched Dave Bush warm up in the 78 F sun. This was great; two days before, I was sitting in the cold. As I went back to my seat, I had to stop halfway as the singer belted out the opening bars to the second-slowest version of O Canada I have ever heard.
Right around, "From far and wide," I glanced over to my right. Standing ten feet away, wearing his ever-present sunglasses and a spiffy red golf shirt, was the man himself. Between us were the stairs leading to my section, so I couldn't really chase after J.P. if he walked the other way. I spent the best part of the entire American anthem crafting a perfect "Hey, how's it going?" line if he did saunter in my direction. Sadly, he jogged back to his seat once the song was over, and my chance at a witty opening died like so many Blue Jay rallies in Wednesday's game. But you'll hear about that later on. Back to Sunday.
As I said, Bush was starting, which was a nice way to start off the four game swing. Box favourite John Hattig was playing third base – I still haven't seen Koskie in a Jays uniform – and I was sitting close to the hot corner, where I could boo Alex Gonzalez to no end.
I noticed something when Gabe Gross was batting. No, he did not hit a homerun. He fouled off a pitch near Gonzalez, and I remarked that Gross was barely out of college when Gonzo was traded. Then I looked over the day's starting lineup and realized none of them were Blue Jays the last time Gonzalez played in Toronto, which was the end of the 2001 season. (Eric Hinske was a teammate of his for three days in name only, coming over from Oakland on December 7 and watching Gonzo head to Chicago on December 10.) Only one of the ten starters had played in the majors in 2001 -– Frank Catalanotto. Just four (Gross, Quiroz, Hudson, Johnson) were in the Jays system at the time, and two had not even been drafted yet. This team has changed a lot in the past few years, but I didn't really notice it until now. It was bizarre to sit in the stands and watch a game where Alex Gonzalez was the longest-serving Toronto Blue Jay.
It wasn't much of a game, really. Rob Bell started for Tampa Bay, then he gave way to Mark Hendrickson. Does this team have any good starters? I haven't looked at a boxscore yet, but I'm pretty sure Lurch got whacked. Some random thoughts on the ballgame here, as I try to make out what I wrote down on my little notebook. My notes are reproduced verbatim, in italics.
Bottom 2nd: Adams wild throw! Russ' skill set seems better suited for second base, but there's a pretty good player there right now, so we'll have to live with Thrillhouse's inaccuracy.
Arnold 1-2-3 7th. Jason Arnold looks really good, and it's about time. All signs indicate this is his last year to show he belongs in Toronto, and let's hope he finds the strike zone in Syracuse.
Batista: really slow. That ninth inning was the slowest I've ever seen, by far. Steve Traschel never came close to this. Batista was walking around the mound, bending over, fiddling with his glove...it was painful to watch.
One last thing. Before the game, I noticed there was a table where fans could buy season tickets for the Devil Rays, and a large poster was on display, meant to entice prospective customers. This poster had four players on it, presumably the four stars of the team, or the four most marketable players. My more astute readers probably know what the punchline will be, but I'll keep going.
The first one was Carl Crawford. Well, no complaint there. He's poster-worthy. As is Aubrey Huff –- he got the biggest applause at today's game -– and Rocco Baldelli was popular as well. Who's the last Devil Ray, the one who is there to convince a bunch of old people with white belts and white shoes to pay for 81 home games at an ugly indoor stadium?
Doug Waechter.
I can't imagine how this team would fill 12 months in one of those team calendars. Scott Kazmir could take up May, and everyone loves Raymond, the team mascot, but for the second half of the year, you're left advertising Toby Hall and Seth McClung.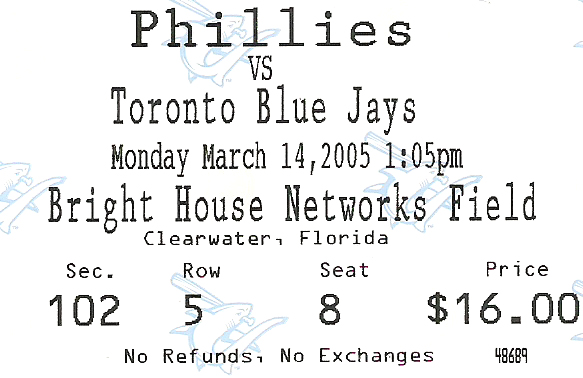 Game 2: Monday
With Batista's shaky ninth fresh in my mind, I was hoping for a good start from Gustavo Chacin to assure myself that the new rotation was not as bad as I thought. It didn't happen.
I saw Chacin on TV back during that awful Yankees game, and I noticed he was not only getting the hitters to swing and miss a lot, he was getting hit all over the place. The good and the bad, if you will. Today, he was all bad.
Since then, he's had a nice start against Houston, but if we see the Clearwater version of Chacin more often than the Kissimmee version, this team has some problems.
For the whole game, there was a rather large gentleman sitting right in front of me. He was your typical know-it-all, loud, give-me-three-beers fan – from Philly, no less, I found out. Everyone on the Phillies was a great star and every other player sucked. Philadelphia should have signed Carlos Beltran and Carlos Delgado, but it's okay because they got Eric Milton, a proven pitcher. According to him, Jim Thome is "ten times the player Vernon Wells will ever be." "When that fly ball was caught, that player should have tug up [sic] at first." He's just a fan, and he was good-natured, so there's no point in mocking him further, but it was amusing nonetheless. It was only natural that, after the Jays' starters were replaced and headed to the warning track for their sprints, Loudmouth started jumping all over some of them, focusing on V-Dub. He got up and ran over to the foul pole to our right, as close as he could get to Wells (and Frank Catalanotto and Orlando Hudson, who were also present).
I couldn't hear what he was saying, so I got up and joined Loudmouth. By the time I got there, Cat and Wells were off and running – jogging, really – and the O-Dog was signing autographs for some ten year olds. When Wells returned, the jawing continued. Wells ignored him, as athletes must learn to do, but eventually he decided to fire back. I must have looked quite strange at this time, frantically jotting down everything that was said as not to miss a word, while never asking for an autograph from any of the players, even though I was standing six inches away from all of them. I'm not an autograph guy – it's cool enough to have the players this close to you, hearing O-Dog demand a "please" before signing any hats. So here's the entire transcript of the Vernon Wells Show. Oh, yeah – for those who don't know, Jimmy Rollins is a shortstop. That's vital.
Loudmouth Fan:(frustrated that he's not getting on Wells' nerves): Aw, who do you think you are, anyway?
Someone sitting behind us: He's the best centrefielder in the game!
Wells: Yeah, you bet.
LF: Naw, no way! Jimmy Rollins is better.
VW: Rollins? (derisive laughter) I see you've obviously been drinking there. (pauses) And you need to get on a treadmill, man.
If you were there, it was great. Reading it here, some of the effect might be gone. But I had to share that with you since there wasn't much to report in the game, other than the Jays hitting into what I counted as seven double plays in the first three innings.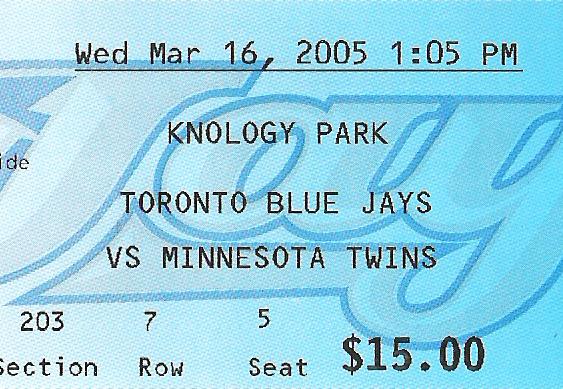 Game 3: Wednesday
One year ago to the day, March 16, 2004, I was in Fort Myers, watching the Twins play the Jays. A good sign, maybe. Will the Jays make up for Monday's game?
No.
This one was doubleplusungood. I don't normally get bored of watching baseball, but around the sixth inning, I wanted to leave.
There were a lot of groundball outs here. If the Jays were allowed five outs in an inning, they would have had 45 groundouts in the game. They didn't score a run, and the offense was unremarkable top to bottom.
Those Twins, though. Oh my. The way this game was going, you knew once they had a runner on second, anything to the outfield would score him. Then there's one run on the board and a man on first. Well, another single makes it first and third. Then a double, two runs score. Nobody plays the baserunning game better than Minnesota, and it's fine for teams to model themselves after the Twins, but they better have the right personnel.
In typical Minnyball fashion, the visitors put up single runs in five different frames. I couldn't stand it. There was no end to their hustling. Now, I'm not saying this style is better than the rest. We are talking about the Blue Jays' offence, after all. For example, Roy Halladay went four innings, and never gave up a hard-hit ball. He was still behind one or two runs when he left. That's how Minnesota wins games, and there's nothing wrong with it. They did bat Luis Rivas second, however, so let's not praise them too much.
On this next point, I'd like to think of myself as a master predictor, but I didn't say anything at the time. When Billy Koch came in to pitch, I could tell right away that he didn't have it. It wasn't his location or his velocity.
Every time he threw, it looked as if his head was going to fly off.
This was his last appearance with Toronto this Spring – I would learn of his release Friday morning from the sports page in USA Today – and looking back, I should have been able to "call" it. But I didn't, and you'll have to believe me that I could tell Koch was done.
Batista pitched again, and he was much better this time. He was going right back to the rubber and hurling it at Ken Huckaby without hesitation. He gave up a run, but I would rather have this Batista than the one I painfully watched in St. Petersburg.
Game 4...well, it was rained out. This pissed me off moreso than a rainout usually does. You see, we were flying back home on Saturday. The game was Thursday. We got a rain check for any game at Knology Park over the next 18 months, but there's no way I will make it back to Dunedin before the end of the D-Jays 2006 season. And we bought the tickets – fifth row, behind home plate – a month in advance, to ensure the good seats. And there are no refunds. And the next game in Dunedin – Saturday, natch – conflicted with the time I was due back at Tampa International Airport for my flight home.
I don't feel like ending this article with "In conclusion" or "Overall, my experience was.." so I'll provide you with the following list instead.
Top Ten Things I Learned From Spring Training 2005:

10. It's still much too hard to find Knology Park if you don't have a map from the Auto Club. Someone needs to fix this problem.
9. The past tense of "tag" is "tug."
8. If you sit along the first-base line in Clearwater, your left ear will get burned and peel for a week while your right ear remains as pale as ever.
7. Orlando Hudson is even funnier in person.
6. It's a lot of fun to sit in the stands when Adrian Burnside enters the game; all the fans turn to each other and say, "Who?"
5. The lemonade at Knology Park costs five dollars (US) and tastes like five-cent lemonade.
4. If the Blue Jays want pitchers who work quickly and throw strikes, they picked the wrong closer in Miguel Batista.
3. I can't tell Jason Alfaro apart from Julius Matos.
2. Brandon League is not only my favourite pitcher on the team, he makes me cringe with every pitch. I keep thinking he's doing something wrong with his windup.
1. No matter how much fun Spring Training is, it's still worthless once the real games start.