It's time for the newest edition of the Batter's Box Blue Jays Top 30 prospects. This marks the fifteenth year of the top 30 here on Da Box.
As we remind readers each year, the expectation of the top 30 prospects for any team is that one third will improve, one third will regress and one third will stay as they were. The Jays front office added a lot of pieces to the system this year as part of the mid-season clear-out. Not all of the prospects added via trades have made this list. As has been discussed on Da Box, the Jays system includes a lot of players who are possible prospects. Some people see them as prospects, some as longshots and some as not a prospect. As a result there are many players who Blue Jay fans consider to be prospects who did not make it onto our top 30. In another season, or if they were on a different team, they would be on a top 30 list.
Two of last year's top 30 were traded, Conner Greene and Edward Olivares were dispatched in the off-season. Three players "graduated", Richard Urena , Ryan Borucki and Lourdes Gurriel Jr. The remaining 25 players from last year's top 30 go into Da Box's mixer with the newly drafted players, the international signings, the traded-for players and those whose performance took a step forward in 2018. The mixer goes to work, powered by the votes of our minor league team, and kicks out the definitive list of the Blue Jays top 30 prospects. Eighteen of last year's top 30 are back. As mentioned, five no longer qualify so seven have dropped off. Not all of the seven who dropped had bad years, some were injured and some just had average years and dropped off due to more competition in a stronger system.
As usual the first 10 are published today, the next 10 tomorrow, and the top 10 on the day after. Let the discussion begin!
30. Logan Warmoth | SS/2B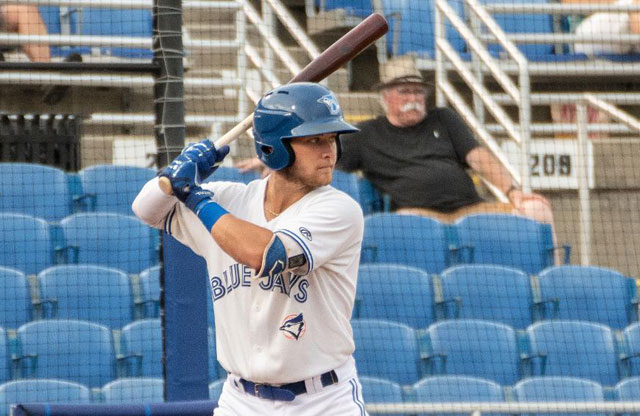 Image from MiLB.com.
Year
Age
Team
AB
2B
3B
HR
BB
K
SB
CS
AVG
OBP
SLG
2018

22

GCL

11

0
0

0

2

4

0

0

.273

.500

.273

2018

22

DUN

282

13
2

1

30

69

9

0

.248

.322

.319

The 2018 season was a tough one for the Blue Jays 2017 first round pick. After hitting over .300 and driving in the winning run to lead the Vancouver Canadians to the Northwest League title last season, Warmoth skipped past Lansing and started this season in Dunedin. The Orlando native recorded a hit in his first three Florida State League contests but soon found himself well below the Mendoza Line for most of April. A five-game hitting streak in late April and another five-gamer in mid-May lifted Warmothís average to a season-high .252 but a couple of stints on the disabled list in June and July helped derail his season. After a rehab assignment in the Gulf Coast League, Warmoth returned to Dunedin in the latter half of July. It took a while to get his right-handed bat going again but he recorded hits in 13 of his last 15 games, batting .359 in his last 10 contests.
Even though Warmoth is not projected to be a major power hitter, his slugging percentage dropped exactly 100 points from his Vancouver mark and his isolated power with Dunedin was just .071. He hit ground balls just over half of the time as his ground ball rate went up just over five percent and he struck out one-quarter of the time. On the plus side, Warmoth had a line drive of nearly 20 percent and walked nearly 10 percent of the time. He was also successful in all nine of his steal attempts.
Consistency also eluded Warmoth on the diamond as he committed 12 errors (11 with Dunedin) in 49 games at short. However, he did not commit an error in 14 starts at second and some scouts feel the keystone may be Warmothís eventual home even though others feel he could stick at the six-spot due to his athleticism, adequate range and throwing arm. With Kevin Smith having passed him on the shortstop depth chart, Warmoth may see more time at second base as his career progresses.
Still, the 6-foot-0 Warmoth did win the Brooks Wallace Award as college baseballís top shortstop in 2017 and he told Cís Plus Baseball he believes he can still play a good shortstop despite what the naysayers believe.
ďI mean, itís alright. I guess I can handle it there, what they think, but I know that I feel like Iím good enough to play short all the way through. Thatís peopleís opinions, I canít really focus too much on that because if I did, then I probably wouldnít be in the situation Iím in. Not being really recruited out of high school and if I were just to listen to everything or everyoneís opinion, then I probably wouldnít have had a very successful career in baseball.Ē
Blue Jays director of player personnel Gil Kim is also a believer in Warmothís all around game, citing his hitting ability and solid play at short.
Warmoth will probably return to Dunedin to get more reps at short with a promotion to New Hampshire not out of the question. The former North Carolina Tar Heel will turn 24 on September 6.
29. Miguel Hiraldo | SS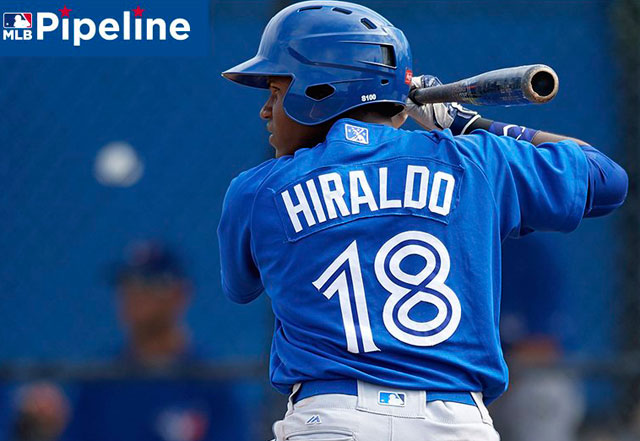 Image from MLB Pipeline.com.
Year
Age
Team
AB
2B
3B
HR
BB
K
SB
CS
AVG
OBP
SLG
2018

17

DSL

214

18
3
2

23

30

15

6

.313

.381

.453

2018

17

GCL

39

4
0
0

1

12

3

0

.231

.250

.333

Miguel Hiraldo signed last year but his signing was overshadowed somewhat by Eric Pardinho. Hiraldo received $750,000 which was the biggest bonus paid to a hitter by the Blue Jays. As is usual with these international signees, Hiraldo did not play in 2017 so we had to wait until this year to see him perform. The Jays chose to be cautious with Hiraldo and assigned him to the DSL. He hit .313 there along with a good eye and some power. Hiraldo played all season at age 17, he turned 18 soon after the season ended. At the very end of the season Hiraldo moved up to the GCL for 10 games. He hit .231 there as he auditioned for next season.
Hiraldo is listed at 5í11Ē and 170 pounds. He has a solid body and while his body is a good size for shortstop, many scouts believe his range is not good enough to stick there and expect him to move to third base at some point. Both shortstop and third base are crowded positions for the Blue Jays.
As mentioned, Hiraldo showed a good eye in the DSL, he walked 23 times against 30 strikeouts. With a 17 year old hitter you wouldnít expect much home run power, Hiraldo hit just two, but he doubled 18 times and tripled three times. Hiraldoís two strengths are excellent bat speed and a nice compact swing.
Hiraldo should start 2019 in extended spring training and hope to be assigned to Bluefield once the short season leagues start up.
28. Max Pentecost | C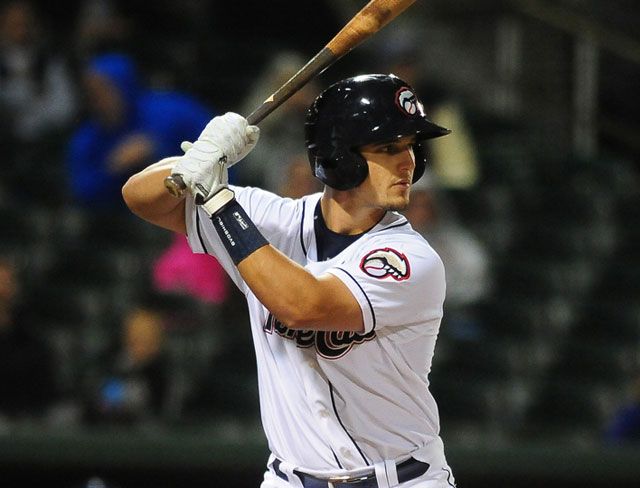 Image from MiLB.com.
Year
Age
Team
AB
2B
3B
HR
BB
K
SB
CS
AVG
OBP
SLG
2018

25

NH

344

17
2

10

15

89

1

0

.253

.283

.401

The Blue Jays selected catcher Max Pentecost 11th overall in 2014, with their makeup pick for not signing Phil Bickford the prior year. In his junior season, Pentecost was named a finalist for the Dick Howser Award as college baseballís top player. Pentecost was also named the Atlantic Sun Conference Player of the Year and was awarded the Johnny Bench Award as the top catcher in the NCAA. The Kennesaw State product hit .422 and posted a 1.109 OPS in his sophomore season at university. He shot up draft boards after being named the Most Valuable Player of the Cape Cod League in 2013 with a batting line of .346/.425/.538, along with six home runs and 29 RBIs.
Unfortunately, his professional career has been clouded by injuries. After 25 minor league games in 2014, Pentecost missed part of the season with a wrist injury. At the end of the year, he underwent surgery for a partially-torn labrum in his shoulder. Disappointingly, this operation didnít go as well as hoped and he had to undergo a second shoulder surgery in February 2015.
Pentecost missed the entire 2015 season while recovering and rehabbing from the second surgery. However, even the second surgery didnít fix the problem entirely and Pentecost found himself still experiencing significant amounts of shoulder pain. The hard-luck backstop underwent a third surgery in October 2015.
He finally made it back on to the diamond on May 12, 2016 for his first game since August 7, 2014. In his first game in nearly a year and a half, Pentecost went 3-for-4 with a home run. Pentecost spent most of 2016 with Lansing, where he hit .314/.375/.490 in 62 games. He had the highest OPS in 2016 for the Lugnuts of anyone with at least 50 at-bats. However, Pentecost played every contest at DH.
Pentecost posted a reasonably strong line in 2017, hitting .276/.772/.434 for the Dunedin Blue Jays, which was good for a 124 OPS+. While Pentecost wound up on the DL on August 10, which ended his season, he returned to the field for the first time since 2014. He split his 71 games for Dunedin between DH (30), first base (22) and catcher (19). Pentecost made two errors in 194.1 innings at first, but didnít make an error behind the plate (although he allowed three passed balls). He also threw out 7 of 15 base runners, which was a promising sign.
After the 2016 season, Pentecostís future behind the plate looked to be in doubt, but the club was optimistic that Pentecost could still be a major league catcher. This optimism may be well-placed after the last two seasons, as Pentecost played in 89 games in 2018 and appeared behind the plate in 77 of them (he spent the other 12 at DH). While Pentecost continued to work his way back to being a full-time catcher, his offensive performance dropped off from his 2017 line and he only hit .253/.283/.401. Pentecost hit into 10 double plays and also hit 7 sacrifice flies.
Pentecostís .283 OBP was last on New Hampshire among players who appeared in at least 40 games. Playing in his age 25 season, Pentecost was also among the oldest regulars with New Hampshire.
While the last couple of years have given the club renewed optimism that Pentecost wonít be limited to DH or 1B if he makes the majors, there continues to be questions about Pentecostís bat as he progresses through the minors. Assuming he is not added to the 40-man and not selected in the Rule 5 draft, both of which seem likely, his landing spot in 2018 will likely depend on how the potential logjam of Martin, Maile and Jansen is resolved. If one of the three catchers is no longer with Toronto in spring training and McGuire is the regular catcher with Buffalo, it wouldnít be surprising to see Pentecost serving as his backup, while also seeing some time at 1B and/or DH. Riley Adams had a decent year in Dunedin and should start in New Hampshire and if Pentecost repeated New Hampshire at age 26, a meaningful big league career looks increasingly remote.
27. Ryan Noda | 1B/OF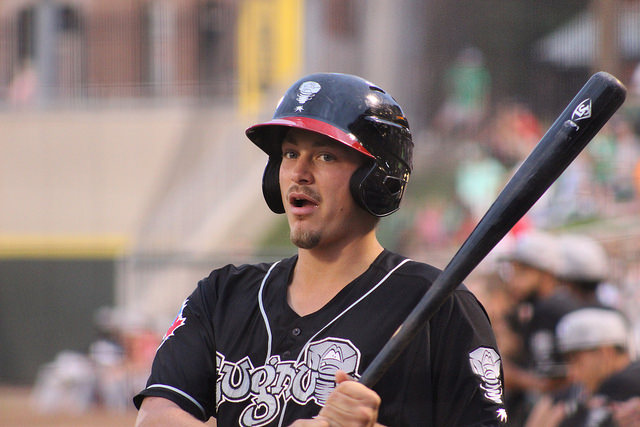 Image from Marshall Dunlap.
Year
Age
Team
AB
2B
3B
HR
BB
K
SB
CS
AVG
OBP
SLG
2018

22

LAN

403

24
4

20

109

135

14

4

.256

.421

.484

Despite winning Appalachian League MVP honours with the Bluefield Blue Jays and being named to Baseball Americaís Rookie-Level Classification team in 2017, that was not good enough for Noda to earn a spot on Batterís Box Top 30 Prospects list last year. Despite finishing the year with an incredible .507 on-base percentage, the fact he was a college bat dominating against lesser competition may have hurt his standing. Noda also does not play a premium position on the defensive spectrum. Despite making five appearances in center field in his first two years in the pros, he has spent time mostly as a corner outfielder and first baseman. Noda was a candidate for a cameo in Vancouver during its playoff drive but first base was already spoken for with Kacy Clemens and Chavez Young got the call instead to provide a boost to the outfield.
Moving to full-season ball with Lansing in 2018, Nodaís batting eye continued to serve him well over the first two months when the BABIP gods were not as kind. The Fox Lake, Illinois native was hitting just .179 after May 17 but his on-base percentage remained sky-high as he reached .500 after April 28 and was as high as .474 after May 20. A 12-game hitting streak kept his average above .200 for good. His strikeout-walk total at one point was 57-58. Noda also found his power stroke with a pair of nine-home run months in June and August after hitting just one over April and May combined.
Noda drew a walk over 20 percent of the time with the Lugnuts and was judged to have the best strike zone discipline in the Midwest League by Baseball America. That helped offset a strikeout rate of 25 percent. His batted ball profile showed him going up the middle a bit more with a 12 percent hike while his opposite field rate fell over nine percent. FanGraphs showed his line drive rate dropped from an insane 37.5 percent clip in Bluefield to a still-healthy clip of more than 22 percent with Lansing. His flyball rate more than doubled from nearly 19 percent to just over 40 percent.
A 15th round pick of the Blue Jays in 2017 from the Cincinnati Bearcats, Noda was expected to go much higher in the draft but he still received a $125,000 signing bonus. Despite an on-base percentage of .866, teams were probably scared off by his 30 percent strikeout rate in his junior season. Still, he showed off his plus power by becoming the second Bearcat to launch a ball onto the roof of Fifth Third Arena, joining Lance Durham in that select club.
The 6-foot-3 Noda played baseball and basketball during his days at Grant Community High School in Lake Fox, Illinois. He lettered in both sports and was a captain in all four years.
In Baseball Americaís recent Blue Jays prospects chat, Ben Badler called Noda a three true outcomes player who will rack up lots of strikeouts, walks and home runs. Despite defensive limitations, Badler lauds Nodaís patience at the plate and his power. Badler feels Double-A will tell the story of where the arrow will point for Noda.
Before getting to Double-A, Noda will have to go through Dunedin first and thatís where heís projected to spend most, if not all of 2019. Noda will celebrate his 23rd birthday on March 30.
26. Hagen Danner | C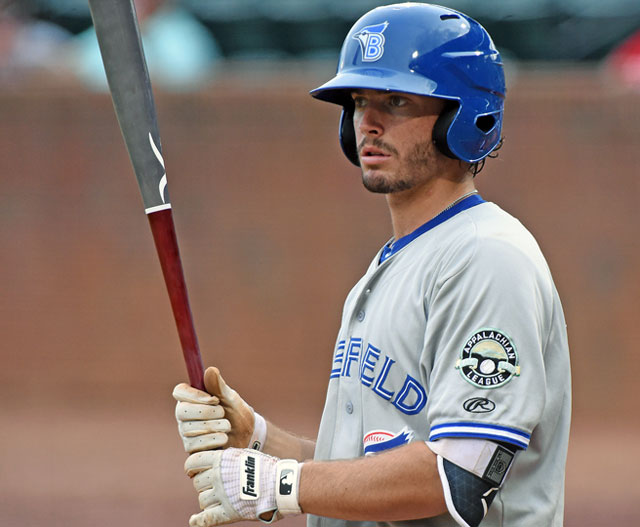 Image from MiLB.com.
Year
Age
Team
AB
2B
3B
HR
BB
K
SB
CS
AVG
OBP
SLG
2018

19

BLU

111

11

0

2

20

35

1

0

.279

.409

.432

Hagen Danner has been a baseball prospect since he was in little league. He won a Little League World Series with his Huntington Beach teammates. He then moved up to play with team USA and won a gold medal with the 18 and under team at a tournament in Japan.
In high school Danner pitched and caught and he could have been drafted as either one. But Danner preferred to catch and the Jays selected him as a catcher. Pitching is always a fall back if the catching and hitting donít work out.
Danner played in the GCL last season but didnít stand out. He moved up to Bluefield this year and played much better. Despite a mid-season injury that took him out of the lineup for three weeks, Danner hit .279 with eleven doubles and two home runs. His OPS was 841. Danner improved in every aspect this year, he hit better, he walked more and showed more power. Scouts like his bat and think he can hit at higher levels.
As a two-way player in high school, scouts believe that Dannerís catching fell behind and it needs work. His injury this year cut into his catching time as when he returned he DHíd more than he caught. Danner needs development in all areas of catching.
Danner does have competition for catching spots to start 2019. Ryan Gold moved up to Lansing mid-season and could start there again in 2019. Alejandro Kirk out-hit Danner on the Bluefield team and he could be ahead too when the Lansing roster is set. Meanwhile Gabe Moreno is coming up rapidly from behind Danner and could pass him out. Danner would look to get to Lansing next season but might have to start the year in extended before going to Vancouver or Lansing.
25. Griffin Conine | RF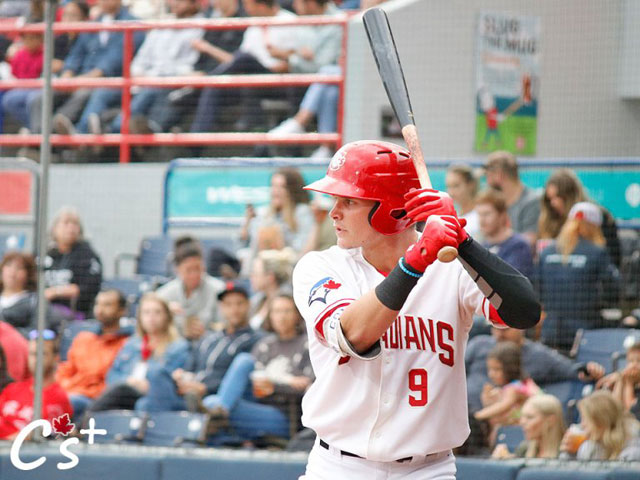 Image from C's Plus Baseball.
Year
Age
Team
AB
2B
3B
HR
BB
K
SB
CS
AVG
OBP
SLG
2018

21

GCL

8

1
0

0

1

2

0

0

.375

.444

.500

2018

21

VAN

206

14
2

7

19

63

5

0

.238

.309

.427

The 2018 season had its share of ups and downs for the son of former major leaguer Jeff Conine. Coming into the year, Conine was generating first round buzz for the MLB draft thanks in large part to socking nine home runs and slugging .537 in 42 games for Cotuit in the Cape Cod League in 2017. He was voted the Capeís top major league prospect.
Conine had a slow start to his junior season with the Duke Blue Devils by hitting just .211 in his first 38 games. A huge contributing factor was his soaring strikeout rate that went up nearly 10 percent from his sophomore to junior campaign as he whiffed just over 26 percent of the time.
In an interview with Cís Plus Baseball, Conine traced the tough beginning to the previous off-season.
ďMechanical changes. There were some things, some habits that I think I worked into just in the off-season that I kind of dug myself into a hole. My two-strike approach was not very good. Just making some small changes and gaining my confidence back that I had sort of lost throughout the year. All those changes I just kind of brought with me to pro ball here. Iím just still working on them, trying to fine-tune everything and always try to get better.Ē
Conine rebounded with a strong second half that saw him belt 18 home runs and post an on-base percentage of 1.018. That helped him earn his second straight 2nd Team ACC (Atlantic Coast Conference) All-Star berth. He was taken in the second round by the Blue Jays with the 52nd pick overall and signed on the dotted line for $1,350,000. That was a 29 round jump from three years ago when Conine was selected in the 31st round by the Miami Marlins out of Pine Crest High School in Florida.
Still, the swing and miss in Conineís game remains an issue. Baseball America noted his propensity to expand his strike zone and swing over the top of pitches. On the flip side, when Conine does make contact, the ball can go a long way. The Plantation, Florida native was credited with college baseballís longest home run when he hit a 497-foot blast against Gardner Webb. Another home run against Virgina had an 111 mile-per-hour exit velocity with an 18-degree launch angle according to Baseball America.
The left-handed hitting Conine's power was also evident when he cleared the 25-foot fence to straight-away center at Nat Bailey Stadium in Vancouver for his first professional home run June 28. Conine earned a berth in the Northwest League/Pioneer League All-Star Game after getting out to a terrific start that saw him hit .320 with a .600 slugging percentage in mid-July, a stretch that included a two home run-game in Everett July 8. He then endured a home run drought with just one homer over a 33-game stretch and slumped to a .211 batting average in August. Conineís swing and miss tendencies reared its ugly head again as he heard strike three over 27 percent of the time, over three times his eight percent walk rate.
Defensively, the 6-foot-1 Conine made just one error with Vancouver during 46 starts in right field and showed off his cannon of an arm that helped him collect eight assists. Vancouver broadcaster Rob Fai likened Conineís plus arm to that of Toronto Blue Jays legend Jesse Barfield. Baseball America says some scouts wonder if Conine would eventually wind up at first base. Still, Conine does have some speed as he stole five bases without getting caught.
Conineís next stop in the Jays minor league system in 2019 should be in Lansing after he serves a 50-game suspension for using a banned stimulant. He will be 22 years old on July 11.
24. Samad Taylor | 2B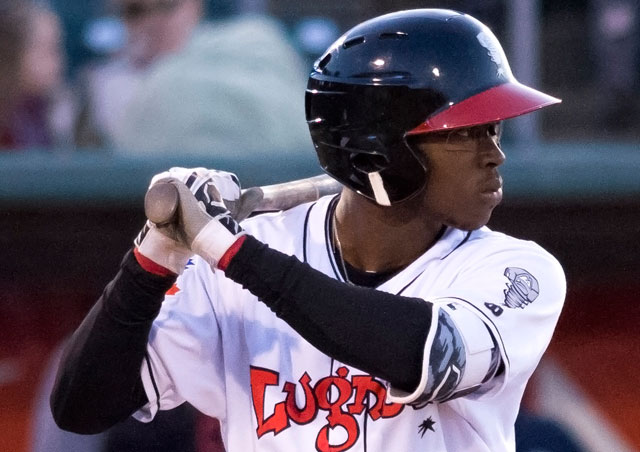 Image from MiLB.com.
Year
Age
Team
AB
2B
3B
HR
BB
K
SB
CS
AVG
OBP
SLG
2018

19

LAN

460

32
7

9

57

99

44

16

.228

.319

.387

The Toronto Blue Jays have seen an immediate dividend in the deal that sent reliever Joe Smith to Cleveland at the 2017 trade deadline. Lefthander Thomas Pannone made his major league debut and won four of his first five decisions in 2018. The biggest dividend of that deal could very well be the wiry, athletic Taylor. The Corona, California native drew the notice of scouts with his performance at the 2016 Area Code Games. He had a commitment to go to Arizona to join the Wildcats but he decided to turn pro after being taken in the 10th round of the 2016 draft by Cleveland. He signed for a $125,000 bonus.
According to Baseball America, Taylor shows a good understanding of the game with heady play and quick-twitch athleticism. Despite a 5-foot-10, 160 pound frame, he does have sneaky pop. He was praised by Mahoning Valley Scrappers manager Luke Carlin for his maturity, leadership and energy he brings to a clubhouse.
Taylor had to start his Blue Jays tenure in Bluefield because his passport had not arrived. He would head to Vancouver and displayed his power with a home run in his second game that cleared the big right field fence at Nat Bailey Stadium. After collecting four hits in 16 at-bats in the Appalachian League, the right-handed hitting Taylor slashed .294/.342/.426 with two home runs and three doubles in 19 regular season contests and helped lead the Cís to the 2017 Northwest League championship.
In an interview with Cís Plus Baseball after the 2017 campaign, Taylor provided a scouting report on himself.
ďWell-rounded. All-around player. As my stats showed, I can hit for power, I can bunt if I have to, I can run if I have to. Iím a pretty good defensive player. Iím a fastball hitter so if youíre throwing a fastball, youíre taking a big chance. I would rate myself as a Dee Gordon or coming up, a Chone Figgins or one of those guys. Iím not a guy thatís going to give you 30 home runs a year or stuff like that. Iím going to give you 15 to 20 home runs with 35 to 40 stolen bags and a great defensive player.Ē
Heading into 2018, Taylorís swift skills resulted in just 13 stolen bases in his first two years as a pro but he more than tripled that output with the Lansing Lugnuts. Drawing a walk in nearly 11 percent of his plate appearances helped offset the fact that not as many balls dropped in for hits in 2018. After a BABIP ranging from .340 to .360 over his first two years as a pro, it sank to .270 in 2018. As a result, Taylor batted just .217 and .224 in April and May before turning in a .247 June. He hit just .210 in July but rebounded by slashing .260/.357/.448 in August. Taylor also added three hits in eight play-off at-bats in the Lugnuts two-game series loss to Bowling Green.
Taylor was pulling the ball more in 2018 by doing so nearly half the time, an increase of nearly seven percent. His line drive rate from Vancouver to Lansing remained over 20 percent.
Defensively, Taylor committed 12 errors in 114 games with Lansing, a big improvement from 2017 when he had 10 miscues in 52 games in short-season ball between his stops in the Cleveland and Toronto minor league chains.
Taylorís strong finish may convince the Jays brass to challenge him by sending him to Dunedin to begin 2019. However, he is still young enough that he may begin next year back in Lansing. Taylor will turn 21 on July 11.
23. Riley Adams | C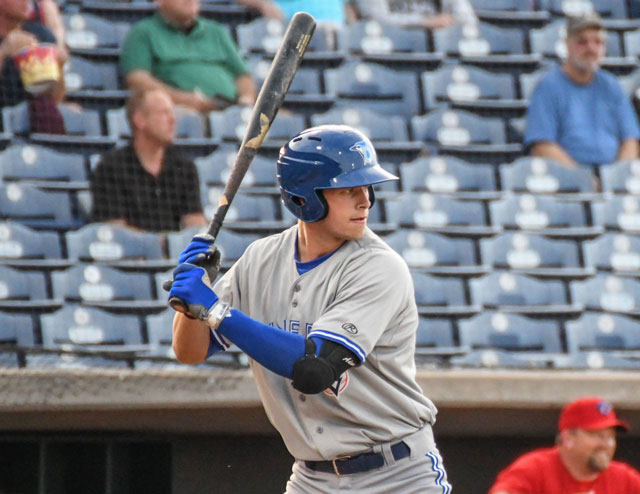 Image from Dunedin Blue Jays.
Year
Age
Team
AB
2B
3B
HR
BB
K
SB
CS
AVG
OBP
SLG
2018

22

DUN

349

26
1

4

68

143

4

0

.246

.352

.361

Riley Adams was a third round selection in the 2017 draft. The Blue Jays snapped up the San Diego Toreros product with the 99th overall pick for the slot bonus of $542,400. Adams is 6'4" and there was some suggestion at the time of the draft that Adams body was too big and too inflexible to be a major league catcher. When it comes to catchers in the major leagues, defense comes first. Adams has continued to learn and we don't exactly know how he is faring with the small points of catching but we know he can throw. Last year Adams threw out 40% of attempted stealers. This year he moved that up to 46% in the Florida State League. Tall catchers usually have issues with catching at the bottom of the zone and Adams carried that reputation from college. It remains to be seen if he has improved in that regard. Adams played multiple sports in high school, including karate, and he will rely on his athleticism to make the final refinements in his defensive game to become major league ready.
Adams was young when he was drafted and he turned 22 in June so he has done well to play in Dunedin at age 21 and 22. The offensive bar for major league catchers is low and Adams had an average year offensively. We have to remember that the Jays promoted Adams straight to Dunedin from Vancouver last season. That was an aggressive promotion that is not usual with younger players. And with an aggressive promotion came struggles. Adams hit .194 in April, and June and was hitting just .206 on July 8th. From that point on Adams started to hit better, hitting .254 in July and .319 in August. Adams OPS for the second half was .757, which is decent for a 21/22 year old catcher in high A. The biggest slit in Adams numbers came depending on whether he was ahead or behind in the count. When he was ahead Adams had an OPS over 1000 but when he was behind the hit .150 and struck-out almost half the time. That split suggests that Adams can hit a fastball but might struggle against off-speed pitches. Adams was noted to have a pull-heavy approach, some of his K's could also be due to pitchers painting outside when they get ahead. It is not clear whether his late season improvement came through better pitch recognition and reducing his pull heavy approach.
In Adams the Jays have a big catcher who can throw and who showed improved performance in the second half of the year. Adams does have plenty of competition ahead of him so the Jays can take their time with him. He should go to New Hampshire to start 2019 but might have to wait a while if the Jays cannot clear their log-jam.
22. Reese McGuire | C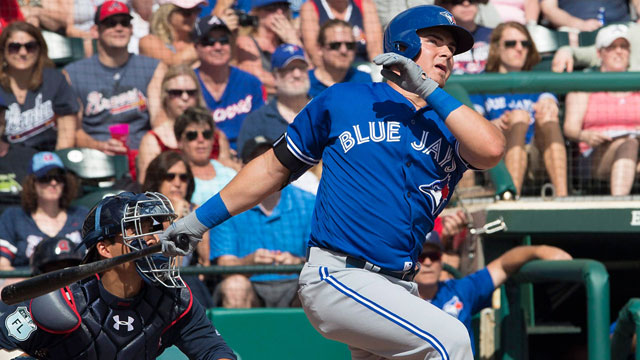 Image from Sportsnet.
Year
Age
Team
AB
2B
3B
HR
BB
K
SB
CS
AVG
OBP
SLG
2018

23

BUF

322

9

2

7

33

77

3

2

.233

.312

.339

2018

23

TOR

31

3

0

2

2

9

1

0

.290

.333

.581

Reese McGuireís 2018 culminated in him making his major league debut against Cleveland on September 6, 2018. McGuire went 1-for-4 with a double, but the Jays lost the game as Sam Gaviglio struggled and then Mark Leiter allowed it to get out of reach in the 9th inning.
In the course of an impressive stint with the parent club in September, McGuire demonstrated his primary skill, which is his strong defence, while also showing some power, which he has displayed in spurts in the minor leagues but never on a consistent basis. He didnít look out of place in the major leagues and showed that he may be a very capable backup to Danny Jansen in the future. Of course, if he continues to post a 147 OPS+, he could be a lot more than a backup.
A former first-round pick known primarily for his defence, McGuire came to the Jays in the Francisco Liriano trade. Born in 1995, McGuire is a 5í11Ē left-handed hitter. The Seattle native was Pittsburghís first-round draft pick in 2013 from a high school in Covington, Washington. After selecting him 14th overall, the Pirates paid McGuire $2.36 million to sign him away from his commitment to the University of San Diego. McGuire was widely seen as a first-round talent because of his athleticism, baseball intelligence and skills behind the plate.
Since being drafted, McGuire had steadily progressed through the minor leagues. He spent 2013 in the Gulf Coast League, where he posted a .780 OPS. He went to A ball in 2014, graduated to advanced A ball in 2015 and spent 2016 in Double-A, although he had never posted an OPS above .700 over the 2014-2016 seasons. McGuire came to the Jays during the 2016 season, whereupon he posted a .592 OPS with the Fisher Cats. His combined OPS over the season was .667, which was actually his best season at the plate over the prior three seasons. At that point in his development, McGuire clearly seemed to be a catcher who could handle a major league staff defensively, but there were questions about whether his bat would even allow him to stay in the majors regularly.
During those particularly lean offensive years McGuire reportedly had difficulty making hard contact. He has had difficulty hitting the ball with power, only hitting one homer over 2015 and 2016. However, McGuire has displayed strong plate discipline, as he walked more times than he struck out in 2016 and, in a promising sign, in 2017 he had 16 walks to 19 strikeouts at New Hampshire.
In light of these offensive struggles, it wasnít surprising that Toronto sent McGuire back to New Hampshire in 2017. McGuire missed time from May through mid-July with an injury, but while he was in Double-A McGuire slashed .278/.366/.496, which was his highest slugging percentage in a minor league season by more than 100 points. Prior to going on the disabled list, McGuire was hitting .216/.311/.373, so much of his offensive burst came after he was activated from the DL through the end of the year.
In 2018, McGuire was assigned to Buffalo. For the Bisons, McGuire hit .233/.312/.339 in 369 plate appearances in 69 games. The plate discipline he had shown the previous two years took at a dive, as he walked 33 times, but struck out 77. He hit a pair of triples and 7 home runs. More worryingly, McGuire made 10 errors after not making an error in 2017 and his caught stealing percentage dropped to 29%. Itís not immediately clear if this is indicative of an off year or more permanent concerns with his defence.
In the past, scouts have been uniform in their praise of McGuireís defensive abilities, which include advanced framing skills and his ability to work with his pitching staff. McGuire reportedly has soft hands, an above-average arm and good mobility behind the plate. Heís also more athletic than the average catcher.
Despite the struggles both at and behind the plate, McGuire received a September callup and made it into 14 games for the Jays. He hit .290/.333/.581 with three doubles and two homers in 33 plate appearances. His homers came off Cionel Perez and Sergio Romo. He appeared in 11 of those contests behind the plate, making one error and only catching 2 of 15 base stealers for a 13% caught stealing rate.
McGuire looks likely to begin 2018 back with the Bisons, even if the Jays can trade one of Russell Martin, Luke Maile and Jansen. His 2018 season was somewhat of a mixed bag. His performance for Buffalo during the bulk of the season demonstrated that McGuire is likely what his career minor league performance has suggested, which is a defence-first backup who will not embarrass the club at the plate. However, he seems to have had a rough year behind the plate for both Buffalo and Toronto, which hopefully is just a one-off occurrence. And his September performance for the parent club, while likely just a hot month, hinted at what 2017 suggested McGuire may be capable of. If nothing else, hopefully it provides McGuire with confidence going into 2019 that he can handle hitting at the major leagues.
21. Travis Bergen | LHP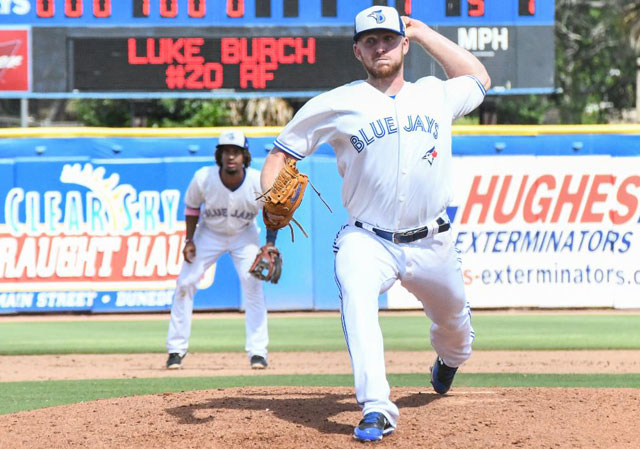 Image from MiLB.com.
| | | | | | | | | | | |
| --- | --- | --- | --- | --- | --- | --- | --- | --- | --- | --- |
| Year | Age | Team | G | GS | IP | H/9 | HR/9 | BB/9 | K/9 | ERA |
| 2018 | 24 | DUN | 16 | 0 | 21.0 | 6.9 | 0.0 | 2.6 | 13.3 | 1.71 |
| 2018 | 24 | NH | 27 | 0 | 35.2 | 6.6 | 0.5 | 2.3 | 10.9 | 0.50 |
Torontoís 7th round pick in the 2015 draft, left-handed pitcher Travis Bergen was selected out of Kennesaw State University. Torontoís scout responsible for the area must make Kennesaw State a frequent stop, as Bergen is the clubís third pick from the school this decade, following first-rounders Chad Jenkins and Max Pentecost. Although he doesnít have the pedigree out of university of Jenkins or Pentecost, itís far from inconceivable that Bergen could have the best career of the trio.
At Kennesaw State, Bergen made 30 starts and 16 relief appearances and finished with a record of 16-9 and 3.10 ERA. Reportedly, Bergen was drafted in large part due to the strength of his fastball, with recognition that his off-speed and breaking pitches needed work if he was ever to make it as a starter.
Over three and a half seasons in the minors, Bergen has pitched just 85.1 innings. Heís appeared in 59 games, making seven starts. In 2015 and 2016, Bergenís seasons came to an end in July, which was especially frustrating as his 2016 season began that same month. In 2017, Bergen threw his first pitch on July 25, but he stayed healthy throughout the rest of the season.
In 2018, Bergen appeared in 43 of the 59 games in his minor league career to date. Bergen pitched 56.2 innings in those games, all of which were relief appearances. Between Dunedin and New Hampshire, he posted a 0.95 ERA. In May he threw 12.2 scoreless inning, striking out 17, and the southpaw earned a promotion on June 1 to New Hampshire
While Bergen allowed six unearned runs in 2018, his ERA still would have been below 2 if all of those runs were earned. As impressive as his ERA were Bergenís 74 strikeouts, which worked out to 11.8 K/9. Bergen walked 15 batters, so he still posted a strikeout-to-walk rate of just below 5.
The 6-foot-1 southpawís future probably lies in the bullpen. With Torontoís bullpen having some openings for 2018, pending free agent signings or more trades of infielders, Bergen will likely have an opportunity to pitch for the parent club at some point in 2019, most likely as the year progresses. Assuming he remains healthy and does not struggle significantly, Bergen should see at least some time in Toronto, even if itís in September. He has to be added to the 40-man roster this off-season and the Jays will be curious to find out exactly what they have in Bergen, as they may have found a late-inning lefty to leverage at Kennesaw State.
Join us tomorrow for more of the Blue Jays top 30 prospects.