It's time for the newest edition of the Batter's Box Blue Jays Top 30 prospects. This marks the fourteenth iteration of the top 30 here on Da Box.
As we remind readers each year, the expectation of the top 30 prospects for any team is that one third will improve, one third will regress and one third will stay as they were. The Jays front office does not like to deal prospects so almost all of last year's top 30 are still eligible for this years list. There are just two exceptions, Danny Barnes who played a lot for the Blue Jays in the big leagues and Ryan McBroom who was traded. The other 28 players go into the box's mixer with the newly drafted players, the international signings, the traded-for players and those whose performance took a step forward in 2017. The mixer goes to work, powered by the votes of our minor league team, and kicks out the definitive list of the Blue Jays top 30 prospects. Twenty of last year's top 30 are back. As mentioned, two no longer qualify so eight have dropped off. Not all of the eight who dropped had bad years, some were injured and some just had average years and dropped off due to more competition in a stronger system.
As usual the first 10 are published today, the next 10 tomorrow, and the top 10 on the day after. Let the discussion begin!
30. Patrick Murphy | RHP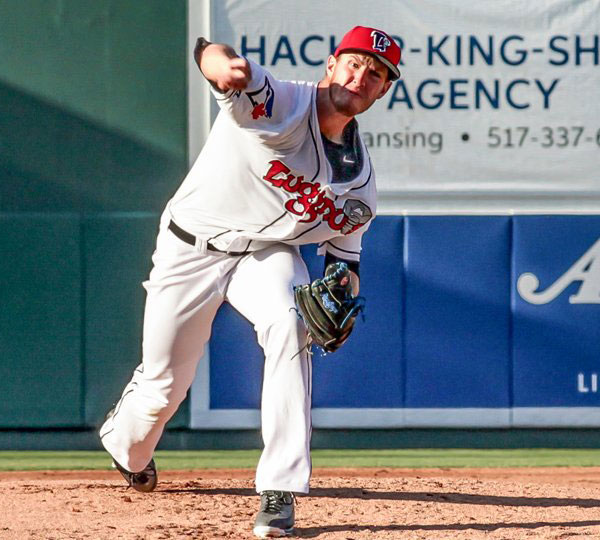 Image from MiLB.com.
| | | | | | | | | | | |
| --- | --- | --- | --- | --- | --- | --- | --- | --- | --- | --- |
| Year | Age | Team | G | GS | IP | H/9 | HR/9 | BB/9 | K/9 | ERA |
| 2017 | 22 | GCL | 3 | 2 | 9.0 | 7.0 | 0.0 | 1.0 | 15.0 | 0.00 |
| 2017 | 22 | LAN | 15 | 15 | 88.2 | 8.8 | 0.5 | 3.3 | 5.8 | 2.94 |
| 2017 | 22 | DUN | 2 | 2 | 9.0 | 14.0 | 0.0 | 3.0 | 5.0 | 7.00 |
Patrick Murphy pitched in his second full season in 2017 and for the first time exceeded 100 innings pitched. Murphy was drafted in 2014 and missed the most of the 2014 season, all of the 2015 season and some of the 2016 season due to injury. He also missed part of the 2017 season, six weeks in June and July. As a negative Murphy appears to be injury prone. On the positive side he doesn't have too many innings on his arm, although he has had Tommy John surgery so his arm might have a built-in innings limit.
Murphy had finished 2016 in Lansing and he returned to the Lugnut rotation for 2017. Other than a brief showing in the GCL as part of injury rehab, Murphy stayed in the Lansing rotation until late August. His last two starts were for Dunedin where Murphy should start 2018.
On the field Murphy pitched to a 2.94 ERA in Lansing. His numbers were good without being outstanding. He allowed a hit per inning, walked an average amount. His shortfall was his strikeouts, just 57 in 88.2 innings, a K rate of 5.8. However if we look at some splits his K rate was 4.8 before he was injured and 7.8 in his five starts in Lansing post his time on the DL. Five starts is a small sample but Murphy may have learned how to handle Midwest League hitters.
Murphy features a 92-95mph fastball, a good curveball and a developing change-up. If you are an optimist you note that Murphy has reached Dunedin at age 22 having pitched just 200 minor league innings. His pitches are still a work-in-process but he has potential. If you are a pessimist you note the lower strikeout numbers and worry about his durability. A season in Dunedin should be a good test.
29. Josh Palacios | OF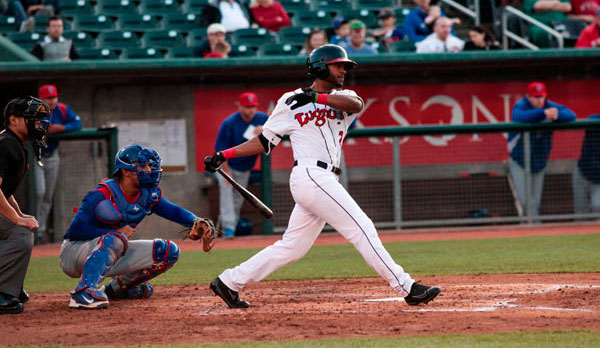 Image from Tyler Marcotte.
Year
Age
Team
AB
2B
3B
HR
BB
K
SB
CS
AVG
OBP
SLG
2017

21

LAN

368

18
3
2

42

78

12

6

.280

.360

.361

If you check the season stats for Josh Palacios you might wonder how he made this top 30 list. Palacios finished the season with a .280 BA and a .722 OPS, nothing special for a hitter who turned 22 during the season. But if you check his splits a different picture emerges. Palacios had a rough first half but reverted to expectations in July and August. His numbers in those months were very similar, he hit .340 in July and .333 in August. His OPS was .837 and .831 respectively. The second half numbers justify his inclusion here.
Palacios battled injuries for the first half of the season. He started the season on the DL, played poorly from mid April to mid-May then then missed time here and there through June when he went on the DL again for two weeks. When he came back from the DL in late June he hit like he did in 2016.
Palacios was a 4th round selection out of Auburn University in 2016. He played in 28 games in Vancouver where he hit .355. That earned him a nine-game stint in Lansing where he hit .342. As a result Palacios found himself on most top 30 lists including being ranked at 27 here in Da Box. The first half of 2017 did not support this ranking but the second half did. Palacios will be hoping he can stay healthy in 2018. He should start in Dunedin and get a chance to continue where he left off in 2017.
Palacios is a tall athletic outfielder who can play centerfield. Some scouts worry that if he has to play a corner outfield position his power might not be enough to get him full playing time. But with everyone hitting 20 home runs these days Palacios should be able to fill a corner spot if he can maintain an average around .300 to go with some power and plus defense.
28. Angel Perdomo | LHP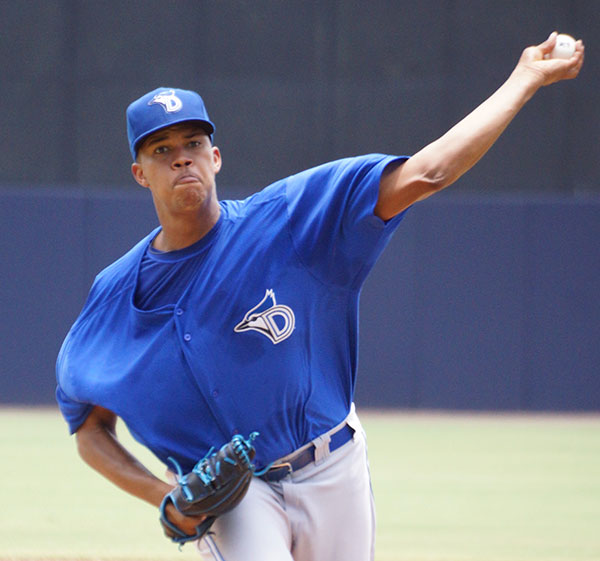 Image from Eddie Michels.
| | | | | | | | | | | |
| --- | --- | --- | --- | --- | --- | --- | --- | --- | --- | --- |
| Year | Age | Team | G | GS | IP | H/9 | HR/9 | BB/9 | K/9 | ERA |
| 2017 | 23 | DUN | 16 | 16 | 75.1 | 8.8 | 0.8 | 5.1 | 7.8 | 4.54 |
2017 was a lost season for Angel Perdomo. Lost because he was injured mid-season and held to just 75 innings pitched. And lost because his pitching showed no improvement from the previous year. Perdomo Is a very big, left handed pitcher. As a big man his co-ordination or body control was not where it should have been so Perdomo walked too many hitters. Blue Jay fans hoped that he could get better with his command because when he was "on" he could dominate a lineup. Unfortunately Perdomo's 2017 was worse in most areas when compared to 2016. Perdomo had pitched all of 2016 in Lansing and started 2017 in Dunedin. His hits per nine went from 7.2 to 8.8. His walks per nine went from 3.8 to 5.1. And his K rate went from 11.1 to 7.8. None of those Dunedin numbers are dominant or top prospect worthy.
Perdomo is still just 23 years old. There are no published reports as to what his injury was that ruled him out from early July. If he is fit, he will return to Dunedin for 2018 to try and regain his Lansing from from 2016.
27. Jon Harris | RHP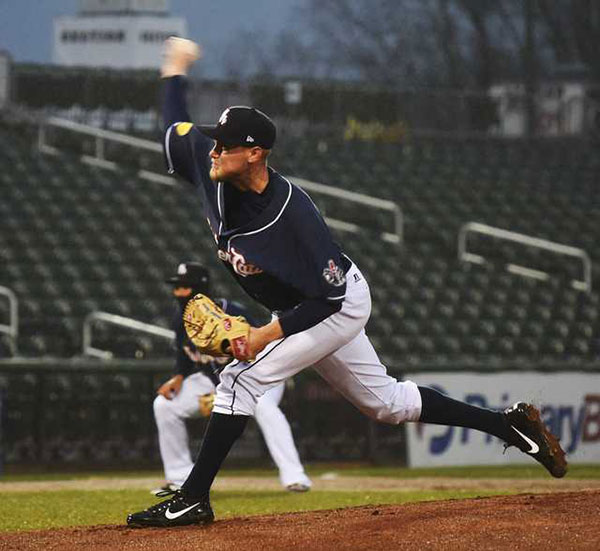 Image from New Hampshire Union Leader.
| | | | | | | | | | | |
| --- | --- | --- | --- | --- | --- | --- | --- | --- | --- | --- |
| Year | Age | Team | G | GS | IP | H/9 | HR/9 | BB/9 | K/9 | ERA |
| 2017 | 23 | NH | 26 | 26 | 143.0 | 10.6 | 1.3 | 3.0 | 7.1. | 5.41 |
Maybe there was a reason Jon Harris lasted until the 29th pick of 2015. Even though MLB.com's Jim Callis believed the Jays got a steal at the time they selected the Missouri State University product, the 6-foot-4 righthander has turned in two disappointing seasons out of three during his time as a pro.
Harris struggled badly in his first exposure to Double-A. Save for a good July in which he posted an earned run average of 3.68, his monthly marks ranged from 5.14 to 7.11. His home run/flyball skyrocketed to double digits after keeping it below four over his first two seasons. His groundball rate also dipped more than five percent.
What was most discouraging was right-handed hitters batting .333 against Harris. The St. Louis native had moved to the third-base side of the pitching rubber and changed his arm angle to throw over the top to make him more deceptive against right-handed batters, something that helped him enjoy a successful 2016 in which he went 32 consecutive innings with giving up an earned run with Lansing and helped him rack up two 11-strikeout, seven-inning outings.
Harris was not very lucky in 2017 as shown by a .327 BABIP (batting average on balls in play) and his FIP and xFIP suggested Harris deserved a better fate with marks of 4.53 and 4.13.
Fisher Cats pitching coach
Vince Horsman
says Harris changed
his mechanics
again this past June.
One of the selling points of Harris was his four-pitch repertoire that was considered to be at least average with his 93-94 MPH fastball and his curveball being graded as his best offerings. Horsman grades Harris' curve as plus and his change as plus-plus. With an initial projection of at least a mid-rotation starter, Harris looks to profile as a back-end starter if he reaches the bigs.
The 6-foot-4 hurler should return to New Hampshire to begin 2018. He turned 24 on October 16th.
26. Jordan Romano | RHP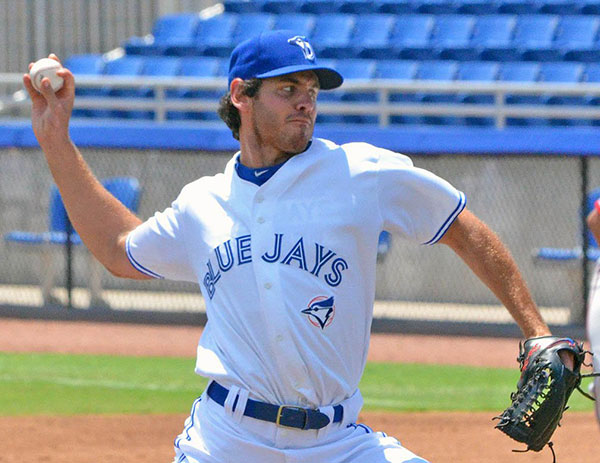 Image from John Lott.
| | | | | | | | | | | |
| --- | --- | --- | --- | --- | --- | --- | --- | --- | --- | --- |
| Year | Age | Team | G | GS | IP | H/9 | HR/9 | BB/9 | K/9 | ERA |
| 2017 | 24 | DUN | 28 | 26 | 138.0 | 9.2 | 0.1 | 3.5 | 9.0 | 3.39 |
Jordan Romano, a Toronto native, produced an excellent season for Dunedin this year, making 26 starts, 28 if you discount coming in after rehabbing major leaguers. Romano pitched 138 innings, a career high and again very good for a pitcher who had Tommy John surgery and missed all of 2015 and part of 2016.
Romano features a mid 90's fastball with good life and a power slider. That combination has many ticketing him for a bullpen role. However Romano is working on a change-up that would let him stay as a starter. The change-up is particularly important for pitching to left-handed hitters. In 2017 right handed hitters hit just .192 off Romano but lefties hit .351. That is the key issue for Romano. He is a top reliever prospect right now, but if he is to be a starter the change-up needs to improve. Romano will head to New Hampshire next season and AA is always a big test. He won't have a lot of time to get his change-up working before he gets bumped to the pen. That shapes 2018 up as a key season for the 24 year-old.
If you want to know more about Romano, Sportsnet's Arden Zwelling went to Dunedin this season and wrote a complete account of the story of Jordan Romano.
25. Zach Jackson | LHP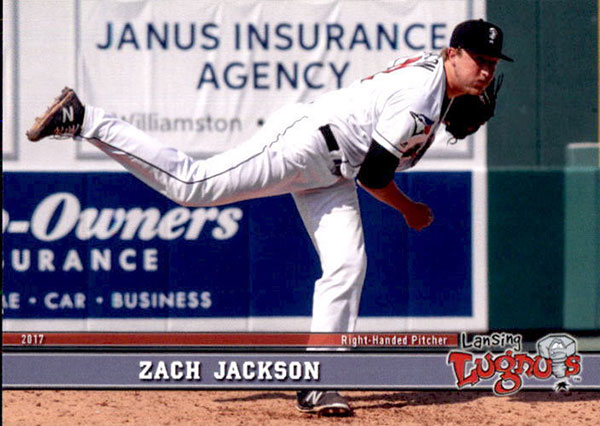 Image from ebay.
| | | | | | | | | | | |
| --- | --- | --- | --- | --- | --- | --- | --- | --- | --- | --- |
| Year | Age | Team | G | GS | IP | H/9 | HR/9 | BB/9 | K/9 | ERA |
| 2017 | 22 | LAN | 15 | 0 | 20.0 | 5.9 | 0.9 | 3.6 | 11.3 | 3.15 |
| 2017 | 22 | DUN | 27 | 0 | 31.0 | 5.5 | 0.0 | 5.2 | 12.5 | 2.03 |
Zach Jackson
climbed two steps up the minor league ladder in 2017 and appears to be on track to become a potential impact reliever in the bigs. After giving up runs in three of his first four appearances in full-season ball, the 2016 third-round pick from Arkansas reeled off 10 straight scoreless outings with Lansing to earn a promotion to Dunedin in early June.
It didn't take long for Jackson to gain his footing in the Florida State League as he strung together streaks of five scoreless outings in June and July before reeling off nine straight shutout appearances and 10 of 11 overall to end the regular season. He earned the victory in Dunedin's clinching of the co-Florida State League championship against Tampa by limiting the Yankees to one run over the final 1-2/3 innings.
Jackson still needs to cut down on the number of ball fours he handed out as his walk rate increased by over one-and-a-half from Lansing to Dunedin. He also experienced good fortune on balls in play as his BABIPs in Lansing and Dunedin were at .239 and .279 respectively. He did generate a few more groundballs as his worm-killing rate went up nearly four percent.
The 6-foot-4 righthander has a fastball that has been clocked in the mid-90's with a breaking ball that could be categorized as a "slurve" (slider speed, curveball break) and an occasional changeup.
Jackson is expected to begin 2018 with New Hampshire. The Tulsa, Oklahama native will celebrate his 23rd birthday on Christmas Day.
24. Kevin Vicuna | SS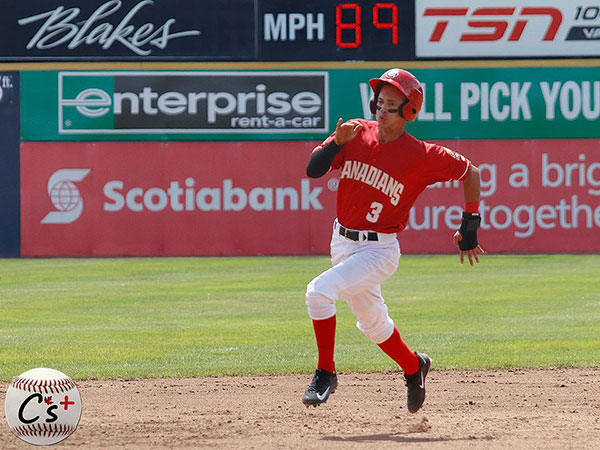 Image from CsPlusBaseball.ca.
Year
Age
Team
AB
2B
3B
HR
BB
K
SB
CS
AVG
OBP
SLG
2017

19

VAN

189

3
1

0

11

36

14

7

.280

.333

.307

2017

19

LAN

50

1
1

0

2

13

3

2

.340

.388

.400

2017

19

DUN

84

1
1

0

3

18

0

0

.202

.256

.238

Kevin Vicuna is an under the radar prospect in a system that is loaded with shortstops. Vicuna turned 19 at the start of the year and was assigned to extended spring training in April. When Dunedin needed a shortstop in late April they did not promote from a player from Lansing, they promoted Vicuna from extended spring to Dunedin. Vicuna did not dominate but he did OK for a 19 year old who had not played above Bluefield. Dunedin represented a two to three level jump. Vicuna hit .202 there in 84 at-bats. He struck out 19 times in 84 at-bats, a 22% rate. His low batting average was a reflection of one of his issues, a skinny frame. Vicuna is listed at six feet tall and 140 pounds. That is light, extremely light for a baseball player.
After a month Vicuna came back to extended and then was assigned to Vancouver where he hit .280 in 46 games. For the last few weeks of the season Vicuna headed to Lansing and hit .340 in 12 games. So, at age 19 Vicuna can hit some and is a very good fielder by all accounts. He has two areas to focus on. One, as mentioned previously, is getting stronger. The second is a typical issue, plate control. Vicuna is a free swinger. Through his three stops he walked 16 times as opposed to 68 strikeouts. A little more plate control combined with some muscle should see Vicuna start to produce better at the plate. Vicuna will head to Lansing to start 2018 and will vie for playing time with the other middle infield prospects.
23. Erick Pardihno | P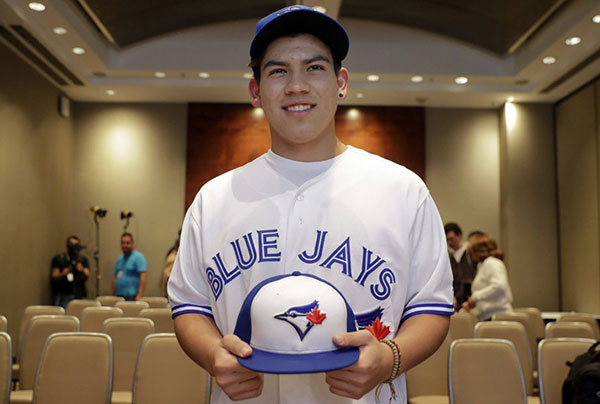 Image from The Toronto Star.
During this year's international signing period, Toronto continued the club's long-standing connection to Brazil by inking the top-rated arm available. The hurler just happened to be a 16-year-old diminutive Brazilian right-hander ranked number 5 on MLB.com's list of 30 international amateur prospects.
Toronto became the first MLB team to sign a Brazilian player when they signed Jose Pett in 1992 for $700,000. Although this move didn't work out, reportedly because Pett had difficulty mentally adjusting to North American baseball, during which he developed difficulties with addiction, Toronto had more success when they drafted Yan Gomes in 2009. Gomes became the first Brazilian native to play in the majors in 2012 when he had a cup of coffee with the Blue Jays.
During this past international amateur signing period, Toronto continued to look to the Brazilian market by signing Eric Pardinho for $1.4 million. Although the Mariners and Diamondbacks have the biggest presence in Brazil right now, Toronto had been scouting Pardinho heavily for two years. There was also some good karma, as Pardinho played for the Nippon Blue Jays, which was a team established shortly after Pett signed with the Jays.
Pardinho started playing baseball after an uncle saw him throwing a paddleball on the beach and thought he may have talent on the diamond. The nearby city of Bastos, with a heavily Japanese population, had given them some exposure to the sport. Pardinho's mother's parents are Japanese, but he's said that he hopes his success encourages all Brazilians to explore baseball, even those who do not have Japanese heritage.
Pardinho spent the past two seasons at the Yakult Academy in Ibiuna, which is essentially Brazilian baseball's equivalent to the IMG Academy. This is where top Atlanta Braves prospect Luiz Gohara had once trained and Pardinho was its youngest resident. While little can be discerned about his stats against Brazilian competition, Pardinho started gaining attention last year when he struck out 12 in 6 innings during a win over the powerhouse Dominican Republic at the under-16 Pan Am Games. He also struck out two batters from Pakistan at a World Baseball Classic Qualifier at 15.
At Pardinho's introductory press conference, assistant General Manager Andrew Tinnish revealed that the Jays had been scouting Pardinho since he was 14, adding "He is one of the most advanced I've seen at this age. This is a very mature 16-year-old."
His fastball has been clocked at 94 mph, but it usually sits in the low 90's. He also throws a curveball, which projects to be a plus pitch once it's finished. There are reports that he also throws a slider, but his third pitch is a change-up that projects as average. He gets glowing reviews for his poise and mental strength, which could be important as he adjusts to life in a new country against much more experienced competition. He's been reported to be between 5-8 and 5-10 in depending on the source.
Parindho has a received strong review for his pitching technique, which relies heavily on his lower body for leverage, rather than putting too much strain on his arm. He also reportedly focuses on throwing strikes and attacking the zone with better than average control for a prospect of his experience level. After signing, Pardinho spent the rest of the year at the team's Dominican Republic complex.

22. Yeltsin Gudino | SS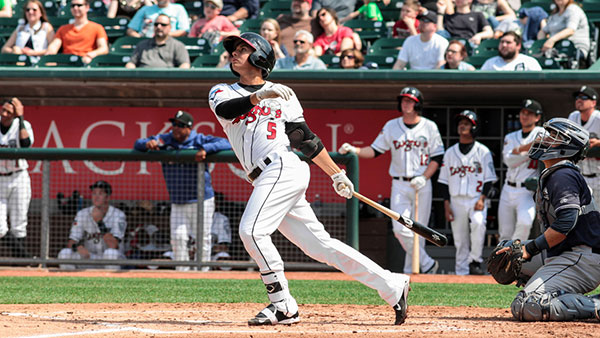 Image from MiLB.com.
Year
Age
Team
AB
2B
3B
HR
BB
K
SB
CS
AVG
OBP
SLG
2017

20

LAN

413

14

2

2

35

63

2

3

.259

.330

.317

Seeing Yeltsin Gudino in a strong Blue Jays top 30 might be a surprise to some. He hit just .259 in Lansing this season and his OPS was just .647. Those numbers do not appear to be worthy of the top 30. However Gudino does have some things going for him. For starters, he plays shortstop and plays it well. While his batting average is not inspiring, if you track his BA over the last four seasons it is .145; .185; .219; and .259. Similarly his OPS has increased in each of the last four years. And finally his strike-out rate this season was the lowest of his career and improved from 23% in 2016 to 15% in 2017.
Gudino is in some ways a typical young Latino player. He is listed at six feet tall but his weight is just 150 pounds. At 20 years old Gudino held his own in Lansing and should be playing in Dunedin in 2018 at age 21. Gudino is undoubtedly under-strength for major league baseball. As each year goes by, and as he gets stronger, the expectation is that some of his ground balls or fly balls will be hit harder, and go further, enabling him to punch up his average. His eye is fine, he walked a decent amount this year compared to his strikeouts.
There is a lot of competition at the shortstop position in the Jays system. New draftees Logan Warmoth and Kevin Smith will be looking to make the Dunedin team too and another prospect named Bo Bichette could be still in Dunedin to start 2018. Gudino just needs to keep getting better year over year and that will keep him on the top 30 list.
21. Kevin Smith | SS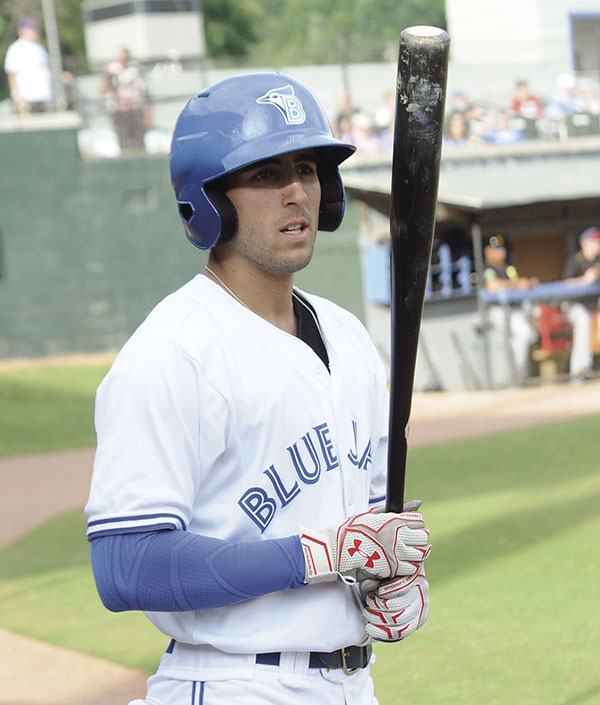 Image from Bluefield Daily-Telegraph.
Year
Age
Team
AB
2B
3B
HR
BB
K
SB
CS
AVG
OBP
SLG
2017

20

BLF

262

25

1

8

16

70

9

0

.271

.312

.466

This Kevin Smith hopes he will be a Jay and not a "Silent Bob" in Toronto's crowded shortstop position. He was the second shortstop taken by the Blue Jays in the 2017 draft after they selected North Carolina's Logan Warmoth 22nd overall. Taken in the fourth round, Smith capped off a three-year career with the Maryland Terrapins by slugging .552 in his junior season with an OPS of .875—a jump of 158 points from a disappointing sophomore campaign with the bat.
Smith really started to gain attention in the Cape Cold League in 2016 when he earned All-Star honours and the Defensive Player of the Year Award with Yarmouth.
Baseball America
has said Smith has shown the good hands and arm strength to handle shortstop while
MLB Pipeline
lauded his quick release and instincts.
Smith is definitely dedicated to being the best defender he can be by starting up a company called Elevate Baseball. He told Bluebird Banter recently that he is trying to establish his brand—by way of camps, custom apparel and a website—as a "one-stop-shop for position players who are looking for a place to improve their defensive skills."
With the bat, Smith is said to have average power as evidenced by a slugging mark of .195 in his pro debut with Bluefield but he has trouble making contact as he struck out nearly one-quarter of the time. The 6-foot-1 right-handed hitter had help from the BABIP gods with a .337 mark but his batting average was just .271, which was a couple of ticks lower than his college best of .273 in his freshman campaign.
If his bat can meet the ball a little more often and continue to provide average pop, Smith could be a viable major league starting shortstop.
With Warmoth expected to at least make his full season debut in Lansing and fellow prospects Kevin Vicuna and Yeltsin Gudino also in the picture, Smith may be heading to extended spring training before getting assigned to Vancouver in 2018. The Troy, New York native will turn 21 on the 4th of July.


Join us tomorrow for more of the Blue Jays top 30 prospects.