I should have known right then it was too good to last
God, it's such a drag when you're livin' in the past

Baby, even the losers get lucky sometimes
Even the losers keep a little bit of pride
San Diego's Magic Number is now 12, by the way. They have 17 games remaining, the Dodgers have 16. If the Padres go 8-9 the rest of the way, which is more or less what they do, the Dodgers will need to go 13-3 to catch them.

WEST	         W	L	PCT	GB	HOME	ROAD	RS	RA	
San Diego	72	73	.497	-	39-32	33-41	616	653	
LA Dodgers	67	79	.459	5.5	37-37	30-42	636	696	
San Francisco	66	80	.452	6.5	33-42	33-38	598	686	
Arizona	        66	81	.449	7	30-42	36-39	636	806	
Colorado	59	86	.407	13	37-37	22-49	642	779	

Here's the pretty picture. Notice that the Rockies have finally climbed above .400! Good for them.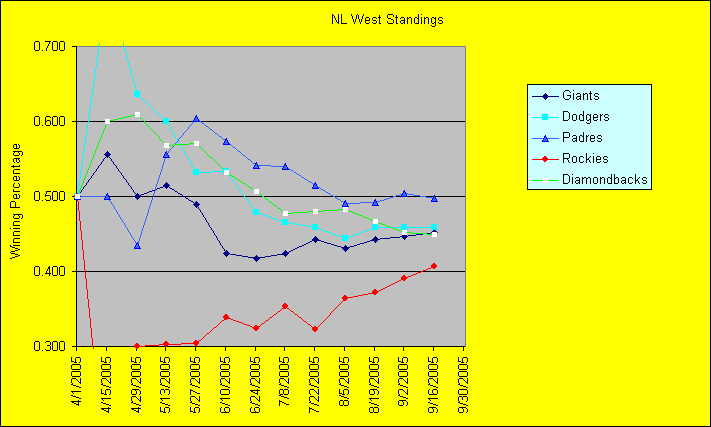 There was actually a wee bit of excitement in the NL West this past fortnight, besides the Padres nip and tuck battle to see if they could post a better record in 2005 than the Toronto Blue Jays. That one is going down to the wire. The other excitement... well, it flared briefly, and then it fizzled.
The San Francisco Giants ran off a six game winning streak at the beginning of September, which brought them to just 10 games below .500 at 63-73. They then lost two of three to the Dodgers and three of four to the Cubs. This being the NL West, of course, they were still just seven games out of first place as of last Monday. And they had the Padres coming in to play three games at the House that Pays For Barry. Even better, they finally, finally had Barry himself.
Bonds made his season debut that night, doubled and scored in his first at bat, and the Giants won 4-3 to cut the gap to 6 games. On Tuesday, Barry walked twice and singled, as the Giants won again to move into a tie for second, 5 games back of San Diego. On Wednesday, Barry rested. He struck out as a pinch-hitter in the 8th inning, with two men on and the Giants trailing 2-1 - but Pedro Feliz picked him up moments later, delivering a two run double to put the Giants ahead, and scoring himself on a Matheny single. The Giants went to the ninth with a 4-2 lead, three outs away from shaving the gap to 4 games. They got within one out of making it happen. But it seems that other closers besides the one employed by the Blue Jays blow games as well, and this one was a crusher. A season-ender...
Armando Benitez couldn't close it out. He struck out Mark Loretta to start the inning. But Ramon Hernandez doubled to centre and Brian Giles walked. Benitez got Joe Randa on a flyball for the second out, but then walked Robert Fick to load the bases. And then Sean Burroughs - yes, Sean Burroughs - delivered a pinch-hit double to tie the game. The Padres scored the winner in the tenth off LaTroy Hawkins, and the Giants were six games back. And done for. Last night they opened their four game series with the Dodgers by getting stomped.
If Houston wins the Wild Card, the Padres will play St. Louis in the first round; if Florida or the Phillies make it, the Padres will play the Braves. No matter who they end up facing, people will dismiss them before it all starts, especially if they finish up at 80-82.
It would be a mistake to dismiss them, though. Two words: Jake Peavy. When he's at the top of his game, Peavy (12-6, 2.93) is as good as any pitcher in the National League. He hasn't spent nearly as much time at the top of his game this season as, say, Chris Carpenter or John Smoltz. But after scuffling through June and July (3-4, ERA in the 4.50 range), Peavy has recovered his form. In his last 8 starts, he is 4-2, 1.87, with 65 Ks in 57.2 IP. He is quite capable of out-pitching any other team's ace. And Adam Eaton (10-4, 3.97), who would get the call in the second game against either Mulder or Hudson, isn't exactly chopped liver himself. Eaton was lost for almost two months - he's started fewer games this season than Roy Halladay. But he's tuning up for the post-season as well.
The Padres have had problems after the first two starters - Woody Williams has suffered through an injury-plagued season, Brian Lawrence has been erratic, Chan Ho Park and Pedro Astacio are... well, they're Chan Ho Park and Pedro Astacio. You never know what you're going to get. But in the post-season, depth at starting pitcher is not quite as important as neat handwriting. The Padres have a very good and very deep bullpen - Paul Quantrill pitched well in San Diego, but he was still just the sixth man in the pen. (And now he's a Marlin.) It's very much a RH staff, and St.Louis and Atlanta both list towards being RH hitting teams. The Cardinals do have Jim Edmunds, of course, as well as the always-dangerous if always-questionable Larry Walker. The Braves have Chipper Jones. But the really Big Scary Bats are the guys named Albert Pujols and Andruw Jones.
The Padres attack is led by three LH hitters: Brian Giles, Ryan Klesko, and Mark Sweeney. The Cardinals have one LH starter, and he's a very good one indeed - a fellow named Mark Mulder, who'll probably take the ball against Eaton in Game Two. Tony LaRussa, of course, is the man who pioneered the use of multiple LOOGYs - for which he should be sentenced to spend all eternity watching managers make pitching changes - and he'll have Ray King and Randy Flores in his bullpen to work to Giles and Klesko.
If the Padres play the Braves, we'll have to see who Bobby Cox uses in Game Three (it'll surely be Smoltz and Hudson in the first two). The Braves have one LH starter, Horacio Ramirez (11-9 4.65) - Cox also has John Thomson (3-4, 4.76) and this year's Leo Mazzone Special, Jorge Sosa (11-3, 2.55). John Foster is the LH in the bullpen.