Jays win the businessman's special.
How do you become a businessman? I quite like the idea of having games specially for me.
HLH allowed three runs over a solid 7 and a bit Innings followed by Sir Ribert Victor who came in to apply the
coup de grace
in the eighth. This was no stroll in the park and the Jays had to claw this one out, even after staking Doc to a four run lead.
Star of the Game
: Halladay, as usual.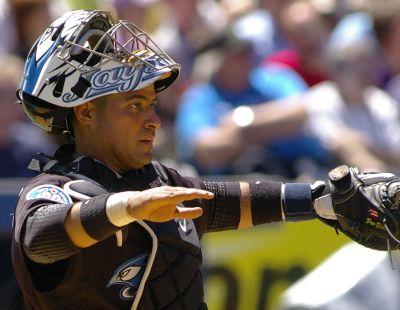 Unsung Hero
: Bengie Molina had a couple of RBI on a hard hit liner off Tatis' glove that was the difference making offensive play.
For the O's
: Erik Bedard was tough yesterday, true he gave up four runs in seven Innings, but he kept the O's competitive and made the Jays work for everything they got.
Boxscore
Don't miss it
: It's Richard Griffin's one positive article of the season, he approved of the Jays performance yesterday calling it "
...baseball the way it should be played
." Normally grumpy service will doubtless be resumed shortly.
Elsewhere
: Close finishes everywhere in the AL contenders games. The Yankees and Twins winning by one and the Red Sox losing by one. In Chicago The Big Unit was looking for his third no-hitter in the seventh and the Yanks were cruising along at 7-0, then Iguchi lined a single and the wheels almost fell off. The White Sox got two in the seventh and four in the eighth off Kyle Farnsworth until Torre had seen enough and called for Mo to restore order. in Kansas City a rejuvinated Mike Sweeney gave Red Sox nation something new to obsess over as his ninth Innning RBI single led to Papelbon's second blown save in a row and Boston's seventh loss in August. The Twins toughed one out against Detroit on Justin Morneau's 30th homer and seven strong Innings from Johan Santana. Minnesota are now half a game ahead of the White Sox and one and a half ahad of Boston for the Wild Card.
Today
: Teasing Ted against Teasing Carlos Silva, 8:10 PM.