I promised to look at Alfonso Soriano's career next, but after sober second thought, it seemed to me that his mark will be made as a power-hitting #3 hitter rather than as a leadoff hitter. We really need another year or two to see how he does at it, before examining his Hall chances.
So, instead, I thought that I would take a look back at my Hall Watch series of 2 years ago to see how the players are doing. We will start with the catchers-
Ivan Rodriguez
,
Mike Piazza
,
Jorge Posada
, and
Javy Lopez
.
Ivan Rodriguez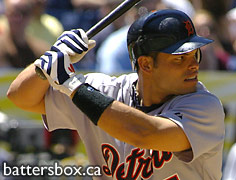 In 2004, at age 32, Rodriguez had a big year hitting .334/.383/.510 and led the Tigers to a 29 game improvement in the standings. I compared Pudge with Ted Simmons, Yogi Berra, Johnny Bench and Gary Carter and concluded:
"Pudge's career path is more favorable than any of his peers here. He's hitting as well as ever, if not better. My guess is that he'll follow the Yogi career path and catch between 250-300 more games. However, his slow steady improvement with the stick will, in my opinion, lead to a productive end of career as a DH. Pudge's career line, using the Green projection method:
.297/.350/.488, 375 homers, 1450 runs scored, 1550 runs driven in
With his defensive skill, he's basically achieved Johnny Bench's career already. When he's done, I don't think that there will be any question who the greatest catcher is."
After a less impressive year in 2005, Pudge had a fine year in 2006 leading the Tigers back to the World Series. His bat has fallen off the last 2 years; this year's .300/.332/.437 performance was almost exactly league average hitting. His defence though remains outstanding. Each of the past 2 years, he has thrown out over 50% of runners attempting to steal. He also deserves some credit for the development of the Tigers' young pitchers- Verlander, Bonderman, Robertson and Zumaya.
He has now caught over 1900 games. Bob Boone and Carlton Fisk each caught 2200 games, and Rodriguez has a chance to catch them. I still think that he is going to be seen as the greatest catcher ever when he hangs up his spikes, although it may be that his end of career may be more like Boone and Fisk than like Yogi Berra. At this point, it does not matter much.
Mike Piazza


In 2004, I said that "There has not been a catcher who has hit as well as Piazza. Not even close". After an off year in 2005 and a .283/.342/.502 campaign at age 37, that is still true. He has now caught an additional 200 games, for a total over 1600. A catcher with good career length, who hits like Willie Stargell. That's Piazza. He is an easy Hall of Famer.
Jorge Posada


In 2004, Posada had hit .275 with power and 80 walks a season for 5 years running. I said:
"Posada needs to have 3-5 years like the past 5, and 2-3 respectable ones to have a Hall of Fame career. That is the Fisk/Hartnett route to the Hall. Javy Lopez, as we shall see next, is in about the same situation. My guess is that one of the two will make it, and if forced to choose, I'd say Posada."
Posada has now put in 2 more very good years, with last year's .274/.374/.492 a little better than 2005. His defence remains solid.
So, where is he? If his career ended now, he would be and should be on the outside looking in. But, he has now caught over 1200 games with an OPS+ of 122. I have been unable to find a catcher with those qualifications after his age 34 season who is not in the Hall of Fame. Ernie Lombardi is close. Bill Freehan, Elston Howard, Wally Schang and Walker Cooper don't make it. Can somebody find a catcher who's equal to Posada at age 34 on both counts and not in the Hall of Fame? Anyways,
his closest comparable players
now are Carlton Fisk, Roy Campanella, Mike Lieberthal and Gabby Hartnett. He's a lot more like the 3 greats than Lieberthal. I say that he needs 300-400 more games as a catcher, with a fairly gentle decline in offensive performance, to make it. At this point, the likely boundaries of Posada's career are Bill Freehan and Carlton Fisk. Freehan has a pretty good Hall case himself, and if Posada ends up with a more impressive career, he should get in.
Javy Lopez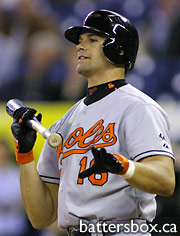 In 2004, Lopez had come off a .316/.370/.503 year in Baltimore. At age 32 and with 1200 games under his belt, here is what I said of him:
"What are Lopez' chances of a Hall of Fame career? Choosing comparables is difficult. He has the light-early use career pattern of Posada, Fisk and Hartnett with the performance levels of Freehan and Carter. Freehan is considered by many to be a viable Hall of Fame candidate, and I'd say that Lopez is roughly where Freehan was at this stage of his career (a little ahead on performance, a fair bit behind on playing time). If Lopez can continue at his career level for another 500 catching games, I think that he'll sneak into the Hall. I'd say that his chances are maybe 40% of doing that."
After two poor seasons, you'd have to say that the odds are against Lopez. His first three
BBRef comparables
are Hall of Famers, but in truth, he's a lot closer to Lance Parrish than to Fisk, Hartnett and Campanella. He has made one comeback already, and he will need another one to have any kind of a shot at glory, and that at this point is fairly unlikely.
I guess I did pretty well with the catchers. But, believe me, there were a few projections at other positions which look pretty ridiculous. Next week, we'll have a look at how I did with the first basemen, and turn our gaze to Todd Helton who we passed on last time.