The Blue Jays have added right-handed pitcher Reidier Gonzalez to their 40-man roster. That means the 24 year-old Cuban is protected from being selected by another club in the Rule 5 draft on December 10th.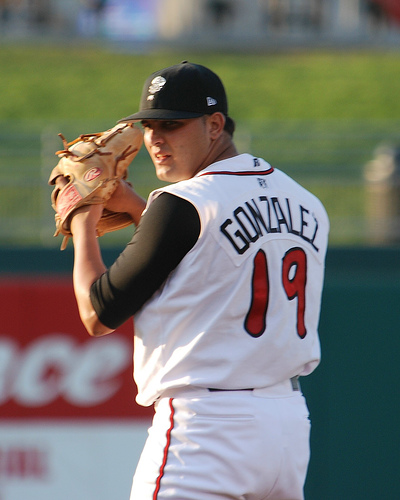 Gonzalez went 4-6 with a 2.90 ERA and a 1.15 WHIP in 17 starts with AA New Hampshire last season but was battling groin problems that derailed any chance of being called up to the big club. Currently, he's pitching for Phoenix in the Arizona Fall League where he has posted a record of 2-0 with a 3.60 ERA in six appearances, five of them out of the bullpen. So far, Gonzalez has pitched 15 innings with a 11-5 K-BB ratio but he has a WHIP of 1.6 and hitters are batting .302 against him. Batter's Box ranked him #27 in its top 30 prospects.
According to Jordan Bastian's article above, the Jays still have two more spots to fill on the 40-man roster. Some of the notable players the Jays have to decide to protect by Friday include catcher Brian Jeroloman, second baseman Scott Campbell and outfielders Welinton Ramirez and Johermyn Chavez. Will the club wind up protecting any one of the four or will they leave themselves some flexibility at the Rule 5 draft? It would appear Chavez, the #12 prospect in the Batter's Box Top 30 and #1 according to the Hardball Times, has the best chance to be added to the 40-man roster. Anyone picked up in the Rule 5 must be put on the 25-man roster and remain there all season or be offered back to their original team.
In other Jays-related news.......
Rumours continue to circulate about Pat Gillick coming back to Toronto as an advisor according to the Toronto Star.
USA Today's Bob Nightengale twitters that Roy Halladay is being targetted by the Dodgers. Meantime, the New York Baseball Digest says the Yankees should get Doc even if it means giving up Joba Chamberlain or Phil Hughes.
The Hardball Times sums up the Halladay situation nicely.
---
Around the majors......
---
In another shocking development that has nothing to do with baseball.........
The Detroit Lions and the Cleveland Browns game this Sunday is being blacked out in the Detroit area. I don't know why. They're two evenly matched clubs. ESPN's Mike & Mike run down eight good reasons to go to the game that could well decide who gets the number one pick in the 2010 NFL draft.