Baseball season approaches, and none too soon. As we wait for spring training to begin it is a good time to carefully look at the Blue Jays minor league teams and try to understand how the players will fit into those teams. In this first part we will look at the catchers, then follow with corner infielders, middle infielders, outfielders and starting pitchers.
And away we go......
The Jays have tremendous depth at the catcher position, in fact they have too many catchers to neatly fit in to all the starting catcher positions. JP Arencibia, Brian Jeroloman, Travis d'Arnaud, Carlos Perez, AJ Jimenez, Yan Gomes, Sean Ochinko and Santiago Nessy gives us eight to split among six teams. Something's gotta give.

Toronto: It is obvious now that JP Arencibia, backed up by Jose Molina, will handle the cacthing duties in the big leagues.

Las Vegas: Brian Jeroloman has already had some brief exposure to AAA, seven games in 2010 and twenty-five games in 2008, but having spent almost three years in AA Jeroloman now has to prove himself in AAA. Jeroloman is 25 years old now and will turn 26 in May. Catchers often take a little longer to make it to the big leagues but at age 26 this is a big year for Jeroloman. 2009 was a very bad year for him, he blames his performance on injuries, but 2010 was a bit of a bounce back year. Jeroloman doesn't have a lot of power and he relies on a good eye to pad his on-base and OPS stats. There is always a debate as to whether Jeroloman should be more aggressive or should he stay as he is, taking strike one and not being adverse to the walk. The offense required of a good defense catcher in the major leagues is not high. If Jeroloman can hold his batting average over .250, and maintain a decent walk rate, he will find work in the majors. His defense is excellent and major league ready right now.
Jeroloman's backup will be Ryan Budde, a minor league veteran.

New Hampshire: Travis d'Arnaud will be the starting catcher for the Fisher Cats in 2011. d'Arnaud started 2010 in excellent form but a back injury reduced his effectiveness and ultimately cost him the second half of the season. Nevertheless I expect Travis to be in New Hampshire in 2011. d'Arnaud reportedly showed excellent power at a Jays mini-camp in Toronto in January.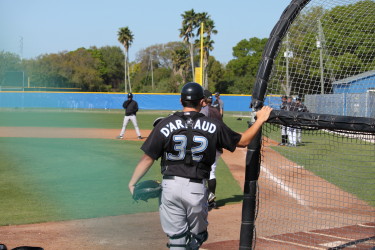 The question in AA is, who will backup Travis? There are a couple of "journeymen" candidates, Al Quintana and Matt Liuzza. Yan Gomes, who backed up d'Arnaud in Dunedin in 2010, would be a long shot to make AA this year.

Dunedin: AJ Jimenez should be the starting catcher for the Jays in 2011. Jimenez is still just 20 years old, he turns 21 on Mayday. Jimenez spent all of 2010 in Lansing, his second season there, hitting .305 for the Lugnuts. Jimenez is another Blue Jay catcher with an excellent defensive reputation. His challenge in high A will be to prove his bat can live up to his defense. Jimenez, like many Latino players, is a free swinger although he improved his eye in 2010. Some scouts question whether his bat will allow him to make the big leagues. Dunedin will be a test of that.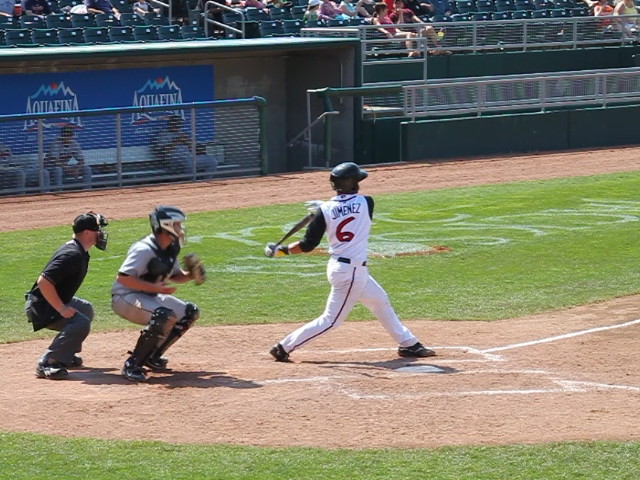 Jimenez's back-up will be an interesting decision for the Jays brass. Sean Ochinko will look to move up from Lansing where he was the Webster award winner in 2010. The previously mentioned Yan Gomes could also remain in Dunedin, and Jon Talley will also look for some catcher at-bats. The Jays have said Talley will play a lot of first base in 2011 but they are reluctant to give up on him as a catcher. Ochinko deserves the move up and he has the flexibility to play around the infield corners as well. The easy way out of the log-jam for the Jays is to send Gomes to AA, and have Talley and Ochinko as back-up catcher/first base guys. It would also not be out of the question for Gomes to go to Lansing to allow him to work on his catching skills.

Lansing: Carlos Perez, another Webster award winner, will move up from Auburn to Lansing to experience his first full season team. Perez, like Jimenez, is 20 years old but Perez is six months younger so he won't turn 21 until after the season ends. Perez has always shown a strong bat and he should continue to hit in the Midwest League.

Rookie: Santiago Nessy signed a big contract with the Jays in 2009. Last season he went back to the Dominican Summer League to get assimilated into professional baseball. Nessy should play in North America in 2011. Nessy will be backed up (although the Jays may have two teams in extended spring) by Pierce Rankin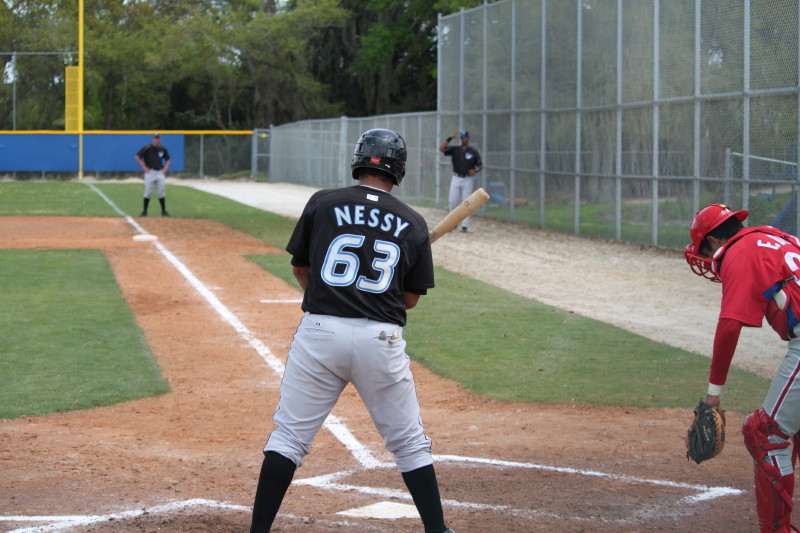 Tomorrow we look at the corner infielders.