I was recently in Dunedin to watch four Dunedin Blue Jays games. Here are my impressions of the players I saw.

Aaron Sanchez
Lets start with the top prospect in the organization. Sanchez came out for the first inning and was throwing fastballs in the 94-95 mph range, with at least one at 97. Unfortunately for him he was not throwing enough strikes. He used 23 pitches in facing four hitters. With an 80 pitch limit he would be out of the game in the fourth. For that reason, or maybe some other reason, Sanchez dialed it back a little in the second inning, his fastball was now in the 93-94 mph range and his command was much better. From 23 pitches in the first Sanchez then used 9, 14, 14 and 14 pitches over the next four innings. Sanchez pitched into the sixth inning allowing just two hits and walking one. He had six strikeouts.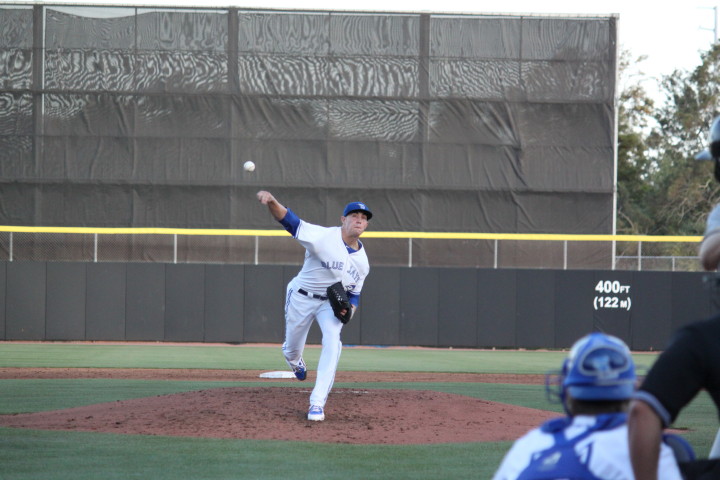 Sanchez's fastball is obviously a big weapon. He induced many swings and misses with it and it has good run in addition to the speed. Sanchez has a plus change-up that he threw at 88-90 mph. It was more 90 in the first inning and 88 in the later innings. This is not the typical 10 mph difference that is usally seen in the big leagues but the pitch has good movement and works well at this level. If Sanchez can learn how to command a 96 mph fastball then the 88 mph change up will be fine. Darold Knowles, the Dunedin pitching coach, really likes Sanchez change, he said it is major league quality right now.
Sanchez also threw a curveball although his command of it was inconsistent.

Andy Burns
Burns is the leading hitter on the Jays and has kept his batting average in the 300 range all season. With Burns you have to remember that he is short at-bats. In his draft year he did not play college ball, he had transferred colleges and had to sit out. Then last year he missed half the season with an injury. Coming into 2013 Burns had less than 400 at-bats in the previous two seasons combined.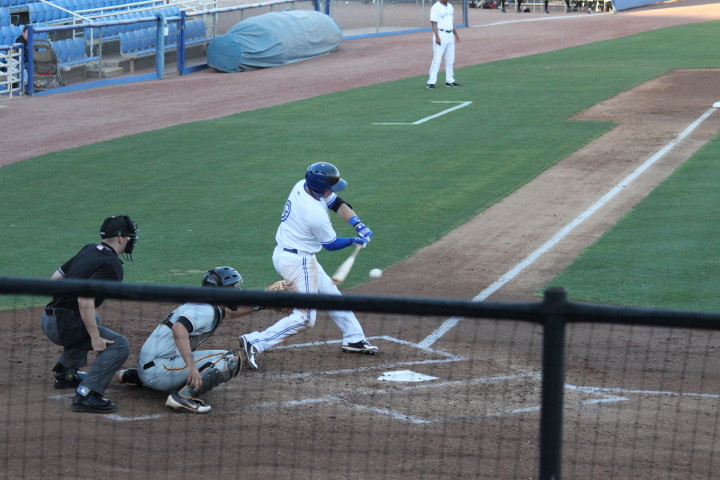 The first thing to note about Burns is his good eye at the plate and his hand-eye coordination. Burns looks to be sitting on an inside fastball and when he gets it he has a short sharp stroke to the ball. One of his home runs in the games I saw was to straight centre, off a good pitcher. In the at-bats I saw, Burns had good quality at-bats, would go after any middle-in fastball, and was good at fouling off outside pitches.
Defensively Burns looks fine at third base although he did not have a lot of tough plays to make when I saw him. His arm is fine for third base and, as a former shortstop, you know he has mobility. Burns has decent speed, enough to claim a few infield singles in the games I attended.
I think Burns big adaptation will come in AA when pitchers with better control pound him away. He will have to work on that outside pitch but I think he can do it. Burns does not wow you in any aspect of his game but he is a very steady player.

AJ Jimenez
Jimenez played just one game and looked like he was back to his old self. Jimenez is a good defensive catcher with a line drive stroke. He will not hit many home runs but he will make contact. However, in the game I saw him catch he had real defensive trouble with Tyler Ybarra. Darold Knowles, the pitching coach, put his troubles down to Ybarra's unusual delivery and Jimenez's unfamiliarity with him.

Jon Berti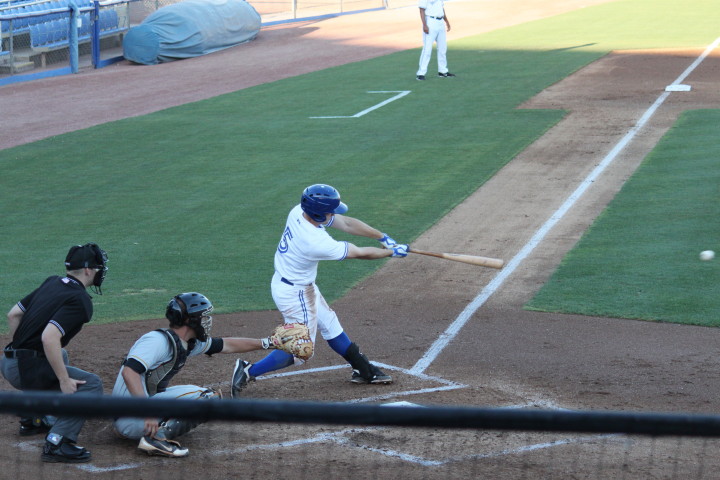 Berti is a very fast second baseman with decent skills. Berti gets down the line very fast, even though he bats right handed. However Berti is on the smaller side and does not have much pop. His defense, speed and ability to make contact should get him to higher levels but he will need to really excel in some area to get to the majors.

Peter Mooney
Mooney is a very short-stop, he is around 5'6". Mooney plays excellent defense. Offensively Mooney is an aggressive hitter but not strong, even in BP his best hits were outfielder depth.

Marcus Knecht
If you see Marcus on a good night he will look like a very good hitter. He has tremendous power, he hit two home runs in the four games that went deeper than any other home runs in the series. His bat speed is excellent. But if you see him on another night he looks lost at the plate. I didn't know what to make of him so I asked Stubby Clapp, the hitting coach. Stubby says Marcus has too many thoughts in his head and that Marcus changes his approach too often. Stubby is trying to get Marcus to go with one approach and stick to it and hopefully it will bring results.

Jon Talley
Talley is very strong, he can muscle a ball out of any park. But he is an extreme pull hitter, Bradenton were using a shift on him, something rarely seen in the minor leagues. Talley looks like a mistake hitter to me and it will be interesting to see if he gets many mistakes to hit in AA. I also think Talley might have some holes in his swing that can be exploited by better pitchers.

Derrick Chung
Chung is a surprise on this team, he is hitting over 300 as a 2012 draft pick. Chung is an aggressive hitter, often swinging at the first pitch fastball. Chung is also on the smaller side, likely around 5'8" or 5'9". There are several players on this team that have a lot of similarities. See my note below for Nwman and Baligod.

Matt Newman
Nick Baligod
These two are sharing a lot of outfield playing time. Both are older (24 & 25), shorter, left hand hitting outfielders who have decent contact ability and a little power. There is a bit of a theme with many of the D-Jays. Berti, Mooney, Chung, Newman and Baligod are all short (in a baseball sense), aggressive, line drive, power lacking, hitters. All of them will likely move higher in the organization. But each of them have yet to show an outstanding skill that will get them to the big leagues.

KC Hobson
Hobson, like Talley, is a left handed mistake hitter with some pop. He generates his pop from a quick bat whereas Talley's bat appears slower but Talley is much stronger.
Pitchers
Most of the relief pitchers I saw throw for just one inning so my views were short and subject to whatever they did that day.

Jesse Hernandez
Hernandez is what I would call an "average" minor league starter. He throws a 88-89mph fastball, a cutter, a changeup and a slider. He didn't throw the slider a lot. His fastball drops and I thought he was more of a groundball pitcher. But on this day he left more balls up in the zone and relied on his outfielders. Hernandez did not appear to have any plus pitches.
Scott Copeland
Copeland is a lot like Hernandez, four pitch mix, fastball 89-91. Copeland had a bad first inning but them settled down. His command was better than Hernandez and that had him more in control of the game.
Tyler Ybarra
I only saw Ybarra throw one inning. He is a compact lefty and throws from a 3/4 angle. He throws 92-93 with his fastball and has a plus slider. I also saw a curve and a change. If Ybarra could stay healthy he has a chance to be a major league reliever.

Dustin Antolin
Antolin throws 92-95 with a good slider. The hitters seemed to pick up his pitches easily and they had some good swings off him. Since I was in Dunedin Antolin was promoted to New Hampshire.

Blake McFarland
McFarland is a tall righty who throws from over the top. From there he features a 90 mph fastball and a curve. McFarland relies on his height and the over the top delivery to really pitch on a downhill plane. McFarlands curve is a 12-6 version so all his pitches look similar out of his delivery. Their downward trajectory varies from a little (FB), to a lot (Curve).

Tony Davis
Davis a shorter lefty with a side arming delivery. He steps towards first base and throws across his body. Davis had two fastballs, one at 89 and one at 85 that sinks. He also throws a frisbee slider although he steps more towards first when he throws the slider.

Marco Grifantini

Grifantini started my first game in Florida. He had a 87-88 mph fastball, a change, curve and slider. Like Copeland and Hernandez he was around the plate with all his pitches but none were plus.
Scott Gracey
Gracey throws at least three pitches, a fastball at 91-92, a cutter at 88 and a change-up. Gracey has also been promoted to AA. Grcey, like Antolin, has weapons and their success will be based on their command of their pitches.
Efrain Nieves
Nieves was a starter at one point, went on the DL and as he returns is pitching out of the bullpen. Nieves is another side arming lefty. he features a 87-89 mph fastball with some tail, a change-up and a frisbee slider. His command was poor but this was his first sppearance since coming off the DL. Nieves would pitch well against lefties but the side arming pitches come into the wheelhouse for righties. Nieves is now in Lansing.
Ajay Meyer
Meyer is a tall righty who throws from a 5/8 arm angle. He has a max effort delivery. His FB was 88-89 with a change and a frisbee type slider. It was tough on him to throw the slider to lefties, the opposite of Nieves, it runs into them, and in this game lefties hit him hard.
Thanks to the Dunedin Blue Jays staff for their hospitality and also to Bobby Meacham, Stubby Clapp and Darold Knowles for their time.