A first-place throwdown in the American League East begins tonight. Two teams enter the Bronx Zoo, one will emerge victorious. Maybe
Munenori Kawasaki
will be the difference. The Toronto Star says Kawasaki has been
called up
from Buffalo due to the possibility that first baseman
Adam Lind
or reliever
Brett Cecil
will head to the disabled list.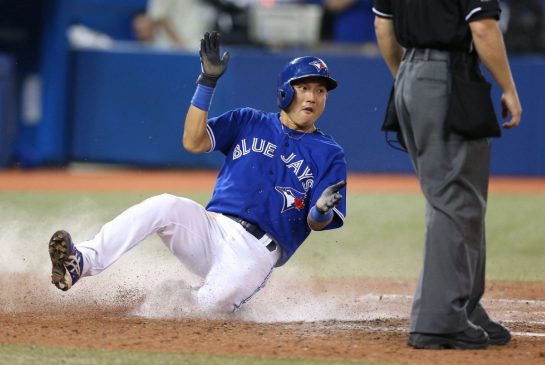 Munenori Kawasaki
is back from Buffalo after hitting .276 with nine runs batted in. The 33 year-old lefthanded hitter was batting .378 in his past 10 contests with the Bisons. He was 3-for-12 in three games with the Jays earlier this season.
The Yankees are 4.5 games back of top spot in the AL East with a record of 35-33 and they have played three fewer games than the 41-30 Jays. The Pinstripers return home after a 5-4 road trip that saw them lose two of three in Kansas City and Oakland but sandwiched that with a three-game sweep of Seattle.

Series Schedule & Probable StartersTonight
at 7:05 p.m. -
Marcus Stroman
(3-1, 5.18) vs.
Masahiro Tanaka
(10-1, 2.02).
Wednesday
at 7:05 p.m. -
Mark Buehrle
(10-3, 2.28) vs.
Chase Whitley
(2-0, 2.41).
Thursday
at 7:05 p.m. -
Drew Hutchison
(5-3, 3.62) vs.
David Phelps
(2-4, 4.32).
Tonight's Lineup
-
S
troman
(3-1, 5.18 ERA)
Reyes, SS
Cabrera, LF
Bautista, RF
Encarnacion, 1B
Lawrie, 3B
Navarro, C
Francisco, DH
Kawasaki, 2B
Gose, CF