It's time for the newest edition of the Batter's Box Blue Jays Top 30 prospects. This marks the sixteenth year of the top 30 here on Da Box. We are later than usual this year but its a quiet time for baseball news so this gives us something baseball related to discuss.
As we remind readers each year, the expectation of the top 30 prospects for any team is that one third will improve, one third will regress and one third will stay as they were. This year nine players from the 2018 list graduated to the big leagues. That is a big number and when you graduate that many players, it does impact the value of your minor league system. In case you forgot, the graduates are Vladdy, Biggio, Bo, Danny Jansen, Rowdy Tellez, Sean Reid-Foley, Thomas Pannone, Billy McKinney and Travis Bergen. Reese McGuire is still eligible for the 2019 top 30. Max Pentecost was also on the 2018 list and he retired so that makes ten players who are ineligible for the 2019 list before we get to on the field performance.
The Jays front office added more pieces to the system this year as part of the now annual mid-season clear-out. Simeon Woods Richardson and Anthony Kay are the two most notable additions. But not all of the prospects added via trades have made this list. As has been discussed on Da Box, the Jays system includes a lot of players who are possible, or fringe, prospects. Some people see them as prospects, some as long-shots and some as not a prospect. As a result there are many players who some Blue Jay fans consider to be prospects who did not make it onto our top 30. In another season, or if they were on a different team, they would be on a top 30 list.
After the ten players have to come off our list, the remaining 20 players from last year's top 30 go into Da Box's mixer with the newly drafted players, the international signings, the traded-for players and those whose performance took a step forward in 2019. The mixer goes to work, powered by the votes of our minor league team, and kicks out the definitive list of the Blue Jays top 30 prospects. Only fourteen of last year's top 30 are back. That means six have dropped off and we have 16 new entrants.
As usual the first 10 are published today, the next 10 tomorrow, and the top 10 on the day after. Let the discussion begin!
30. Kevin Smith | SS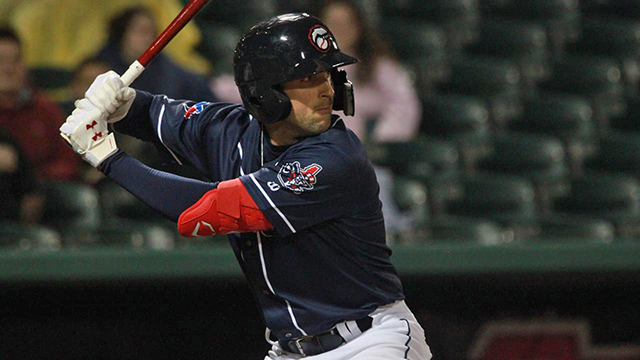 Image from MiLB.com.
| | | | | | | | | | | | | | |
| --- | --- | --- | --- | --- | --- | --- | --- | --- | --- | --- | --- | --- | --- |
| Year | Age | Team | AB | 2B | 3B | HR | BB | K | SB | CS | AVG | OBP | SLG |
| 2019 | 22 | NH | 430 | 22 | 2 | 19 | 29 | 151 | 11 | 6 | .209 | .263 | .402 |
Kevin Smith entered 2019 as the fifth-ranked prospect in the system and finished 2019 barely hanging on to the top 30. Smith was never a high contact hitter but in 2019 he had more difficulty in making contact. Smith's K rate went from 24% in 2018 to 32% in 2019. In total, Smith struck out 151 times in the regular season. His flyball percentage went up by 10% too, so when he did make contact it was a flyball more often than not. That combination reduces his batting average to a lowly .209. His slugging was OK at .402 but Smith needs to get on base more.
What explains the change? The jump from Dunedin to New Hampshire is considered to be a big jump, that could be a factor but that doesn't explain it all. What does explain a lot of it is his swing. Smith has the reputation as someone who changes his swing. He admitted as much this season.
Smith spoke to Scott Mitchell at the fall league and said that in the 2018 off season.
ďI was looking for any way to get even better,Ē said Smith, ďThe one thing that the analytics guys kind of pointed out was that I struggled up in the zone with fastballs, mainly good velocity. The numbers said that I couldnít do that, so I wanted to change something to make me do it a little bit better and I was like, ĎIf I can hit that, I can have an even better year in 2019.í Obviously, that didnít work out the way I wanted to.Ē
Smith therefore needs to either go back to his old swing, or find a new one. Going back to his old swing might not be the best way to go as the Blue Jays internal analysts already told Smith he had trouble with velocity up in the zone. So where does he go from here?
Defensively Smith seems to be fine. He is a borderline major league shortstop who could also play second or third. Last season Smith played just five games at second and 18 at third. He had 87 games at short. But the defense doesn't matter if the bat is not producing and that brings us back to the swing.
We have to assume that Smith is even now working on a swing for 2020. We don't know if it will be a good one or not so good. We don't know if he is working on his own, with the Blue Jays coaches, or with one of the independent baseball facilities that have sprung up in recent years. But we know that something has to change. We will just have to wait and see. It is hard to imagine Smith starting 2020 anywhere other than back in New Hampshire. His bat is nowhere near ready for Buffalo and the Jays do not like to demote players.
29. Hector Perez | RHP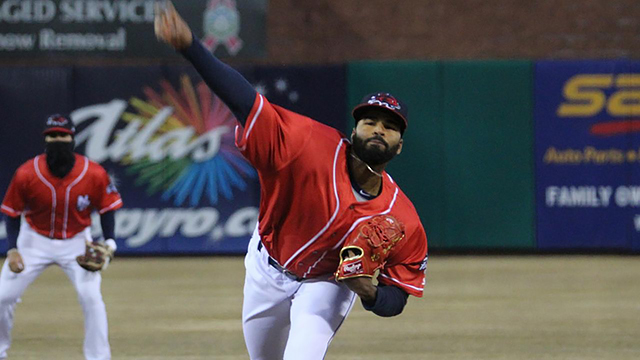 Image from MiLB.com.
| | | | | | | | | | | |
| --- | --- | --- | --- | --- | --- | --- | --- | --- | --- | --- |
| Year | Age | Team | G | GS | IP | H/9 | HR/9 | BB/9 | K/9 | ERA |
| 2019 | 23 | NH | 26 | 24 | 121.1 | 9.6 | 0.7 | 5.0 | 8.7 | 4.60 |
Hector Perez was one of the three pitchers the Jays acquired from the Astros in return for Roberto Osuna. Ken Giles has been a resounding success, while David Paulino has been a bust. The future is unclear for Perez, although itís hard to see 2019 as a positive step forward and he has taken one of the biggest tumbles from last yearís Batterís Boxís list to this yearís, as he was ranked at 11th in 2018.
Perez signed with the Astros for just $45,000 out of the Dominican Republic. He was an international free agent prospect who did not attract much fanfare. However, he began to turn heads as soon as he came over to the United States. Pitching primarily at Rookie Ball, he posted a 1.64 ERA in 2015 and posted a 3.15 ERA the following year, which was split between Low-A and A-ball.
In 2017, Perez spent most of the year in the High-A Carolina League. He posted a 3.44 ERA over 107 innings, but what may have been most noticeable was an increase to his already-high walk rate. His walk rate shot up to 6.5 per 9 innings. Perez struck out 26.5% of the hitters and held them to a .216 batting average, but his walk rate translated to 17.1% of the hitters he faced.
In 2018, Perez returned to High-A for 72.2 innings, during which he lowered his walk rate down to 5.0 per 9 innings and kept his strikeout rate at 10.3 per 9 innings, which was near the numbers he posted in 2017. Upon promotion to Double-A, he made four appearances for the Astros affiliate before he was dealt to the Jays. He finished 2018 with a rate of 5.0 walks per 9 innings and 10.4 strikeouts per 9 innings.
The Blue Jays chose to use Perez as almost exclusively a starter at Double-A New Hampshire in 2019, as he started in 24 of his 26 games and amassed a career-high of 121.1 innings. Perez posted a 4.60 ERA in the role, which was also a career-high. Perez maintained his 5.0 walk rate per 9 innings while his strikeout rate fell to 8.7 per 9 innings. His high walk rate was manageable to some degree while he was posting a strikeout rate per 9 in the double figures. But, when it falls into the single digits, the higher walk rate becomes more problematic. Perez is currently pitching in the Dominican Winter League, as a reliever. He has 9 walks in 12.2 innings and a 4.97 ERA.
Equipped with four different pitches in his arsenal, Perezís main weapon is his fastball. It reportedly ranges from 93-99 mph, sitting in the mid-90s, but one could imagine that popping up a few miles-per-hour if he was used exclusively as a reliever. Perez also throws a slider, a curveball, and a splitter, all of which are hard breaking balls and MLB Pipeline has reportedly classified them as ďplus or better.Ē
Despite having four plus-or-better pitches, for several years scouting reports have speculated that Perezís future may eventually rest in the bullpen. Itís not clear if thatís simply due to his issues with command, or if there are other reasons people suspect Perezís future may be as a back-end reliever.
Throughout his career, Perez has struggled with his control and this seems to be a consistent problem and not a problem with one specific pitch. Apparently, Perez struggles to repeat his delivery. After arriving at his set position, it has been reported that Perez has a quick and sharp leg lift, bringing his knee almost up to chin level before driving to the plate. This high-leg-kick delivery means that the pitcherís lead foot has to cover a lot of ground from its high-point to when it reaches the ground. Perez is reportedly not a pitcher who is able to repeat this delivery time-after-time, which leads to an inconsistent release point and an unbalanced delivery.
Now, that report about Perezís inconsistent delivery is from a scouting report at the end of 2018. We couldnít find a report from 2019 that noted whether this issue with his delivery continued through the year or if this was something the Jays were working hard with him to correct.
The Jays seemed destined to give Perez every chance to stick as a starter. Itís not clear if 2019 will have resolved the debate in their mind, as he didnít have an objectively awful year, but didnít take a step forward or demonstrate enough positive signs to answer the question. It seems likely the Jays will continue to use Perez as a starter, but promote him to Triple-A for 2020 if there is the rotation space in Buffalo.
28. Josh Palacios | OF
Image from MiLB.com.
Year
Age
Team
AB
2B
3B
HR
BB
K
SB
CS
AVG
OBP
SLG
2019

23

NH

286

18
2

7

45

70

15

5

.266

.371

.416

Josh Palacios was eligible to be taken during the recent Rule 5 draft but none of the other 29 MLB teams decided to roll the dice on the former Auburn Tiger. The nephew of former major league catcher Rey Palacios and brother of Cleveland farmhand Richard Palacios spent all of 2019 at Double-A New Hampshire after being called up to the Fisher Cats in late 2018. Josh was there in time to contribute to the teamís Eastern League championship by hitting .333 during the league final against Akron.
Palacios missed a good chunk of time in April and May due to injury that saw him play just 10 games in April and only one more in May. He opened the year with a six-game hitting streak but was hitting just .220 heading into June. His batting average sunk to as low as .188 in early June but his bat heated up with the weather, culminating in a .348/.444/.458 slash line in July that included a 16-game on-base streak. Just one point away from a .900 OPS in July, Palacios tailed off with a .722 mark in August.
Despite an up-and-down year, there were some promising signs with the bat as Palacios posted career highs in walk rate (13.2%) and isolated power (.150) where a change to his left-handed swing helped him unlock some power. Fisher Cats hitting coach Donnie Murphy told the New Hampshire Union Leader in late July that Palacios was in better control at the plate while being shorter to the ball instead of the elongated swing that caused him to miss the ball or make less than stellar contact. His groundout/airout ratio checked in at 0.96, a sharp drop from the 2.64 total he put up in Dunedin during 2018. The number of times Palacios heard ball four was up nearly five-percent from his Dunedin mark. He also showed better instincts on the base paths by stealing 15 bases in 20 tries. His speed is considered to be above-average to plus according to scouts.
Palacios burst onto the professional scene in 2016 after being taken by the Jays in the fourth round that year from Auburn after stints with Stony Brook and San Jacinto, where he briefly caught before returning to the outfield. A wrist injury short-circuited his season with Auburn but the Jays still liked what they saw from the former switch-hitter. After a brief introduction to the Gulf Coast League, Palacios batted .355 with Vancouver before getting promoted to Lansing where he spent the entirety of the 2017 season. He batted .280 with a .360 on-base mark in his first extended trial of full-season ball. In 2018, Palacios led the Florida State League with 78 runs batted in. His 148 hits placed him inside the Dunedin Blue Jays franchise top ten for hits in a single season.
Having spent time in all three outfield spots, the question is can Palacios can hit for enough power to be a corner outfielder at the major league level or will he be limited to fourth-outfield duty?
Palacios should climb up the minor league ladder to Triple-A Buffalo in 2020. The Brooklyn, New York native will turn 25 years old on July 30.
27. Maximo Castillo | RHP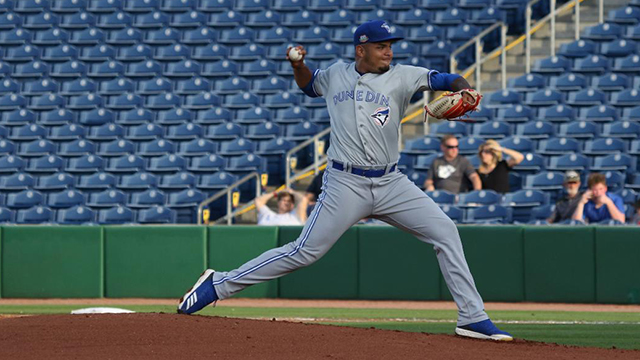 Image from MiLB.com.
| | | | | | | | | | | |
| --- | --- | --- | --- | --- | --- | --- | --- | --- | --- | --- |
| Year | Age | Team | G | GS | IP | H/9 | HR/9 | BB/9 | K/9 | ERA |
| 2019 | 20 | DUN | 24 | 24 | 130.1 | 7.9 | 0.6 | 1.9 | 7.9 | 2.69 |
Venezuelan Maximo Castillo, who is turning 21 during the 2020 season, just finished his best season as a professional and seems poised to begin 2020 in Double-A New Hampshire. A very different pitcher than Hector Perez, Castillo has now vaulted past him in Batterís Box ratings.
The Blue Jays signed Castillo in September 2015 in a unique set of circumstances. According to a report at the time from Ben Badler of Baseball America, Castillo had agreed to sign with the New York Yankees as a well-regarded international prospect. However, that deal fell through due to elbow issues that were found in the signing process, leaving him available for the Blue Jays to sign at the extremely low cost of a $10,000 bonus after the bonus rush had passed.
After spending time in 2016 with the Dominican Summer League and the Gulf Coast League, Castillo spent 2017 with Bluefield. Last season, the Jays challenged Castillo with a promotion to full season ball with Lansing. Castillo started the season in a piggyback starting tandem through April and May. He claimed a spot in the rotation by June and stayed there for the rest of the year, with 22 starts and 6 relief appearances.
Castillo accumulated 115 strikeouts (7.88K/9) and only allowed 42 walks (2.88BB/9) in 131.1 innings. These were easily career-highs and also tops on the Lugnuts. Itís fair to conclude that Castillo rose to the challenge the Jays put forth and he wound up logging more than double the amount of innings of any other teenage pitcher in Torontoís organization.
In 2019, Castillo was promoted to Dunedin, which may have been a surprise as some pre-season reports suggested heíd go back to Lansing for the first half of 2019. In addition to jumping to advanced A-ball, Castillo spent the entire year in the rotation for the first time in full season ball.
Of the 25 pitchers with at least 95 innings pitched in the Florida Start League, Castillo had the 5th lowest ERA. Furthermore, all of the pitchers with lower ERAs were older than Castillo. He also finished fifth in the Florida State League in strikeouts.
Castillo has a stocky build, as he has more than 250 pounds on his 6-foot-2 frame. He throws his fastball in the low 90ís with a lot of natural sink. While his fastball isnít the same velocity as Perezís, it can be effective as itís hard to barrel Castilloís fastball. Despite this, Castilloís ground-ball rate isnít as high as one would expect given that movement.
Castillo also throws a slider which sits in the mid-to-high 70ís and which he reportedly likes throwing. His changeup rests in the mid-80ís and is more of a work-in-progress than the slider. Castillo also will mix in a cutter, which normally clock in a few miles-per-hour slower than his fastball, and which has natural run inwards on right-handed batters.
An article this year on Sportsnet reported that Lugnuts broadcaster Jesse Goldberg-Strassler mentioned that Castillo seemed to focus more on spinning breaking pitches when he was with Lansing, but this past year in Dunedin, he is using his fastball more effectively.
Castillo has logged a good amount of innings for a 20-year-old, but has so far weathered them without any notable injury issues of which weíre aware. His delivery is clean and one he repeats easily and, reportedly, he looks like heís hardly putting in any effort when he pitches. As opposed to Perez, who struggles with his delivery, Castillo also differs from Perez as he has a much lower strikeout rate and, correspondingly, a noticeably lower walk rate. They are very different pitchers at the bottom end of the Top 30 list, as Perez looks to have the higher ceiling, but Castillo having done nothing but put in above-average results as a professional.
The young right-hander is an interesting combination of talent and strong results. Given Torontoís aggressive promotion of Castillo and the fact they have challenged him at a new level every year so far, expect to see him start 2020 with New Hampshire.
26. Samad Taylor | 2B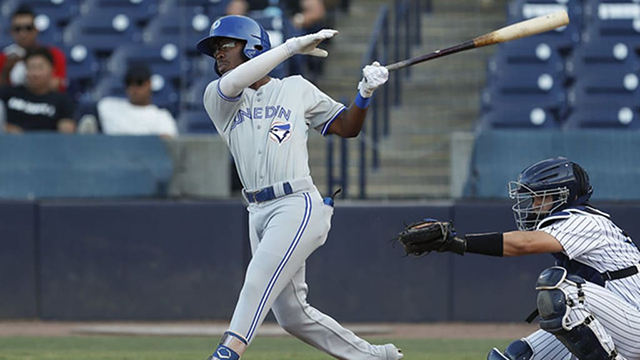 Image from MiLB.com.
Year
Age
Team
AB
2B
3B
HR
BB
K
SB
CS
AVG
OBP
SLG
2019

21

DUN

319

20

3

7

49

107

26

10

.216

.325

.364

Half of the return the Jays received from Cleveland at the 2017 trade deadline for Joe Smith, Samad Taylor may be the more valuable part of the return as Thomas Pannone looks likely to spend 2020 as an injury replacement and starter at Triple-A. Taylor was selected by Cleveland in the 10th round of the 2016 draft and received a $125,000 bonus to entice him to forego his commitment to play for the Arizona Wildcats.
The Californian was sent to Bluefield after the Jays acquired him, as his passport had not arrived. He scratched out four hits in 16 at-bats with Bluefield with threee walks. Shortly thereafter he was assigned to Vancouver. In 19 games with Vancouver, Taylor hit .294/.342/.426 with three double and two home runs. The right-handed hitting second baseman was a key component of the Canadians stretch drive and helped them to the 2017 Northwest League Championship.
Taylor was sent to Lansing for the 2018 season, where he finished the year with a .228/.319/.387 line. A large part of his lower average was a drop in Taylorís BABIP which hovered around .350 in his previous professional seasons, but fell to .270 in 2018. Taylor did show some improvement towards the latter half of 2018, as he hit .217 in April, .224 in May and .210 in July, but he hit .247 in June and .260 in August, demonstrating an upward trend towards the end of the season. Taylor finished with 32 doubles, seven triples and nine home runs. He struck out 99 times in 530 plate appearances., but also drew 57 walks.
The most noticeable change in his stat line in 2018 was that Taylor began to show his speed and instincts on the bases. Although he had only stolen 13 bases over the previous two seasons, he stole 44 bases with the Lugnuts, against only 16 caught stealing. Playing exclusively second base, Taylor only made 12 errors in 114 games with Lansing, which was a clear improvement from 2017 when he made 10 errors across 52 games in Rookie Ball and low A.
Last year, Batterís Box predicted that the Jays may challenge Taylor with an assignment to Dunedin in 2019 and thatís exactly what they did. Taylorís production fell again, as he only posted a .689 OPS, as compared to the .706 OPS he posted in 2018. However, in 384 plate appearances, Taylor drew 49 walks and hit 20 doubles, three triples and seven round-trippers. He also missed close to two weeks with an injury. Taylorís strikeout rate shot up, as he struck out 107 times. He also didnít run with the same abandon that he did the previous year, as he stole 26 bases in 36 attempts.
Perhaps most promisingly from Torontoís perspective, again Taylor demonstrated improvement as the season progressed. His month-by-month OPS went .726/.394/.781/.895/.693. His first half OPS was .616 and his second half OPS was .745. Most of the improvement came from his power, as he hit six of his seven homers in the second half. He also ran more in the second half, as he was 10-for-16 in the first half and 16-for-20 in the second half of the season. Also, 2019 was the third straight season in which Taylor hit right-handed pitching better than left-handed pitching, despite being a right-handed batter. The only year he hit left-handed pitching better was in 2016. That season was also the only professional season Taylor was a switch-hitter, as he became exclusively a right-handed hitter beginning in 2017.
Defensively, the Jays challenged Taylor with some playing time at positions other than second. This may well have been with a view to Taylorís potential role as a backup infielder, where he would need to have the ability to fill in at positions other than second base. Taylor amassed 85 innings at 3B, where he made a single error, and he spent 29 innings at shortstop, during which he made a couple of errors. He also made 11 errors during his time at second base.
At this point, if Taylor is to carve-out a role at the big leagues, it would likely be as a reserve infielder. The Jays have been working with Biggio on his ability to play other positions, so even if Taylorís primary position is second base, the Jays may be able to shift Biggio to another position on the diamond in the later innings. Taylor has some of the attributes one would want in a reserve infielder, including speed and an ability to draw a walk, although he wouldnít be the batter the Jays would call upon if they needed a homer.
Taylor has always received rave reviews for his intelligence and understanding of the game. In the past, heís been praised by managers and coaches for his maturity and energy. In an interview with Cís Plus Baseball after the 2017, Taylor stated that he felt he was a ďwell-roundedĒ and ďall-around player.Ē When looking for comparable players, he compared himself to Dee Gordon and Chone Figgins.
Although the Jays could certainly return Taylor to Dunedin for another season to try to improve and further develop his skills, his 2019 wasnít significantly worse than his 2018 and the Jays responded to that season by challenging Taylor with a promotion. It would not be surprising to see Taylor playing with the Fisher Cats in 2020 and continuing to develop his defensive versatility. Throughout his minor league career, Taylor has usually been a couple of years younger than the average player at his level. Heíll turn 22 during the middle of the 2020 season.
25. Leonardo Jimenez | SS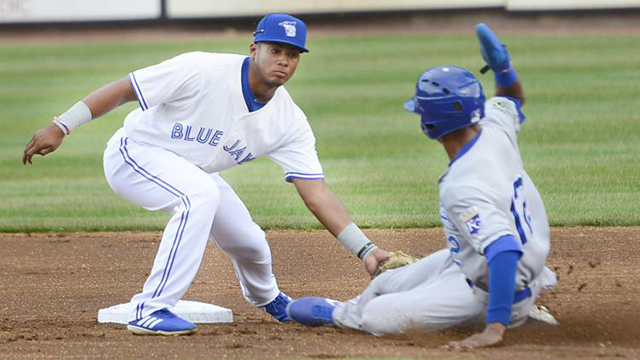 Image from BDTOnline.com.
Year
Age
Team
AB
2B
3B
HR
BB
K
SB
CS
AVG
OBP
SLG
2019

18

BLU

215

13
2

0

21

42

2

1

.298

.377

.377

2019

18

LAN

6

0
0

0

0

2

0

0

.167

.167

.167

Leonardo Jimenez is a premium defensive shortstop. It's his offense that is in question.
Jimenez was signed in 2017 from Panama. In 2019 Jimenez played for Bluefield as an 18 year old. One of his teammates was Miguel Hiraldo, who also appears on this top 30 list, and who also plays shortstop. In a five second summary of the two, Jimenez is the better shortstop, Hiraldo the better hitter. Baseball America rated Jimenez as the second best defender in the system, just behind Kevin Vicuna. Scouts describe Jimenez as an instinctual player with good intelligence and one who makes good reads.
Jimenez is listed at 5'11" and 160 pounds. As a skinny guy, Jimenez does not display much power at the plate. But he can make contact and hit for average. His batting average in the Appy League this year was .298, just shy of .300. Jimenez struck out 17% of the time and walked half as much. His OPS of 754 equaled a 115 OPS+ and he was eleventh among teenagers in OPS in the league.
It is hard to project players like Jimenez. Other before him like Vicuna, Yeltsin Gudino, Richard Urena and even Adeiny Hechavarria rose and fell based on their bats. If you didn't hit you got to Dunedin or New Hampshire and topped out. If you could hit a little you made it to the major leagues. Can Jimenez hit enough to make it? Scouts are more optimistic because they like his swing and feel for hitting. They do not think he will hit for power but can he hit enough doubles and walk enough to make an impact?
Jimenez should head to Lansing to start 2020. Lansing is a step up from Bluefield so he will be challenged there by the pitchers and the weather.
24. Thomas Hatch | RHP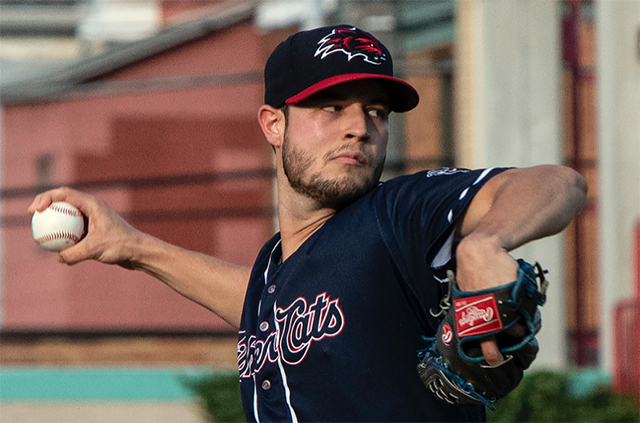 Image from MiLB.com.
| | | | | | | | | | | |
| --- | --- | --- | --- | --- | --- | --- | --- | --- | --- | --- |
| Year | Age | Team | G | GS | IP | H/9 | HR/9 | BB/9 | K/9 | ERA |
| 2019 | 24 | TEN | 21 | 21 | 100.0 | 9.4 | 1.2 | 2.6 | 8.4 | 4.59 |
| 2019 | 24 | NH | 6 | 6 | 35.1 | 6.4 | 1.3 | 0.5 | 8.7 | 2.80 |
A 25-year-old from Tulsa, Oklahoma, Thomas Hatch was a third-round pick by the Chicago Cubs in the 2016 MLB Draft. A product of Oklahoma State University, Hatch did not pitch after he was drafted. The decision to not have Hatch pitch was likely influenced in part due to a 2015 UCL issue, which Hatch addressed through injections and not surgery, and led to Hatch not pitching as a sophomore.
Hatch, who had improved his stock considerably after being a 32nd round out of high school, was assigned to Class-A advanced Myrtle Beach Pelicans in 2017. Hatch didnít have a particularly strong year for the Pelicans, posting a 5-11 record and 4.04 ERA. However, there were promising signs as Hatch struck out over a batter an inning and only allowed two homers in 124.2 innings. After 2017, Fangraphs ranked Hatch as Chicagoís 12th prospect.
Hatch spent all of the 2018 with the Double-A Tennessee Smokies. Over 26 starts, which was the same number he made in 2017, Hatch threw nearly 20 additional innings and posted a 3.82 ERA. His strikeout rate fell to 7.3 per nine innings as he struggled with fastball command. By the end of the year Fangraphs had dropped him to 26th ranked prospect in Chicagoís system.
In 2019, Chicago returned Hatch to the Smokies, where he spent the first half of 2019 before he was acquired by Toronto around the trade deadline. Hatch was Torontoís return for David Phelpsí return to health and successful 17.1 innings of relief. Some people thought the return seemed light for a good and apparently healthy reliever with a cheap club option for 2020.
However, now itís hard to see the trade as anything but an astute move by Atkins and the front office (which isnít to say Chicago necessarily regrets it, as they solved a potential 40-man roster crunch and Phelps pitched well for them while chasing a playoff berth). For one thing, for reasons not readily apparent, Chicago didnít pick up Phelpsí club option. It seemed like a reasonable price for a reliever, and isnít a long-term commitment, so Iím not sure what the reason is. However, whatís more relevant is that Hatch suddenly looks like a much better prospect than he did after 2018 and thereís reason to believe this change might be sustainable.
Hatch put up a 2.80 ERA with New Hampshire and struck out 34 batters in 35.1 innings, against only two walks. After joining Toronto, Hatch posted a 26.6% strikeout rate, which was a significant improvement over the 20.3% rate he had posted in his minor league career prior to the trade. Secondly, his 1.6% walk rate is a vast improvement of the 9.5% rate he posted over his season and a half with Tennessee.
So what accounts for this change and is there a chance itís something sustainable? Over on FanGraphs, Eric Longerhagen noted in a post-trade deadline review of prospects traded that Hatch had added a cutter to his repertoire a few starts before the trade. This was an entirely new weapon for Hatch. I didnít see any confirmation of whether Toronto had specifically targeted Hatch due to this, but it makes some sense that Toronto identified this addition when scouting Chicagoís affiliates and intentionally pursued Hatch on the possibility that Hatch had made a meaningful improvement, as opposed to accidentally stumbling across Hatch and his new weapon.
In addition to the cutter, Hatch is primarily a fastball/slider pitcher who also throws a changeup. Hatch has improved his changeup as a professional to the point where itís now considered average and could be a better secondary pitch than the slider. His above-average fastball reportedly sits 90-94, occasionally getting as high as 96, and itís complimented well by the change-up. Apparently, he mostly uses the slider as a weapon against right-handed batters.
On a side note, as this doesnít fit smoothly into this write-up at any point, I have no idea why Hatch is consistently referred to as Thomas on basically every site and in every write-up Iíve seen, but is referred to as ďTom HatchĒ on Baseball-Reference
The Jays added Hatch to their 40-man roster in the offseason to protect him from the Rule 5 draft. Hatch has spent two full seasons at Double-A and coming off a very successful end to the 2019 season, expect to see Hatch as one of the names in the 2020 rotation in Buffalo. It will be interesting to see if Hatchís success with his new weapon continues, but if it does, the Jays may have found themselves a solid mid-rotation weapon and this ranking in the mid-20ís may look silly in a few months.
23. Josh Winckowski | RHP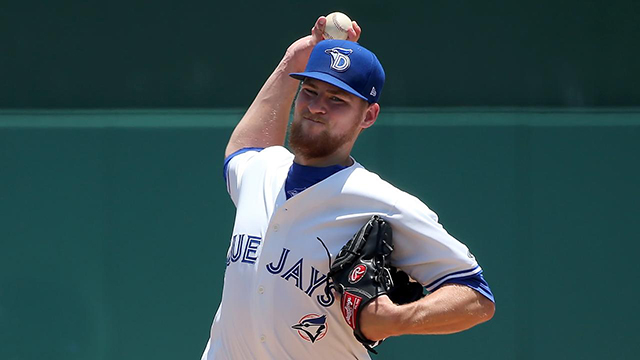 Image from MiLB.com.
| | | | | | | | | | | |
| --- | --- | --- | --- | --- | --- | --- | --- | --- | --- | --- |
| Year | Age | Team | G | GS | IP | H/9 | HR/9 | BB/9 | K/9 | ERA |
| 2019 | 21 | LAN | 13 | 13 | 73.2 | 7.6 | 0.4 | 3.2 | 8.7 | 2.32 |
| 2019 | 21 | DUN | 11 | 10 | 53.2 | 8.0 | 0.8 | 2.9 | 6.2 | 3.19 |
Josh Winckowski climbed two rungs up the Blue Jays minor league ladder in 2019. The Toledo, Ohio born hurler began the year with the Lansing Lugnuts and earned the Opening Day nod. He also got the starting assignment for the East squad in the Midwest League All-Star Game where he struck out one in a scoreless inning. That effort helped Winckowski earn a promotion to Dunedin in late June.
The ability to keep the ball in the park and on the ground kept Winckowski in good stead against Midwest League hitters as his home run per nine innings rate was 0.37 while his groundball percentage checked in at 56 percent. After nearly averaging a strikeout an inning with the Lugnuts, his K rate fell nearly two-and-a-half percent to 6.2 but he decreased his walk rate slightly to less than three percent. Unfortunately, his ability to keep the ball down suffered as his groundball rate dropped seven percent and his home run rate went up nearly half-a-percent. The underlying numbers suggest Winckowski did have some luck on his side as his ERA was just over a run lower than his 4.20 FIP with Dunedin and 3.23 FIP in Lansing.
Overcoming a stint on the 7-Day injured list in May with Lansing and another in August with Dunedin, Winckowski still managed to pitch a career-high 127-1/3 innings, an increase from the 68 innings he tossed with the Vancouver Canadians in 2018.
Taken in the 15th round by the Blue Jays in 2016 out of Estero High School in Florida, Winckowski told the Naples Daily News he decided to sign with the Jays because of their reputation for developing right-handed power pitchers. Winckowski turned down a scholarship from Florida SouthWestern State College but his deal with the Jays includes eight paid semesters of schooling to go along with his $125,000 signing bonus.
Winckowski pitched under the tutelage of coach Gary White, a former Orioles pitching farmhand who stressed the importance of fastball command and pitch location. According to the Naples Daily News, White showed video of Greg Maddux, Roger Clemens and Corey Kluber to Winckowski to improve his pitching posture and mechanics. White described Winckowskiís previous posture to that of Tim Lincecum in which a big arch in his back was ďcausing him to fall off to the side.Ē
After splitting his first eight professional decisions between the Gulf Coast League and Appalachian League in 2016 and 2017 with ERAs of 4.61 and 5.33 respectively, Winckowski found his stride in Vancouver in 2018. The Naples Daily News says a chat with Cís pitching coach Jim Czajkowski about a better mental approach and being relaxed on the mound laid the groundwork to Northwest League Pitcher of the Year honours and a pair of NWL Pitcher of the Week awards. Improved fastball command and keeping his slider and changeup down led to a 1.78 ERA over his final half-dozen starts with Vancouver.
Winckowski-who throws a fastball, slider and changeup-broke down his pitching repertoire with Cís Plus Baseball late in the 2018 season.
ďPersonally, Iíve been up to 97 I think this year. Iíve flashed a few (96ís), 95 is usually my number. A good day for me is 91-96, touch a decent amount of (95ís) and sit 93. Thatís kind of like my good velocityÖWhen I go armside into righties, I get a little bit of run and then when I got into lefties, Iíll cut it Ė it gets a little bit of cut. I hold it the same but itís kind of wherever weíre going on the plate, itís kind of gets a little different movementÖI kind of have like a harder, sharper one and then I have like a little bit of a slower, big breaker that I kind of just use on what Iím seeing from the hitter. I usually use the big breaking one for a strike. Iíll set it like I get a chance or something to drop it in. When Iím going for the strikeout, Iíll start the harder one thatís like 86-87 (miles per hour) at the knees and just drop it in to the dirt for when Iím going for a strikeout.Ē
On the mechanical side, Winckowski worked on getting more extension on his delivery to hide the ball a bit more and strengthening his hips. Heading into 2019, Winckowski spoke with the Lansing State Journal and said a point of emphasis for him was working on his changeup in spring training where he felt he ďmade some pretty big strides with it."
Lauded for his competitive nature on the mound, Winckowski may return to Dunedin to begin 2020 with a chance to reach Double-A New Hampshire before the year is out. He will turn 22 years old on June 28.
22. Santiago Espinal | 2B/SS/OF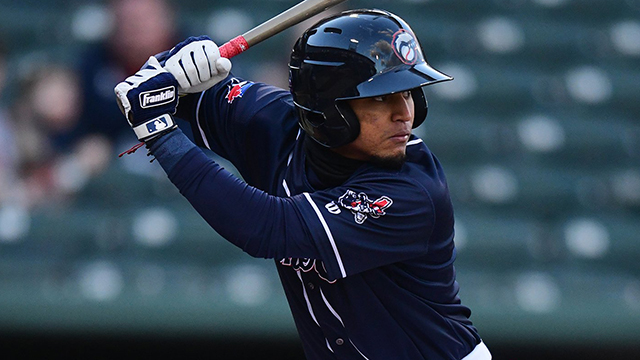 Image from MLBPipeline.com.
Year
Age
Team
AB
2B
3B
HR
BB
K
SB
CS
AVG
OBP
SLG
2019

24

NH

367

21

1

5

35

50

10

11

.278

.343

.381

2019

24

BUF

104

6

0

2

7

23

2

2

.317

.360

.433

Santiago Espinal seems to fit into the future major league utility infielder category and the Jays already had one of those in Richard Urena who is 15 months younger than Espinal. The Jays added Espinal to the 40-man roster in the off-season so they are optimistic about his potential. And now Urena has gone via the waiver wire so Espinal has less competition. Let's look at the stats for both Espinal and Urena in AA.
Espinal: BA: .278; OBP: .343; SLG: .381; wOBA 331; 115 wRC+; 8.6% BB; 12.2% K
R Urena: BA: .247; OBP: .286; SLG: .359; wOBA 288; 73 wRC+; 8.0% BB; 18.0% K
Espinal hit much better than Urena at AA so it is evident why the Jays protected him and dropped Urena. It does point out some differences in the path to prospect development. Urena made it to AA as a 21 year old in 2017. He did have a wRC+ over 100 in Dunedin in 2016. That moved him to New Hampshire in 2017 and also led to Urena receiving his first big league promotion in 2017. But arguably his bat has stalled since 2017. His numbers have been flat, and below average, since his promotion to AA. Was he promoted too quickly? Was he ready for the promotion to the big leagues and to AAA? On the other hand Espinal has been brought along more slowly. He went to Miami Dade Junior College before being drafted at age 21 by the Red Sox. Espinal has generated an wRC+ over 100 each year since his rookie season. He has had success each year and has built on each year with progress the next. Is this a proof that letting prospects develop at their own pace, and not rushing them, is the best way to develop prospects or did Urena just top out with his bat in AA?
While Espinal has developed well, he is a 25 year-old utility infielder who has just made it to AAA. Can we expect much more than a major league backup? It's hard to improve significantly at age 25 and older but it's not impossible. Espinal controls the strike zone well, his K:BB ratio was below 1.5 so he does make contact. But in the big leagues will that lead to outs or hits? Espinal did hit better in AAA but that was BABIP driven and a much smaller sample.
With Urena departed, there could be an opening for a utility player at the big league level. But with Espinal just having 100 plate appearances in AAA, it seems likely that he will head to AAA to start 2020 and could become a major leaguer later next year.
21. Dasan Brown | OF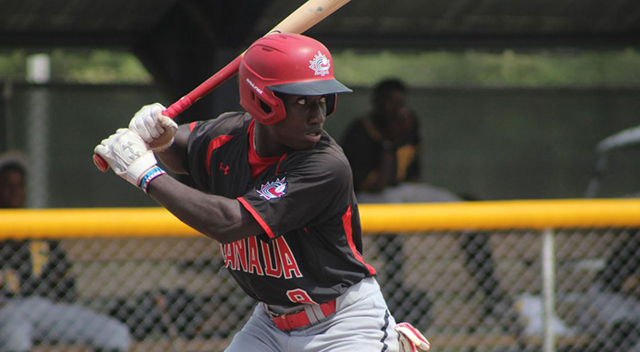 Image from Sportsnet.ca.
Year
Age
Team
AB
2B
3B
HR
BB
K
SB
CS
AVG
OBP
SLG
2019

17

GCL

45

2
2

0

9

17

6

2

.222

.444

.356

Dasan Brown is a Toronto (Oakville) based player, the first Canadian drafted in the 2019 draft and taken by the Blue Jays with their third round pick. Brown had played for the Team Canada Junior national team. Age matters in the draft and Brown was young for a high school draftee, he was still 17 when drafted and turned 18 just after the end of the season.
Brown meets the definition of a raw toolsy player. Brown has fast hands, a quick bat, is a fast runner and has an average arm. The downside is rawness and the need to get more at-bats and development time. When scouts describe a player as raw, they usually mean two things. First, they haven't played as many games as other players so they will hit situations that are unfamiliar to them and will have to learn how to handle them. Secondly, they are unlikely to have seen the variety of pitchers who can work in all parts of the strike zone with better off-speed pitches they will now see. Brown will need to learn how to recognize those off-speed pitches, and learn how to react to how he is being pitched, to make his mark. Brown will likely return to the GCL or Bluefield for 2020.
In his first few games as a professional, Brown showed a good batting eye but struck out too many times. Brown was just getting used to the level of competition in his 14 games played. 2020 will be a better indication of his ability but he will play the entire season as an 18 year-old.
Join us tomorrow for more of the Blue Jays top 30 prospects.