Maybe ten years from now - no one can know exactly when - the last player born in the 1980s will play in his final major league game. We don't when and we don't know who. It could be someone like Giancarlo Stanton or George Springer - players born at the very end of the decade, and quite possibly good enough to play into their 40s. It could be some random relief pitcher who just goes on and on and on. Maybe some minor leaguer will suddenly develop a hellacious knuckleball, and pitch for bad teams (always the only teams that ever give knuckleballers a chance) until he's 46 or so.
We can say with some confidence that Fernando Rodney will prove to be the last player born in the 1970s to play in the majors. Rodney finished up with the 2019 Nationals - his last regular season appearance came on 28 September, before making another six appearances in the post-season and capping his career with a World Series ring.  That's a very nice way to wrap it all up. He pitched three times in the series, the last of them coming in Washington's game four defeat.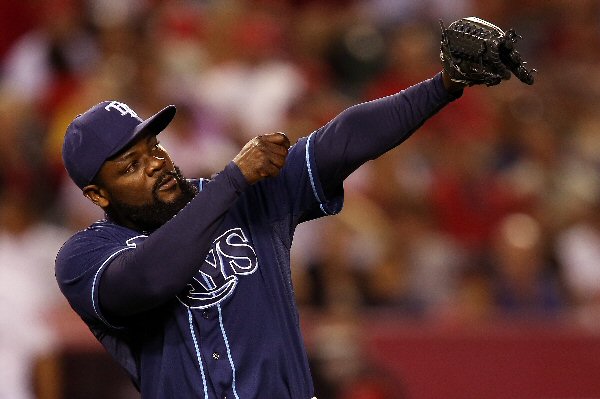 The last man born in the 1960s to play in a major league game was a good one. Mariano Rivera pitched in 19 seasons for the Yankees and missed out on post-season action just three times. The first time was in 2008, when he was 38 years old and in his fourteenth season. The second time was in 2012, when an early season knee injury cost him the entire year. No one would want to go out that way, so he came back for one last hurrah in 2013, pitched just great - 6-2, 2.11, 44 saves - and the Yankees finished a distant third. Accordingly, everyone knew he'd finish his career with one last appearance at the Stadium in the Yankees' final home game of the season. It came against Tampa Bay on 26 September 2013. He got the first two outs in the ninth inning, and then Jeter and Pettite came out to the mound to remove him from the game so everyone could say goodbye. Well, I guess he'd earned that much. Damn Yankee.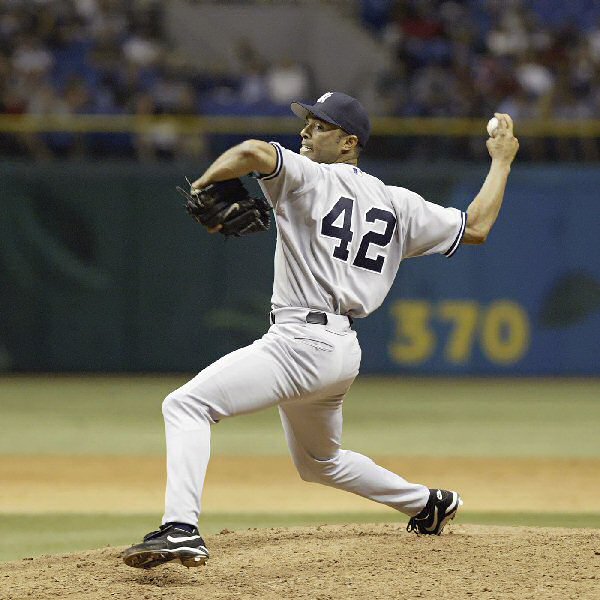 The last man born in the 1950s to play in the majors had a long, colourful career, Julio Franco was born in Hayo Mayor del Rey but he went to school in San Pedro de Macoris, the Dominican Republic's famous baseball factory*. The Phillies signed him as an amateur free agent, and after he made his major league debut with them, made him the centrepiece of the five player deal that brought Von Hayes to Philadelphia. Franco settled in as Cleveland's shortstop, where he always hit for average (and drew a few more walks than was customary for Dominicans of his generation) - but he wasn't a great shortstop, and the Indians eventually moved him to second base, in 1988, and then traded him to Texas, He did very well in Arlington, playing in three All-Star Games (he was the MVP of the 1990 game) and leading the AL with a .341 BAVG in 1991. A knee injury the following year ended his days as a middle infielder, but he was still hitting well enough to be the White Sox DH (.319/.406/.510 with 20 HR and 98 RBI) when the strike ended the season. Franco played a year in Japan, and returned to North America with Cleveland in 1996. He played well, at first base and DH, that year but in 1997 his game seemed to be slipping. He hit just .270/.369/.360 for Cleveland and Milwaukee. He was 38 years old by now. It was assumed he was done. For his part, Franco went back to Japan for a year. Then he played a year in Mexico, where he hit .423. He made a single major league appearance that September, pinch-hitting for Tampa Bay. He played in Korea in 2000, and back in Mexico in 2001. He was hitting .437 for the Tigres Capitalinos when Bobby Cox's Atlanta Braves purchased his contract at the end of August 2002. Franco took over at first base, where Rico Brogna and Ken Caminiti had been stinking out the joint all season long - he hit .300/.376/.444 down the stretch and the Braves held off the Phillies to win yet another division title. And so, at age 43, Franco set out on the final act of his pro baseball odyssey. He spent the next four seasons in Atlanta, hitting .291/.364/.427 as part of a regular job share at first base. He was then signed by the Mets as a free agent for the 2006 season.

Ah, but now he was 47 years old and not quite what he had been. The power had almost completely vanished, the batting average was down around .270. He had one full season with the Mets, and began yet another in 2007, but time was finally running out. In May, he would hit his final career homer, off Randy Johnson, no less (while stealing a base in the same game.) The Mets released him that July and he signed on with the Braves one last time. His last appearance on a major league field came on 29 September 2007. He pinch hit for pitcher Peter Moylan and lined an RBI single to the opposite field.  He had marked his 49th birthday three weeks earlier. And he wasn't quite finished - he signed on with Quintana Rios in Mexico for one last season and has since spent his post-playing days coaching and managing in Mexico, Venezuela, Japan, and (currently) Korea, with occasional stops in North America. He'll be 64 years old in a few weeks, but he was always an intelligent man, someone who took great care of himself, and he could probably rap out a few line drives next week, if he wanted to. He finished up with 2,586 hits despite spending almost five full seasons in mid-career (it turned out to be mid-career!) playing in Mexico, Japan, and Korea. He would certainly have cleared 3,000 hits had he stayed in North America the whole time.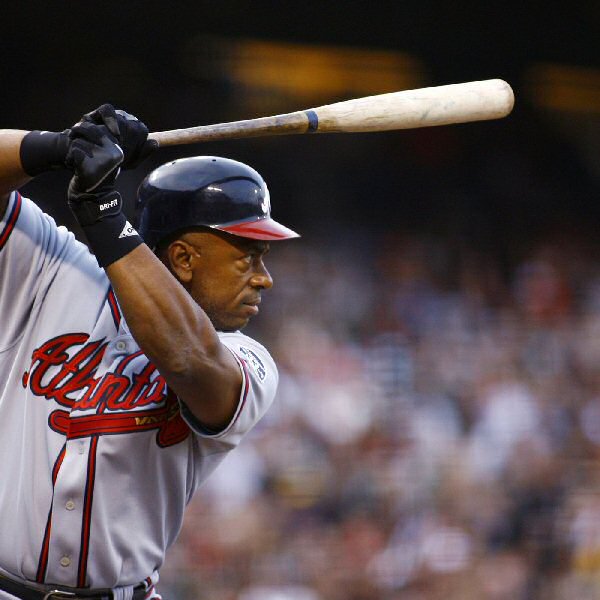 The last man born in the 1940s to play in the majors was a knuckleballer, one who had learned the pitch at the feet of Hoyt Wilhelm himself. Charlie Hough made his debut with the Dodgers in 1970, and pitched out of their bullpen for most of the decade. It was Don Zimmer in Texas who made him into a full-time starter at age 34 in 1982, and Hough would win 139 games in his 11 seasons with the Rangers. He finished up with two seasons with the White Sox and two more with the Marlins, and he was 46 years old when he was shelled by the Phillies in his final major league appearance on 26 July 1994 - he faced seven batters and retired just one.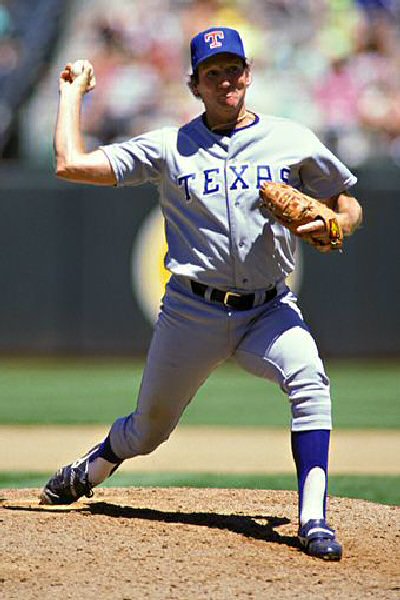 Throwing a knuckleball doesn't guarantee you can pitch into your old age, but it does give one a fighting chance. The last man born in the 1930s to play in the majors was Phil Niekro, who was 48 years old when he made a ceremonial final start for the Braves on 27 September 1987. Cleveland had traded him to Toronto after he'd started the season 7-11, 5.89; he'd gone 0-2, 8.25 in three starts for the Blue Jays, who released him in late August. The Braves signed him with a week left and gave him a final outing in the team's final game. He was fine for three innings, despite issuing four walks, but the roof fell in after that - with a 5-0 lead, Niekro allowed four hits and a walk without retiring anyone in the fourth, and everybody came around to score when Candy Maldonado greeted reliever Chuck Cary with a grand slam. The sixth run was Cary's, and he got tagged with the L.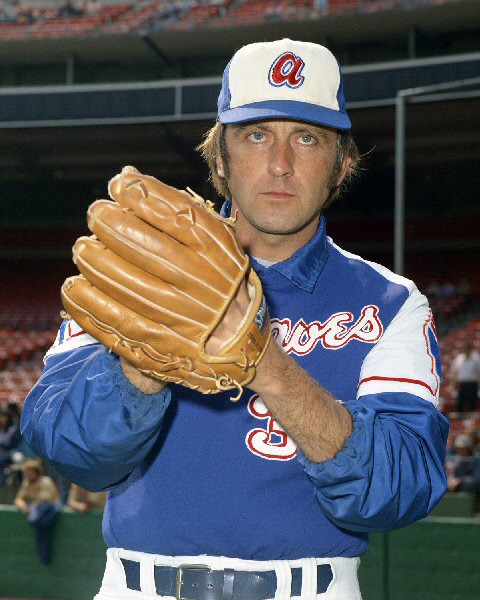 The last man born in the 1920s - well, we have a stunt to deal with here. Bill Veeck, of course, was notorious for them. In 1976, he persuaded Minnie Minoso, 53 years old and coaching for Veeck's White Sox, to suit up for a couple of games. This way Minoso could claim to have played in four decades. Minoso went 0-3 against Frank Tanana, but rapped out a single the next day against Sid Monge. He made one last appearance at the end of the season and went 0-2. Veeck enjoyed it so much that four years later, in 1980, he got Minoso to do it again, extending his career to five decades. This time he made two pinch-hitting appearances, fouling out and grounding out (oddly enough, all five of these games were against the Angels.) These games restarted the clock on his Hall of Fame eligibility - he'd been one and done back in 1969 on his first go-round - but while he lasted on the ballot for the full fifteen years, he never came close to being elected, and while he lived to the ripe old age of 91 he didn't live long enough to see the Veterans Committee finally put him in Cooperstown. Where he had belonged all along, of course.
But while Minoso's game appearances in 1976 and 1980 were obviously a stunt,  Hoyt Wilhelm wasn't fooling around. He never was. Wilhelm was almost 30 years old before he got a chance to pitch in the majors. His career had been interrupted by World War II, where he'd earned a Purple Heart. Upon its resumption he was routinely dismissed as a minor league talent because he didn't throw very hard. He never would. He finally broke through at age 29 with a sensational rookie season (15-3, 2.43) for the 1952 Giants, and having arrived he wasn't planning on going anywhere. Almost two decades later, he was selected for the 1970 All-Star game, which was played two weeks before his 48th birthday. The Braves cut him loose the following season after one bad outing in June - he still hung on, pitching for the Dodgers' AAA team in Spokane before returning to the majors. He was still baffling major league hitters with that knuckleball. But in 1972, he finally ran out of steam (although it also looks like he may not have been getting enough regular work.) His two scoreless innings on July 10 were his last major league appearance. The Dodgers released him on July 21, five days before his 50th birthday.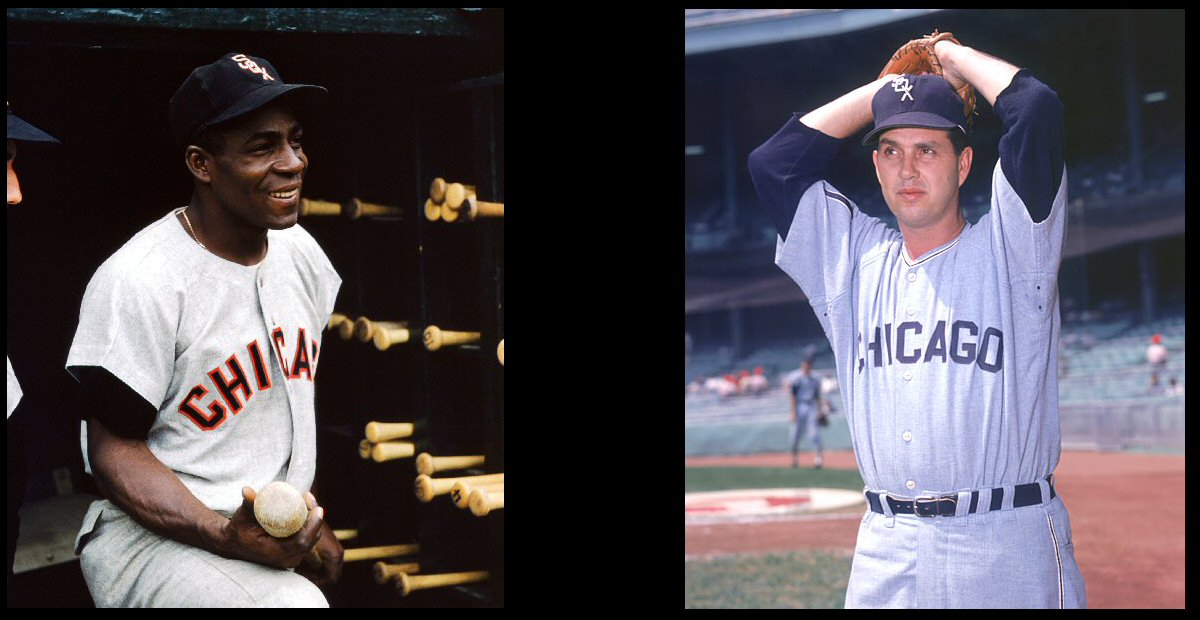 The last man born in the 1910s to appear in a major league game was Diomedes Olivo, a left-handed reliever from the Dominican Republic. He was already 41 years old when he made his major league debut with the 1960 Pirates, having spent his career in the Dominican and Mexican leagues, and in 1962, at age 43, he had an outstanding season coming out of the Pirates bullpen (5-1, 2.77, 7 saves in 62 appearances.) He was sent to St.Louis over the winter in the Dick Groat trade. He didn't pitch well for the Cardinals, and after finishing a game on June 12 he was sent to AAA Atlanta, where he threw a no-hitter against Toronto. He played one last season for Licey in the Dominican League before calling it quits.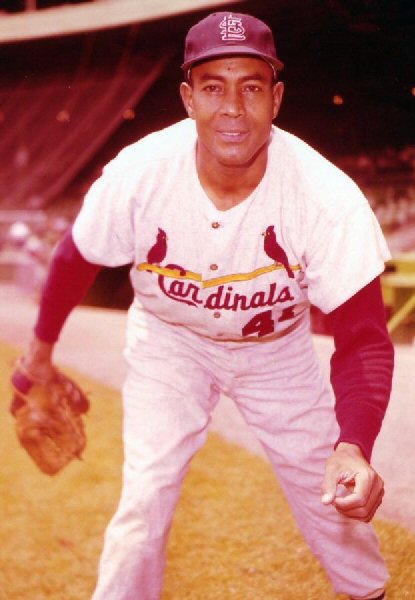 As for the last player born in the 1900s to appear in a major league game.... well, this is a tale! There was just one week left in the 1965 season, and scheduled for a Saturday night in Kansas City was a clash of the titans - the ninth place Boston Red Sox (60-96) and the tenth place Kansas City Athletics (57-96.) This game should have been consigned to the same oblivion shared by so many of the thousands and thousands of games played since the major leagues got organized a century and a half ago. Except that the Kansas City starting pitcher that evening was the legendary Satchel Paige, who was
not
ageless. He was 59 years old. This was one of Charles O. Finley's many harebrained grabs for publicity, and it worked about as well as most of the rest - a mob of 9,289 turned up to see the show.
But old Satch did just fine. Boston was a lousy team, but there were no real scrubs in their lineup. Jim Gosger, the rookie centre fielder, popped out to first base. Dalton Jones reached on an error, but was thrown out trying to advance on a ball in the dirt. Carl Yastrzemski hit a double - he was not quite
Yaz
at the time, but he did lead the league in both OnBase and Slugging that season, and he'd been the AL batting champ two years earlier. But Paige retired Tony Conigliaro - who led the AL in homers that season - on a flyout to left. In the second inning, Paige retired Lee Thomas on a popup, Felix Mantilla on a groundout, and Eddie Bressoud on a flyout - none of them were having their best season but all three were decent players. In the third inning, Paige got the light hitting catcher Mike Ryan on a popup, struck out opposing pitcher Bill Monboquette, and got Gosger to ground out. He was, I beseech you to remember,
59 years old
at the time. Having received three scoreless innings from their ancient starter, the A's turned the game over to the bullpen and lost.
It was still a stunt, and I was wondering - would Paige have been the last player born in the 1900s to appear in a major league game were it not for this one-off appearance in his dotage? After all, he was already 42 years old when he made his AL debut with Cleveland in 1948, and he was still pitching for the St.Louis Browns in 1953. But as it turns out - no. Paige made his final appearance for the Browns on 22 September 1953. Three days later, Dutch Leonard, born in March 1909, finished his career with a couple of desultory innings in relief for the Cubs. This was the second Dutch Leonard, the right-handed knuckleballer - he got his nickname in honour of the first Dutch Leonard, the hard-throwing southpaw who managed to alienate practically everyone in the game who had anything to do with him. They were both pretty good pitchers.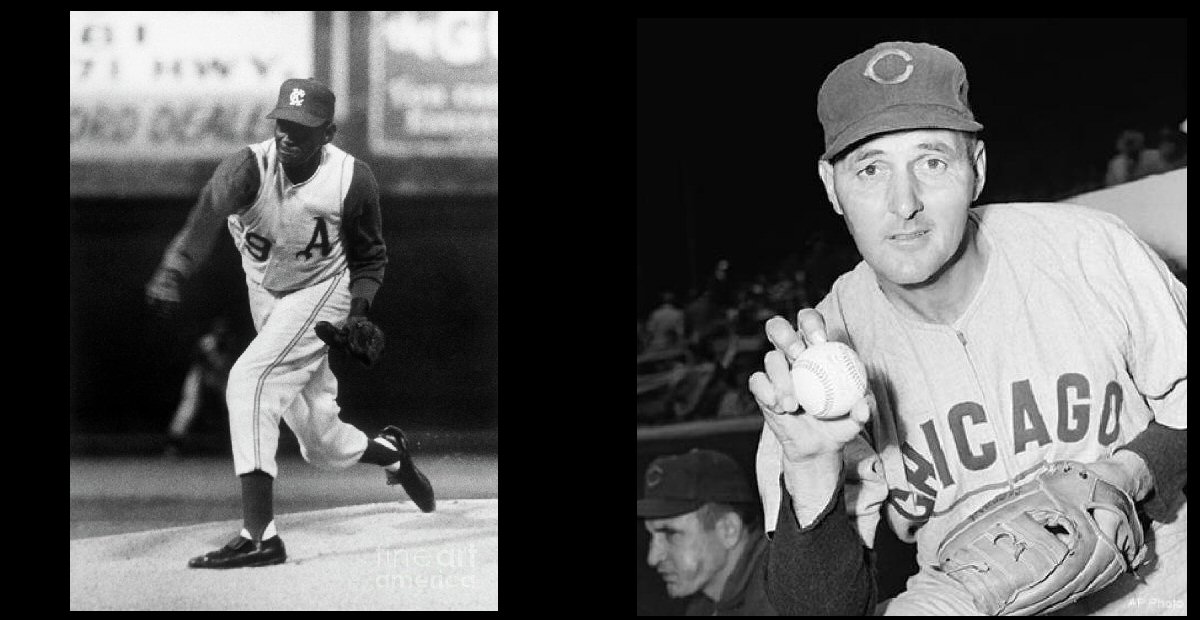 Finally - who was the last man born in the 19th century to appear in a major league game? It turns out to be someone who already has a notable role in Windy Baseball Lore, because Charlie Root - for it is he - was of course the man who threw the famous pitch to Babe Ruth in the 1932 World Series, where the Bambino did - or didn't - call his own shot. We will never know for sure. Never! There's even film, and it settled nothing! (I don't think he did, personally.) Root didn't make it to the majors to stay until he was 27 years old - he had an unsuccessful shot with the Browns a few years earlier - but once he carved out his spot in the Cubs rotation, he hung around long enough to pitch more games and innings, and win more games, than any other Cubs pitcher, ever. More than Fergie Jenkins, more than Three-Finger Brown. He was 42 years old when he pitched his last game in the majors - he tossed a complete game five hitter to beat Cincinnati 3-1 on 2 September 1941. The Cubs released him at the end of the year, and he went right on pitching for another five seasons in the minors before finally hanging them up.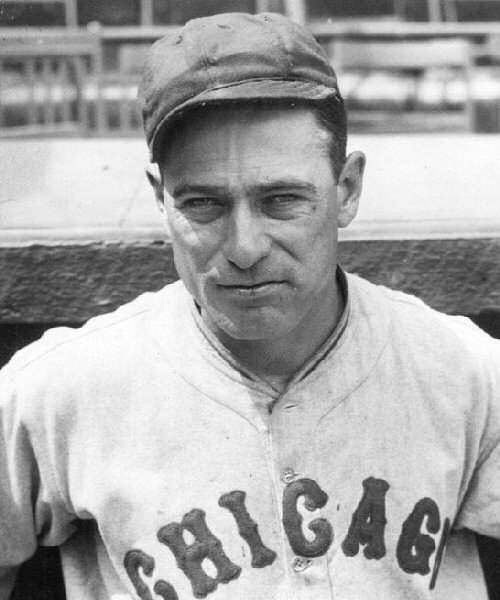 * Major leaguers born in San Pedro de Macoris include Sammy Sosa, Robinson Cano, Tony Fernandez, Alfonso Soriano, Juan Samuel, Luis Castillo, Jose Offerman, Rico Carty, George Bell, Rafael Ramirez, Pedro Guerrero, Mariano Duncan, Fernando Tatis, Manuel Lee, Jorge Polanco, Pepe Frias, Miguel Sano, Guillermo Mota, Carmelo Castillo, Manny Alexander, Raimel Tapia, Joaquin Andujar, Johnny Cueto, Hector Carrasco, Jose Valverde, Salomon Torres. San Pedro de Macoris has a population of about 190,000, which is about the same as St. John's Nfld. It can't quite match places like Saskatoon or St. Catherines. Bill James once wrote that a whole generation of American kids growing up with baseball cards are going to think that San Pedro de Macoris is bigger than Brazil.