Most of you know of Guillermo Quiroz, one of the Blue Jays top prospects, currently catching at Syracuse. Baseball America rated Quiroz as the Blue Jays third best prospect in their 2004 pre-season rankings, and the 35th best prospect in all of baseball, third among catching prospects behind Joe Mauer and Jeff Mathis. With Alex Rios now a Blue Jay, and with Dustin McGowan having Tommy John surgery, Quiroz is likely headed for the number one ranking at seasons end.
I caught up with Guillermo when Syracuse were in Buffalo earlier this week. Guillermo's English is excellent and he appears to have a clear idea of where he is headed and what he has to do to get there. Ed Gonser, who covers baseball in Northern New York for AP, the Syracuse Post-Standard, and Our Sports Central, doubles as a photographer and generously sent me a number of photos of Quiroz. All photos here are copyright by Ed Gonser and used with his permission, thank you Ed.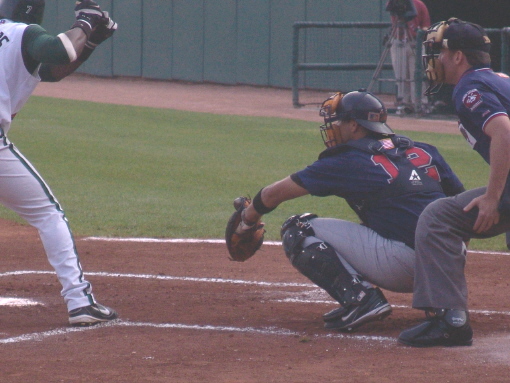 Guillermo, or Q as his teammates call him, is young for AAA, he was 22 years old at the start of the season and will not turn 23 until November. Quiroz is the youngest member of the Syracuse roster, and is nine months younger than Alex Rios. Quiroz is from Venezuela and, as a Venezuelan was not subject to the draft. He signed with the Blue Jays as a free agent in 1998, before his seventeenth birthday. I asked Guillermo how the signing came about.
"I played in the Senior League World Series for Venezuela in Kissimmee, Florida. Scott Boras had some people there and after that tournament they followed me back to Venezuela and talked to me and things worked out"
. Reports are that Quiroz signed for $1.2 million, so you could say things worked out. I asked if college was a temptation.
"It is not the money, I wanted to play baseball, I finished high school in Venezuela, and the way things were going for us back home I didn't want to go to college."
For his first professional season, at the age of 17, Quiroz traveled from Venezuela to Medicine Hat, Alberta to play Rookie League baseball. I asked him if it was a big change to travel from Venezuela to Alberta?
"Yeah it was a shock, it was cold, I was a kid, I was only 17 and a half, but it was fun, I enjoyed it, I was not homesick, my family came to visit me."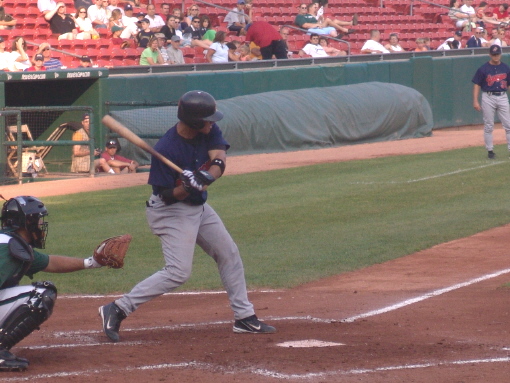 Quiroz progressed through the Jays system, emerging as an all-star in 2002 in the Florida State League. In that year, at age 20, Quiroz batted .260 with 28 doubles and 12 home runs. Quiroz played for New Haven in 2003, repeating as an all-star, and now starts for Syracuse. In AA in 2003 Quiroz hit .282 with 27 doubles and 20 home runs.
But Quiroz is not known just as on offensive catcher. Baseball America praises Quiroz's defense, noting his good record at throwing out runners and complimenting his handling of pitchers. In a poll of managers in the International League conducted in July of this year by BA, Quiroz was voted best defensive catcher in the league. Initially in the big leagues Quiroz might have to rely on his defense. BA notes that Quiroz has a long swing and while he projects to have good power, his batting average might end up closer to .250.
I asked Quiroz about spring training, 2004.
"This was my second time on the 40 man roster and my second spring training, I had more at-bats this year, you always enjoy being there with those guys."
Quiroz worked with Joe Breeden extensively in the spring.
"We worked on catcher mechanics, throwing to the bases, blocking balls, a lot on handling breaking balls, a little bit of everything"
, and now Quiroz works with Marty Pevey, his manager and an ex-catcher.
"He is always on top of me and anytime he sees something he tells me and we work on it. He has been my manager for the last three years now."
Quiroz broke his hand in early June and was out for almost two months.
"Those are things that are in the game, if you don't want to get hurt you don't play the game. A ball got loose from the pitcher, and it broke my left hand and I was out almost two months, and now I feel kinda good the last couple of days I have been hitting the ball well and I fell like I am getting back into it."
Syracuse manager Marty Pevey believes
"there is still weakness there. It takes a long time to get the strength back in your hand. Does it effect you mentally? If you are 22 or 23 it might, you look at your numbers and you start pressing. He will hit, it just takes time to get your strength back."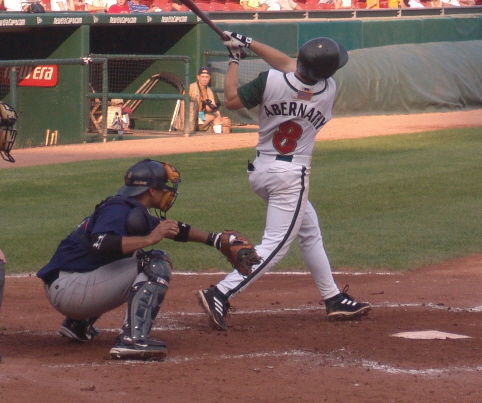 Now that Quiroz is back playing is he trying to work on anything in particular?
"Now I am trying to hit the ball from the middle to the right side of the field, to me that is one of the most important parts of the game, cause you know pulling the ball is a reaction. I am trying to get back into the shape I was in last year when I was able to hit the ball over there every time I wanted to and try to hit the pitches where they are at."
How has he reacted to the pitchers at AAA?
"The pitchers in AA throw hard but they don't have the control of most of the pitchers here in AAA. Pitchers here spot the ball very well, they have good breaking stuff and change-ups are good, they throw it in any count, they only give you one or two pitches to hit per at-bat."
Speaking of hitting the ball the other way I asked if he had talked with Alex Rios since Alex was promoted?
"Yes we talked a little bit, more at the beginning when he started slow we were talking a lot, but things have been progressing for him and he is going good now. At the start of this year down here he was trying to pull everything, he does not pull the ball at all and this year at the beginning he was trying to do the same thing instead of hitting the ball the other way, he has so much pop that way it is unbelievable."
I asked Guillermo how were things back in Venezuela?
"My family is still there, after the season I am heading back there, I play winter ball there every season, I am going back there to have fun, relax and play ball. I do worry about my family, you are far away, but my dad is looking after the family."
And what if his trip back to Venezuela is delayed, could the Jays call him up in September?
"I have not heard anything, I do not want them to tell me anything, I just go out every day and play my game, give 100% every day."
Best wishes to Guillermo from all Bauxites and we hope to see a lot of him in 2005.