The Blue Jays can't deliver the big blow and end up blown out by the Baltimores.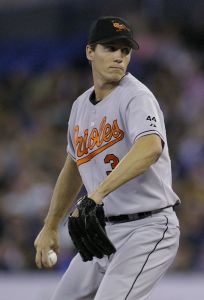 Star of the Game
: Kris Benson had no problems with the Jays for the second straight start, and stayed in the game just long enough that the Oriole bullpen couldn't quite give it away.
Unsung Hero
: Miguel Tejada ended up with the more impressive line, but it was Melvin Mora who delivered the first, key blow in the second inning. And 3-for-4 with a double for 2 runs and 2 RBI is not to be sneezed at either.
For the Jays
: Alex "You can't call me Al" Rios batted leadoff and banged out 3 hits, showing off his wheels with a hustle double and a triple.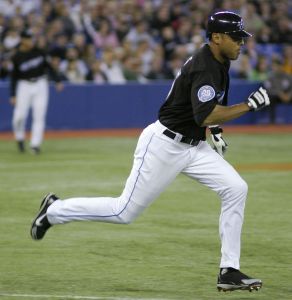 Defensive Play of the Game
: Nothing truly stands out. Shortstop Brandon Fahey made a nice diving stop on Frank Catalanotto's infield single in the first, and ended the game in smooth 6-3 fashion.
Offensive Misplay of the Game: Mora hit a little squib in front of home plate in the 6th, and assuming it was foul made no attempt to run to first. The look on his face when Bengie Molina tagged him out was priceless.
Double Clutch
:
Leading 3 – 0, Benson started flagging in the top of the sixth. A one-out Rios double was followed by a Catalanotto walk, a deep fly out from Wells, and a Troy Glaus walk. But Lyle Overbay, ostensibly one of the most patient hitters on the team, flied out to centre on the first pitch to end the threat and the Oriole lead remained at 3.
In the 7th Toronto finally got to Benson, scoring two runs on a Shea Hillenbrand double and a pinch single from Eric Hinske. Julio Manon was summoned from the 'pen, and promptly surrendered a triple to Rios to make it 5 – 2 and walked Cat and Vernon Wells to load the bases for Glaus. Sendy Rleal came on for the Orioles and Tree hit his first pitch off the left field wall on the fly, foul by no more than a foot. Rleal took some deep breaths and eventually retired Glaus on a line drive to left.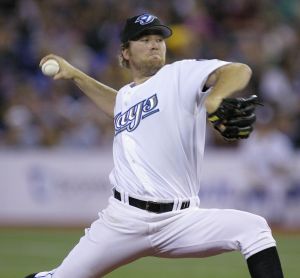 Baby Steps
:
Is it progress to go from 3 runs (2 earned) over 4 innings to 5 earned over 6? In this case, I think it is. Casey Janssen seemed much more in control tonight, and showed much better control in striking out 3, walking none, and hitting just Chris Gomez (as opposed to 0 K, 3 BB, 2 HBP in his debut). For the most part he kept the ball down, with 11 ground ball outs to 4 fly outs, and threw 55 strikes to 26 balls. He'll face LA of A next time out.
Elsewhere In The East
:
Rain.
Oh, and Mark Hendrickson gave up his first 6 earned runs of the season as the Rays fell 7 – 5 to the Rangers. Lurch had started the season with 17 innings and just 3 unearned runs.
Today
:
Roy Halladay takes to the mound in Fenway. With yesterday's rainout, the Jays face Josh Beckett today and Matt Clement tomorrow, with Curt Schilling bumped to Friday against Baltimore. Beckett will do his very best not to plunk any Blue Jays.