Is this TDIB? Is it a report on the Jays and A's? You're asking me?
The real big news yesterday comes from the Bronx...
The last time Hideki Matsui missed one of his team's games was in 1993, when he was a 19 year old rookie with the Yomiuri Giants. He played in his team's final 39 games that year, and in each of the Giants' 1211 games over the next nine seasons. He joined the New York Yankees in 2003 and played in 518 consecutive games, the longest streak by any player at the beginning of a major league career.
All told, Matsui had played 1,768 consecutive games before breaking his left wrist last night trying to make a diving catch on Mark Loretta's first inning blooper. Because Matsui could not complete the half inning, the game does not count as part of the streak. So yes, he was in the starting lineup for the game that ended his streak. (Alfredo Griffin scored
the game winning run
in the game that ended his consecutive game streak, by the way. Way back when, Lou Gehrig kept his streak alive by being listed in the starting lineup as the shortstop, leading off, and immediately coming out of the game. Some of these rules... but I digress, as I am wont to do.)
Matsui will have surgery today, and is expected to be out for ten to twelve weeks. Ouch.
The Yankees already have Gary Sheffield on the DL, and the Bombers' corner outfielders for the immediate future will apparently be Melky Cabrera in left and Bernie Williams in right.
Yes, Bernie Williams in right field. Does anyone think that has a chance to work? Do you think there might be a few guys trying to first to third on
this
outfield?
Matsui is one of the few Yankees I actually like - it might be the hair, I like hair, I remember my own with great fondness - and I am disappointed to see this streak end. Obviously, it is remarkable indeed to play 1700 games in a row. But the question that is now much on my mind - what becomes of that posse of Japanese media who follow the Yankees from town to town and game to game? Do they get temporarily reassigned? Do they cover his rehab? Or are they supposed to try to get their readers interested in... oh, Tanyon Sturtze? Because I don't think that's going to work, although it's probably got a better chance than Bernie Williams in right field.
Anyway... on to the hometown nine.
The Blue Jays beat up on Oakland yesterday, to take two of three in the series. Oakland's best player is Eric Chavez - their best pitchers are Barry Zito and Rich Harden. None of them appeared in the three games You need to be good, and you need to be lucky as well.
Here is a tale of three ball players:
SPLIT	G	AB	R	H	2B  3B	HR	RBI	SB	BA	OBP	SLG 
Season	34	134	24	36	7   0	12	31	0	.269	.369	.590 
Season	33	127	23	37	4   0	12	28	0	.291	.393	.606 
Season	33	124	32	34	9   0	12	30	1	.274	.361	.637
One of these lines belongs to David Ortiz. Another belongs to Carlos Delgado. And the third belongs to the guy playing third base for the Blue Jays. So, just in case you were wondering...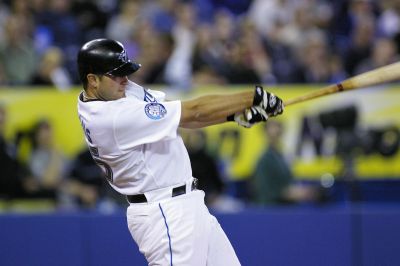 Star of the Game
- The mighty Troy.
Arma virumque cano.



Josh Towers pitched three fine innings in the series opener, and then got touched up for three runs and a pair of homers in the fourth inning. Down 3-0, Gibbons went to the pen for the fifth inning. One of the things Gibbons said afterwards was that he wanted to get the bullpen some work. I'm sure no one believed
that
- I think Gibbons was cranky, and afterwards was trying on various stories like so many new sets of clothes.
The lesson, at any rate, is that one should always be careful of what you wish for. The next night, Gustavo Chacin could only complete three innings, surrendering five runs and three homers (Chacin has allowed 10 HR in 39 IP this season, and still sports a 5-1 record, which is...unusual.)
Chacin reported discomfort in his elbow, and an MRI reported a strained forearm and a sprain of the ulnar collateral ligament. No one seems to think this is a serious problem, but he will surely miss a start or two.
Happily, Toronto's most consistent and reliable starting picther, Ted Lilly - yes, yes,
Ted "the Tease" Lilly -
was able to pitch into the eighth inning yesterday afternoon and give the relief corps a bit of a rest.
I got my first look at Francisco Rosario in the Wednesday night game - he collected his first major league win, and looked very impressive doing it. But he looks like a reliever to me. I saw a very nice 94-96 mph fastball, with movement and command - I saw an effective changeup in the mid 80s - but I didn't see anything else, and two pitches are normally not enough to get by as a starter. He threw some sliders, but none of them were any good. He did get Bobby Crosby to strike out on one that was eye high and a foot outside, but a) that was a gift, and b) that's not where the slider is supposed to go.
Casey Janssen, Roy Halladay, and Josh Towers get the call this weekend. The Jays still have not swept a series this season. Now would be a good time.