Some things just don't change.
"Home run hitters drive Cadillacs. Singles hitters drive Fords."
--Ralph Kiner
Well, they're probably all driving Ferraris now, but the point still applies. Singles hitters, in fact, are almost a Vanishing Species. Everyone is gripping the bat down by the knob and trying to rip the ball over the wall. Everyone but Ichiro, I guess.
                               Best     Number of    Age During First    Age During Last
    Player              HRs   Season  30 HR Seasons    30 HR Season        30 HR Season

 1. Hank Aaron          755     47         15              23                  39
 2. Babe Ruth           714     60         13              25                  38
 3. Barry Bonds         708     73         14              25                  39
 4. Willie Mays         660     52         11              23                  35
 5. Sammy Sosa          588     66         11              24                  35
 6. Frank Robinson      586     49         11              20                  37
 7. Mark McGwire        583     70         11              23                  36
 8. Harmon Killebrew    573     49         10              23                  34
 9. Rafael Palmeiro     569     47         10              28                  38
10. Reggie Jackson      563     47          7              23                  36
11. Mike Schmidt        548     48         13              24                  37
12. Ken Griffey         536     56          8              23                  35
12. Mickey Mantle       536     54          9              23                  32
14. Jimmie Foxx         534     58         12              21                  32
15. Ted Williams        521     43          8              20                  38
15. Willie McCovey      521     45          7              25                  32
17. Eddie Mathews       512     47         10              21                  33
17. Ernie Banks         512     47          7              24                  37
19. Mel Ott             511     42          8              20                  33
20. Eddie Murray        504     33          5              24                  31
21. Lou Gehrig          493     49         10              24                  34
21. Fred McGriff        493     37         10              24                  38
23. Willie Stargell     475     48          6              26                  39
23. Stan Musial         475     39          6              27                  34
25. Dave Winfield       465     37          3              27                  31


There are two active players (Bonds and Griffey) already in the Top 25, and while the bar stood at Winfield's 465 homers coming into 2006, he has already been overtaken by one active player (Frank Thomas) and another three (Jim Thome, Manny Ramirez, and Alex Rodriguez) will probably pass him before the season is over. Thome and Ramirez will probably get it done in the next few weeks, in fact. The bar is being raised as we speak.
The problem with charting the progress made by any Top 25 is the wildly variable shape of players' careers, of course. Career home runs is no exception - as usual, we have those players who did the biggest share of their work before turning 30 (Ott, Foxx, Griffey) and players whose careers shaped by injuries and other interruptions (Williams, Mantle, Gehrig, McCovey, McGwire). But with respect to home runs, we also have the unique case of the Gang of Four - Bonds, Sosa, McGwire, and Palmeiro - four players whose careers follow an
extremely
unusual shape. To say the least.
Consider this - these are the number of home runs hit at each age, by four fairly representative great hitters: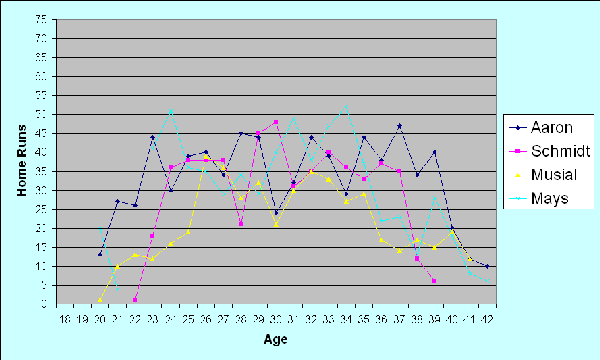 Forgive the fuzziness, I messed it up. But I think you can see some fairly typical career patterns. Certainly Stan Musial can be seen solidifying his place as possibly the least eccentric and most dependable great player who ever lived. At any rate, the peaks are roughly where you would expect them to be. You can see them getting older and slipping into decline right in front of you (although Aaron, with a huge assist from a timely change in his home ball park, did his best to fight it off.)
Anyway, that graph does not remotely resemble this: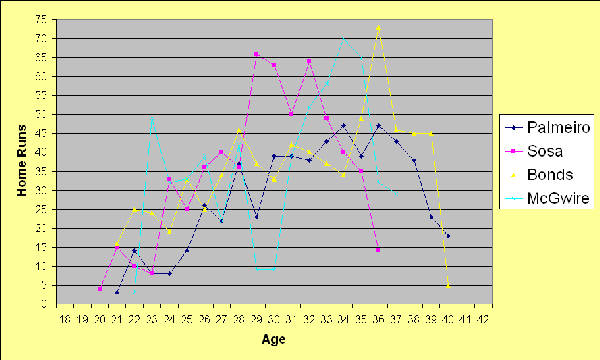 Okay. I think, among other things, that these are four careers that we simply can't use as reference points for other players. Conditions change. The spitball isn't legal anymore...
I really tried to exercise special care in choosing my 25 active candidates to break into the Top 25, especially after so shamefully overlooking Edgar Renteria as a 3000 hit candidate. As usual, everyone with less than 400 games played is not up for consideration - which means no consideration here for David Wright, Ryan Howard, and Jeff Francouer, among others. (You can probably forget Howard, anyway - he simply got started way too late, even later than Giambi. When Alex Rodriguez was 25, he'd already hit well over 200 homers. Howard had hit 24.)
So first I made a list of 35 players and compared their home run progress to the players who currently constitute the Top 25.
As it turns out, 15 of the 35 players I looked at were fairly quickly revealed as pretty dubious candidates: the pretenders were Shawn Green, Todd Helton, Jason Giambi, Miguel Tejada, Paul Konerko, Scott Rolen, Derrek Lee, Vernon Wells, Carlos Lee, Carlos Beltran, Lance Berkman, Pat Burrel, David Ortiz, Bobby Abreu, and Alfonso Soriano.
What makes these guys poor candidates? Well, the only players on the Top 25 whose HR pace these fifteen players are matching turn out to be either: a) the three guys at the very bottom of the list (Musial, Stargell, Winfield), or b) Rafael Palmeiro, whose late-career home run surge just doesn't seem like a natural phenomena that some other player might one day duplicate. Ahem. Palmeiro is the
only
player that Alfonso Soriano has out-homered at the same age. Bobby Abreu is behind
everybody
. And David Ortiz is surely a great, great hitter - but he's the same age as Alex Rodriguez (three months younger, to be precise), and has
240
fewer
home runs. Which is a lot.
Which leaves 20 players who do seem at the moment to have a chance to break into the Top 25. They are, in order of career homers entering 2006: Gary Sheffield, Frank Thomas, Manny Ramirez, Jim Thome, Alex Rodriguez, Mike Piazza, Carlos Delgado, Chipper Jones, Vladimir Guerrero, Andruw Jones, Richie Sexson, Troy Glaus, Albert Pujols, Eric Chavez, Adrian Beltre, Adam Dunn, Aramis Ramirez, Mark Teixeira, Hank Blalock, and Miguel Cabrera.
To bring my list up to 25, I am going to add five candidates from my rejects at bottom of the barrel. I'll take the youngest (Vernon Wells), the oldest (Jason Giambi), the two guys who may actually be making the best progress (Miguel Tejada and Paul Konerko), and one sleeper (Carlos Beltran.) It's a long uphill battle for all of these guys, I promise.
I also promised a word about Hideki Matsui. Through age 31, Matsui has hit 402 HRs - 332 in roughly nine and a half seasons in Japan, and 70 more in three American League seasons. The overall total is just one fewer than Frank Robinson had at the same age. No one seriously thinks Matsui would have hit this many had he been in North America all along. Japanese players generally seem to retain at least half, but no more than two-thirds of their home run power upon moving to North America. Matsui, while hitting for essentially the same batting average in North America, seems to have maintained roughly two-thirds of his home run power. In his 9 full seasons in Japan, he averaged 32 homers; in his three North American campaigns, he has averaged 23. It's easy enough to imagine him with roughly 280-300 home runs at age 31, had he been in North America all along. That's not Frank Robinson, but it's more than respectable - it puts him at about the same career pace as Eddie Murray, who actually does seem like a fairly decent parallel for Matsui.
Anyway, here are the contenders, with their current totals and where they rank among their age group. As always, this is not where they stand within their
entire
age group, but rather just within this group of 50 players.
Alex Rodriguez
(429 through age 29, 1st) - Ho-hum. Rodriguez is ahead of
everyone
, and it's not even close. The other players with the best performances before turning 30 were Griffey (398), Foxx (379), Mantle (374), and Mathews (370). Henry Aaron had 342 HRs at age 29; Ruth had 284; Bonds had 259. All three of these men, however, hit more than 400 homers after turning 30. Of course, Rodriguez doesn't need to do that - he needed just 326 homers to catch Aaron before this season started, and it'll be less than 300 when the season is over. If Barry Bonds ever does manage to overtake Aaron, he'll probably have less than a decade to enjoy his place at the top of the mountain.
Albert Pujols
(201 through age 25, 7th) - Watch out. Through age 25, he was ahead of everyone except Foxx, Mathews, Ott, Mantle and Robinson (as well as Rodriguez.) But Pujols is still improving his position, which is impressive and unusual - usually, players take themselves further out of the running as each season goes by. He will probably overtake the pace set by Ott and Robinson before this season is over (he needs a 42 homer season). His only problem, if you can call it that, is that Alex Rodriguez's brilliant age 20 season has given A-Rod about a 40 homer lead on Pujols at each step along the way. But for sure, it's hard to think of a reason, for now, why he can't make it to 600 home runs and beyond before he's done.
Andruw Jones
(301 through age 28, 7th) - Andruw, it seems to me, is evolving into more of a pure slugger-RBI guy than he had been earlier in his career. His early start has helped him move ahead of everyone else through age 28 except Foxx, Mathews, Mantle, Ott and two active players - Rodriguez and Griffey. Andruw had been tracking Frank Robinson's progress fairly closely, until he roared past him last season. F-Robby came very close himself to reaching 600 career homers (he probably would have got there if he hadn't turned his attention to managing.) And while Robinson's best HR season came at age 30 (49 in his 1966 MVP season), he actually hit considerably more homers in the early part of his career (324 through age 29, 259 homers afterwards.) So, yes - Jones has a very good chance to end up with 600 career homers.
Vladimir Guerrero
(305 through age 29, 9th) - Only nine men in history hit more homers through age 29 than Vlad, and one of them was Juan Gonzalez. Rodriguez and Griffey are still working on their totals of course - the others are Foxx, Mantle, Mathews, Aaron, Ott, and Robinson. There seems to be no reason whatsoever for Guerrero not to clear 500 homers, with room to spare.
Miguel Cabrera
(78 through age 22, 10th) - This list, you will notice, is positively crawling with third basemen. And even among the players who aren't playing third base now we find players who played the position regularly or semi-regularly at some point in their career (Thome, Pujols, Sheffield - even Giambi played a little third in his youth.) This interests me because so far Mike Schmidt and Ed Mathews are the only career third basemen to hit 500 HRs - in fact, Darrell Evans is the only other to even hit 400 (although there are other players on the all-time homer list who spent significant parts of their careers at the hot corner. Evans, of course, spent a good part of the back end of his career as a 1B/DH.) At the moment, though, there are plenty of active third basemen in position to make a run at 500 - and that doesn't even include the two men who may be the best at their position in each league: Scott Rolen (who seems unlikely to make it much past 400) and Alex Rodriguez (who hit most of his homers as a shortstop.) Cabrera has played some outfield, but he will probably be an infielder for at least the next few seasons. He has two 30 homer seasons by age 22, which is a helluva start. Cabrera is ahead of everyone in the Top 25 except Ott, Mathews, Robinson, Williams, Foxx, Mantle - he also trails the age 22 totals of three active players: Rodriguez, Griffey, and A. Jones. He's not helping his cause a whole lot this year - he's going to fall behind the pace set by Aaron and Pujols, but he'll still be in great shape going forward. Unless he turns into Juan Gonzalez, of course.
Adam Dunn
(158 through age 25, 12th) - The gap between Rodriguez and Pujols at the same age is almost exactly the same as the gap between Pujols and Dunn. Dunn is two months older than Pujols, and had 43 fewer homers coming into this season. He's not gaining on him this year, although he is keeping up, which is impressive enough. Dunn through age 25 was ahead of Mays, Murray, Jackson, Killebrew, Williams, Bonds, McGwire, Gehrig, McCovey, Ruth, Sosa, Banks, Schmidt, McGriff, Winfield, Musial, Stargell, and Palmeiro. I vaguely worry that Dunn could end up like two players he resembles a little bit - Rob Deer and Dave Kingman, neither of whom aged particularly well. If you do enough other things (like draw walks and hit home runs, which is basically all Dunn does), you can get away with a low batting average to a certain extent. But only to a certain extent - when you fall below the Mendoza Line... well, Mark McGwire instantly retired when it happened to him. But while Dunn is the same
type
of player as Deer, he's simply a better version, in almost every way - he walks even more, doesn't strike out quite as much, his batting averages aren't nearly as awful, and he has even more power. Dunn also walks twice as often as Kingman, and of course he doesn't irritate people nearly as much. Which should help keep him in the game a little longer.
Manny Ramirez
(435 through age 33, 12th) - Manny is going to catch and pass Dave Winfield any day now - hell, he could have done it last night. Of course, Frank Thomas got there before him, but Manny will probably catch and pass Big Frank before the season is over. He may overtake Musial and Stargell while he's at it. Ramirez is one of the greatest right-handed hitters in the history of the game, and he will obviously end us as one the Top 25 home run hitters of all time - the only thing in doubt is just how far up the list he plans on going. I think he has a real chance to catch Willie Mays, although he's probably more likely to end up in the low-to-mid 600s. Through age 33, he was ahead of Gehrig, Bonds, Schmidt, McGwire, Banks, McCovey, Jackson, Murray, McGriff, Musial, Williams, Stargell, Palmeiro, Winfield
Adrian Beltre
(166 through age 26, 14th) - Adrian Beltre led the major leagues in home runs in 2004 - that, we shall assume, was his Brady Anderson-Norm Cash moment. Through age 26, he is ahead of Murray, Ruth, Jackson, McGwire, Gehrig, Bonds, Banks, Sosa, Schmidt, Williams, McCovey, McGriff, Musial, Winfield, Stargell, and Palmeiro. However, his established home run level is more like 20 per season, which makes him a very long shot indeed to even make it to 400 career homers.
Jim Thome
(430 through age 34, 16th) - He'll be passing Winfield any day now as well. Thome was ahead of Manny until his injury-plagued 2005 - his excellent comeback season has him and Ramirez in a dead heat, last time I looked. But Manny obviously has a important edge - he's almost two years younger than Thome, his old teammate (although the logical but arbitrary use of July 1 as "season age" makes them appear to be just one year apart.) His health restored, and his ability obviously still intact, Thome should clear 500 homers with ease. I would think he'll make a good run at 600, and fall a little short. He's ahead of the pace set by Schmidt, Jackson, Banks, McCovey, Murray, Palmeiro, McGriff, Musial, Stargell, Williams, and Winfield.
Eric Chavez
(190 through age 27, 17th) - Now here's a sleeper! But Chavez has hit from 26 to 34 homers every year since turning 22, and as a result through age 27 he is ahead of Jackson, Gehrig, Banks, McGwire, Bonds, Sosa, Schmidt, Williams, McCovey, McGriff, Musial, Winfield, Stargell, and Palmeiro. He's another third baseman, of course. With the exception of Rodriguez, I don't think
any
of the third basemen on this list will actually get to 500 - I think Chavez himself, like most of the others, will probably finish up in the mid-400s.
Gary Sheffield
(449 through age 36, 17th) - Sheffield, at least until his injury, had shown very few signs of slowing up. He was ahead of Palmeiro, Banks, McCovey, McGriff, Murray, Musial, Williams, Stargell, and Winfield coming into this season and he'll be playing for his next contract if he makes it back in September. I would think he has at least another 100 homers left in his bat.
Hank Blalock
(89 through age 24, 20th) - Another young third baseman, who's off to a very promising start. His 89 homers through age 24 puts him ahead of Killebrew, McGwire, Gehrig, Bonds, Sosa, Banks, McCovey, Schmidt, McGriff, Musial, Winfield, Ruth, Palmeiro, and Stargell. What's worrying about Blalock is that he doesn't seem to be developing. Players who don't improve from where they were when they came into the league generally see their careers come to a sudden and surprising end in their mid-30s. This could be in store for Blalock, who would end up in the 350-400 homer range. I think he needs to take a step forward.
Troy Glaus
(219 through age 28, 21st) - Despite a couple of injury years, Mighty Troy is ahead of Jackson, Sosa, McCovey, Williams, McGriff, Schmidt, Musial, Winfield, Stargell, and Palmeiro. He's only 29 this year, and he can still certifiably hit home runs. As a hitter, Glaus has a few things in common with Mike Schmidt - you know, the greatest third baseman who ever lived - and because he started out much younger than Schmidt, Troy is comfortably ahead of Schmidt's pace as he heads for age 30. However... Schmidt was an extremely durable player, who had some of his biggest seasons after turning 30. Glaus seems unlikely to age as well, although he could very easily last just as long. I don't see Glaus quite making it to 500, but he should come close. Of course, he could become a 1B/DH and play until he's 40, in which case, he should get there easily. But I think he's more likely to have a couple of seasons fairly soon where he plays less than 100 games.
Carlos Delgado
(369 through 33, 22nd) - Delgado was actually tied with Reggie Jackson through age 33. He's not going to match Jackson's outstanding age 34 year. However, he was ahead of Murray, McGriff, Musial, Williams, Stargell, Palmeiro, and Winfield when the year began. He'll still be ahead of them when the year is over, and he'll also have overtaken Banks and McCovey. He's going to make it to 400 career homers by Labour Day - by the time he leaves the NL and comes back to the AL to be a DH/1B, he may be just one year away from 500. Like McGriff and Stargell, he got started a little late, as the Blue Jays screwed around trying to figure out where he should be playing. But he's better than McGriff, and more durable than Stargell. I expect him to finish about where Reggie ended up - in the mid-to-high 500s.(25 HR)
Frank Thomas
(448 through age 37, 22nd) - He was ahead of the pace set by Murray, Williams, Musial, Stargell, and Winfield when the season started, and with 22 HRs already this season, he has: a) already overtaken Winfield for 25th on the all-time list, and b) proven he's not quite done yet.. Alex Rodriguez was closing on him, but this year the Big Hurt has fought off the challenge for the most part. It's obviously uncertain just how long Thomas' fragile pins can support his 270 pounds. But after this year, he should be just one fairly healthy season away from 500 homers, and he could still end up somewhere in the 525 to 550 range.
Mark Teixeira
(108 through age 25, 25th) - He hit 43 home runs at age 25, and it could not have been a fluke - he hit 38 the year before. So he really ought to be in better shape than he is. He's tied with McCovey, who was platooned early in his career. He's ahead of Ruth, who was pitching; he's also ahead of Sosa and Palmeiro, who hadn't discovered the Wonders of Modern Chemistry at this stage of their career. The real home run hitters Teixeira is outpacing, then, are Banks, Schmidt, McGriff, Winfield, Musial, and Stargell - generally, the guys at the bottom of the list, and the guys who got off to a late start. The only men on the Top 25 who were the same age as Teixiera when they hit their first homer are McGriff and Stargell. That late start is the main reason neither was quite able to make it to 500. It's probably going to end up hurting Teixeira as well, who as a hitter seems quite similar to McGriff, if not quite as good.
Mike Piazza
(397 through age 36, 28th) - That Mike Piazza is even part of this discussion is truly remarkable. He has had some enormous factors working against him. Piazza got his career started even later than McGriff and Stargell - his first year as a regular was his age 24 season. And, as we all know, he is a catcher. Johnny Bench was a truly great power hitter - but Bench was a catcher, and he couldn't last long enough to make it to 400 home runs. Mike Piazza, however, is
the greatest hitting catcher who ever lived
, and he made it past 400 homers earlier this season. He would probably be much closer to 500 homers if he hadn't been catching, but he wants to catch - and people, can I just say that his defensive shortcomings have been greatly exagerrated over the years. He can't throw, true - he probably couldn't throw out Bengie Molina trying to steal - but the rest of his defensive game is not bad at all, and he works well with his pitchers which is probably the most important part of the job anyway. Seriously - I'll trade the 30 extra stolen bases he allows for the 30 extra home runs that he hits, and you would too. The fact that he's still catching probably makes him unlikely to last long enough to get to 500 - but he's now less than 90 homers away. He's 37 years old. I don't
think
he can do it, but I'm absolutely not going to count him out. He is one of the most remarkable baseball players of our time. In his age group, he's ahead of Williams, Stargell, and Winfield
Chipper Jones
(331 through age 33, 31st) - Look, folks! Another third baseman! Jones came into this season ahead of Musial, Williams, Stargell, Palmeiro, and Winfield - that's not too encouraging, and neither is the fact that he always seems to be hurting these days. I think he's going to get tired of it all, and pack it in soon after he hits his 400th homer. He's been a wonderful player, but as great as he's been, I suspect his career is going to seem as if it somehow wasn't quite as good as it was supposed to have been.
Richie Sexson
(239 through age 30, 32nd) - Sexson is not very well placed - he's only ahead of McGwire, Musial, Winfield, and Palmeiro. You know, two guys from the bottom of the list, and two guys who found drugs in mid-career. Sexson also got off to a late start - his first season as a regular was his age 24 season. I think Sexson is a contemporary version of Cecil Fielder and Frank Howard - an enormous right-handed slugger, who for no good reason had some trouble establishing himself as a regular right away. At their peak, these guys scare the living crap out of you. Like Howard and Fielder, Sexson is capable of some pretty monstrous seasons - he's already hit 45 homers twice. A few more years like that would certainly put him into the hunt. I still don't like his chances. Neither Howard nor Fielder made a serious run at 500 homers.

Jason Giambi
(313 through age 34, 33rd) - I suppose it ought to be clear by now that Jason Giambi really didn't need drugs to be a great power hitter. Giambi may have
believed
he did, and it probably didn't help that he came to the major leagues on a team where the Big Dog was Mark McGwire (who didn't need drugs to be a great power hitter, either, now that I think of it.) Giambi is still a great hitter, but he has some serious problems when it comes to posting impressive career counting stats. First of all, he got off to the latest start of anyone on this list. Giambi is the only player who was 24 years old before he hit his first homer, the only one who didn't become a regular until he was 25. And does he look like a trim, well-conditioned athlete, someone who will age gracefully into his late 30s? Not to me, anyway. I think he's a longshot to last long enough. Between that, and the late start, his chances are small - for his age group, the only guy he's ahead of is Dave Winfield, who played until he was 43.

Aramis Ramirez
(158 through age 27, 34th) - Yet another third baseman, and this Ramirez wasn't even on my radar screen. But Aramis hit 34 HRs at age 23, and he's added two more 30+ homer seasons since then. It has him ahead of McGriff, Musial, Winfield, Stargell, and Palmeiro in his age group. So he's another guy with a chance to swell the club of third baseman with 400 career homers. He's the same age as Chavez, but he's already more than 30 homers fewer than Chavez - and I think Chavez looks much better going forward because of all the other things he does.
Miguel Tejada
(216 through age 29, 34th) - Tejada is only ahead of Musial, Winfield, Stargell, and Palmeiro - I do expect him to age well, and slide seamlessly over to third base in about five years. There's certainly no hurry. I think he may have some bigger home run seasons in his future. His best season so far is 34, which he's done twice. He's so durable, so consistent, and so good that I think his chances deserve just a bit more respect than the raw numbers suggest right now.
Paul Konerko
(210 through age 29, 35th) - Maybe some day we should assemble an All-Star team of the Guys Jim Bowden traded away. Konerko took a big step forward these past two seasons, and everything depends on how long he can sustain it. I'm thinking not long enough. For the moment, he's ahead of Musial, Winfield, Stargell, and Palmeiro
Vernon Wells
(109 through age 26, 41st) - Wells is one of the younger players on this list- his best power seasons could very well be ahead of him. Certainly, he seems likely to establish a new personal high in homers this season. Wells also just
looks
like someone who should be hitting more homers than he does. The man is built like a fullback (a very fast fullback, of course, but centre fielders usually resemble wide receivers.) Wells came into 2006 ahead of only Winfield, Stargell, and Palmeiro - but he was coming off an off-year last season and an injury year before that. Even so, his totals by age are mirroring those of his old teammate, Carlos Delgado, and Delgado looks like a pretty good bet to me.
Carlos Beltran
(162 through age 28, 44th) - Beltran is my sleeper pick. For now, he's ahead of Winfield, Stargell, and Palmeiro. That's not impressive at all. However, Beltran is clearly morphing from an all-around five-tool kind of guy into a Power Hitter Deluxe. Every year, he gives up a little something from his overall offensive game - but the power numbers are getting better and better. This year, he'll set career highs in homers, slugging, and RBIs - and as is appropriate for a true power source, he's going to draw more walks than ever before as well. He would normally be a pretty good bet for a few 40 homer seasons going forward, although Shea Stadium will probably do everything in its considerable power to prevent that from happening. (In 40 years, only twice has a Met hit 40 homers.) But, nevertheless, he is my sleeper pick to clear 500 homers. Which, by the way, will probably not be good enough to get him into the Top 25 of all time.
Because that's the thing. The bar is being raised. I think a whole bunch of these active players - ten, to be precise - will hit 500 career homers. I've been keeping track. I like the prospects for Alex Rodriguez, Albert Pujols, Andruw Jones, Manny Ramirez, Jim Thome, Gary Sheffield, Frank Thomas, Vladimir Guerrero, Carlos Delgado, and Carlos Beltran. The game has changed. I can actually remember when Mickey Mantle became just the sixth guy in history to reach 500 home runs, and that was just two years after Willie Mays got there.
Anyway, coming into 2006, the #25 guy was Dave Winfield with 465 homers. I'm saying that in about fifteen years, the bar for the Top 25 will be 520 career homers, and the list will look something like this:
1. Alex Rodriguez
2. Henry Aaron
3. Barry Bonds
4. Babe Ruth
5. Willie Mays
6. Albert Pujols
7. Ken Griffey
8. Manny Ramirez
9. Sammy Sosa
10. Frank Robinson
11. Mark McGwire
12. Jim Thome
13. Andruw Jones
14. Harmon Killebrew
15. Rafael Palmeiro
16. Reggie Jackson
17. Carlos Delgado
18. Gary Sheffield.
19. Vladimir Guerrero.
20. Mike Schmidt
21. Mickey Mantle
22. Jimmie Foxx
23. Ted Williams
24. Willie McCovey
25. Frank Thomas
I'm done with the hitters. There are two pitcher's career marks I still intend to examine. Even if neither is going to be broken in my lifetime or yours. Which I can safely guarantee, by the way.