Next up are the Orioles, who are coming off a rather convincing series victory over the Yankees. Ordinarily, a three-gamer with a fourth-place team would be cause for optimism, but if the Jays want to keep their momentum going and finish a successful road trip to this point on a high, they'll have to do it against Baltimore's top three pitchers...

On to the Advance Scout!

General: Looks like yet another fourth place finish for the O's. Melvin Mora thought so on the weekend: "Where are we? We're in fourth place, 19 games behind. That's where we are. What are we going to do to fix it? I don't know. That's not my job." ... Lost on Tuesday as LaTroy Hawkins gave up a homer to Johnny Damon to tie it and Tim Byrdak allowed Robby Cano to double home the winner. Manager Sam Perlozzo said this about Hawkins: "He's your best reliever at that point." No, he's the guy you force yourself to use because Chris Ray must remain sequestered until the ninth. Perlozzo then added, "If I can get through the seventh, get into the eighth and try to get an out, Chris can come in and go with our best." So Ray is the best pitcher if it's the 8th, but not the 7th. Okay then ... (Obal says: Silly Rob. Every manager thinks that way!) ... David Newhan could be on a rehab assignment in Ottawa soon. He should enjoy that ... Say, how are you enjoying Baltimore, Spencer? ... If any Blue Jay fans are depressed over how this year has gone, well, John Eisenberg of the Baltimore Sun reminds you some are worse off: "[The Blue Jays] haven't played as well as hoped, [but] they're still over .500, where the Orioles would love to be" ... According to the Washington Post, they are fifth in the Baltimore-Washington area in terms of "sports coverage worthiness", behind the Redskins, the Nationals, the Wizards (which is apparently the new name for the Bullets), and D.C. United. Well, let me just say, Miguel Tejada takes a back seat to no soccer team! ... Beat Jaret Wright and the other True Yankees 12-2 on Thursday as they won the series ... You know, I'm pretty sure the Post and the Baltimore Sun are the same newspaper with respect to the published Orioles stories ...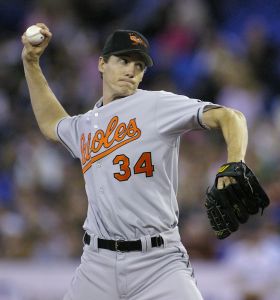 Kris Benson: Kristin James Benson has caused problems for the Jays this year. Over the course of his epic four-part battle with Casey Janssen, he has gone 3-1, averaging 6.2 innings with a 3.16 ERA ... Reaches 92 with his fastball but relies heavily on an 88-89 mph two-seamer, particularly against righthanded batters, which sets up his tight slider ... Also throws a power curve, a cutter and a circle change, and when he's feeling confident, he's unafraid to use those pitches behind in the count. If that's the case, he's basically the perfect average pitcher to keep the Jays' army of righties off balance and shut them down ... His instinctive response to getting in trouble seems to be a conscious effort to keep the ball down, down, down, often at the expense of throwing strikes and getting ahead of hitters ... Returned from an elbow tendonitis-induced stay on the 15-day DL last Saturday in Boston. He pitched five innings, allowed three runs and didn't factor into the decision. In the fifth, he allowed solo homers to Coco Crisp and Wily Mo Pena, and was yanked at 84 pitches ... Troy Glaus is 0-12 against Benson (with three walks) ...
Daniel Cabrera: Can't speak for Rob but I'm horribly sick of this big guy. Every time the Jays face him, I expect a loss ... (Rob here: I don't mind Cabrera at all. I'd rather see a team lose to him and his stuff than Jamie Moyer. So there) ... Over the last two years, Cabrera's Game Scores against the Blue Jays have been 40, 74, 49, 40, 78, 67, 53, 65; those last three are from this year. His average GS over that period has been 49. He's pitched 18 innings with a 2.00 ERA against Toronto this year ... One of the most talented pitchers in baseball, with a dazzling 98-mph heater and the dreaded humpless curveball that lets him pile up strikeouts at a Johanesque clip, but he has well-documented command issues. 96.2 innings, 100 strikeouts - and 81 walks ... The importance of not falling behind in the count against Cabrera cannot be overemphasized, but the following Data Table comes close:
| | | | | | | | | |
| --- | --- | --- | --- | --- | --- | --- | --- | --- |
| Count | AB | BA | OBP | SLG | K | BB | K/BB | K% |
| 0-0 | 349 | .246 | .384 | .381 | 100 | 81 | 1.23 | 23.3 |
| 0-1 | 167 | .198 | .293 | .293 | 64 | 21 | 3.05 | 34.0 |
| 0-2 | 68 | .176 | .250 | .279 | 31 | 7 | 4.43 | 41.3 |
| 1-0 | 153 | .281 | .468 | .451 | 36 | 60 | 0.60 | 16.9 |
| 1-1 | 155 | .206 | .319 | .323 | 60 | 27 | 2.22 | 33.0 |
| 1-2 | 113 | .133 | .214 | .204 | 69 | 12 | 5.75 | 55.2 |
| 2-0 | 51 | .392 | .663 | .647 | 9 | 47 | 0.19 | 9.2 |
| 2-1 | 70 | .371 | .574 | .543 | 15 | 39 | 0.38 | 13.8 |
| 2-2 | 69 | .203 | .383 | .362 | 34 | 21 | 1.62 | 37.8 |
| 3-0 | 14 | .500 | .841 | 1.143 | 4 | 30 | 0.13 | 9.1 |
| 3-1 | 30 | .467 | .750 | .900 | 7 | 37 | 0.19 | 10.4 |
| 3-2 | 36 | .333 | .627 | .500 | 15 | 30 | 0.50 | 22.7 |
Note the obscene K rate when Cabrera gets ahead, and the very good offensive numbers he allows when he doesn't ... "K%" is K/PA, except that "PA" doesn't include sac flies or pretty much anything except walks. So it's a bit of a little white lie, but the point still stands: Cabrera gets ahead, and you're in trouble ... When will the major sports sites start listing PA and not AB? When swine are airborne? When Bengie Molina triples? Guess not ... When Cabrera is hitting his spots and he starts throwing first-pitch strikes to everyone, he's deadly. This makes hitters go up with the nihilistic "Well, he'll get ahead and once he does I'm dead, so I might as well hack at the likely first-pitch fastball" approach to which we're so used to seeing Doc's hapless victims resign themselves. But if you go up hacking against Cabrera, you eliminate the possibility that he falls behind, and you're stuck in a vicious cycle unless you start getting hits. Patience, and a willingness to work deep counts early to run his pitch count up even if his command is on, are important virtues to have against Cabrera ... Have I ever mentioned that I'm really, really, really sick of this guy? ... Fortunately, this is the Jays' last Baltimore series of the year... After locking down the Jays in a pitchers' duel with Shaun Marcum a week ago, Cabrera was pulverized by Boston in his last start, allowing 7 runs (including a first-inning grand slam) over 4 innings in a 11-9 Sox win ...
Erik Bedard: I had the good fortune of watching Bedard's duel with Halladay last Wednesday from the 100s behind home plate, and the one thing that struck me about Bedard was how wary the Jays' runners were of his pickoff move. Every single runner on first base, even if they were taking a conservative lead, flinched significantly while Bedard pitched from the stretch. And this lets him just lock down the running game: only four baserunners have even tried to steal off him. The Jays only tried starting a runner once - and it was Vernon Wells, from second, with Alex Rios up and two out. Troy Glaus was on first at the time, and he didn't even bluff the steal. That's respect ... Bedard is getting hitters to beat the ball into the ground, and he's doing a very good job of spotting his 93-95 mph fastball. His walk rate has decreased incrementally each of the last three years while the strikeout rate has stayed constant ... He's got a legitimate 3.81 ERA this year and has really cemented himself as an ace in the AL, though he's averaging fewer than 6 innings a start, thanks to his suboptimal 3.9 pitches per batter (which is a step down from 4.2 and 4.1 the last two years) ... Pitched well in the aforementioned Tuesday game in the Bronx, and you can't fault Perlozzo for taking him out after 106 pitches and a draining sixth inning ...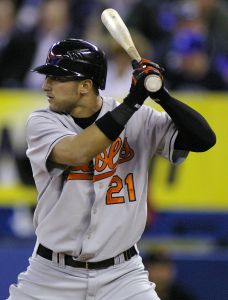 Nick Markakis: MLB.com, the WaPo and the Sun competed to see who could write the best headline about him batting second and not ninth: "Markakis moving up", "Markakis May Move Up" and "Hot Markakis won't stay 9th" ... He replaces Brandon Fahey. This move instantly makes the Orioles' lineup about 15 times better ... This image shows Markakis in his old batting stance, with his hands higher than they are now (last week he credited a hot streak to altering his hand position) ...

Miguel Tejada: You may recall he got a little testy when these teams squared off in T.O. I would be too, if I all I could see were those condos while trying to get a view of the lake ... Is 1-11 with four walks against B.J. Ryan, but that 1 is a homer. Never want to see anyone head into a matchup with Ryan feeling confident, and this is the one guy on the O's who is fully qualified to do so ...
Jay Gibbons: Due to a knee injury, will DH the rest of the year. Note the difference between him and Troy Glaus ...
Chris Britton: Thanks to Perlozzo, we have a decent scouting report on the 278-pounder who wears #52 (wait a second...): "You can be a two-pitch pitcher and do something like that, but if you're a straight fastball guy and you're not throwing more than 96 or 97 mph, then you better have something else to get them off your heater." ... His ratios look solid, but he's been a homer-lucky flyball pitcher thus far ...
Kevin Millar: Walks to the plate to the strains of "Wanted Dead or Alive" by Bon Jovi ... In one of the few cases where a hitter sustains backwards platoon splits over 2000 at-bats, this Los Angeles native is batting 200 OPS points better against righty pitching than lefty this year, and he's consistently been backwards since 2003 ... Fernando Tatis has looked comfortable against lefties so far, so the Orioles may have a nice veteran platoon on their hands here ...
Ramon Hernandez: Slump Watch - 4 for his last 11 with two walks, hitting out of the 9-hole in the Orioles' order. Is the slump over? Will Chris Widger start stealing some playing time to give Ramon the rest he deserves and probably needs? Who knows? ... Still batting .214 after the All-Star Break, but he's doing better in August than he did in July ...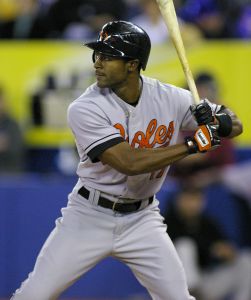 Corey Patterson: My initial impression of Sam Perlozzo is that I often disagree with his tactical moves, but one idea I do like is batting Corey Patterson seventh. Patterson is a solid hitter; he has enough power to deter pitchers from pitching around Jay Gibbons (or whoever is in the 6-hole). More importantly, he is one of the best baserunners around, with a combination of pure speed and instincts that few players can match. As the #7 hitter, Patterson is in front of some of the Orioles' weakest batters, but his mere presence on first base (and he has a good OBP against righty pitchers) disrupts pitchers' rhythms. Also, the fact that the 8-9 hitters are the weakest guys in the lineup lowers the breakeven stolen base success rate for Patterson - you might as well give him the green light to go whenever he sees fit, particularly with at least one out, as Fahey and the slumping Hernandez are unlikely to hit for much power, but they can benefit from a speedy presence on the bases to open holes and encourage pitchers to come with fastballs ...
Brian Roberts: Feels bad about homering off longtime friend Kyle Snyder of the Red Sox: "Friday night, I hit off him and almost took his head off. It wasn't a good two at-bats. I almost killed him and then I hit a home run off him. We used to be friends. I don't know if we are anymore" ...
LaTroy Hawkins: Velocity has slipped a bit in recent years; strikeout rate has slipped a lot ... Still uses his splitter and slider to get a good number of grounders, so he's still effective, but he isn't the kind of relief ace who can come in and shut a team down that he has been in the past ...
Chris Ray: Has a jerky, almost Ryanesque delivery, and a nasty fastball that can reach 98 on the gun ... On Wednesday, Byrdak, Todd Williams and Hawkins pulled a vanishing act to get through the 7th inning with a 3-2 lead intact. Perlozzo had seen enough and decided to bring in Ray for the two-inning save. (Speaking of moves I agree with...) Ray gave up back-to-back singles, on a hanging 2-2 slider to Bobby Abreu and a 1-0 fastball at the knees to A-Rod, but reached back to jam Robinson Cano with a fastball and Bernie Williams with a slider. Williams lined softly into a double play to get Ray out of the jam ... Seems to have his greatest success when he pounds hitters down and in ... Has a rock-solid 17.3 line drive rate, which makes up for his borderline-for-a-closer K rate ... Has had homer problems at Camden Yards, with the short porch in right field ... His 28 saves are 7th in the AL, and he's still only blown two all year, though he has four losses ...