For those who don't remember 2004 (and why should you?) it was the year that saw the
introduction
of the First Annual Robert Goulet Memorial Trophy. Naturally, it was awarded to Baltimore that year before Toronto took it back with their third-place finish in 2005.
And a Kevin Youkilis-Wily Mo Pena-Eric Hinske outfield would have been quite amusing, but Trot Nixon took RF while Hinske played first base in the bottom of the first for the first time ever in Toronto.
Executive Summary:
The Hansackage stopped in the fourth when L'Overbay and Troy Glaus went back-to-back, and A.J. Burnett took it from there. Justin Speier introduced uncertainty and Joycian rage, but Vernon Wells pulled a triple out of thin air as part of a two-run insurance eighth and Robert Victor was there for the spoils.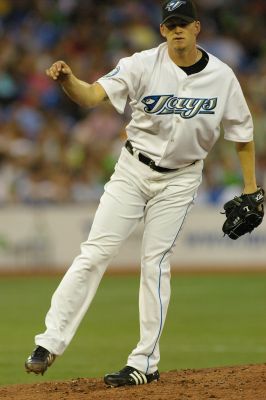 Star of the Game:
AJB with seven strong against a Manny-less Sox lineup. Ramirez made a cameo appearance in the eighth, but obviously didn't provide a turning point for this game.
For the Red Sox:
Mike Lowell. Just because. I imagine Alex Obal would have named Mark Loretta, but since I'm pretty sure none of the Sox are Waterloo graduates, I can go with Lowell.
Defensive Play of the Game:
The aforemadefunof Youkilis with a running catch in the first inning, taking a hit away from L'Overbay. He did hit his 20th HR in the fourth, though, which established a new career high.
Frankie Chat?
From what I saw, Frank Catalanotto wasn't talking it up with his former teammate after his single. Neither was Russ Adams, whatever that means.
Travis Snider Is Huge:
I think he's bigger than Rance and Jamie put together. There's no way he's a year younger than me. Have we seen a birth certificate? (If you missed it, he was on TV in the fourth inning, as part of the Webster Award ceremonies.) He bought a condo in Washington where I think he said his mother and girlfriend live with him. If that's true, I smell a sitcom.
Elsewhere:
Minnesota probably did something in their race with Detroit for the AL Central title, but it's hard to get excited over this when the loser will get the Wild Card spot anyway. I'm not saying go back to "win your division or else", but is it really a race when both can win?
The Mets, who really have no reason to show up for the next two weeks, beat the Nationals into oblivion as someone named Mike O'Connor started, but did not come close to finishing, for Washington. And Nick Johnson
got hurt
on a nasty collision. At least Alfonso Soriano recently joined the 40-40 (and a third 40, doubles) club, but he apparently
regretted it
.
San Diego was a half game up on the Dodgers for the Avoid The Mets In The First Round Race going into last night. The Padres won behind a great performance from Jake Peavy and LA lost, so it's now 1.5 games for San Diego.