The dulcet tones of Buck Martinez are returning to the Canadian airwaves. Sportsnet.ca is reporting that the former Jays catcher/manager will be the team's new play-by-play voice for Rogers Sportsnet in 2010.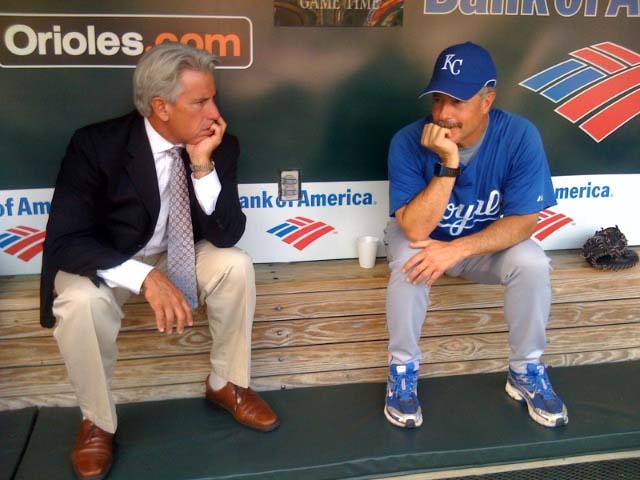 Buck Martinez and Royals pitching coach Bob "Troy" McClure shoot the breeze. You may remember him with such teams as the Royals, Brewers, Expos, Mets, Angels and Cardinals in the Major Leagues.
---
The 61 year-old Martinez served as the color man on the Jays TSN broadcasts from 1987 to 2000 where he worked with Fergie Olver, Jim Hughson and Dan Shulman. He left the broadcast booth to go into the Jays dugout in 2001 but his managerial stint didn't go nearly as well as his broadcasting career. Martinez skippered the Jays to a hot start in 2001 (much like this year's club) before crashing to an 80-82 finish. He reached the 100 victory milestone but a 20-33 start in 2002 led to his firing and he was replaced by Carlos Tosca.
Martinez returned to the broadcast booth where he has worked for TBS, ESPN, XM Radio and the Baltimore Orioles MASN TV broadcasts with Gary Thorne. With Martinez's hiring, Jamie Campbell's time as the voice of the Jays on Sportsnet comes to an end. What do you think, Bauxites? Are you happy Buck's back?