As Gerry reported in the previous thread, one-time Chicago Cubs phenom
Corey Patterson
has inked
a minor league contract
with the Blue Jays.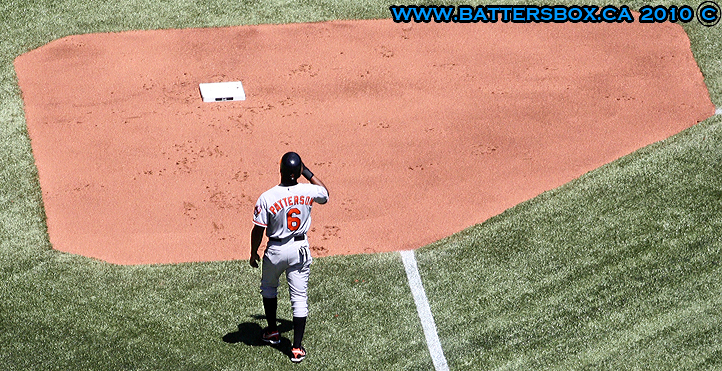 Patterson retreats to second base after a foul ball during first inning action between the Orioles and Jays at the Dome May 30th.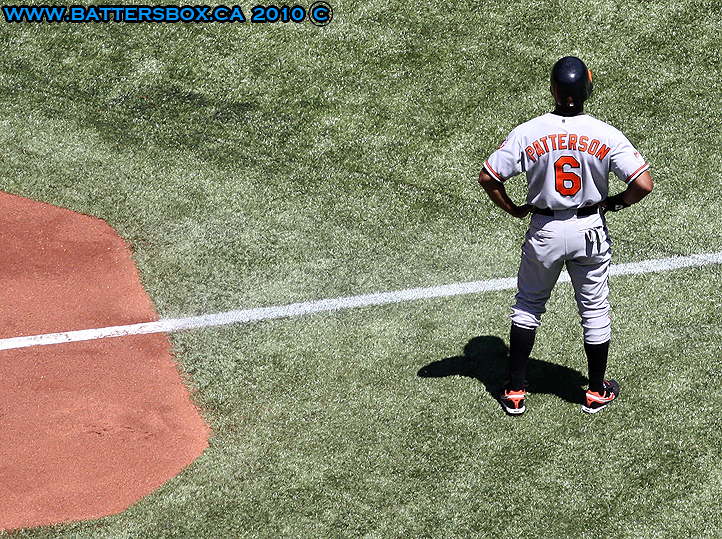 Patterson leads off at third base after advancing on a sacrifice bunt by
Julio Lugo
.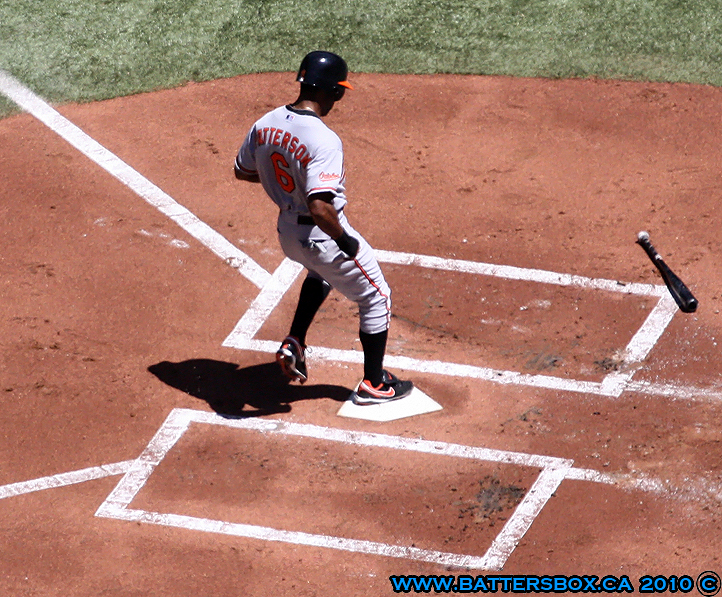 Patterson comes in to score on a
Nick Markakis
single to give Baltimore a 1-0 lead. Patterson enjoyed a two-hit afternoon but his run was the only one they would manage off
Ricky Romero
as the Jays went on to win 6-1.
---
The 31 year-old Patterson is hoping to extend his big league career to a 12th season with Toronto. The third overall pick in the 1998 amateur draft out of a Georgia high school, Patterson made his big league debut with the Cubs in 2000 at the age of 20. His first hit was a home run off former Jay
Juan Acevedo,
who was with Milwaukee at the time. The 5-foot-10, 180 pound left-handed hitting outfielder was able to secure more playing time in 2002 and started to hit his stride in 2003 when he hit .298 and slugged .511 in 83 games with the Cubs. However, his season was cut short by a knee injury and he was sorely missed in the Cubs NLCS loss to the Florida Marlins. He hit 24 homers, drove in 72 runs, and stole 32 bases during 2004 but a horrible 2005 campaign in which he hit just .215 led to the Cubs trading him to Baltimore.
Patterson enjoyed a bounce-back campaign with the Orioles by hitting .276 with 16 homers, 53 RBI, and 45 stolen bases. He stole another 37 bases with the O's in 2007 but he only hit eight homers as his slugging percentage fell below .400. He returned to the National League in 2008 with Cincinnati to join former Cubs manager
Dusty Baker
but he hit just .205 in nearly 400 plate appearances with the Reds. The 2009 campaign saw Patterson spend the majority of it in the minors as he had just 15 plate appearances each with Washington and Milwaukee. He signed a minor-league deal with Seattle last December but he opted out of his contract at the end of March when he did not break camp with the M's. So, it was back to the O's for Patterson for a second go-around in Baltimore. The Atlanta native hit .269/.315/.406 with 16 doubles, one triple, eight homers, 32 RBI and stole 21 bases in 25 tries in 2010.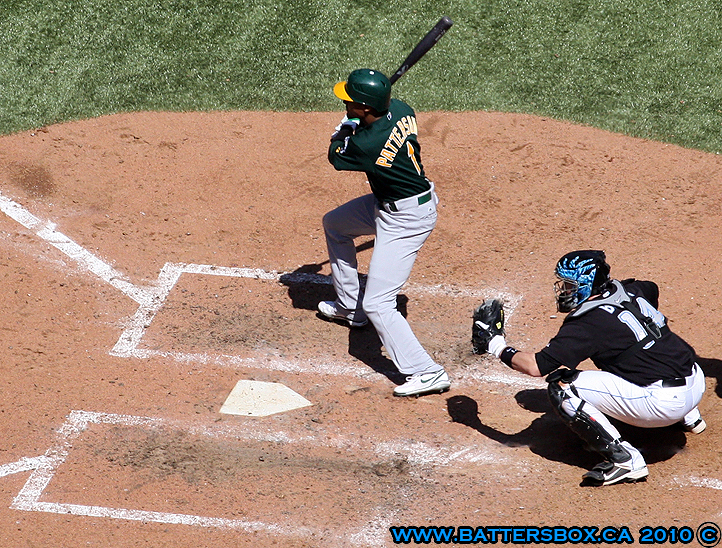 Eric Patterson
, Corey's younger brother, as a member of the Oakland A's last season. He also spent time with the Boston Red Sox in 2010.
---
Corey Patterson is expected to battle for a bench role with the Jays in 2011. He's a career .253 hitter with 112 home runs and 205 stolen bases.