I was in Lansing from May 1st to 3rd watching the Lugnuts play against the Lake County Captains. Lugnut Fan was there too for two of the games. I have descibed what I saw below. In summary Drew Hutchison looked very good, Sean Nolin also looked good. Jake Marisnick looked like a five toool prospect, he had six hits in three games and ran and fielded well. Carlos Perez was his usual line drive self. Most of the other hitters didn't stand out.
Pitchers
The first thing to note about Drew Hutchison is his excellent fastball command. There were a lot of at-bats in this game where Hutchison went strike one to the outside corner, then strike two to the outside corner. The catcher would put up his glove and Hutchison would hit it. His command on this day was the best I have ever seen from an A level pitcher. The Lake County hitters were taking the outside pitches and they faced a lot of 0-2 counts. Because Hutchison had a very good fastball on this night he used it a lot. It comes in between 89-91 mph according to the scouts guns.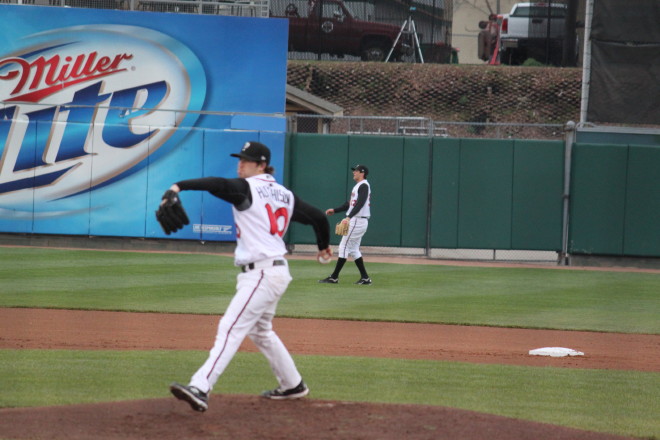 Hutchison also features a slider and a change-up. The slider looked very good and Hutchison was willing to throw it inside, starting it at a right handed hitter and letting it break across the plate.
Hutchison is listed at 6'2" and 165 pounds. I think he may have beefed up since last year and now he is probably closer to 175 or 180 pounds. (Hutchison faced Lake County again on Saturday and didn't pitch as well. I assume his command was off.)

Egan Smith is a left handed pitcher who features four pitches, a fastball, change, slider and curve. Smith was sitting at 86-88 with his fastball. Smith is obviously not overpowering and relies on mixing his pitches to keep the hitters off balance.

Sean Nolin is half the man he was last August. Nolin told me he dropped 40 pounds in the off-season and while he looked overweight last year, this year he looks great. Nolin is another lefty and for now is pitching long relief out of the bullpen until a starting spot opens up for him. Nolin's fastball sits at 89-90 and he adds a curve and and a change-up. Nolin's command was pretty good too.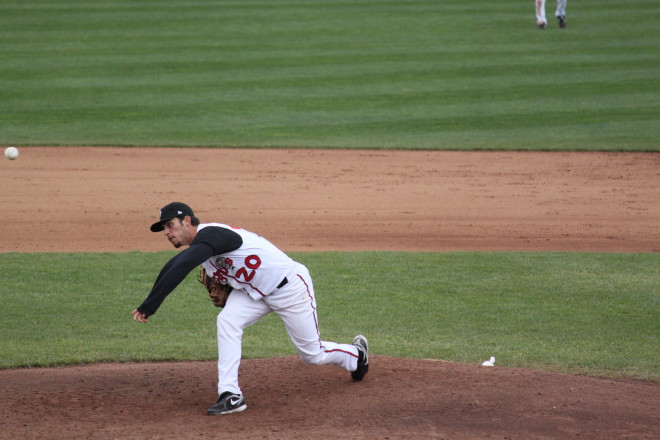 Misaul Diaz has a problem with his delivery and that is causing him to have problems this season. He is dropping his arm and slinging the ball across his body at the hitters. This impacts his command of the fastball. Pitching coach Vince Horsman told me that they were trying to correct this flaw. Diaz's fastball sits around 90 mph and he also features a curveball and a change-up. In the game I saw Diaz's erratic control left him behind in a lot of counts and that led him to use his fastball a lot.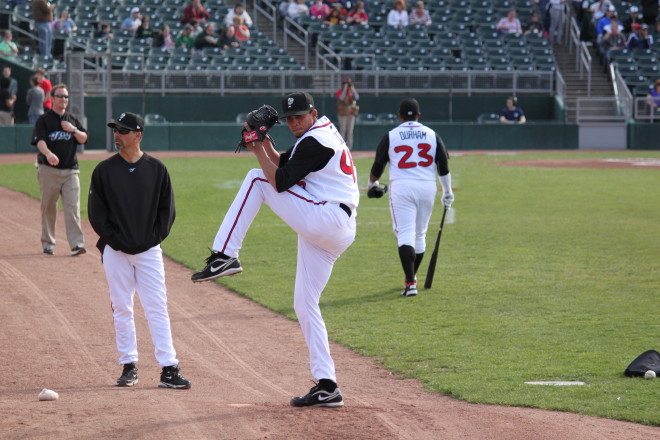 Alex Pepe is a lefty who throws from a 5/8th angle, almost a side-armer. That is an arm angle that can be hard to control. In the game I saw him pitch he had good command and pitched very well for several innings. Pepe relied on his 88 mph fastball which has good movement as you would expect from a side-armer. Pepe did not show a breaking ball. To be a LOOGY prospect, Pepe needs a big breaking ball and better command.

Hitters
Jake Marisnick has the potential to be a true five tool prospect. I didn't see the hit for power tool in the games I attended but we know it's there. I saw a player who can hit for average, who can run and throw and who is a very good centre fielder. There has been some speculation as to whether Marisnick is a long term centre fielder, I don't see why not. Marisnick is a player who appears to glide in the outfield, he is obviously fast but he never looks like he is moving fast. Marisnick can steal bases, I saw him steal two.
Marisnick has an advanced approach at the plate, he doesn't swing at pitches outside the zone. Marisnick had three hits in the first game and three more in the second game. None of the hits were boomers but he was making solid contact. I saw him K twice, once on a pitch that was low, the scouts I was with thought it was a ball, and the second time came after he ran hard to second base on a ball that was ruled barely foul. He was somewhat gassed and took a pitch for strike three. Assuming Marisnick keeps on hitting, and I don't see why he wouldn't, Jake will move up the prospect ranks this season. Remember Marisnick just turned 20 on March 30th.

Carlos Perez can be described as a line drive to the gaps hitter. Perez is average size and not bulky. But his strength is his ability to make good contact. Offensively Perez models the "you can't walk off the island" approach. He doesn't swing at everything but he does swing at strikes, and that limits his offensive success.
Defensively Perez has been criticized for some passed balls, and there was another one in game one. But manager Mike Redmond spoke highly of Perez's defense and liked his leadership abilities.

Michael Crouse is probably the most physically impressive Lugnut and he has been called the most athletic player on the team. Crouse is big, 6'4" and . Crouse looks to be an excellent defender, he moves well, has excellent speed and has a plus arm. I wouldn't expect Crouse to be a big base stealer, as a big guy he cannot get the good jumps that smaller guys get. However Crouse's speed on a ball in the gap or on a first to home run would be outstanding, he is a bit slow to start but his top speed is well above average.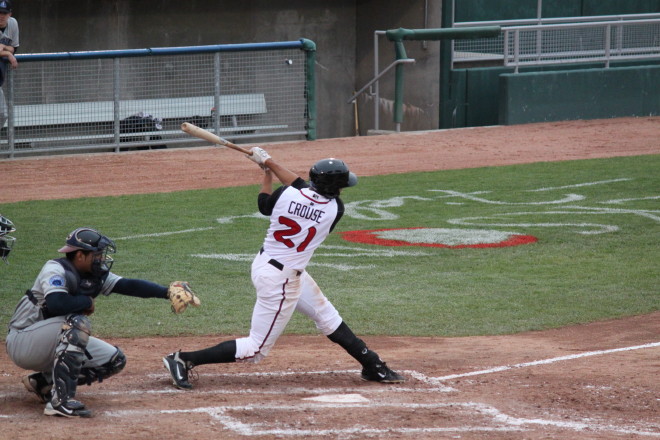 Offensively Crouse was not in good form in the series. His stance is very spread out and because of his size he has a lot of moving parts.

Marcus Knecht, like Crouse, wasn't hitting well in the series. Knecht has developed a Micky Tettleton approach at the plate, he points the bat at the pitcher until he is ready to deliver. Knecht has an average arm and average speed.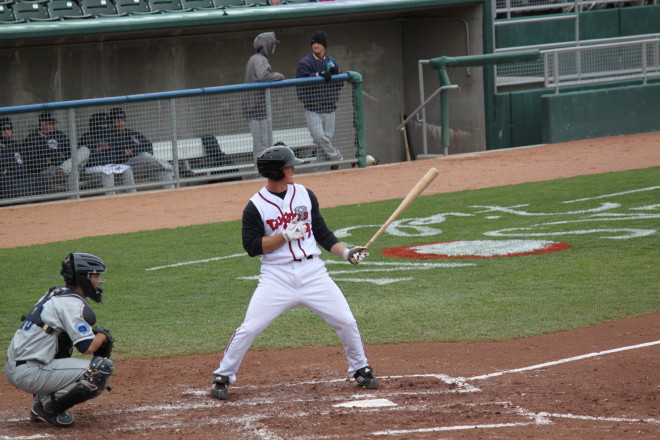 KC Hobson, and Lance Durham, are two of the big itters on the team, at least in BP. But in the games they don't appear to adjust well to what the pitcher is throwing. Durham has also added a few pounds in the off-season.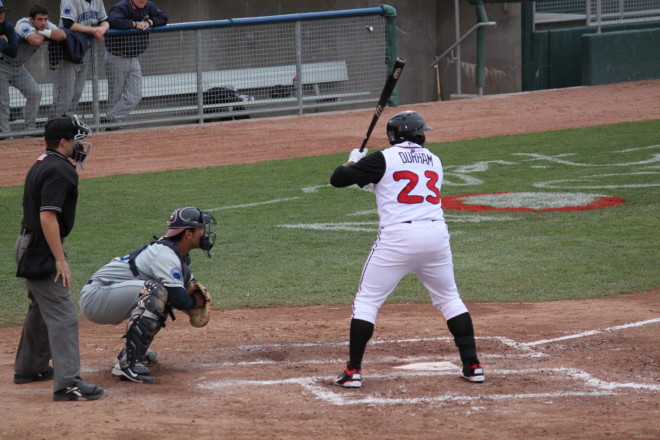 Gustavo Pierre had made a lot of errors early in the season but the coaches worked with him to improve his technique and slow him down. They felt he was rushing his throws causing him to overthrow. Pierre played two games and handled about four chances without an error. Pierre has a plus arm but he can look tentative at short. I mentioned this to some people and I got two different answers. One was that Pierre lacks confidence and he needs to relax and just play. The other answer I got was that focus and concentration were issues, he spends too much time talking with the second baseman.
Offensively Pierre has power but his swing needs to be tightened up. He wasn't too much of a free swinger, a comment we had heard last season. On one ground ball Pierre pulled an Escobar and jogged down the line. I heard that that he has been pulled from games because of that.

Garis Pena is an excellent shortstop, very smooth. Offensively Pena looks understrength, in BP he was hitting ground balls and short line drives.

Bryson Namba hit his first home run in game one, an opposite field shot. Namba is beefier/solid and doesn't have huge power but enough to get by. Namba is an average defender.
Guess who this player is. You might have to look carefully to figure it out.