We are past the one third mark in the minor league season so before we get buried in the draft and the new short season teams I thought we should take a look at the season so far in the minor leagues. This look is based on the one third, one third, one third rule. For those of you who are not familiar with the rule, the expectation of a teams prospects is that one third will improve over a season, one third will disappoint, and one third will be unchanged. Two years ago the Jays had the season from hell where almost 50% of the prospects disappointed. This year I think we will do better.
This is a two part story, in part one today I will look at the Dunedin and Lansing squads. Part two will feature prospects in Las Vegas and New Hampshire.
Dunedin

In Dunedin we have to start with the pitchers.
Deck McGuire has appeared in ten games and has come pretty much as advertised. McGuire has a 2.70 ERA and a 1.20 WHIP. McGuire, like many young pitchers, has been inconsistent but the good days have outnumbered the bad. The best number for McGuire is his 43 hits allowed in 53 innings. The 46 K's are OK but McGuire is probably learning how to pitch to, and setup, professional hitters. The 21 walks in those 53 innings is a little high.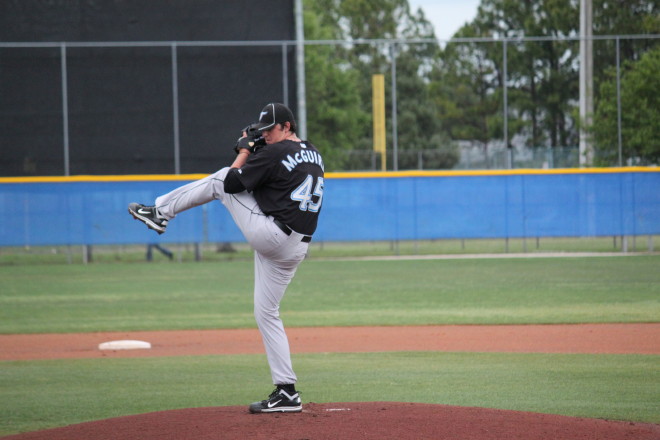 McGuire's grade varies between improved and flat. But he is a first round pick from a college program so I will be a hard marker and say his status is "flat". But if someone argued for improved it wouldn't take much to sway me.

Chad Jenkins is repeating Dunedin and his "big" numbers are close to McGuire's, Jenkins has a 2.79 ERA and a 1.19 WHIP. But in the other areas Jenkins is not as good. He has given up 60 hits in 61 innings. Jenkins also has only 39 K's in 61 innings, that's a 5.75 K/9 ratio. Jenkins pitched 62 innings in Dunedin last season and this year he has lowered his hits and walks allowed, thereby improving his ERA, but his K rate has stayed about the same. Jenkins gave up 6 home runs in 2010 and only two so far this season so that's one aspect of his game that is better. Also, Jenkins has had ten unearned runs scored behind him, McGuire has 2, Wojo 4, and Molina 5. So Jenkins ERA benefits from that.
Jenkins was already moving down prospect lists last season. While he has shown some improvement this year in hits and home runs allowed, his low strikeout numbers are concerning. Also Jenkins is your standard sinker/slider pitchers who generally to go AA to die.
Because of all that I would have to give a "disappoint" mark to Jenkins.

Asher Wojciechowski pitched a little bit more than McGuire last season but not much, this is really his first professional season. Wojo's numbers are not as good as Deck's, he has a 4.05 ERA and a 1.37 WHIP. Wojo would be expected to have a tougher time than Deck because Deck had four pitches to work with. Wojo had two good ones and one under development. Wojo has also been touched for eight homers in his 53 innings. Wojo's 42 K's in 53 IP are average for him.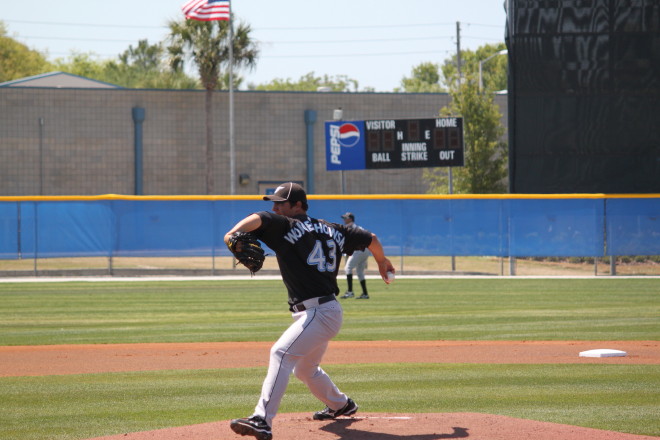 Wojo was expected to start in Dunedin and some people thought he would advance more quickly than McGuire. Many thought Wojo could end up as a reliever. That is still possible but the Jays will try him as a starter for a while.
Wojo gets a "flat" rating from me, he hasn't shown enough to get improved but he definitely hasn't regressed.

Nestor Molina has jumped onto prospect radars in a major way this season. Here at Batters Box we took note of Molina last season and Dane Johnson was very complementary of him. Molina mixes his fastball, splitter and change to keep the hitters off balance and his control is so good that he doesn't put as many men on base. Molina's ERA is the same as McGuire's but his WHIP is low, at 0.96. That WHIP is due in part to Molina only issuing five walks in 46.2 innings. Molina also has 55 K's in those 46 innings.
A definite "improved" for Molina.

The one reliever to note is Matt Wright who has 39K's in 30 innings. Wright also has a 1.15 WHIP. Wright's ultimate opportunity is to be a lefty reliever.
AJ Jimenez had a hot start to the season before recently going on the DL (and coming back on Tuesday). Jimenez was hitting .364 when he was injured and that drove his .911 OPS. Jimenez is still a bit of a free swinger, he has 23 K's in 121 AB's with only seven walks. His free swinging is better than last season and hopefully he will get more selective as he gains experience. Jimenez was a borderline top 30 prospect at the start of the season and this hot start moves him solidly into the top 30.
Jimenez is in the "improved" category.

Justin Jackson has mostly struggled since he was drafted in 2007. For 2011 Jackson was relegated to utility status, not a good sign for one's career. But Jackson has hit well in 2011, shown a good eye at the plate, and in general put himself back on the prospect radar. Jackson has hit over .300 in both April and May. His BB:K ratio is good at 23:29 and he has shown some power. If Ryan Goins hadn't started hitting the Jays might have been tempted to put Jackson back at shortstop.
A definite "improved" for Jackson.
Kevin Ahrens, like Jackson, is a 2007 draft pick who hadn't shown much yet. Ahrens has improved in 2011 but his numbers are still not prospect worthy. He has hit better in May than he did in April, and his May OPS of .752 is decent but he has to do more to register on the prospect lists.
A "flat" rating is where I would put Ahrens.

Brad Glenn is leading the D-Jays in hitting thanks to a .300 batting average and 30 extra base hits. Glenn has a 10:51 BB:K ratio so he is seeing a lot of pitches he likes. Glenn does have big power but he will have to get more selective as he moves up to AA. Glenn is 24 years old so he does need to move up but there are a few good outfielders blocking him in AA.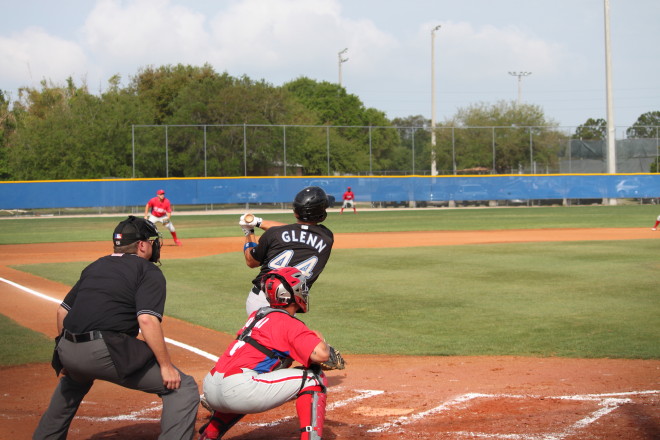 Glenn might not be on the prospect lists yet but he is one to watch for now.

Ryan Goins was not on the prospect lists heading into 2011 but he has played better this season particularly in May. After hitting .225 in April, Goins hit .344 in May. Goins doesn;t have much pop, he is not a big guy, but his May hitting was interesting. He still hasn't moved ahead of Hechavarria on the Jays depth chart but if he can maintain this pace for the rest of the season he could get close. One note of caution, Goins is playing in the FSL at 24 years old, the same as Brad Glenn.

Sean Ochinko came onto prospect watchers lists due to his strong 2010 when he won the Webster award for Lansing. Ochinko is hitting barely above .200 while filling a utility role for Dunedin.
Lansing

Marcus Knecht leads the Lugnuts in many offensive categories. Among regulars he heads in OPS by over 80 points, he leads in OBP and SLG too. Basically there is a lot to like, a .322 batting average with a good eye, 18:33 BB:K, and power. And he is still 20 years old, if only for the next three weeks.
Fielding is probably the weakest part of Knechts game right now and he is probably a future left fielder so the offensive bar is high but so far so good.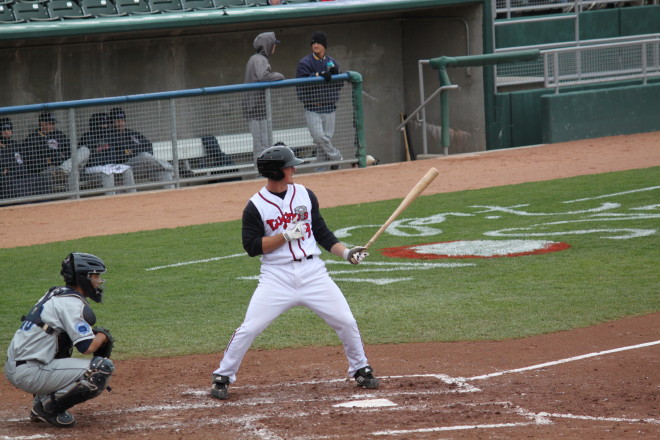 Knecht's prospect ranking has "improved" this season.

Michael Crouse is another 20 year old who continues to show development in the Jays system. Crouse can hit for average, .270, has lots of power, he leads the team in extra base hits, and has speed, he leads in stolen bases. Add that to a strong arm and you have the makings of a multi-tool player. As long as Crouse can keep his batting average up and his K's down, he has 39 in 152 AB's, he will move up.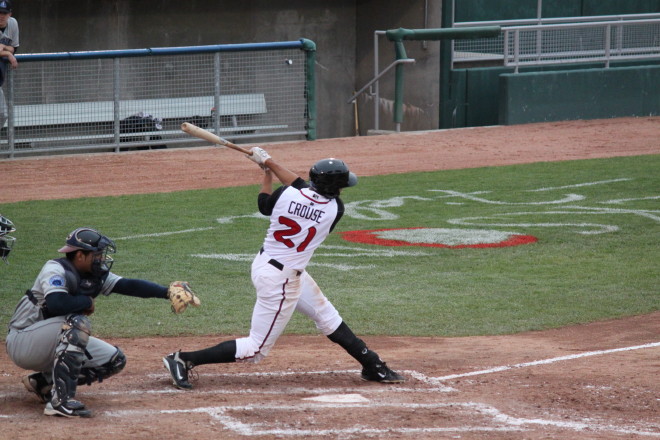 Crouse has also "improved" his prospect standing this season.

Jake Marisnick is currently on the DL with wrist problems but before he was hurt he was living up to expectations. Marisnick turned 20 in spring training and so far in 2011 he has shown all his tools, hitting for average, power , speed, and fielding.
Marisnick was just outside the top ten prospect lists coming into 2011 and I think he has done enough to be considered to have "improved" that ranking.

Carlos Perez is one of the Jays top ranked prospects and given that his 2011 performance so far has been a little disappointing. Perez's bat, his primary tool, is only delivering a .282 batting average and given that Perez does not walk a lot his OBP is just .331. Perez has 12 extra base hits and that leads to a .722 OPS. Perez hit well in April, over .300, but his May average dropped to .253 with almost 30% strikeouts. Perhaps Perez is just experiencing a cold streak.
There is no argument that Perez has improved his ranking this season, I will give him a "flat" as a 20 year old catcher in the Midwest League is still good going.
Lance Durham, KC Hobson and Gustavo Pierre have all been on the edges of prospectdom. This season Durham leads those three in OPS thanks to his having more walks than hits and having two thirds of his hits go for extra bases. Hobson has the best average but hasn't shown the power expected from a first baseman. Pierre is only nineteen so his struggles could be a reflection of age and weather. But he has shown only the briefest flashes of excitement this season. Pierre was ranked in our top 30 and I would grade his 2011 so far as a "disappointment" while acknowledging he is still very young.

Drew Hutchison made a big impression in spring training and had an excellent start to the season. But as April turned to May Hutchison's numbers went up, and not in a good way. His ERA was 2.86 in April but 4.85 in May. Hitters are hitting over .300 against him in May and his walk total tripled from April to May. We know Hutchison has the potential to do well and he needs to find that something again here in June.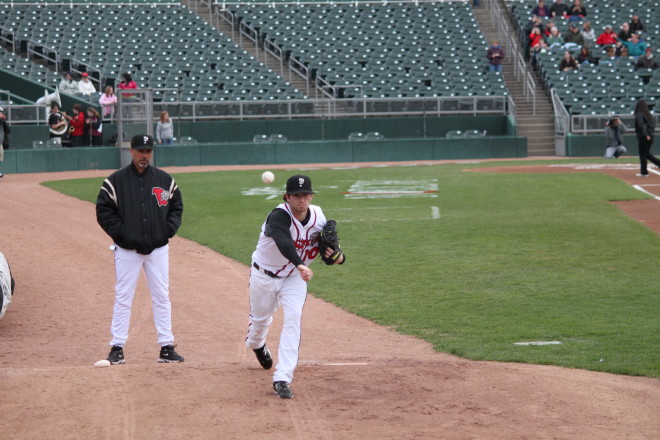 Despite his struggles in May, I will give Hutch an "improved" due to his spring and April performances.
Sean Nolin got a late start to the season and pitched well up until his last start. Nolin has a 2.61 ERA, an 8:29 BB:K ratio, and has struckout almost a hitter per inning.
Nolin was not on prospect lists prior to this season but he lost 40 pounds in the off-season and is a new pitcher this year.
Nolin might not yet be on prospect lists but if he can keep up his performance for the rest of the season he could be.

Misaul Diaz started poorly in April and was yanked from the rotation. Diaz had a 6.60 ERA in April and he walked 11 in 15 innings. Diaz though had a problem with his delivery and that appears to be fixed now. Diaz's May ERA is 3.92 and it is 2.70 since his last bad start on May 1st. Diaz has 16 strikeouts in his 11.2 innings out of the bullpen.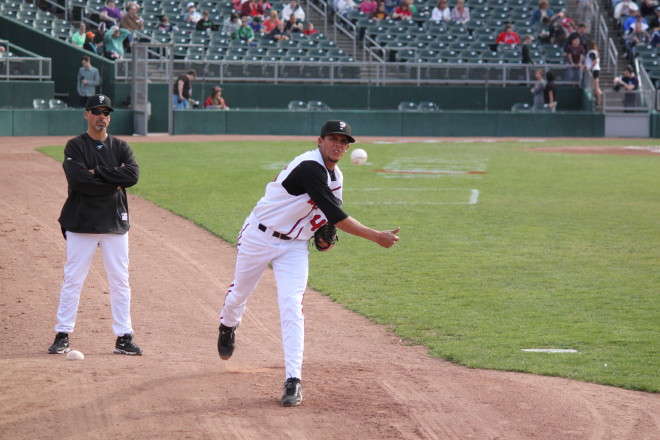 Diaz was also not on prospect lists to start the season but he does have some potential which he is now showing.

Marcus Walden and John Anderson joined the team late due to injuries but both have pitched well. Walden has a 0.89 WHIP in 15 innings while Anderson has a 1 WHIP in eighth innings.
Here are the top 30 prospects with today's rankings and some others. This is drawn from Batters Box own top 30.
1. Kyle Drabek - Toronto
2. JP Arencibia - Toronto
5. Carlos Perez - Lansing - Flat
6. Deck McGuire - Dunedin - Flat
8. AJ Jimenez - Dunedin - Improved
11. Jake Marisnick - Lansing - Improved
13. Asher Wojciechowski - Dunedin - Flat
14. Aaron Sanchez - Extended - Inconclusive
15. Chad Jenkins - Dunedin - Disappoint
20. Brad Emaus - Traded
21. Noah Syndergaard - Extended - Inconclusive
23. Drew Hutchison - Lansing - Improved
24. Trystan Magnuson - Traded
26. Dickie Joe Thon - Extended - Inconclusive
27. Griffin Murphy - Extended - Inconclusive
28. Gustavo Pierre - Lansing - Disappoint
29. Marcus Knecht - Lansing - Improved

Others who could be top 30 after 2011:
Nestor Molina - Dunedin - Improved
Justin Jackson - Dunedin - Improved
Michael Crouse - Lansing - Improved
Sean Nolin - Lansing - Improved

Of the top 30 prospects, 17 are listed above. Here is a summary of their progress:
Graduated to Toronto - 2 - Drabek; JPA
Traded - 2 - Emaus; Magnuson
Inconclusive - 4 - Sanchez; Syndergaard; Murphy; Thon
Improved - 4 - Jimenez; Marisnick; Hutchison; Knecht
Flat - 3 - Perez; McGuire; Wojo
Disappoint - 2 - Jenkins; Pierre
We will be back with the Las Vegas and New Hampshire prospects soon.