BlueJays.com
, via
Ken Rosenthal
of
FoxSports.com
, says the Jays
have signed
free-agent reliever
Francisco Cordero
to a one-year contract worth $4.5 million.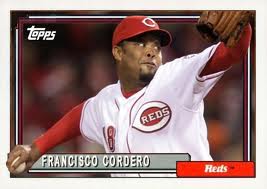 36 year-old
Francisco Cordero
was 5-3 with a 2.45 earned run average and saved 37 games with the Reds in 2011.
The Blue Jays will mark the fifth team
Francisco Cordero
will pitch for in his major league career, which began with Detroit in the 1999 season. After signing him as a free agent out of the Dominican Republic in 1994, the Tigers traded him away to the Texas Rangers as part of the
Juan Gonzalez
deal that involved future Jays
Frank Catalanotto
and
Gregg Zaun
. Cordero was an All-Star with the Rangers in 2004 and finished 24th in American League MVP voting after saving 49 games. The native of Santo Domingo in the Dominican Republic remained in the Lone Star State until the 2006 season. A rough start to the season led to him losing the closer's role to
Akinori Otsuka
and was then dealt days before the July 31 trade deadline to Milwaukee for
Carlos Lee
and
Nelson Cruz
. The Brewers also got future Jay
Kevin Mench
in the deal. Cordero regained his form in Milwaukee by saving 44 games and earning another All-Star berth in 2007. That allowed Cordero to cash in as a free-agent by signing a four-year, $46 million deal with Cincinnati. His save totals with the Reds over his four seasons were 34, 39, 40 and 37. In 2009, Cordero earned his third All-Star selection and recorded his 300th career save June 1 of last season against the Brewers. His career won-loss record is 44-45 with an ERA of 3.17 and has saved 327 games over 13 big league seasons.
FanGraphs.com
shows
Cordero averaged 93 miles per hour with his heater in 2011 along with a slider hovering around 87 MPH. Though the fastball-slider mix are his main pitches at a 40-30 percent split, Cordero also threw a changeup about 20 percent of the time around 85-86 MPH and introduced a curveball about 10 percent of the time that clocked in around 78-79MPH. Having lost 1.5 mph off his fastball from 2010, Cordero may have decided to resurrect the ol' Uncle Charlie, which he had not thrown since coming over to the National League.
Cordero's acquisition will be a nice insurance policy for the Jays if
Sergio Santos
does not cut the mustard as closer in 2012. Cordero will turn 37 on May 11.