Happy Leap Day! I promised I'd get these up by the end of the month. Glad I had that extra day. 27 Bauxites entered the 2011 Record Prediction Contest - the most ever! Click through to find out who's got a crystal ball and who just has a
crystal skull
.
To revisit your predictions, check out the
thread
from last spring. As mentioned, 27 Bauxites entered, including five roster members as well as our two past champions:
electric carrot
(2009) and
Jdog
(2010).
A review of methodology: the absolute deviation of your guesses is averaged for all 30 teams. So, if you scored 8.1, that means your guesses were off by 8.1 wins on average.
2011 was a bit of a Goldilocks year for the RPC. The inaugural contest, 2009's edition, featured very high (i.e. bad) scores as it was a difficult year to predict. The aggregate Box predictions carried an average deviation of about
nine and a half wins
in their predictions. 2010, on the other hand, was quite a bit easier, and the Box hivemind
scored
6.63. This year is right in the middle, and the average Box guess was about 7.8 wins off the mark.
Before the final results, a little review of the final standings and how the Box as a whole stacked up: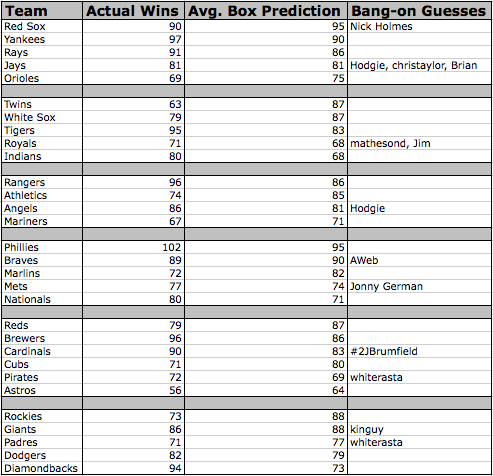 Congratulations to
Hodgie
and
whiterasta
for leading the way with two bang-on guesses each. And, of course, special mention to
christaylor
,
Brian
and the aforementioned Hodgie for pegging the good guys as the .500 team they turned out to be.
AL East
- This was the easiest division to predict, with an average deviation of 5.5 wins. The Red Sox and Yankees were basically reversed compared to what we thought, and the Rays/Orioles were better/worse than expected, but nothing was particularly shocking. It's good to know that, as Blue Jays fans, we're not hopeless optimists. The Jays were actually the team us Bauxites pegged most closely, with the aggregate Box prediction only 0.07 wins off.
AL Central
- And this was the most difficult division to predict, with an average deviation of 12 wins. Obviously the big story here is the Twins, who were the most difficult-to-predict team in MLB. The closest Bauxite was roster member
Mick Doherty
, the biggest "pessimist" of us, who picked the Twins to win just 82 games, a mere 19 more than they did. Not to be overlooked, the Tigers and Indians both deviated more than 10 wins from what we thought.
AL West
- We were a little too optimistic on the A's (the Billy Beane effect?) but overall the West wasn't too surprising.
NL East
- We picked the Phillies to be better than anyone, and they were still quite a bit better than we thought. The Nats traded places with the Marlins, though that may not continue in 2012 with Miami's new acquisitions. The Mets are mired in mediocrity, just like we thought they would be, and look to be doomed to that fate (or worse) for some time to come.
NL Central
- Well, we knew the Astros would be bad. Who can blame us for not guessing
fifty-six
wins? That would be downright irresponsible. We were pretty close on Pittsburgh in the end despite their early-season surge, but we missed on the division winner, pegging the Reds to take it after a 2010 playoff appearance.
NL West
- This was another tough division as we were way off on both the Rockies and Diamondbacks. The NL West always seems tough to predict with no great teams and no terrible teams and it looks like that may happen again in 2012.
Okay, okay, enough already! On with the results.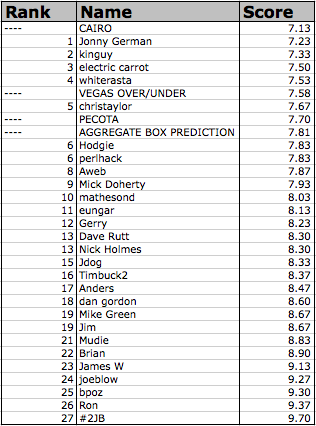 Congratulations to 2011's Record Prediction Contest Winner,
Jonny German
! Jonny beat out runner-up
kinguy
and perennial contender and former champion
electric carrot
for the top spot. Jonny receives one (1) Batter's Box No-Prize for his achievement. Congrats also to
Mick Doherty
, champion among roster members, and a big anti-congrats to
#2JBrumfield
for grossly misrepresenting the intelligence of the roster. ;)
A couple of the well-known projection systems are shown on there as well. It was a little more difficult to find these projections this year because the blog Vegas Watch hasn't done a compilation, as they have in previous years, so if you find any more let me know and I'll add them to the list.
Congrats to everyone on a great 2011 contest, and look for the thread to make your 2012 predictions in the coming weeks!