After doing this for the past four years it's becoming increasingly clear that these things fluctuate year to year. Some seasons are just harder to call than others. 2012 was one of those years - in fact, the most difficult in the RPC's history. Let's get to the results.
To revisit your predictions from approximately one year ago, look
here
. This year, 29 Bauxites entered the contest - the most of all-time! 2009 champion
electric carrot
was looking to sort of defend his title from three years prior, while 2010 champion
Jdog
and 2011 champion
Jonny German
have apparently decided to go out on top.
A review of methodology: the absolute deviation of your guesses is averaged for all 30 teams. So, if you scored 8.1, that means your guesses were off by 8.1 wins on average.
As mentioned, this was the most difficult year in the RPC's history. This year, Bauxites missed by 8.73 wins on average, compared to 8.43 in 2009, 7.11 in 2010, and 8.35 in 2011. Before the final results, a little analysis: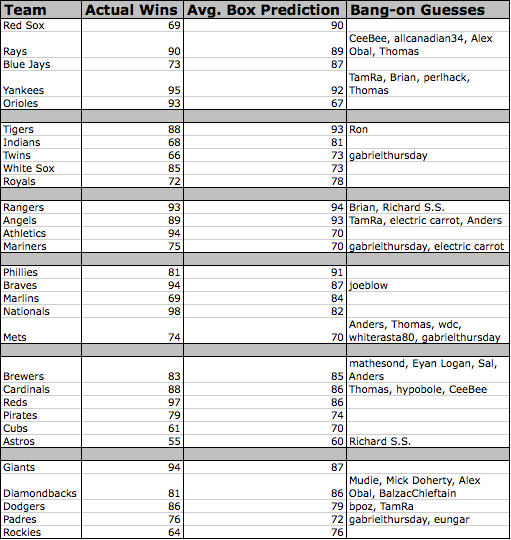 Congratulations to
gabrielthursday
for an incredible four bang-on guesses. Kudos are also in order for
joeblow, bpoz, TamRa,
and gabriel again for exactly pegging teams on which the Box as a whole wasn't particularly accurate.
AL East
- This was the most difficult division, with the Box missing by 13 on average. The Red Sox and Orioles in particular won nowhere near what we expected them to, and were two of the three MLB teams where the Box missed by more than 20 games. We were also a little too homerific, picking the Jays to win 14 games more than they did. Let's not do that again this year, okay? (Unless we pick the Jays to win 119 games.)
AL Central
- The Central was a little tough to call, with the White Sox winning a bunch more than expected and the Indians a bunch fewer, but we got the division winner right.
AL West
- Oakland was the third of the aforementioned 20+ misses. Nobody saw the A's winning freaking 94 games and taking the division. In retrospect... HOW THE F&*#@& DID THAT HAPPEN??! I can't even name a single player on Oakland. Jose Canseco? Barry Zito? Philip Seymour Hoffman?
NL East
- Also a fairly tough division to predict, with the Phillies and Marlins sucking more than we thought, and the Nationals going gangbusters. On the flip side, no fewer than five Bauxites accurately foresaw the Mets' mediocrity, despite Alex Obal's vocal pre-season bullishness.
NL Central
- The easiest division for us Bauxites. The Reds' 97 wins were a bit of a surprise and one should never underestimate the Cubs' ability to lose, but we nearly nailed the Cards and Brewers and weren't far off on the Pirates and Astros.
NL West
- Also a pretty solid division for Da Box - we missed NL West teams by 7 wins on average.
On to the results!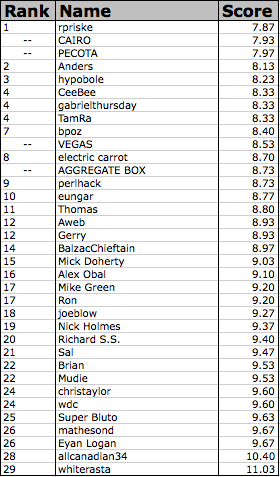 Congratulations to
rpriske
, 2012 champion of the Batter's Box Record Prediction Contest! rpriske's victory is particularly impressive considering he was the only Bauxite to defeat both CAIRO
and
PECOTA. Wow.
Anders
finished second, narrowly missing becoming the first roster member to win the contest (sorry 2011 champion Jonny German, ex-roster members don't count!)
hypobole
took the bronze with a strong showing.
On a personal note, I removed my predictions from the original thread so as not to influence other posters, and subsequently couldn't find them. I can only assume I went a perfect 30/30 for an average score of 0. Seriously though, damnit.
So, we've been doing this thing for four years, so I thought we should look back at the historical leaders. Below is a leader board of those who have participated in at least three of the four contests. To compensate for some years being more difficult than others, I basically found the average Z-score for each contestant.

electric carrot has basically destroyed the competition over the last four years, averaging more than a standard deviation better than the average. All hail our new vegetable overlords.