The top 10 features three returnees from last year's top 10, five returnees from the top 30, seven who were in the system in 2018 and three players who are new to the system.
10. Alejandro Kirk | C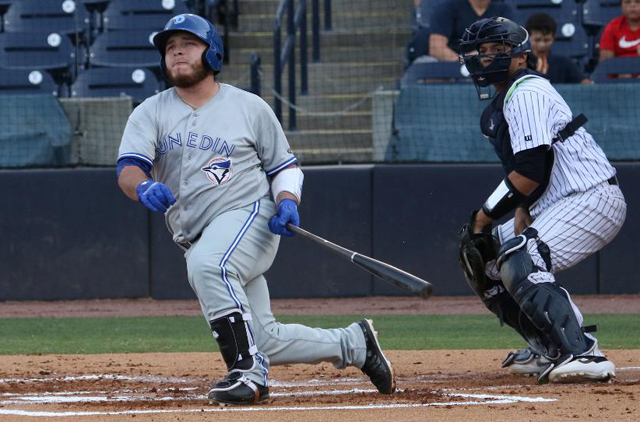 Image from MiLB.com.
Year
Age
Team
AB
2B
3B
HR
BB
K
SB
CS
AVG
OBP
SLG
2019
20
LAN
77

6
1
3
18
8
1
0
.299
.427
.519
2019

22

DUN

233

25
0
4
38
31
2
0
.288

.395

.446

After being given long consideration for inclusion on last year's Top 30 list, but ultimately missing out, Alejandro Kirk is the only name amongst this year's Top 10 list who didn't appear on last year's Top 30 list (or who would have appeared on the Top 30 list of the organization they played for at the time). One reason that Kirk missed out on last year's Top 30 list is his build, which is almost always the starting point when discussing Kirk. And don't think for a second that I have overlooked the fact that Batter's Box's profile is doing the exact same thing that we are accusing every other profile of doing by beginning with Kirk's weight.
He's rotund. The 21-year-old Kirk is 5'9 and he's listed at 220 pounds, although I have seen reports that it looks like he weighs even more than that. In an August 2018 post, when he was asked about why there wasn't more discussion of Kirk given his impressive line in the Appalachian League, Eric Longenhagen of FanGraphs said, "[S]couts have a hard time looking past his build at this age, which I understand." Fangraphs proceeded to rank Kirk 27th in its offseason list after the 2018 season. Demonstrating the point that Kirk's weight is the first (and second and third) talking point whenever his name comes up, the write-up on Kirk stated, "The first thing anyone talks about when Kirk's name comes up is his weight. He's built exactly like former A's catcher Jeremy Brown, and one source body comp'd him to Chris Farley noting that, like Farley, Kirk is deceptively agile for his size."
However, there is recent precedent for a short rotund catcher reaching the majors and become a useful player, as Willians "Tortuga" Astudillo, who is 5'9 and listed at 225 pounds, has a career OPS+ of 98 in 301 plate appearances. Furthermore, in addition to spending 289.1 innings behind home plate, Astudillo has also accumulated over 100 innings at both first and third base, as well as more than 20 innings at RF and 2B, as well. Of course, if Astudillo is 225 pounds now, as a 28-year-old, it's not clear what he weighed when he was seven years younger.
In 2017 Kirk played one game for the Gulf Coast League Jays due to a hand injury, so he effectively began his professional career in 2018 as a 19-year-old at Bluefield. Over 244 plate appearances, Kirk hit .354/.443/.558 for a 1.001 OPS. Kirk had 10 doubles and 10 home runs and added two stolen bases for good measure. Kirk earned 33 walks against only 21 strikeouts, demonstrating very impressive bat control and strike zone judgment.
The native of Mexico was one of 13 players to post an OPS over .960 in the Appalachian League that season. Of those 13 players, only four of them were teenagers. One was a prospect in the St. Louis organization named Leandro Cedeno. The other two were Nolan Gorman and Wander Franco, the former of whom is a top 100 prospect and the latter of whom is likely a consensus top five prospect in baseball. Although not a teenager, I feel obliged to point out that one of the remaining prospects from this group of 13 was Cal Stevenson.
Kirk played 32 games behind the plate, during which he made three errors. He added 41 assists and turned four double plays. Kirk threw out 12 of 28 runners that season (42.9%). Reports after the 2018 season began to suggest that Kirk had a chance of staying behind home plate, at least on a part-time basis, and wasn't destined to be a full-time 1B or a DH imminently.
In 2019, Kirk was assigned to Lansing to begin the season, but after demolishing pitching in the Midwest League, he was promoted to Dunedin on May 3. Kirk spent the rest of the season with Dunedin in the Florida State League and performed well at High-A during his age 20 season, when he was more than two years' younger than the average player in the league.
With Lansing, Kirk hit .299/.427/.519 over 96 plate appearances. Kirk appeared behind the plate in 17 of his 21 games with Lansing, making only one error and catching 33% of attempted base stealers. As a Lugnut, Kirk hit six doubles and three homers. He also drew 18 walks and struck out eight times.
Using a 75 at-bat cutoff, Kirk finished 4th in the Midwest League in OPS, one point ahead of Griffin Conine. Every player who finished ahead of Kirk was older than him. Kirk tied for the lead in the Midwest League in OBP and finished 6th in slugging percentage.
Most of the players who finished around Kirk on these leader boards had at least 200 plate appearances, so the fact Kirk finished just short of 100 plate appearances takes a little shine off those numbers. Of course, there is a question as to whether Kirk would have maintained that same level of production if he was left to stay in Lansing the entire season, but there's also a question about whether Kirk would have ranked higher in this ranking if he had maintained that same level of production over a full season at Lansing, rather than being challenged by the organization at a higher level and producing less impressive raw statistics.
From early May through the end of the season, Kirk posted a line of .288/.395/.446 with Dunedin, which was good for an .841 OPS. Over 276 plate appearances, Kirk hit 25 doubles and four homers. He also added a pair of stolen bases. This was the third level at which Kirk walked more than struck out, as he stuck out 31 times in Dunedin, but also earned 38 free passes. Defensively, Kirk made five errors in 68 games behind the plate. He also threw out 39% of attempted base stealers.
Using a 134 at-bat cutoff, Kirk finished 10th in the Florida State League in OPS. He was the second youngest player in the top 10, older than only Wander Franco. Demonstrating his strong batting eye yet again, Kirk finished 5th in the Florida State League in OBP. The four players who finished ahead of him were two 22-year-olds, a 23-year-old and Franco.
Kirk has had quite the beginning to his professional career. Over 619 plate appearances, always playing at a level that was more advanced that his age, Kirk has posted a .918 OPS. He's hit 41 doubles and 17 homers. The Mexican has earned 89 walks against only 60 strikeouts. He's stolen five bases and never been caught stealing.
Finally, Kirk went from playing 55% of games behind home plate and 45% of his games at DH in 2018 to plating 92% of games behind plate in 2019 as compared to 8% of games at DH.
Questions still swirl about Kirk's weight and his ability to stick at catcher long-term, particularly if he adds weight as he ages into his mid-20's. Kirk doesn't appear to have the fielding ability that Astudilo has, for example, and he doesn't have the height one would want for a first baseman. He's never played any other position in the minor leagues, so far. Accordingly, Kirk's profile has been described as catcher-or-bust by some scouts, as they think he is destined to fight for playing time at DH if he can't stay behind the plate. And, obviously, his bat would lose a lot of value if he was playing DH.
Kirk reportedly has the potential to be at least average in terms of his ability to frame pitches. I've read both positive and negative reports of his ability to set a target, with some describing it as steady and others saying that his build presents challenges, particularly when trying to set a steady low target. He has soft hands and receives the ball fairly well at catcher. As noted above, in addition to his agility, Kirk throws relatively well, and most scouts grade his arm as at least average. Also as noted above, considering his frame, Kirk has been described as deceptively agile.
However, even if Kirk was able to split time between catcher and DH, he would provide the Jays will a very valuable weapon. There is every indication he possesses a bat that will play in the majors. The right-handed hitting Kirk has a pull-heavy approach, and he'll have to work on his ability to spread the ball across the diamond as he progresses. He's projected to add more power and has good bat-to-ball ability, as well as an advanced judgment of the strike zone. One thing that has been mentioned several times is that he doesn't possess great bat speed, with some scouts suggesting that this may become an issue as he progresses through the minors.
Described as having a strong baseball IQ, the Jays are reportedly high on Kirk's worth ethic, including the fact he has been working hard to improve his English and develop an even better ability to communicate with pitchers. Kirk also reportedly has advanced polish for his age, which is evidenced by his success against more advanced competition.
Kirk turned 21 this offseason and looks likely to begin 2020, which will be his age 21 season, at Double-A with New Hampshire.
9. Adam Kloffenstein | RHP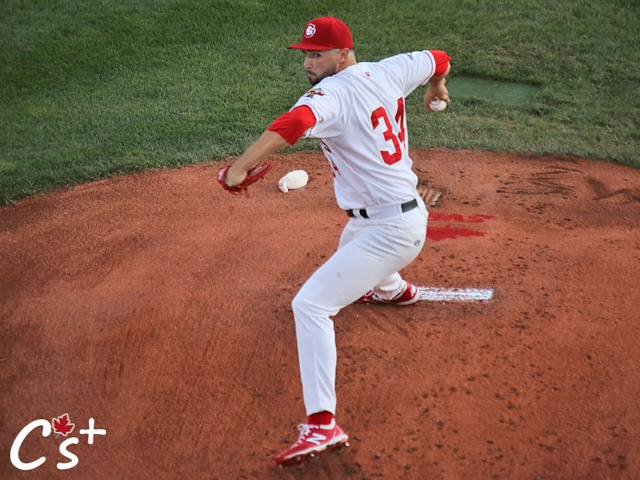 Image from C's Plus Baseball.
Year
Age
Team
G
GS
IP
H/9
HR/9
BB/9
K/9
ERA
2019

18
VAN
13
13
64.1
6.6
0.6
3.2
9.0
2.24
Magnolia High School in Texas has placed two of the top 10 prospects in the Toronto Blue Jays system on the Batter's Box list. After taking shortstop Jordan Groshans with the 12th overall pick in 2018, the Blue Jays told him that they also wanted his teammate Adam Kloffenstein. The Jays eventually took the right-hander in the third round, signing him for first-round money at $2.45-million. That convinced Kloffenstein to turn down a scholarship from Texas Christian University.
That contract was the culmination of the hard work that the 6-foot-5 hurler put in between his junior and senior years of high school, bouncing back from the disappointment of not making the Perfect Game All-American Classic, Under Armour All-America showcase and Team USA in 2017.
Kloffenstein had a spectacular senior season for Magnolia High as he was named the Class 5A Player of the Year by the Texas Sports Writers Association. He earned first team honours by winning 11 of 12 decisions with a 1.25 earned run average and a 113-17 strikeout/walk total in 78 innings. He also hit .344 with nine home runs and 36 RBI.
The Magnolia native ended 2018 by dipping his toe in the professional waters with two shutout innings over two appearances with the Gulf Cast League Blue Jays. He struck out four while scattering a hit and two walks in his two trips to the mound, one of them coming on his 18th birthday.
The 2019 season saw Kloffenstein skip past Bluefield and report to Vancouver. After a tough first outing that saw a two-run home run skip off the glove of McGregory Contreras in his first Northwest League inning on Opening Day, the arrow only pointed up from there as he posted ERAs of 1.46 and 2.20 in July and August respectively. He garnered plenty of recognition for his efforts as he won the Northwest League Pitcher of the Week July 21 and landed a berth in the Northwest League/Pioneer League All-Star game in which he threw a perfect frame. He was also named Vancouver's Most Valuable Player and earned a spot on the Northwest League Post-Season All-Star squad.
In an interview with C's Plus Baseball, Kloffenstein attributed his success to his sinker.
"My sinker—that I basically developed in spring training—has been my go-to (pitch). I've thrown it probably like three-fourths of the time and I don't throw my four-seamer that much but I still can throw it enough to locate it whenever I need to. But I'd say my sinker from beginning to end has been my go-to."
The sinker is among five pitches in Kloffenstein's arsenal as he also throws a fastball, slider, curveball and changeup. All of his offerings are considered to be at least average to above-average. His fastball has touched 95 miles an hour but checks in around 91-93. His curveball has been clocked in the mid-70s while his change and curve are in the low-80s. Baseball America says Kloffenstein throws his changeup with good conviction as it "shows excellent fading action away from lefthanders" and praises Kloffenstein for his workhorse frame. MLB.com says he has room to add more strength to his frame while adding he is "athletic and repeats his delivery well, allowing him to throw strikes, and scouts have long praised his competitive demeanor on the mound."
Another plus in Kloffenstein's favour is his groundball rate which checked in at over 60 percent according to FanGraphs.
The number five prospect in the Northwest League according to BA, Kloffenstein is projected to be a middle-of-the-rotation starter. There is speculation that "King Kloff" could make the jump to Dunedin in 2020 but he may begin the year in Lansing instead. He turns 20 years old on August 25.
8. Miguel Hiraldo | SS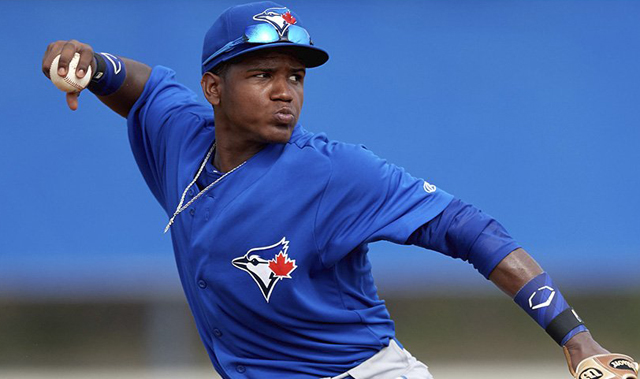 Image from MLBPipeline.com.
Year
Age
Team
AB
2B
3B
HR
BB
K
SB
CS
AVG
OBP
SLG
2019

18

BLU

237
20
1
7
14
36
11
3
.300
.348
.481
2019

18

LAN

4
0
1
0
0
0
0
0
.250
.250
.750
Miguel Hiraldo was the Blue Jays big signing in 2017, signing for a $750,000 bonus. At the time Hiraldo was thought of as one of the best hitters in the international free agent market. Hiraldo has indeed hit well since he signed.
In 2018 Hiraldo started in the Dominican Summer League, where he hit .313, before getting in 10 games in the GCL. For 2019, Bluefield was his assignment and again he hit .300 there with some pop. Hiraldo is listed at 5'11", which probably means he is 5'9", and he has a stocky frame with good strength. His swing is compact and powerful, enough to generate home runs. He had seven in 56 games in Bluefield. While seven home runs may not seem like a lot, it is good for an 18 year old. He also added 20 doubles. Hiraldo had an OPS of .829 in the Appy League, good for a top 20 position and fourth among teenagers.
Hiraldo features a quick bat with fast hands. As mentioned his swing is powerful and he should turn into a 20 home run hitter as he matures. Some scouts feel Hiraldo is too pull happy, that will need to be cleaned up through the next few years. His pull percentage did decline in 2019 from 63% to 50%. The pull happiness hasn't shown up in his strikeout numbers though, his K/9 was 14% in Bluefield. Hiraldo has the ability to get the barrel on the ball with excellent swing mechanics. The next challenge for Hiraldo is to get better at pitch recognition, as most young hitters need to.
Hiraldo was always thought of as too slow and big to stick as shortstop and most scouts thought he would end up on third base. However the Jays have Jordan Groshans and Orelvis Martinez in the system, both of whom are future third basemen, so they made a change in 2019. In 2018, in both the DSL and GCL, Hiraldo split his time between short and third. In 2019, he split his time between second and shortstop. He played 22 games at short and 29 at second. The Blue Jays are trying to spread their riches around the diamond. Assuming Hiraldo sticks at second base, it gives the Jays an option in a normally weak position.
Hiraldo finished 2019 with a few days in Lansing. He should return to start 2020 there.
7. Gabriel Moreno | C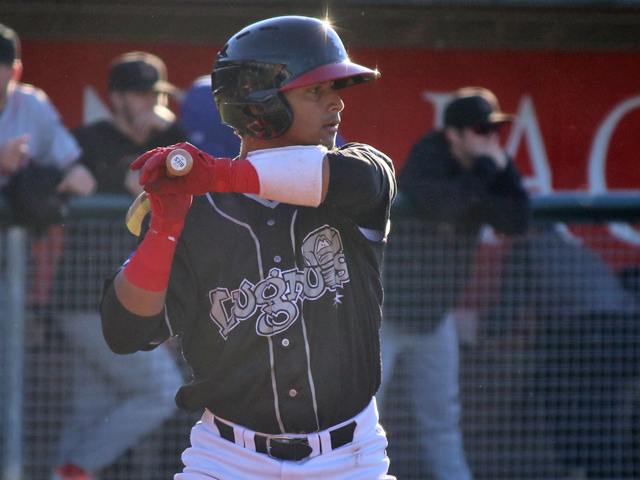 Image from C's Plus Baseball
Year
Age
Team
AB
2B
3B
HR
BB
K
SB
CS
AVG
OBP
SLG
2019

19

LAN

307

17
5
12
22
38
7
1
.280
.337
.485
Gabriel Moreno is probably not familiar with the musical stylings of Platinum Blonde but when he's at the plate, he always has something on his mind - contact. Signing with the Blue Jays for just $25,000, the 2016 free-agent from Barisimeto, Venezuela only struck out five times in 131 plate appearances in his pro debut with the Dominican Summer League Blue Jays in 2017. His strikeout rate with the Gulf Coast League Blue Jays in 2018 was less than seven percent in 101 trips to the plate but it more than doubled when he was promoted to Bluefield when he whiffed nearly 20 percent of the time in his 66 trips to the batter's box. However, Moreno's bat met the ball most of the time in his full-season debut with the Lansing Lugnuts as his strikeout rate checked in at just over 11 percent thanks to hand-eye coordination that has been called elite by Baseball America.
When the right-handed hitting Moreno makes contact, good things have happened. After a .247 average in the DSL in his rookie year, Moreno batted .413 in the GCL before hitting .279 with Bluefield in 2018. He kept up his batting average with Lansing and continued to show some pop in his bat by racking up 34 extra-base hits. Because of his ability to make contact, his walk rate is not the greatest but he worked the count to ball four nearly six-and-a-half percent time of the time with the Lugnuts, a near two-percent increase from his first two professional seasons.
Behind the plate, Baseball America says the 5-foot-11 Moreno has good athleticism and gets rid of the ball quickly with an average throwing arm but he needs to work on his blocking and receiving. He cut down 33 percent of the baserunners who tried to steal on him in 2019 after nailing 38 percent between the GCL and Bluefield in 2018. Moreno committed just three errors in his 54 squats behind the pentagon.
Lansing manager Dallas McPherson told MiLB.com that Moreno brings a well-rounded set of skills as a catcher.
"His makeup, his movement, his actions behind the plate are top notch. His hands are good, his receiving is good and his arm is second-to-none. Those characteristics alone point to the direction of a guy who can do a lot of different things behind the plate… I compare him to a Jeff Mathis, who I came up with. He was a shortstop growing up, but his athleticism alone leads to a very easy transition."
Rated as the number 12 prospect in the Midwest League by Baseball America, Moreno has a ceiling of being a front-line major league catcher who could hit double-digit home runs a year. He should begin 2020 with Dunedin. His 20th birthday is on Valentine's Day.
6. Anthony Kay | LHP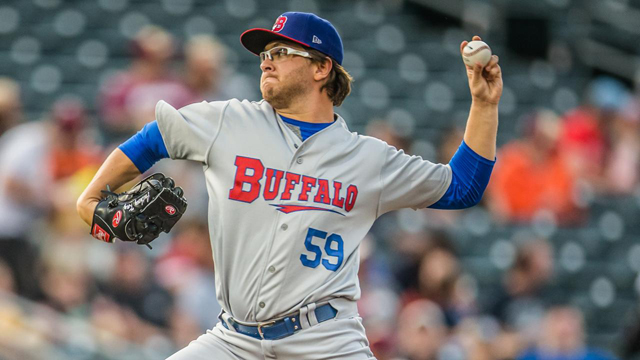 Image from MiLB.com.
| | | | | | | | | | | |
| --- | --- | --- | --- | --- | --- | --- | --- | --- | --- | --- |
| Year | Age | Team | G | GS | IP | H/9 | HR/9 | BB/9 | K/9 | ERA |
| 2019 | 24 | BIN | 12 | 12 | 66.1 | 5.2 | 0.3 | 3.1 | 9.5 | 1.49 |
| 2019 | 24 | SYR | 7 | 7 | 31.1 | 11.5 | 2.0 | 3.2 | 7.5 | 6.61 |
| 2019 | 24 | BUF | 7 | 7 | 36.0 | 8.3 | 0.8 | 5.5 | 9.8 | 2.50 |
| 2019 | 24 | TOR | 3 | 2 | 14.0 | 9.6 | 0.0 | 3.2 | 8.4 | 5.79 |
Anthony Kay joined the Jays, from the NY Mets, in the Marcus Stroman trade. Kay made his major league debut in September.
Because Kay is a new member of the organization, many fans will not be familiar with his background. Kay went to the University of Connecticut and was drafted 31st overall by the Mets in 2016. However Kay developed a sore elbow and had to undergo Tommy John surgery before he pitched in a professional game. His first professional start came in 2018 after he missed all of the 2017 season rehabbing. Like many top college pitchers, Kay handled advanced A hitters well by the end of 2018 and was promoted to AA to start 2019.
Kay had no problems with the hitters in AA. In 12 starts he had a 1.49 ERA and a .92 WHIP. That earned him a jump up to Syracuse in AAA. After smooth sailing through his first 18 months on the mound Kay finally hit some problems in the International League. Basically Kay was hit around. He gave up more hits in AAA in 7 starts than he did in 12 starts in AA. Included in those hits were seven home runs allowed in seven starts. In short, he was scuffling and trying to adjust. In Syracuse, after a very rough introduction to AAA, Kay improved over his last few starts, bringing his ERA down from 16.20 to 6.61. Then he was traded.
His first Buffalo start was also bad, just like Syracuse, nine hits and three walks allowed in 4.2 innings. But two starts later he pitched a one hitter over six innings (with five walks, more on that in a minute). As he did in Syracuse, Kay worked on lowering his ERA, from 6.50 (overall, including Syracuse) after that first start to 4.18 before his last start. Kay's first start was poor and his last start, on September 1, was poor also. Kay didn't make it through three innings that day. We don't know if a promotion was on his mind or if he had been told it was coming, but that was a bad end to his AAA season. Kay's ERA in Buffalo was a little deceiving. His ERA was 2.50 but only ten of the 21 runs scored off him were earned. In Buffalo Kay's FIP was 4.54, higher than the 2.50 ERA.
Kay did get the call and pitched in three games for the Jays. He did have a small muscle pull that sidelined him for the last ten days of the season. Kay pitched OK in his three appearances. He had become walk happy in Buffalo but was better in Toronto, just five walks in three starts. As a result Kay's ERA and FIP numbers were the opposite of Buffalo. In the major leagues, Kay's ERA was 5.79 but his FIP was 2.64 and the xFIP 3.92.
Kay throws three pitches from the left side, his fastball sits 92-94 mph and reportedly has a high spin rate which is all the rage these days. His curveball and change-up are both plus pitches giving him a true three-pitch mix. He has feel for his craft, with solid control and command that should continue improve as he gains experience. His curve is also considered to have an above average spin rate.
The three-pitch mix is complemented by what is generally good command although that did desert him for a while in AAA. While Kay is a candidate to start the year in the big league rotation, the fact that he has just 14 starts in AAA without really dominating suggests he will be back in AAA to start 2020 but available to fill in when injuries pop up.
5. Orelvis Martinez | SS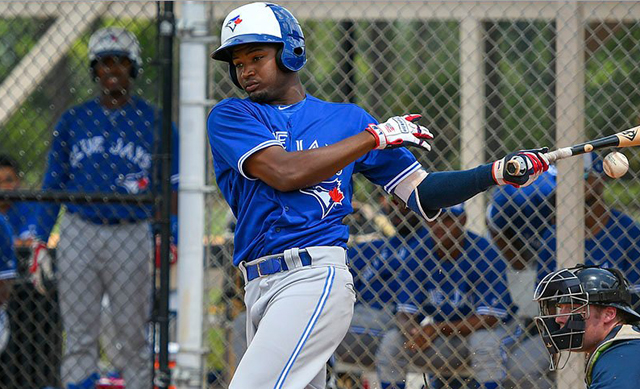 Image from MLBPipeline.com.
Year
Age
Team
AB
2B
3B
HR
BB
K
SB
CS
AVG
OBP
SLG
2019
17
GCL
142
8
5
7
14
29
2
0
.275
.352
.549
Ranked 15th in last season's Batter's Box Top 30 Prospect list despite no professional experience, Orelvis Martinez signed with the Blue Jays on July 2, 2018 for $3.5 million, which was approximately 70% of the team's international signing budget. Martinez was ranked as the No. 7 international prospect by Baseball America and No. 5 international prospect by MLB Pipeline. Baseball America described the right-handed hitting Martinez as a player with "fast hands and a calm, easy swing that generates power and loft from right-center over to his pull side."
Martinez was assigned to the Gulf Coast League in 2019 to begin his professional career, rather than starting in the Dominican Summer League as the Jays have done with other international signings, such as Miguel Hiraldo. He made his professional debut on June 24th, going 2-for-4 with a run scored, an RBI, and a stolen base. The 5-foot-11 shortstop finished with a .275 batting average, eight doubles, five triples, seven home runs, 32 RBI, two stolen bases and a .901 OPS in 40 games. He posted a 8.6 BB% and a 17.8 K% rate. Defensively, he appeared in 26 games at SS and 11 games at 3B, making nine errors at short and three at 3B.
There have been a number of reports that have compared the 188-pound Martinez to Adrian Beltre as reportedly they have similar builds at the same age. Martinez is projected to add to his frame as he matures and many reports think he will end up at third base down the road due to his body. Martinez is said to be a smooth and capable defender with soft hands and a strong arm, and the error totals above are reflective of his age and raw tools, rather than his true abilities. Most of the reports suggest that if Martinez has to move positions it will have more to do with his body than his actual defensive capabilities.
In an article that appeared on Sportsnet shortly after Martinez signed, Blue Jays Assistant GM Andrew Tinnish said Martinez could "potentially have four-plus tools down the road." Tinnish expanded by saying, "[H]e's got a great feel to hit. He's got a loose swing with power. Really good plate discipline. Defensively, the biggest question long-term for him would probably be range, but these are really, really advanced hands and a really, really good arm. If he doesn't get to that plus range element, he has other things to help make up for that — quality hands, arm strength, that sort of thing."
Martinez turned 18 this offseason. It will be interesting to see if the Jays continue to promote him aggressively, given how well he hit for the Gulf Coast Jays as a 17-year-old. Martinez is still very raw and high-bonus signings do not fulfill their potential more often than be counted. However, it is equally as easy to imagine Martinez on top of this list in a couple of years, as he continues to mature and develop.
4. Simeon Woods Richardson | RHP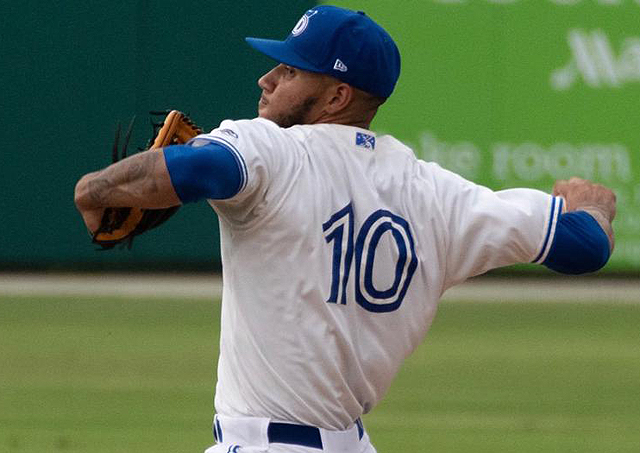 Image from MiLB.com.
| | | | | | | | | | | |
| --- | --- | --- | --- | --- | --- | --- | --- | --- | --- | --- |
| Year | Age | Team | G | GS | IP | H/9 | HR/9 | BB/9 | K/9 | ERA |
| 2019 | 18 | COL | 20 | 20 | 78.1 | 9.0 | 0.6 | 2.0 | 11.1 | 4.25 |
| 2019 | 18 | DUN | 6 | 6 | 28.1 | 5.7 | 0.3 | 2.2 | 9.2 | 2.54 |
Toronto acquired Simeon Woods Richardson on July 28, 2019, along with Anthony Kay from the New York Mets in return for Marcus Stroman. A lot of virtual ink has been shed on this trade, but that won't stop me from shedding a little more. The Coles Notes summary, from one perspective anyway, is that, in Stroman, the Blue Jays had a talented and determined young pitcher who appeared very willing and, in fact, eager to re-sign with the Blue Jays. He had grown to embrace the organization and the city in a way that few other players did, at least publicly. For example, although a very different person from Stroman, you never saw Aaron Sanchez express the same enthusiasm for Toronto or the same willingness to devote his long-term future to the team.
Now, a cynic may view that as something that was done as part Stroman's personal branding and external merchandising ventures. While it may have played a role in that, I think Stroman's devotion to the club was genuine. His extroverted personality and lifestyle helped, but his public comments did not appear to be self-serving and seemed to be unprompted. However, his enthusiasm was not boundless and obviously he would not have re-signed here for pennies on the dollar. Stroman was someone who had a clear sense of what he believed he was worth. Also, Stroman had a very extroverted and demonstrative personality, which some seemed to see as a negative. I didn't, even if I believed he could have and should have handled some situations differently.
We don't know to what extent the front office explored signing Stroman to an extension, but it doesn't appear that those efforts went far to the degree they were explored at all. It seemed evident relatively early into his tenure that General Manager Ross Atkins and the front office did not view Stroman as a long-term franchise building block and his future in Toronto soon became something that seemed to be attached to a ticking clock.
While the trade seemed to be an inevitability, the trade met a fair amount of criticism when it was made. To many, the return did not seem commensurate with the fact Stroman had a year-and-a-half of control. Atkins was also criticized for making the deal several days before the trading deadline given that the return was underwhelming and not an offer that needed to be pounced on, Many analysts asked why Atkins made the deal when he did and why he did not wait to make the deal, while hoping that one of the contending teams increased their offer in the hours before the deadline. Some analysts express skepticism that the Mets would have pulled their offer if Toronto hadn't accepted that day. Further questions were raised when the Twins commented in the following days that they believed they could have offered a package that bettered what the Mets offered.
When evaluating the return package, Anthony Kay was seen as the safer acquisition with the lower ceiling, while Woods Richardson was the higher-ceiling prospect with a higher upside and also a greater risk. A second-round pick in 2018 by the Mets out of Kempner High School in Sugar Land, Texas, Woods Richardson was ranked as the 76th best prospect by Baseball America and 160th by MLB Pipeline. The Mets convinced him to forego a commitment to the University of Texas with an over-slot deal. Woods Richardson had split 2018 between the Gulf Coast League Mets and the Kingsport Mets of the Appalachian League. He posted a 1.56 ERA in 17.1 innings, with 26 strikeouts, between the two levels.
Woods Richardson began 2019 with the Columbia Fireflies of the Class-A South Atlantic League, where he made 20 starts before he was dealt to Toronto. The Blue Jays assigned him to Dunedin in the Advanced-A Florida State League. He posted a 3.80 ERA on the year, but he adjusted well to Advanced-A. He was impressive after the trade with 29 strikeouts in 28.1 innings and a 2.80 ERA for the Dunedin Jays.
MLB Pipeline tabbed Woods Richardson as Toronto's breakout prospect for 2020, describing him as "a high-ceiling pitching prospect, armed with a plus fastball-curveball combo, an advanced changeup and a mature overall feel for his craft that could help him move quickly through the minors." Baseball America ranked Woods Richardson as Toronto's third best prospect. BA also ranked him as the 7th best prospect in the Sally League.
He throws a mid-90's fastball and a sharp curveball which both receive near unanimous praise in almost every write-up of Woods Richardson you read. Woods Richardson is also working on a change-up and a cutter and the development of a third pitch that will be instrumental to hitting his ceiling as a starter. He also reportedly has an advanced feel for pitching, especially for someone only a couple of years out of high school.
An intense competitor and an intimidating presence on the mound, Woods Richardson made strides forward in 2019, but still has more development to go. Nevertheless, the ceiling seems as high, if not higher, than it was on draft day. Given he only made six starts for the Dunedin Blue Jays, he may return there to start 2020, but even if Toronto decides not to start him at Double-A New Hampshire, he seems destined to be in Double-A by the second half of 2020, barring an injury or significant performance concerns.
3. Alek Manoah | RHP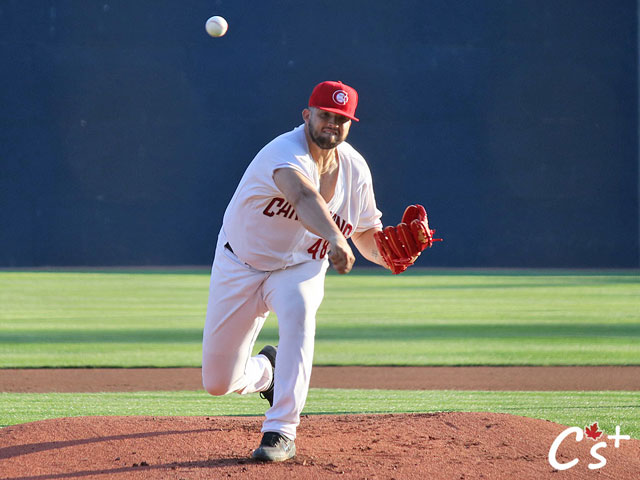 Image from
Ben Steiner
- C's Plus Baseball.
Year
Age
Team
G
GS
IP
H/9
HR/9
BB/9
K/9
ERA
2019
21
VAN
6
6
17.0
6.9
0.5
2.6
14.3
2.65
Mount Manoah is a fitting nickname for Alek Manoah, given his massive 6-foot-6 frame and him being a former West Virginia Mountaineer.
The Blue Jays took Manoah with the 11th overall pick in the 2019 draft and signed him at slot value for $4,547,500. That justified his decision to turn down the Texas Rangers who were considering taking the right-hander out of high school in the fifth round three years earlier.
Instead, the Homestead, Florida native helped the Mountaineers host an NCAA regional for the first time since 1955 by going 9-4 with a 2.08 and a 144-27 K/BB total in 108-1/3 innings in his junior season. He slashed his walk rate per nine innings by more than in half from 2018 and increased his strikeouts per nine rate by nearly two batters.
Manoah was named the Big 12 Pitcher of the Year and was placed on the Big 12's All-Decade Team by D1Baseball.com.
One key factor for Manoah's award-winning season was a change to his delivery, scrapping a wind-up motion in favour of pitching out of the stretch.
The springboard to Manoah's stellar 2019 was his performance in the Cape Cod League from the previous summer when he led all hurlers with 48 strikeouts in 33/1-3 innings, going 3-2 with a 2.70 ERA for the Chatham Anglers.
Manoah's efforts on the Cape took the sting out of an uneven 2018 with West Virginia when he pitched mostly out of the bullpen. He posted a 4.00 ERA that year after a 3.07 ERA as a starter/reliever in his 2017 campaign that landed him on the Big 12 All-Freshman team.
The Blue Jays scouting radar picked up on Manoah during his high school days at South Dade in Miami when he teamed up with his older brother Erik to win the Class 8A state title in 2014. Erik got the save while Alek manned first base. The elder Manoah was drafted by the New York Mets in the 13th round in 2014. He finished 2019 by pitching for two teams in the independent American Association.
Former Blue Jays director of amateur scouting Steve Sanders told Rob Longley of The Toronto Sun that he liked Manoah for his stuff, athleticism, command and makeup, adding "he's not just a power pitcher. He's got the ability to command three pitches for strikes."
Those three pitches are a fastball, a slider and a changeup. Baseball America says his fastball is a "lively, running pitch that sits around 93-96 mph and touches 98 mph" and calls his slider "a put-away pitch...which flashes plus and gets him swings-and-misses." BA says the changeup "has shown average potential." Likening him to Aaron Harang, the publication believes his repertoire, delivery and athleticism will help him remain as a starter but he needs his improve his command of the fastball, which did reach 100 miles per hour in his debut at Nat Bailey Stadium for the Vancouver Canadians.
Manoah's fastball began to pick up velocity when his two coaches on his Atlanta Blue Jays travel team helped him with his technique on the mound.
As for his slider, Baseball America says it is a combination of a Dellin Betances cutter grip and a Chris Sale slider grip.
There is the belief Manoah would be a dominant reliever if he is unable to stick as a starter at the major league level but he wants the ball in inning one. He told C's Plus Baseball in a soon-to-be published story that "putting me in the bullpen would be a waste of eight other innings that I can throw."
Manoah may be getting his next professional innings under his belt in the Dunedin rotation for 2020. He celebrated his 22nd birthday January 9.
2. Jordan Groshans | SS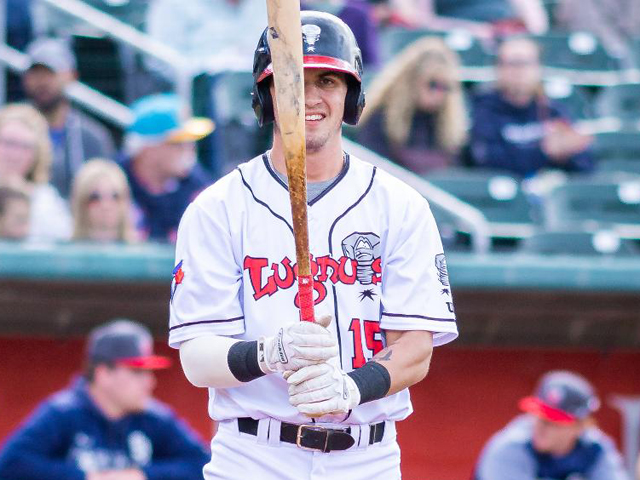 Image from MiLB.com.
Year
Age
Team
AB
2B
3B
HR
BB
K
SB
CS
AVG
OBP
SLG
2019

19

LAN

83

6
0

2

13

21

1

1

.337

.427

.482

While the writers of the annual Top 30 feature are proud of their work, one ranking that we would prefer not to revisit is last season's Top 10 list. Or, rather more specifically, the part where two shortstop prospects finished in consecutive spots in the Top 10. The higher-ranking prospect fell to 30th on this year's feature. And, the lower-ranking prospect? He had a fantastic season and wound up at number two, behind only an incredibly promising flamethrower. In conclusion, it's hard to think of two similarly-ranked prospects from last year's list who had more divergent seasons than Kevin Smith and Jordan Groshans.
The Blue Jays had the 12th overall pick in the 2018 MLB draft and, despite a number of highly-ranked prospects remaining on the board, the Jays didn't select the highest-ranked prospect by most scouting reports. They Jays decided to go with Groshans, a shortstop from Magnolia High School in Texas. One can still debate whether the Jays would have better served by taking starting pitcher Matthew Liberatore or third baseman Nolan Gorman, who coincidentally enough, both are members of the St. Louis Cardinals organization (or several other prospects such as starting pitcher Cole Winn or outfielder Jordyn Adams).
However, while both of those prospects will likely rank ahead of Groshans on this year's Top 100 lists by national organizations, it is unlikely the Jays have any serious regrets about their pick. Groshans has developed into a very promising prospect and his below-slot deal at $3.4 million helped the Jays to sign some of their other picks from that year's draft, including Griffin Conine and Groshans' high-school teammate Adam Kloffenstein.
Planning to play with his older brother Jaxx, Groshans had committed to the University of Kansas prior to the draft. Jim Callis of MLB.com stated that Groshans had "some of the best raw power in this draft." Baseball America rated the Texan as the best pure hitter in the Blue Jays 2018 draft class.
Former Blue Jays Amateur Scouting Director Steve Sanders stated that he thought Groshans had the potential to develop into a middle of the order hitter. Sanders praised the 6-foot-3 right-handed hitting shortstop's ability to barrel the ball to all fields. While he earned praise for his gap power leading into the draft, the Jays also believed he would be able to add more power to supplement his offensive approach.
Although he was drafted as a shortstop, many reports project Groshans to eventually end up at third baseman as he fills out. Those reports came from before the draft and weren't simply based on the fact that the Jays may need someone to man that position if (or when) Vlad is shifted to first base. Baseball America believes the Texan will become an above-average defender at third base as he continues to fill out.
There are few better ways to make a mark with your new club than beginning your pro-career with a 12-game hitting streak, which is what Groshans did with the Gulf Coast League Blue Jays in 2018. Groshans led the GCL with 39 runs batted in at the time of his mid-August promotion to Bluefield.
Groshans struggled in the Appalachian League, as he posted a .502 OPS in his 11 games for Bluefield. However, he seemed to have begun to adjust to the league by the time the playoffs rolled around, as he went 7-for-12 with a homer in Bluefield's semi-final loss to Princeton. Although his walk rate fell at Bluefield, at both stops Groshans kept his strikeout rate below 20 percent at both levels.
Groshans split time at shortstop and third between the GCL Jays and Bluefield, appearing in 21 games at each position. He committed nine errors as a shortstop and four as a third baseman.
Groshans was challenged with a promotion to Lansing in 2019 and he rose to meet this challenge, albeit in only 23 games. Playing exclusively as a shortstop, aside from a few games as a DH, Groshans posted a .337/.427/.482 line for a .909 OPS. That mark was good enough for 6th in the MidWest League, although since his OPS was lower than Alejandro Kirk and Griffin Conine's, it was only good enough for 3rd on the Lugnuts. Every player who finished with a higher OPS than Groshans was at least two years older than him, except for Kirk who is a year older.
The Texan finished third in the Midwest League in batting average and tied Kirk for the league lead in on-base percentage. While Groshans obviously did not have as many plate appearances as most of the names ahead of him, which is why he doesn't appear among the league leaders in any raw total categories, his rate stats demonstrate how well he performed this year, particularly relative to his age.
The only negatives, neither of which is significant, relate to Groshans' defense and his health. Groshans made seven errors in 20 games in the field, but it doesn't appear as if it changed the long-term outlook for his defensive ability. Secondly, as noted above, Groshans only played in 23 games in 2019 due to lower body injuries. He played for Lansing in April and the beginning of May, but his last game in 2019 was May 11. He was initially placed on the injured list in early May with left foot soreness, came back to play a few games prior to May 11, and then went back on the injured list with the same issue in mid-May. Groshans never played again during the year and it was confirmed in early August that he would be shut down for the year. Groshans has since tweeted that he is back in action and, as of right now, it does seem that there will be any long-term ramifications from the injury.
Groshans turned 20 on November 10. Although he has less than 100 plate appearances at A-ball, it would not be surprising if the Jays promoted him to Advanced-A to start the season, as he really couldn't be expected to perform better at the plate than he did in 2019. If he hits roughly as well for Dunedin as he did for Lansing and remains injury-free, it would not be surprising to see him spend some time with the Fisher Cats towards the end of the year.
1. Nate Pearson | RHP
Image from Toronto Star.
| | | | | | | | | | | |
| --- | --- | --- | --- | --- | --- | --- | --- | --- | --- | --- |
| Year | Age | Team | G | GS | IP | H/9 | HR/9 | BB/9 | K/9 | ERA |
| 2019 | 22 | DUN | 6 | 6 | 21.0 | 4.3 | 0.9 | 1.5 | 7.5 | 0.86 |
| 2019 | 22 | NH | 16 | 16 | 62.2 | 5.9 | 0.6 | 3.0 | 9.9 | 2.59 |
| 2019 | 22 | BUF | 3 | 3 | 18.0 | 6.0 | 1.0 | 1.3 | 15.0 | 3.00 |
At this stage it's hard to say much about Nate Pearson that isn't already well known. He throws hard, really hard. He has had injuries that have slowed his progression. He could be in the Blue Jays rotation in 2020. But I think you would like more than that.
Pearson was drafted in the first round by the Jays in 2017 and signed for $2.5M. He was a junior college draftee who got noticed because of his fastball speed which registered 102 mph before the draft. Pearson had a stress fracture in his junior year of high school that ended with him getting a screw put in his arm and didn't let him pitch. That scared many colleges away from him. But once the Jays signed him, Pearson totally dominated hitters in Vancouver in his first half season. Pearson started 2018 in Dunedin but his season ended in his first appearance when he was hit by a line drive breaking his arm. He did get some innings in the fall league but he started 2019 with a total of 21 regular season innings under his belt.
The Jays decided to manage Pearson's innings in 2019 and put him on a five-inning, two-inning rotation until almost the end of the season. The Jays took the reigns off at the end of July and threw 50% of his innings over the last six weeks of the season. This managed Pearson's workload so that he pitched 101 innings in 2019. Pearson will likely have his innings managed again in 2020. His target is likely to be between 130 and 140. If we average that over 28 minor league start you get 5 innings per start. But if you want Pearson to pitch in September then you need to keep some innings in reserve. Expect the Jays to limit Pearson somehow through the first half of the season so he can pitch through the end of September.
Pearson cruised through Dunedin in six start at the beginning of 2019. He made 16 starts in New Hampshire with a 2.59 ERA and a 0.99 WHIP. He maintained and improved those numbers in Buffalo, a 3.00 ERA and a 0.83 WHIP. The lower WHIP in Buffalo was due to a lower walk rate, just three in three starts, a 1.50 BB9, half of his New Hampshire rate.
Pearson's attempt for mound domination starts with his commanding size, 6'6". This allows him to get good downhill plane on his delivery but also allows him to work both the top and bottom of the zone with his fastball. The fastball is a plus, plus pitch, rated as a 75 pitch on the 80 scale by many scouts. It sits in the upper 90's, reaches triple digits on occasion, with good life that helps him miss bats. The slider is his second best pitch, with late movement that throws the hitters off. Pearson also throws a curve and a change-up.
Because Pearson is relatively inexperienced at the professional level, and because his innings have been limited, Pearson has not thrown his curve or change as much as you would like to have them fully developed so they could take some time to get better. The other concern with Pearson is just that he throws so hard. That puts a lot of stress on the arm and elbow and could lead to injuries down the road.
Pearson has embraced analytics and studies all the numbers the Jays can give him. He has also spent time at Driveline Baseball, the innovative baseball academy, to help him improve inefficiencies in his delivery. Pearson's fastball moves to the right, his slide to the left so the Jays have discussed tunneling with Pearson, where he throws both pitches on the same axis but they move in different directions once they get half way to home plate. Pearson also digs into his spin rate and all the other video and analysis from all the new pitching analysis systems in major league clubhouses.
Pearson will start 2020 in Buffalo, both for innings limiting issues and for contract management reasons. I don't think the Jays will rush him to the big leagues but anytime after July 1 seems a reasonable estimate for his debut.
And that's it, we hope you enjoyed it. Big thanks to #2JBrumfield and Thomas for being part of the top 30 team.