The Yankees strike early, but the Jays hit back harder and go on to a 10 Ė 5 win.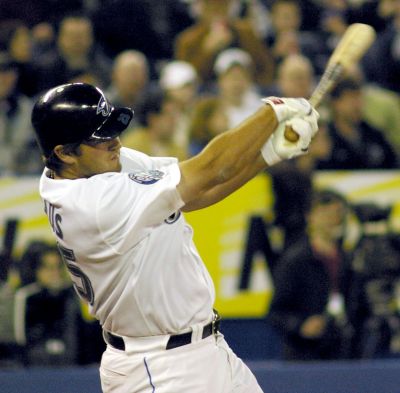 Star of the Game: 2 homers, a double, 3 RBIs? The name is Troy Glaus, he wears #25, and he looks real good in a Toronto uni.
Unsung Hero: Al Rios smacks a homer and a double hisself, good for 4 ribs. How much more of this before we start celebrating the failed attempt to sign Brian Giles?
For the Yankees: The Fabulous Derek Jeter collects a triple, single, and walk.
Defensive Play of the Game: Reed Johnson throws out the Captain trying to go first-to-third on a Sheffield single in the top of the 5th. Karma got an assist, as the ump had generously given Jeter a ball on a 2-2 count during his plate appearance which eventually saw him walk to first.
Honourable Mention to Johnny Damon for twice robbing his counterpart in centre field.
Put It In A Box: OK.
Pitching: Kyle Davies holds the mighty Mets to 1 run on 3 hits and a walk in a complete game.
>> Space inserted to give due respect to Daviesí performance, far and away the best of the night. <<
Derek Lowe (7 innings) and Carlos Zambrano (6 innings) duel it out, allowing 1 run each (LA wins it in the bottom of the ninth). Jason Johnson holds the Orioles to 1 run over 7. Jon Garland remembers some of what he had last year by keeping KC to 1 run over 6-1/3. Josh Fogg tosses 6-1/3 innings of 1-run ball in Coors. Kelvim Escobar strikes out 10 Twins while surrendering 2 runs over 6-2/3. Tony Armas picks up a win by limiting Philly to 3 runs over 6. Okay, so thatís not so impressive. But itís Tony Armas! Is there a more awesome name anywhere?
Hitting: Washington (10), Pittsburgh (12), Florida (12), Milwaukee (12), Houston (13), and Cleveland (15) join the Jays in double-digit scoring. Six thousand points and a cuttlefish to anyone who can tell us what the record is for this.
Shelton: A single in four trips. Did you know this man slugged .510 last year? Some talk of him as if heís a colossal fluke. They werenít paying attention.
So You Wanna Be A GM: Head on over to The Hardball Times! Craig Burley is always glad to help.
Today
Theodore Roosevelt Lilly takes on Mike Mussina in a 12:37 matinee. 980 KRUZ is your friend, cubicle dwellers of the world. In the past week with seen the Jays tong on Boomer and light up the Big Unit. Mashing Moose would make a very nice trifecta.